The Dordogne and the Pays des Bastides
A bicycle-touring getaway in the gourmet Périgord through the villages of the Middle Ages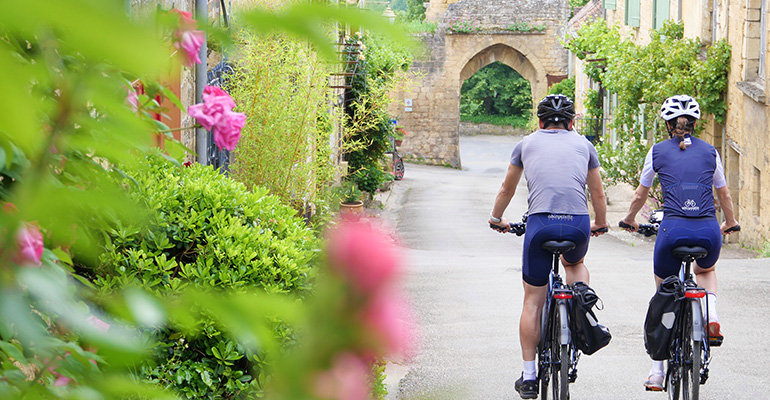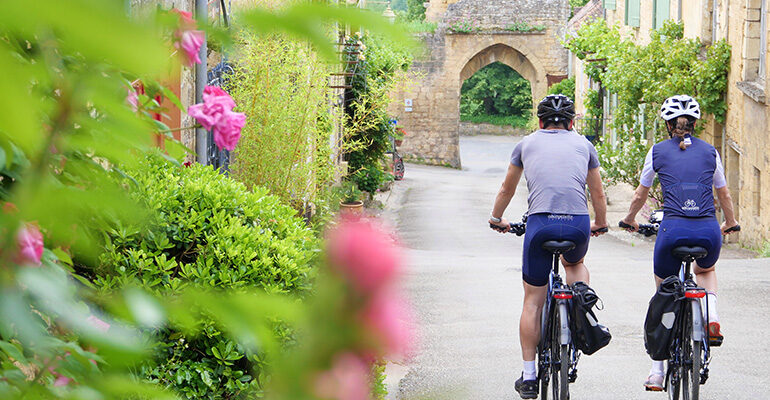 Highlights
Bergerac and its vineyard
The most beautiful bastides in the region: Monpazier, Eymet, Domme ...
The Dordogne castles of the Middle Ages
The village of Domme and its breathtaking view of the Dordogne valley
The most beautiful villages of France: La Roque-Gageac, Monpazier, Belves ...
The story behind the trip
Jean-Paul, former president of the Bergerac tourist office, is a real fan of his region. When you arrive in Bergerac, he welcomes you. Take advantage of his in-depth knowledge of the land, he will give you advice on all the good places to discover during this trip.
When we met Jean-Paul, a few months after the creation of Abicyclette Voyages, we immediately wanted to share his passion and knowledge of the Dordogne. Jean-Paul quickly pointed us to the pays des bastides,  for a visit of the beautiful Monpazier. Less known than the Périgord Noir, the pays des bastides is an enchanting place with its castles, preserved landscapes and geometrical layout of villages which have managed to retain their old charm.
A bicycle trip in the South of Périgord
On its peaceful and winding little roads, discover the authentic Dordogne in the heart of the Pays des Bastides thanks to this 8-day itinerary.
From Bergerac, we invite you to explore by bike the peaceful, rural and authentic Dordogne, where history is deeply rooted. Different periods in time have left indelible traces in Dordogne. Prehistory and the Middle Ages bear witness in particular to the natural riches of the region, prompting men to settle and defend this territory.
Thanks to this 6-day bicycle-touring route, you connect the main historical sites which bear witness to the life of the Middle Ages. In the 12th and 14th century, the bastides, new cities erected at the request of the king of France or England, were built in the south of the Dordogne because of the proximity to the Agenais who had become the theater of Franco-English rivalries . The bastides assure the possessions of the King of France and those of the King of England also Duke of Aquitaine. Many of these bastides are found in the Pays du Dropt. This region is made up of many small authentic villages, castles, churches and mills, green hills and valleys but also vines and vineyards.
Castles and mills are particularly present on your cycling routes. Take the time to admire the Malfourat mill, visit the Château de Castelnaud which houses a collection of medieval weapons and armor and discover the world of Joséphine Baker at the Château des Milandes, where she lived with twelve orphans.
There is no shortage of views of the Dordogne valley. The most beautiful will undoubtedly be the one from the village of Domme. This bastide, a model of its kind, perched on the hill will allow you to enjoy a breathtaking and unparalleled view. Of course, this requires some effort on the bike to reach its panoramas. The effort is amply rewarded! The electric bike is often appreciated here to minimize the efforts that the valley requires. The rich and gourmet cuisine also makes up for the day's exertions.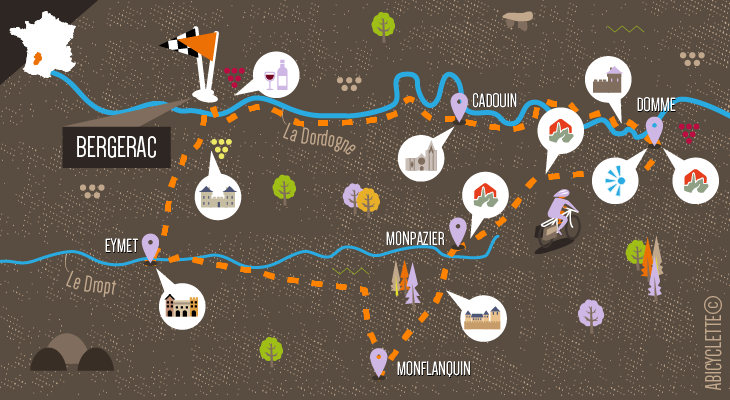 Leisure or
Fit
BERGERAC
If you arrive in the morning or early afternoon, a first loop invites you into the vineyards of Pécharmant. Small appellation of red wines. This structured wine has a dark garnet color. It calls for some wine tastings at the vineyards! In the evening, you will enjoy the charming town of Bergerac and its lively narrow streets.
Briefing Orientation
Before your first ride, we invite you to meet our local guide, Jean-Paul, at your place of departure. A time of exchange, a privileged moment to give you our last practical tips, must-see places and experiences, to answer all your questions, take care of your bike fitting to begin your trip.
From BERGERAC to ALLEMANS-DU-DROPT
54km
469m
On this first day of cycling, you will set off to discover the vineyards of Bergerac and Monbazillac. After climbing the hills, you arrive at the Château de Monbazillac, a top wine-tasting location for this world-renowned sweet white wine. From this place, you overlook Bergerac and its valley. After a few pedal strokes, you arrive at the Malfourat mill, of which only the Tower remains. You arrive at the medieval castle of Bridoire where you can stop to discover the history of the castle which was plundered many times before being restored. You can also play many games of yesteryear since the castle offers its visitors a hundred ancient games. Finally, through fields and small villages, you reach Allemans-du-Dropt, a charming little village with its mill and its banks.
From ALLEMANS-DU-DROPT to MONFLANQUIN
61km
539m
You quickly reach the Pays du Dropt, named after the river that crosses it and marks the border between Agenais and Périgord. You first cycle to bastide (fortified town) of Miramont sur Guyenne then discover Lauzun, a charming little village whose castle is a listed as a historical monument. A little further east is the bastide of Castillonès, built like many others by Alphonse de Poitiers. Then you reach another remarkable bastide: that of Villeréal, also founded by Alphonse de Poitiers. The wooden hall is perfectly well preserved and the fortified church is imposing. Visit on foot the pretty streets of the bastide as well as the rue Saint Roch. You finally reach the bastide of Monflanquin, listed in "The Most Beautiful Villages of France".
From MONFLANQUIN to MONPAZIER
33km
362m
From Monflanquin, you cycle through a rural landscape before reaching the Château de Gavaudun. Located above the village on a rocky outcrop, it was first a heretics' landmark before being one of the last French bastions during the 100 years war. In summer, the life of the castle is enlivened by storytelling matinees, stone-cutting workshops, abseiling from the dungeon … You hop on your bike again and enjoy a few kilometers under the shade of big trees. You will now see the Château de Biron, recognized as a Major Site of Aquitaine and classified as a Historic Monument. A few more kilometers more and you reach Monpazier, classified by the Most Beautiful Villages of France, where you spend the night.
For a few more km

62km

779m

This itinerary allows you to complete your day with a visit to the medieval castle of Bonaguil. This castle, whose conservation is unique in Europe, dominates the valley and forms an ensemble of gigantic proportions.
From MONPAZIER to DOMME
50km
589m
You leave one of the most beautiful villages in France for another. It is by small roads that you reach Belves. This medieval city also called "the city of 7 bell towers" was not spared by invasions and wars but it has miraculously preserved magnificent traces of its heritage built over the centuries. Belvès means "beautiful view" in Occitan. Indeed, its geographical location offers an exceptional panorama over the horizon of the Périgord noir. After a  last effort, you reach the bastide of Domme, from which you enjoy a breathtaking landscape above the Dordogne. A genuine moment of contemplation is presented to you.
For a few more km

70km

1018m

These few additional kilometers allow you to discover the Montfort cingle as well as the Montfort castle. This castle is visited from the outside. It combines elements of medieval and renaissance architecture.
From DOMME to LE BUISSON-DE-CADOUIN
40km
300m
Today, you cross the Dordogne before reaching the picturesque village of La Roque-Gageac. Located at the foot of a cliff facing south, the golden houses with brown tiled roofs are reflected in the waters of the Dordogne where the gabars (sailing barges) laden with goods crossed in the 19th century. You now climb up to Castelnaud castle, whose dominant position allows visitors to enjoy a unique view of the Dordogne valley. A few pedal strokes and you arrive at the Château des Millandes, home of the famous Josephine Baker. Between the meadows of walnut trees and the old tobacco barns, you follow the Dordogne before arriving in the medieval city of Saint-Cyprien. Stroll through the small streets of the village where the stone dwellings have been preserved and give the village an incredible charm. You then reach the Buisson de Cadouin.
For a few more km

50km

400m
From CADOUIN to BERGERAC
45km
232m
On your bike, from Cadouin to Bergerac, you are going to discover English bastides. At first, you cross Molières. This English bastide was founded in 1284 by Jean De Grailly, seneschal of the King of England. On the banks of the Dordogne, your route takes you to Lalinde, the first English bastide town in Périgord. It has kept its mission as a trading town and a stopover between Bergerac and Sarlat. The road is flat up to the Chateau de Lanquais, a symbol of power and grandeur. This fortified castle, adjoining a prestigious renaissance palace, was built by the builders of the Louvre in Paris. Following the Dordogne, you will find Bergerac.
For a few more km

65km

460m

By bike, between the bastides of Molières and Lalinde, you cycle to Trémolat where the church dedicated to Saint-Nicolas is classified as a Historic Monument. The road then rises towards the cingle de Trémolat, a natural belvedere revealing a unique panorama of the region.
BERGERAC
It's the end of your stay after breakfast. Have a good journey home!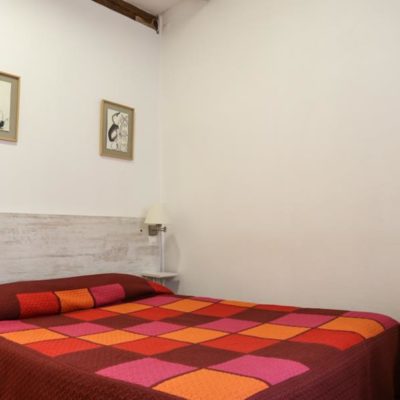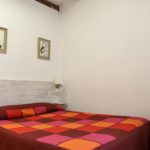 Essential Range
You want to enjoy your itinerary without anything fancy. Our "essential" range offers a simple accommodation for a good night's rest in a simple hotel, guesthouse, rest house or hostel.
---
Starting from 1030€/participant in Self Guided option | See detailed prices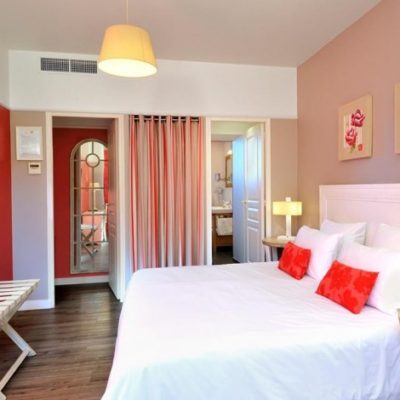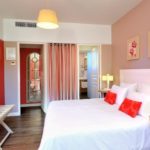 Comfort Range
Our quality standard at Abicyclette. This type of accommodation includes 2 and 3 stars hotels. Depending on the itinerary, you might spend some nights in approved guesthouses. You enjoy a double bedroom with private bathroom and toilet and adapted welcome for you and your bikes.
---
Starting from 1180€/participant in Self Guided option | See detailed prices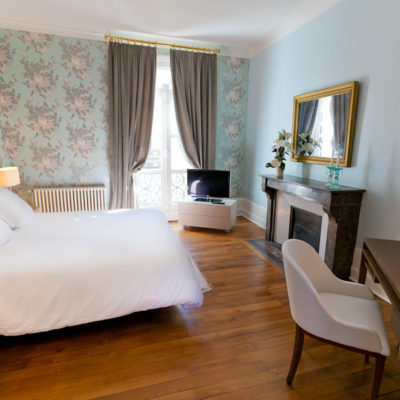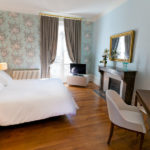 Privilege Range
Opt for total comfort in charming 3 and 4 star hotels which offer all the services you need and a special welcome for you and your bikes.
---
Quote on request | Contact us
Price includes
Accommodation: 7 nights in a Double room
7 breakfasts
2 dinners
Luggage transfer
Phone assistance 24/7
Access to our exclusive travel application to follow your route, inform you about places of interest, restaurants, facilitate your assistance in case of emergency, find all your travel documents and our practical advice.
Application fee
A personalized greeting with our team at the beginning of the trip to receive your travel documents
Taxes
The itinerary trackable on the following supports:

Loan of a Bicycle GPS uploaded with full itinerary of the trip
Cycling practical guide including restaurant recommendations for lunch & dinner
Specific services
Price does not include
bike rental (see option)
Breakfast on day 1
Lunches
Dinners not included in "Price includes"
Drinks, visits & other personal expenses
---
Homemade and fully tested itineraries
Routes selected for their cycling and touristic interest entirely tested and away from traffic
Accomodations selected for their hospitality, atmosphere, services and quality meals
A flexible organisation to suit you needs and wishes: You choose the date you want to you leave on! We check the availability of each accomodation to make sure it is possible.
---
Close assistance
One of our guides greets you on your first day. He will hand out all the needed documents for the trip (hotel vouchers, maps of the area,GPS, practical guide), get you settled on your bikes (for rental bikes).
Phone assistance, you can reach the Abicyclette team whenever you need
A Luggage transfer service which respects your hours of rest (we pick them up after 10:00 and deliver them before 16:00)
---
Follow your itinerary anyway you like – modern, practical, traditional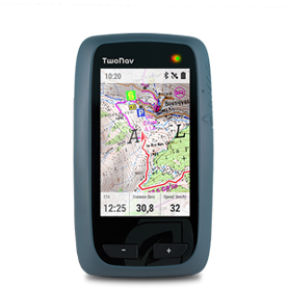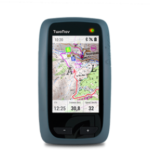 We loan you a GPS so that you can easily follow your itinerary without having to look for your way around (bike support included)
A practical cycling guide with all the useful information (addresses, highlights for the day, topo maps, and touristic information)
---
You can also
---
On our guided tours (for groups on demand), we accompany you every step of the way
One of our state qualified instructor and professional cycling guide accompanies you every step of the way
Full board (all meals covered unless asked otherwise)
A picnic buffet set up for lunch with a wide choice of fresh and local produce
We offer a high-end bike rental service. Our bikes are suited for road and gravel road long-distance cycling. Fully equipped and highly reliable, they are faithful travel companions.
---
Trekking bike

A layed out and dynamic position

Mixed aluminum frame, telescopic fork. Straight handlebars. Disc brakes. Transmission Shimano 24 to 30 speeds.

Supplied equipment per bike

1 helmet
1 back bag 20L (waterproof)
1 front bag 4L with plastic map holder (waterproof)
1 lock
1 repair kit (patches, tube, tire lever)
1 multi tools box
1 pump
1 bike computer
1 bottle

Ebike

With an autonomy of almost 120km, cycling has never been so easy!

Supplied equipment per bike

1 helmet
1 back bag 20L (waterproof)
1 front bag 4L with plastic map holder (waterproof)
1 lock
1 repair kit (patches, tube, tire lever)
1 multi tools box
1 pump
1 bike computer
1 bottle

Children Bike

20″ or 24″ bike

Bike trailer
Getting here
Departure city : BERGERAC
Coming by car
at from PARIS
at from BORDEAUX
at from LYON
Parking*
Parking privé – Hôtel de France
Parking Bellegarde – BERGERAC
Parking les Carmes – BERGERAC
Parking République – BERGERAC
Parking Seigneurs Capitaines – BERGERAC
Parking Colluci – BERGERAC
Coming by train
Bergerac train station - 3h45 from Paris
Bordeaux train station - 2h30 from Paris
Coming by plane
Arrival city : BERGERAC
Coming by car
at from PARIS
at from BORDEAUX
at from LYON
Coming by train
Bergerac train station - 3h45 from Paris
Bordeaux train station - 2h30 from Paris
Coming by plane
* Abicyclette Voyages accompanies you on demand, including transportation solutions.
Recommended equipment
Bike
Trekking or hybrid bike
21 to 30 speeds
26 or 28 inch (700) wheels
Clothing and equipment
Helmet (included with the rental)
Clothing suitable for cycling
Warm jacket (eg fleece)
Rain proof jacket
1 pair of sunglasses
1 pair of cycling shoes
1 small backpack or panniers
1 or 2 water flasks (included with the rental)
1 lock (included with the rental)
Our reccomendation for optimal comfort:

1 pair of gloves
1 special pair of pants (shammy leather)
1 night see fluorescent vest
Bike maintenance
Emergency repair kit: 2 or 3 tubes, patches, pump, tire levers, multi-tools
Daily use kit: cloth, brake pads, oil
Other
Suitcase for transporting personal effects in luggage transfers (limited to one per person)
Change of clothes for the evening
Warm jacket for the evenings
Set of toiletries
Mobile phone and charger