Crédit : ©EV4 Emmanuel Berthier
VELOMARITIME
A unique cycling adventure in France on Eurovelo 4.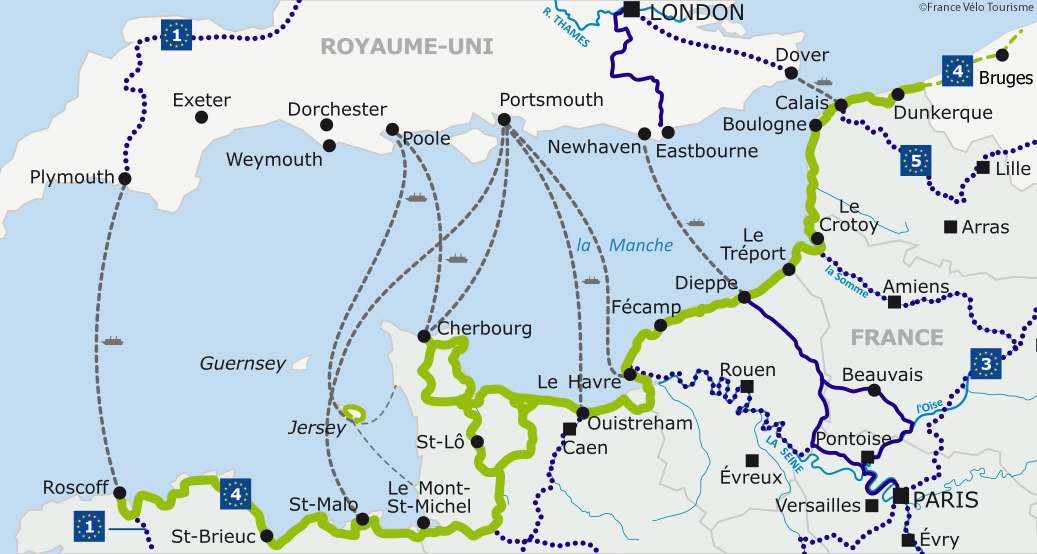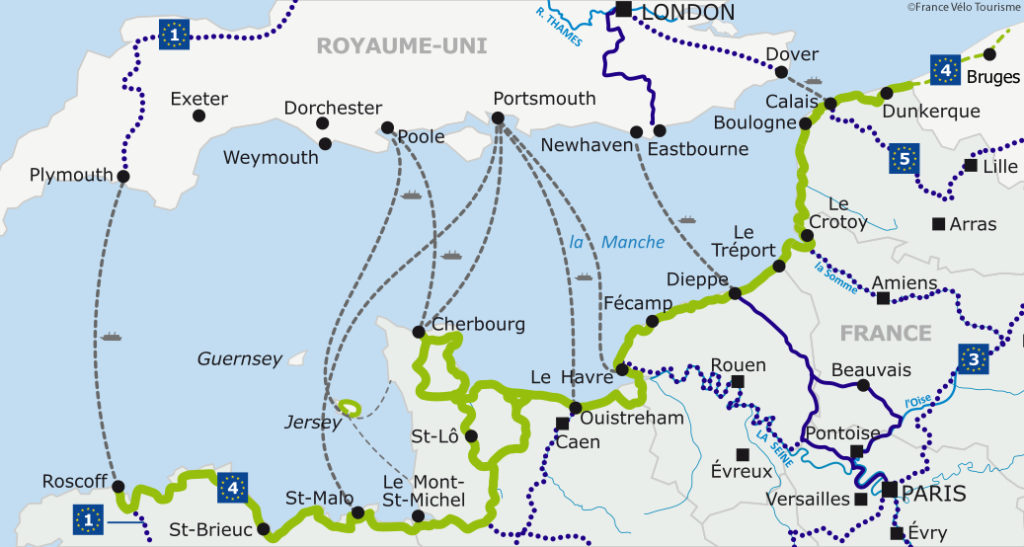 Discover the Vélomartime
Linking Roscoff to the gates of Belgium, the Vélomaritime is a cycle route that follows the coast of the English Channel and then the North Sea over a route of 1,500 kilometers. Marked by a fascinating mosaic of coastal landscapes, the Vélomaritime guides you through three French regions: Brittany, Normandy and the Hauts de France. If each region is proud of its identity and its traditions, Vélomaritime builds a bridge between them on the theme of cycling and the sea.
On this varied route, with a few pedal strokes, the bike traveler is transported from the pink granite coast to the Emerald coast and from the cliffs of Etretat to the Bay of Somme. Cradled by the lapping of the waves, the sea air, the song of the seagulls and gulls and the animation of the ports crossed, travelling the Vélomaritime is a maritime experience in more ways than one.
Between the rocky outcrops and the long sandy beaches, you admire unmissable sites such as Mont Saint-Michel, the corsair city of Saint-Malo and the Normandy landing beaches. These mythical places tell the tormented history of this strategic region from the Middle Ages to the confrontations of the Second World War.
Food lovers have their say on this generous and delicious gastronomy route: seafood of course but also crêpes, cheeses, ciders without forgetting the famous Calvados, one of the symbols of Normandy. Enough to fill your musette and your saddlebags to enliven your stops during the stage.
The Vélomaritime, a véloroute integrated into EuroVelo 4
Over 90% already developed, the Vélomaritime offers bicycle travelers a secure and well-marked route along the French coast. You will travel both on dedicated lanes and small roads with little traffic.
The Vélomaritime is part of the European cycle route EuroVelo 4 which links the picturesque port of Roscoff to Kiev, the capital of Ukraine. Along the way, you will discover central and eastern Europe with, among other things, the crossing of the Czech Republic and Poland. An odyssey of more than 5,000 kilometers across Europe.
The 10 must-see Vélomaritime sites
From Roscoff to Bray Dunes, the Vélomaritime offers bike travelers a rich natural heritage and many historical and cultural curiosities. Here are the 10 must-see places not to be missed on the route.
The Pink Granite Coast
The typical Breton ports Roscoff, Paimpol, Binic, Erquy, Cancale
Cape Frehel and the Emerald Coast
The corsair city of Saint-Malo
The Mont Saint Michel
The landing beaches
The cliffs of Etretat, jewel of the Albatre coast
The Bay of Somme
The long beaches of the Opal Coast
The ports of Le Havre and Dunkirk, French bastion ports