Offer an escape with a bike trip present
Invite your loved ones to a bike adventure with a gift certificate
Offer a moment of leisure: a cycling trip !
Give a gift that finally slows down the intense rhythm of everyday life! Give them a moment for themselves! In a bike trip, there is the pleasure of encounters, sharing sensations, emotions, discoveries, surprises. We support each other in the effort, we congratulate ourselves on the road travelled.
Cycling is rarely a unique experience. One does not come out unscathed, each trip often calls for another. Also, initiating your loved ones is a gift that exceeds the short time of the first stay!
Your loved ones will remember for a long time the gift that you made them: encounters, discoveries, sharing, adventure, effort, culture …
A gift for a bike trip
How it works
You choose a stay, a trip or an training course among our offers: the lucky beneficiaries, contact our team to build the project. They can, if they wish, change the destination and the program. *
OR
You choose an amount: we build with the beneficiaries a personalized formula, they can add to the amount offered to extend the stay or add benefits. *
A digital gift voucher
The digital gift certificate arrives directly in your mailbox: a gift without delay on delivery!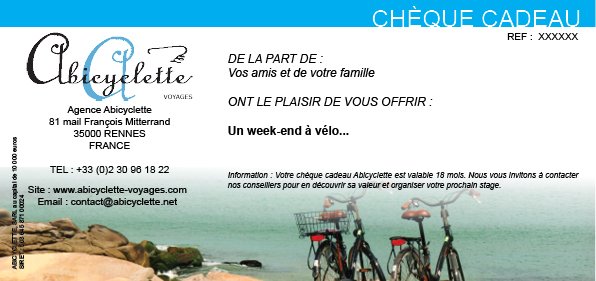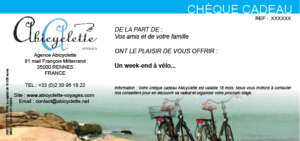 If you wish to offer a gift voucher contact us: hello@abicyclette.net and (+33) 2 30 964 954.
* Validity of the check: 18 months, non-refundable, personal and non-transferable. Valid on all holidays, all destinations, internships and bike rental.