Crédit : © La Vélo Francette
La Vélo Francette bike tours
From the Channel to the Atlantic by bike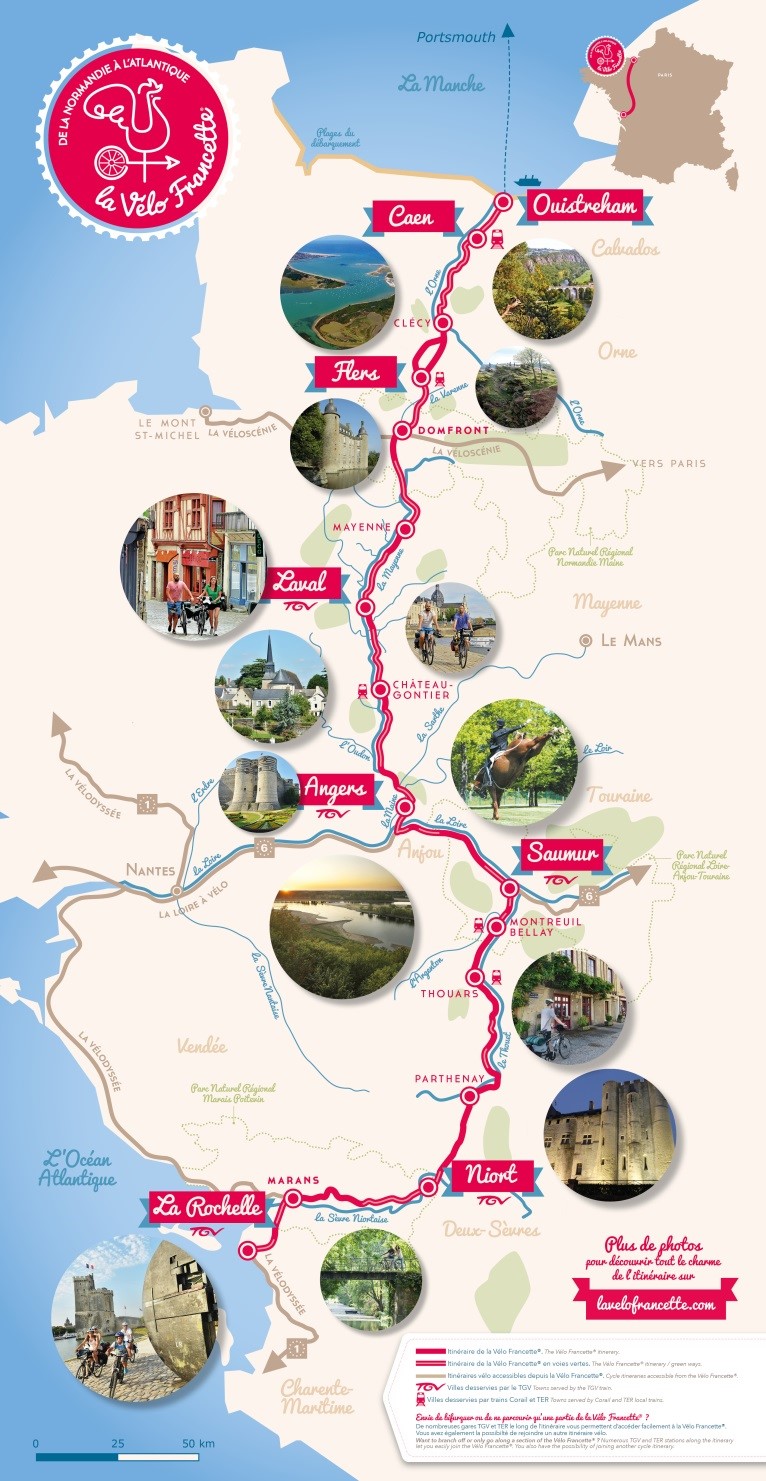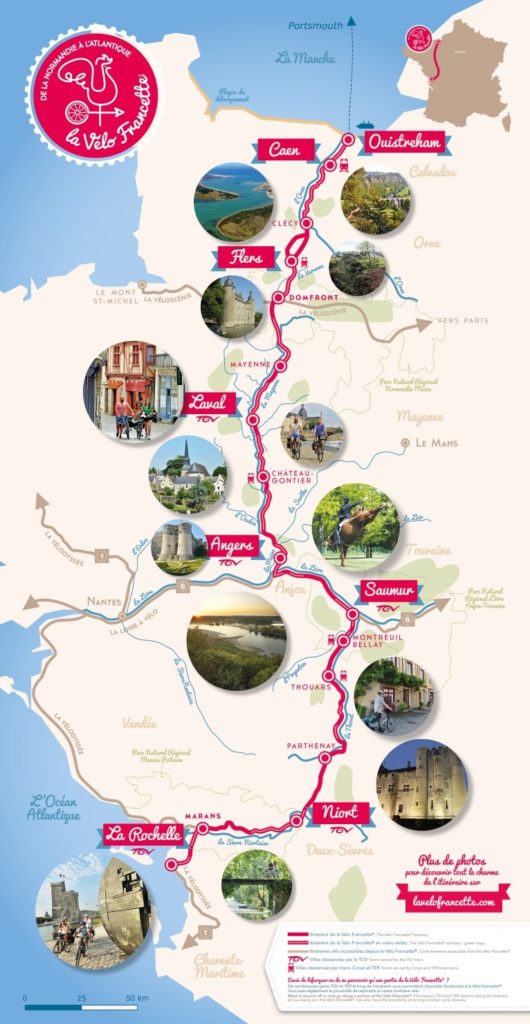 La Vélo Francette
Going from one village to another, along the rivers or through the meadows, the Vélo Francette® cycling trip allows you to discover France away from the tourism highways.
Vélo Francette bike route key figures
617 km / 383 mi

3 Regions: Normandy, Pays de la Loire & Poitou-Charentes

7 départements to discover along the route

3 protected regional natural parks

25 towns and villages noted for their historical and cultural riches
With its 617 km of marked trails, the Vélo Francette® bike route takes you from Normandy to the Atlantic. 
Picturesque villages follow one another along the water like Orne, Mayenne, Loire, Thouet and Sèvre Niortaise. From the rocky valleys of the Suisse Normande  to the wetlands of the Marais Poitevin through the groves of Mayenne, you admire varied landscapes.  You alternate between towpaths and shared lanes.
These regions also have a rich and varied heritage. One can admire beautiful medieval cities, ride between castles, vineyards and the mighty untamed river, the Loire. Immerse yourself in history travelling from medieval ages to the landing beaches of the World War II.
Along the way there are many opportunities to enjoy the culinary specialties of each region. On the menu: cheeses from Normandy, cider from the Pays d'Auge, quernons from Ardoise, AOC wines from the Loire Valley, or oysters from Marennes d'Oléron.
In short, the Vélo Francette® is above all a good dose of nature, history and gourmet getaway!
Cities to visit on the bike itinerary Vélo Francette
Caen: from the Middle Ages to the Second World War

The medieval fortified town of Domfront

Laval: the Mayenne capital between Normandy and Anjou

Château-Gontier, a remarquable heritage

Angers, a city at the confluence of the Maine and the Loire

Thouars and the Château of the Dukes of La Trémoille

Niort and its twin keep

La Rochelle, maritime city
Sites to visit on the Vélo Francette
Sword Beach D-Day landings

Orne Estuary and Sallenelles Bay at Ouistreham

Normandie-Maine Regional Natural Park

The Suisse Normande and its hills

La Roche d'Oëtre Belvedere

The Mayenne River by boat

Saint-Aubin Island and its House of Environment

The Marais Abbey at Maillezais

Aquarium La Rochelle