Dordogne by bike : Black Périgord and Lot Valley
The most beautiful sites and landscapes in Southwest of France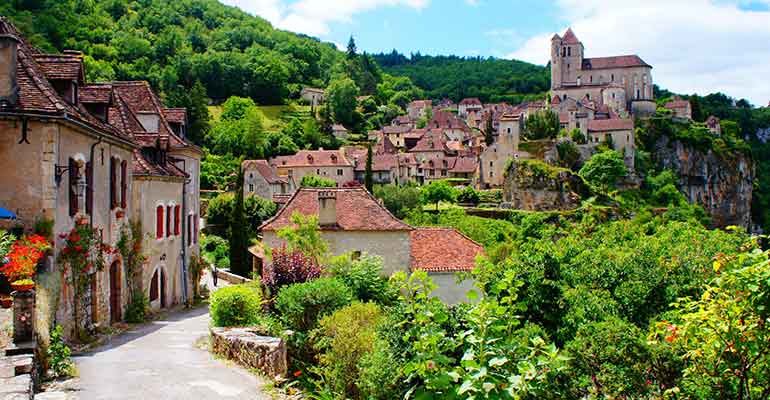 Highlights
Sarlat, a true architectural gem
Rocamadour, sacred city on rocky outcrop
Figeac and its exceptional heritage
Cahors and its vineyard
The beautiful valleys and landscapes of the Dordogne and Lot
Local gastronomy, cradle of French cuisine
Dordogne and Lot valley by bike
Immerse yourself in the discovery of the Périgord and these riches in this 8-day itinerary
This stay between the Dordogne and the Lot valley invites you to discover varied and authentic landscapes in one of the most beautiful regions of France. During your bike journey, you will take small winding roads in the deep forests shade and enjoy the beautiful panoramas, old stone houses sun-drenched by the sun, medieval castles and the many caves of the region.
The Périgord Noir is spread around the Dordogne and takes its name from its immense forests of dark colors. It is one of the cradles of humankind, the capital of prehistoric times. Many rock art caves offer visits of ancient works that cannot be bought! Along the river, the Hundred Years War also shaped the landscape: fortified castles, country houses (fortified cities / towns with geometric layouts). An imposing architecture which gives off a feeling of power.
The Lot draws its character from its causses (limestone plateaus) cut by its rivers, the Lot of course but also the Dordogne and the Célé. It is interspersed with great sites and beautiful villages like Rocamadour, Cahors, Figeac or Saint-Cirq-Lapopie … Man and nature have left their footprints on the territory. By bike, the naturalness and authenticity of the Dordogne and Lot are revealed before your eyes. Land of gastronomy, take the time to taste the local specialties. This territory also awakens your taste buds with truffles, foie gras, lamb, Quercy melon or even the wines of Cahors, vineyard recognized as one of the oldest in Europe.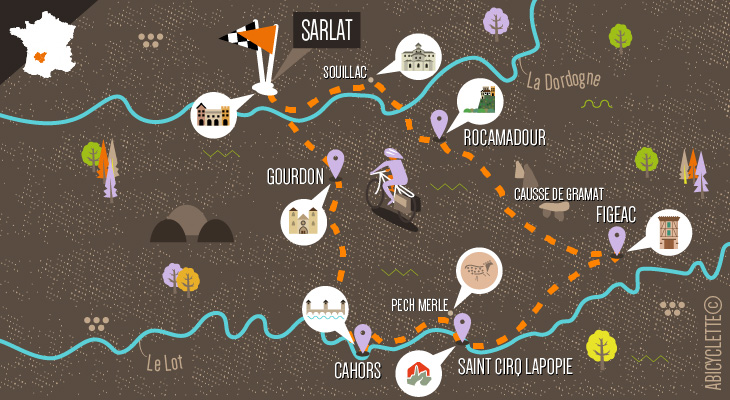 Fit
SARLAT LA CANEDA
Arrive on your own to Sarlat, capital of Périgord Noir. The city's heritage is internationally recognized, you should take the time to visit this beautiful medieval city.
From SARLAT LA CANEDA to ROCAMADOUR
58km
761m
From Sarlat, a greenway leads you to the gates of Souillac. This charming little town owes its notoriety to its magnificent abbey: the Sainte-Marie abbey. From here, you can admire the famous sculpture of the prophet Isaiah, the seven viaducts built on both sides of the city, the Museum of the Automaton and its alleys full of history. Remember to save some time at the end of the day to discover the medieval city of Rocamadour. Don't forget to make a stop at a small farm to taste the local goat cheeses.
From ROCAMADOUR to FIGEAC
53km
632m
A transition stage between the banks of Alzou and Lot is on the day's agenda. You also cross the Causse de Gramat, the most important Causse (limestone plateau) in Quercy. The greatest wealth of this fascinating territory lies in its many stone treasures. Barns, barracks, low walls, wells, laundries, crosses, dolmens and menhirs, the landscape is interspersed by this priceless and emblematic heritage.
For a few more km

67km

1146m

Discover Loubressac and Autoire, two villages classified among the most beautiful villages in France and the splendid Gouffre de Padirac.
From FIGEAC to SAINT CIRQ LAPOPIE
53km
591m
A day along the water, on the banks of the Lot, which will lead you to Saint-Cirq Lapopie. Set on a cliff 100 meters above the Lot, Saint-Cirq Lapopie is one of the major sites in the Lot valley. This medieval village, with no less than 13 historical monuments, is one of the most beautiful villages in France.
From SAINT CIRQ LAPOPIE to CAHORS
43km
603m
From the medieval town of Saint-Cirq Lapopie, you enter the Célé Valley. On your way, take the time to discover the famous prehistoric cave of Pech Merle and its museum. You arrive in Cahors, capital of the Lot, which combines southern atmosphere, historical richness and gourmet pleasures!
For a few more km

57km

960m

You go along the Célé Valley to reach the heights and the Couzals ecomuseum, labelled as a museum of France.
From CAHORS to GOURDON
55km
847m
After a few kilometers along the Lot, you head north, indicating your return to Perigord. Through small villages and small roads in the shade, you reach Gourdon. This small town has kept a strong medieval identity: fortified gate, half-timbered houses, narrow streets winding up to the esplanade of the old castle … There, at the top of the mound, indulge the hilly landscapes specific to Périgord. Here, everything calls for a medieval stroll especially on the occasion of the medieval festivals which resound, at the beginning of August, with the sounds of swords and troubadours songs .
From GOURDON to SARLAT LA CANEDA
27km
229m
This stage allows you to reach Sarlat smoothly. Your passage over the Dordogne will certainly give you the craving for a swim or a nap under the fresh air of the river. This can be an opportunity to visit the city of Sarlat if you haven't had the time on your arrival.
For a few more km

40km

520m

A longer route is available for the more adventurous. It will take you to the village of Domme, which offers a splendid panorama over the Dordogne.

For a few more km

52km

781m

You continue your journey towards the magnificent castle of Castelnaud-la-Chapelle overlooking the whole valley. You then follow the Dordogne river to the village of La Roque-Gageac, classified as one of the most beautiful villages in France. You will need to make a few more efforts to reach the heights of Sarlat, and then you can plunge into the historic heart of this sumptuous town.
SARLAT LA CANEDA
End of the stay after your breakfast. Have a safe trip back !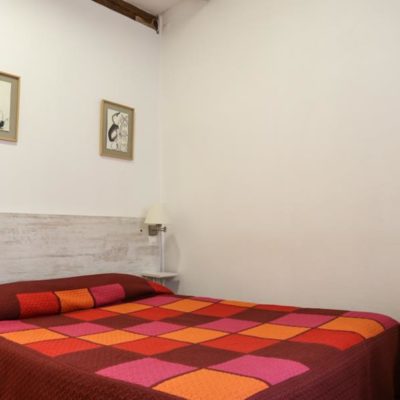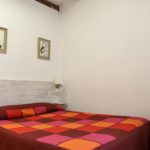 Essential Range
You want to enjoy your itinerary without anything fancy. Our "essential" range offers a simple accommodation for a good night's rest in a simple hotel, guesthouse, rest house or hostel.
---
Starting from 995€/participant in Self Guided option | See detailed prices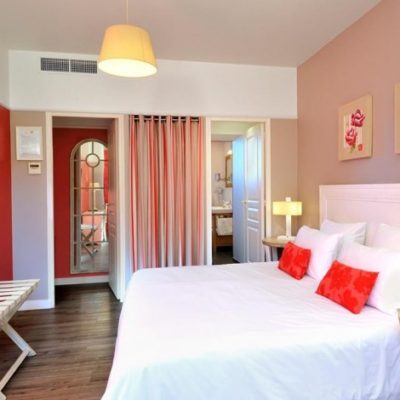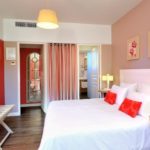 Comfort Range
Our quality standard at Abicyclette. This type of accommodation includes 2 and 3 stars hotels. Depending on the itinerary, you might spend some nights in approved guesthouses. You enjoy a double bedroom with private bathroom and toilet and adapted welcome for you and your bikes.
---
Starting from 1170€/participant in Self Guided option | See detailed prices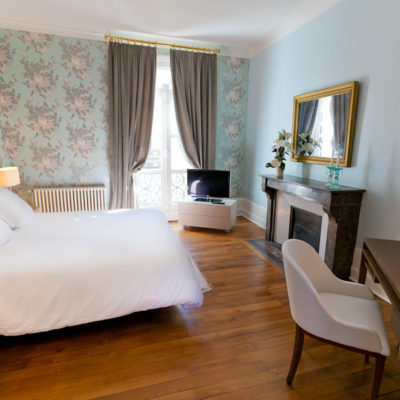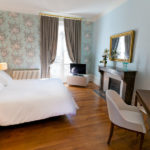 Privilege Range
Opt for total comfort in charming 3 and 4 star hotels which offer all the services you need and a special welcome for you and your bikes.
---
Quote on request | Contact us
Price includes
Accommodation: 7 nights in a Double room
7 breakfasts
Luggage transfer
Phone assistance 24/7
Application fee
A personalized greeting with our team at the beginning of the trip to receive your travel documents
Taxes
The itinerary trackable on the following supports:

Loan of a Bicycle GPS uploaded with full itinerary of the trip
Topo maps
Cycling practical guide including restaurant recommendations for lunch & dinner
Specific services
Day 1 : Orientation by phone
Price does not include
bike rental (see option)
Breakfast on day 1
Lunches
Dinners not included in "Price includes"
Drinks, visits & other personal expenses
---
Homemade and fully tested itineraries
Routes selected for their cycling and touristic interest entirely tested and away from traffic
Accomodations selected for their hospitality, atmosphere, services and quality meals
A flexible organisation to suit you needs and wishes: You choose the date you want to you leave on! We check the availability of each accomodation to make sure it is possible.
---
Close assistance
One of our guides greets you on your first day. He will hand out all the needed documents for the trip (hotel vouchers, maps of the area,GPS, practical guide), get you settled on your bikes (for rental bikes).
Phone assistance, you can reach the Abicyclette team whenever you need
A Luggage transfer service which respects your hours of rest (we pick them up after 10:00 and deliver them before 16:00)
---
Follow your itinerary anyway you like – modern, practical, traditional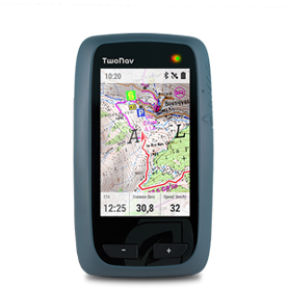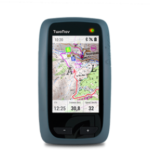 We loan you a GPS so that you can easily follow your itinerary without having to look for your way around (bike support included)
A practical cycling guide with all the useful information (addresses, highlights for the day, topo maps, and touristic information)
---
You can also
---
On our guided tours (for groups on demand), we accompany you every step of the way
One of our state qualified instructor and professional cycling guide accompanies you every step of the way
Full board (all meals covered unless asked otherwise)
A picnic buffet set up for lunch with a wide choice of fresh and local produce
We offer a high-end bike rental service. Our bikes are suited for road and gravel road long-distance cycling. Fully equipped and highly reliable, they are faithful travel companions.
---
Hiking Bike

24 Speed Shimano Drive Train

Integrated Cable Routing

Integrated Dynamo Power LED Lights

Supplied equipment per bike

Helmet,

Anti-puncture bomb,

Code lock,

Pump.

EBike

Hydraulic Brakes, Shimano Altus 9-speed

Front suspension: Suntour NEX

Bosch Drive Unit Active Plus GEN3 (50Nm)

Sizes: Small – medium

Supplied equipment per bike

Helmet,

Anti-puncture bomb,

Code lock,

Pump.

EBike

Mountain bike 20p and 24p

Supplied equipment per bike

Helmet,

Anti-puncture bomb,

Code lock,

Pump.
Getting here
Departure city : SARLAT LA CANEDA
Coming by car
at 5h30 from PARIS
at 2h15 from BORDEAUX
at 4h15 from LYON
Coming by train
Sarlat train station - 4h45 from Paris
Coming by plane
Arrival city : SARLAT LA CANEDA
Coming by car
at 5h30 from PARIS
at 2h15 from BORDEAUX
at 4h15 from LYON
Coming by train
Sarlat train station - 4h45 from Paris
Coming by plane
* Abicyclette Voyages accompanies you on demand, including transportation solutions.
Recommended equipment
Bike
Trekking or hybrid bike
21 to 30 speeds
26 or 28 inch (700) wheels
Clothing and equipment
Helmet (included with the rental)
Clothing suitable for cycling
Warm jacket (eg fleece)
Rain proof jacket
1 pair of sunglasses
1 pair of cycling shoes
1 small backpack or panniers
1 or 2 water flasks (included with the rental)
1 lock (included with the rental)
Our reccomendation for optimal comfort:

1 pair of gloves
1 special pair of pants (shammy leather)
1 night see fluorescent vest
Bike maintenance
Emergency repair kit: 2 or 3 tubes, patches, pump, tire levers, multi-tools
Daily use kit: cloth, brake pads, oil
Other
Suitcase for transporting personal effects in luggage transfers (limited to one per person when possible)
Change of clothes for the evening
Warm jacket for the evenings
Set of toiletries
Mobile phone and charger