Cycling holidays with GPS
Navigate with ease
Twonav GPS included
For our Self Guided tours, we provide a GPS to help you follow your itinerary easily 1.
The tactile device is very easy to use, with no constraint.
For optimal precision, the GPS displays a topo map IGN 1/25 000e. A colored stripe indicates the suggested itinerary. You only need to take a look at it from time to time to make sure you are on track, like at crossroads or roundabouts. Finding your direction becomes easy. You won't argue over which direction to take. If you are smiling right now you probably know what it's like.
Our guide will hand you the GPS when he greets you on the first day 2. He will show you how to use it: turn it on and off, select your itinerary, handle charge and batteries. He will also give you a memo with the main features.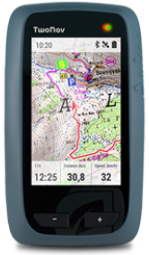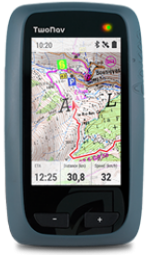 TwoNav Anima GPS

Included in most of your trips1
Available for purchase: 199,00€
We selected one of the most advanced GPS of its generation, the TwoNav Anima
The TwoNav GPS by CompeGPS is well adapted for our trips:
–    Great autonomy: up to 12 hours, tested by our guides on their recognition trips
–    Perfectly waterproof: you can use the GPS under any kind of weather. No more unreadable maps in the rain!
–    A transflective screen (with anti reflective coating) which allows you to easily read the information on the screen under bright sunlight
–    Shockproof in order to limit the risks when using them on bikes
–    High performance thanks to a 128 mo processor
–    Very practical bike support, easily adaptable to any size or type of handlebar
–    Lightweight: only 144g on your handlebar
We also provide an extra battery wich allows you up to 30 hours of autonomy per day! You can recharge them in your room every night on a wall charger.
You enjoyed the GPS you used on your trip and wish to buy one for yourself ?
We can order it for you at a discounted price. If you travelled on one of our trips, CompeGPS offers a 10% discount on your GPS purchase. Email us at contact@abicyclette.net or call us at +33 230 964 954.
Check out our Special offers Trip & GPS
When you buy a trip and a Sportiva GPS, you receive a 30,00€ discount on our weekend tours and a 50,00€ discount on our week tours.
More about TwoNav Anima & CompeGPS : www.twonav.com
1 Some offers, destinations or trips do not include a GPS. We invite you to have a look at your offer and / or travel contract to see what is included or not in your package.
2 One of our guides will hand out the GPS when meeting with you on the fisrt day. For the loan of the GPS we ask for a credit card number for guarantee. On some tours, the GPS will be sent by postal mail to your first accomodation.