Crédit : © Abicyclette Voyages
Cycling holidays with GPS
Navigate with ease
Cycling trip in France: loan of a TwoNav cycling GPS
On our cycling trips in France, we provide you with a GPS for monitoring and guiding the route1.
The touch device is very easy to use and allows everyone to use and read it easily and comfortably, when stationary but especially when riding a bicycle. The ride is smoother. The precise location as well as the indication of the distance remaining to be covered can be comforting and reassuring.
Having a GPS provided with a clear outline of the roads allowed us to discover in all tranquility superb landscapes and highly picturesque villages.

Prune, September 2021, Loop around the Gulf of Morbihan

The GPS presents a detailed base map, on which a colored line corresponding to the route that we recommend, indicates the direction to you. So all you have to do is take a look at it at every crossroads. No more orientation problems, it becomes child's play. No more disagreement on the direction to take!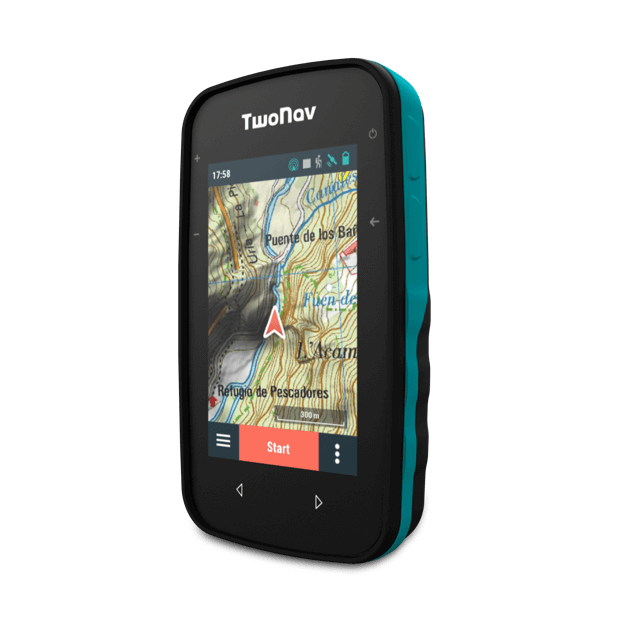 TwoNav Cycling GPS
A reliable road companion on your bike trips1
Our guide will hand you the GPS when he greets you2. He will show you how to use it: turning it on and off, choosing your route, reading and navigating… He will also give you a memo with the main features.
We have selected those which are for us the most successful GPS of their generation, the Cross and the Trail from the Spanish manufacturer TwoNav.
Overwhelming autonomy: 16 to 20 hours of autonomy noted and verified by our guides during their scouting work.
Waterproof qualities: no risk when used in the rain. No more wet maps that become unreadable!
An extremely efficient new-generation anti-reflective touch screen that remains readable in all weather and especially in very strong sunlight.
Shock-absorbing qualities to limit the risks of cycling use.
A very practical bike stand that easily adapts to all types and sizes of handlebars.
A display of some additional data specifying the kilometers remaining to be covered, your speed and your altitude.
Only 172g on the handlebars to carry so much information!
A wall charger allows you to recharge the batteries in your room every evening.
You have said it best
Jacques: The GPS provided is a plus (Nov. 2021)
Janine: Riding in peace with the well-programmed GPS that brings us to the door of the accommodation (Jul. 2021)
Jean-Pierre: From a practical point of view, following the route with the GPS provided is really a plus: no need to stop, the tracking is quite smooth. (Jul. 2021)
Sylvie: The GPS and the road book are very valuable (August 2021)
Philippe: Very precise and essential GPS (Nov. 2021)
Christine: I loved the GPS and the travel guide that allowed us to fully immerse ourselves in each day. (August 2021)
Alain: Perfect documentation and GPS (August 2021)
Would you like to invest in a TwoNav GPS? Have you just returned from a trip and have been seduced by the device?
Order your device by email on contact@abicyclette.net or by phone on (+33) 230 964 954.
Since 2010, thanks to our partnership with TwoNav, if you have stayed on one of our travel offers you benefit from a 10% discount on the purchase of a single device.
Also take advantage of our "Abicyclette trips + TwoNav GPS" offers:
If you place an order for the purchase a TwoNav GPS with your trip, we will prepare it for you to carry out the latter. Also in addition to the 10% discount on the device, we offer you a discount of €30.00 on your cycling weekend (2 to 4 days) or a discount of €50.00 on your cycling week (5 days and more).
To learn more about the device, we advise you to visit the TwoNav website: www.twonav.com
1 Some offers, destinations or trips do not include a GPS. We invite you to have a look at your offer and / or travel contract to see what is included or not in your travel package.
2 Our guide will greet you at the meeting point fixed when confirming your trip. In exchange for the loan of GPS, a check or a credit card number is requested as a deposit. On certain star-shaped stays, you receive the GPS by parcel on the first accommodation.