Rhone Cycle Route Viarhona on Eurovelo17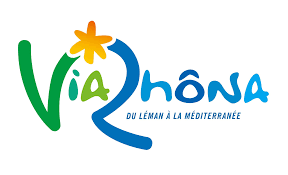 Key figures of the ViaRhôna
815 km
56% on bicycle lanes
44% on small roads with low traffic
10 departments crossed: Haute-Savoie, Savoie, Ain, Isère, Rhône, Loire, Ardèche, Drôme, Vaucluse and Bouches-du-Rhône.
From the mountain to the sea, the purpose of the ViaRhôna is clear. Along the Rhône, the circuit begins at Lake Geneva and leads straight towards the Mediterranean Sea for more than 800km.
Throughout this route, the Rhône river guides you. The main axis between Northern Europe and the Mediterranean, it was for 2000 years the vector of numerous commercial, cultural and religious exchanges. From the alpine landscapes to the plains of the Camargue, through the famous vineyards of the Rhône valley and its gastronomy, not to mention the lavender fields and the olive groves of Provence, your trip is punctuated by sensory discoveries. Do not hesitate, come and discover our cycling trips along the Rhône.

Cities to visit on the ViaRhôna route
Lyon
Vienna
Montelimar
Orange
Avignon
Arles
Sète
Places to discover along the ViaRhôna
Lake Geneva, one of the largest lakes in Europe
Château Saint-Michel d'Avully in Brenthonne
Sainte Marie abbey in Cruas
The hills of the Rhône valley
The Notre-Dame collegiate church and its cloister in Villeneuve-lès-Avignon
The Palace of the Popes in Avignon
The arenas of Arles
The plains and ponds of Camargue
The beaches of the Mediterranean Sea