The story behind the trip
Brittany from port to port is the first trip created and organized by Abicyclette, in 2010. It was imagined like a sea cruise: try never to take our eyes off the sea! We use a maximum of small roads to stay closer to the coast. The circuit benefits each year from the improvements made and takes advantage of the new cycling facilities (greenways), which have developed particularly since the launch of the Tour de Manche in 2013. Some of the accommodations of this stay have not changed since its creation. They are part of the history of the journey and testify to many experiences and encounters. Brittany from port to port is a classic for all lovers of the sea and Brittany.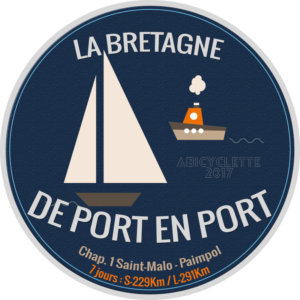 Chapter 1 : from Saint-Malo to Paimpol
Discover the Breton ports and their life. From Saint-Malo, a commercial port and an old privateer port, to Paimpol, a fishing port specialized in scallops.
From the great fortress of Saint-Malo to Paimpol, you will stop at the most typical Breton ports on the north coast. Fishing port or marina, the warm atmosphere of the cities of the sea will allow you find true moments of fulfillment. Cape Fréhel, the Bay of Saint-Brieuc, the tip of the Arcouest, so many places where nature will reveal its most beautiful colors. The yellow of the brooms (Genista), the pink of the heather (Calluna) and the granite, the emerald blue of the sea, the green of the ferns … They mix to offer a living landscape, invigorating where one simply feels well.
Sailors, privateers, buccaneers … embark on this cruise of multiple treasures. Gourmet, historical, geographical, musical, folkloric, these are the treasures that will make your wealth. Crêpes & galettes, seafood, fish and other local specialties will generously garnish your plates to reward your effort.
Brittany from port to port, a journey in chapters that continues …