The Nantes to Brest canal as a family
From Pontivy to Redon, ride with your family along the Nantes to Brest canal on the Vélodyssée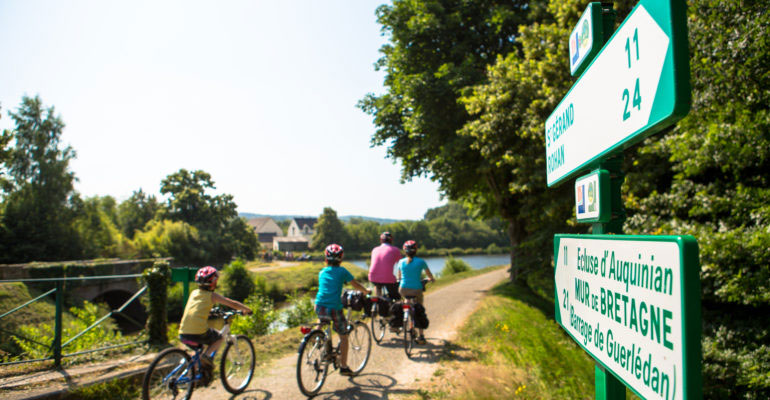 The Nantes to Brest canal for family cycling
Gather the family, hop on the bikes and leave for a rejuvenating holiday on the Vélodyssée
From Pontivy to Redon, the Nantes to Brest Canal as a family offers you a beautiful and relaxing crossing of Brittany in a natural setting. On the towpath, perfectly signposted and secure, you will discover a deeply peaceful and wild region with your family. In the middle of this sanctuary of greenery, the chirping of birds and the gentle sound of the river punctuate your family cycling break.
This route, specially designed for families, is perfectly suited to children, including young children. The stages are short, flat and completely away from traffic. Thus, you will sail along the canal with your children with confidence. Signposted, the route of Eurovélo 1, the Vélodyssée, shows you the way and shows you the distances by bicycle between each stage village.
In the middle of the rural landscapes of the canal, you will meet other travellers (cyclists, walkers) and locals (lock keepers, boaters, residents, fishermen). They will always be happy to tell you their love story with the canal.
450 km between Nantes and Brest, 364 km from the lock at Nort-sur-Erdre at the 237th lock located in Châteaulin (238 locks in total*). The richness of this cycling route is the variety of rivers rode along more often wild than artificial. In fact, only 20%, or 73 km, have been dug to link the rivers of the Ordre, Oust and Alder in particular. From Redon to Châteaulin, you are in the heart of Brittany and you cross some of the most beautiful parts of the canal on a route accessible to all thanks to the well kept towpaths combining asphalt road, white paths and well maintained trails.
A bit of history :
The Nantes to Brest canal construction projects were initiated under the Old Regime. They began under Napoleon 1st for strategic reasons. In 1804, the construction of the canal began at both ends in Loire Inférieur (Loire Atlantique) and in Finistère. It will take 38 years to complete the work (in 1842). The operation cost 160 million gold francs in 1860, a current equivalent estimated at around 150 million euros.
* 238 locks in total but none with that number: in Redon, there is a 17 bis lock; 18 were swallowed up following the construction of the Guerlédan dam in 1923.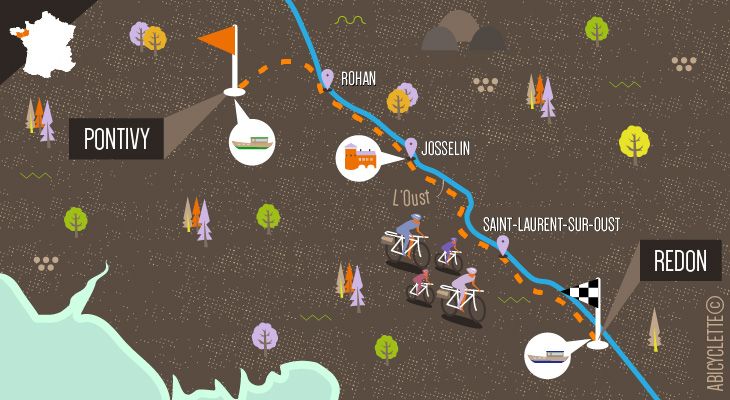 Easy
PONTIVY
Welcome to Pontivy, the departure city of your cycling trip on the Nantes to Brest canal.
If you arrive early, go with the children to discover Pontivy through two discovery booklets: the medieval booklet and the Napoleonic one. The goal is to solve puzzles and find clues on the city walls. Children love it, and so do parents!
Briefing Orientation
Before your first ride, we invite you to meet one of our guides, at your place of departure. A time of exchange, a privileged moment to give you our last practical tips, must-see places and experiences, to answer all your questions, take care of your bike fitting to begin your trip.
From PONTIVY to ROHAN
26km
117m
From Pontivy, you no longer follow the Blavet but the canal dug to connect the course of the river to that of the Oust, river that you will follow to Redon. The numerous locks and small retention ponds on this part of the canal are an interesting curiosity. Rohan seems set on top of the Oust. Small charming village, with beautiful granite houses, the town offers all the shops needed to refuel and enjoy a relaxed evening.
In Rohan, horse riding enthusiasts can indulge their passion at the Rohan equestrian center. For those who prefer water sports, canoeing and kayaking is possible on the river.
From ROHAN to JOSSELIN
25km
36m
A few kilometers after the departure from Rohan you will reach Notre-Dame de Timadeuc Abbey on the banks of the canal . A community of monks lives there under the Rule of Saint Benedict. The monks make cheeses, jams, fruit pastes … If you pay them a visit you can discover all their products inside their shop. The descent of the Oust continues to Josselin, a small town of character. The town center has historic timber framed houses and the cafes and crêperies offer a warm welcome.
In Josselin, you can visit the castle and the Dolls and Toys Museum. Fun activities are especially available for children.
From JOSSELIN to SAINT-LAURENT-SUR-OUST
33km
51m
You cross the Roc Saint-André which offers impressive religious architecture. This village is also that of the now famous Lancelot Brewery. You can stop there to visit and taste the traditional beers or soda of the Phare Ouest! The rest of the route will take you to Malestroit, a charming little town to visit. It is also the ideal place to eat or refuel. The small village of Saint-Laurent-sur-Oust will offer you less possibilities, but will be a calm and peaceful place for a pleasant stopover.
From SAINT-LAURENT-SUR-OUST to REDON
33km
52m
On the banks of the Oust, common streambed with the Nantes to Brest canal. The towpath offers a flat, peaceful circuit where you can appreciate the calmness of the place. Facing the cliffs of Ile aux Pies, which is on the other side of the canal, Brittany shows you how surprising it can be, with its relief and its rocks. The surprise continues in Redon with the size of its port and its quays, in the center of Brittany. The crossroads here of the Oust which flows into the Vilaine, makes it a strategic point for all boaters. From here, they can reach the English Channel as well as the Atlantic thanks to the canals or channeled rivers. The center of Redon and its massive monuments offer you a nice stop at the end of the day.
REDON
After breakfast, end of your stay on the Nantes to Brest canal.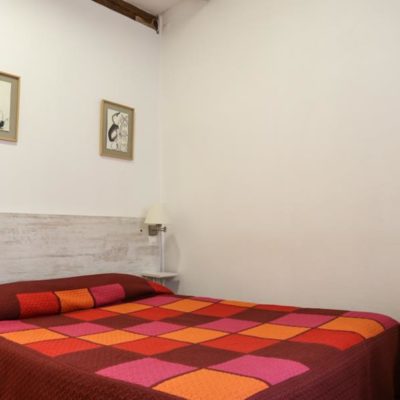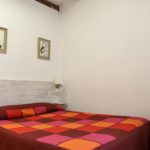 Essential Range with family rooms
The price is
based on one family room for 4 people, 2 adults and 2 kids.
, please contact us if you need another type of rooms. Free for young children (0-2 years) with a baby bed in the room.
---
Starting from 618€/adult in Self Guided option | See detailed prices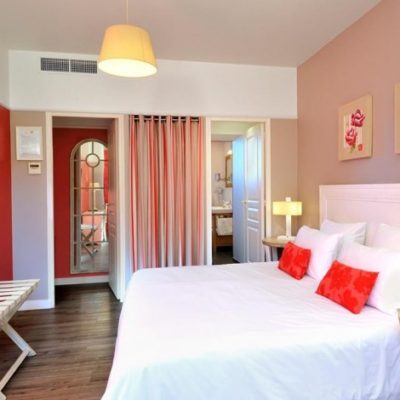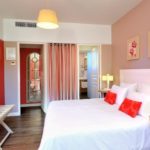 Comfort Range
Our quality standard at Abicyclette. This type of accommodation includes 2 and 3 stars hotels. Depending on the itinerary, you might spend some nights in approved guesthouses. You enjoy a double bedroom with private bathroom and toilet and adapted welcome for you and your bikes.
---
Quote on request | Contact us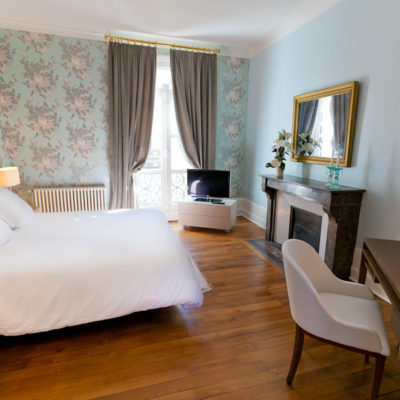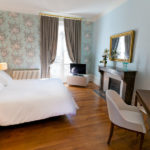 Privilege Range
Opt for total comfort in charming 3 and 4 star hotels which offer all the services you need and a special welcome for you and your bikes.
---
Quote on request | Contact us
Price includes
Accommodation: 5 nights in a Family 4 participants ou Double room
5 breakfasts
1 dinner
Luggage transfer
Phone assistance 24/7
Application fee
A personalized greeting with our team at the beginning of the trip to receive your travel documents
Taxes
The trip itineraries available on the following supports:

Loan of a Bicycle GPS uploaded with full itinerary of the trip
Topo maps
Cycling practical guide including restaurant recommendations for lunch & dinner
Specific services
Jour 1 : Meeting with our guide in Brittany
Price does not include
bike rental (see option)
Breakfast on day 1
Lunches
Dinners not included in "Price includes"
Drinks, visits & other personal expenses
---
Homemade and fully tested itineraries
Routes selected for their cycling and touristic interest entirely tested and away from traffic
Accomodations selected for their hospitality, atmosphere, services and quality meals
A flexible organisation to suit you needs and wishes: You choose the date you want to you leave on! We check the availability of each accomodation to make sure it is possible.
---
Close assistance
One of our guides greets you on your first day. He will hand out all the needed documents for the trip (hotel vouchers, maps of the area,GPS, practical guide), get you settled on your bikes (for rental bikes).
Phone assistance, you can reach the Abicyclette team whenever you need
A Luggage transfer service which respects your hours of rest (we pick them up after 10:00 and deliver them before 16:00)
---
Follow your itinerary anyway you like – modern, practical, traditional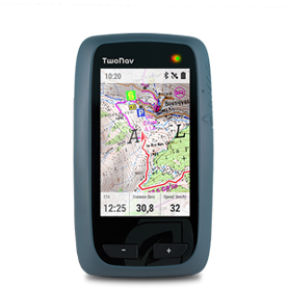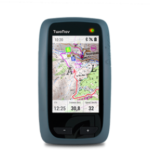 We loan you a GPS so that you can easily follow your itinerary without having to look for your way around (bike support included)
A practical cycling guide with all the useful information (addresses, highlights for the day, topo maps, and touristic information)
---
You can also
---
On our guided tours (for groups on demand), we accompany you every step of the way
One of our state qualified instructor and professional cycling guide accompanies you every step of the way
Full board (all meals covered unless asked otherwise)
A picnic buffet set up for lunch with a wide choice of fresh and local produce
We offer a high-end bike rental service. Our bikes are suited for road and gravel road long-distance cycling. Fully equipped and highly reliable, they are faithful travel companions.
---
Trekking bike

A layed out and dynamic position

Mixed aluminum frame, telescopic fork. Straight handlebars. Disc brakes. Transmission Shimano 24 to 30 speeds.

Supplied equipment per bike

1 helmet
1 back bag 20L (waterproof)
1 front bag 4L with plastic map holder (waterproof)
1 lock
1 repair kit (patches, tube, tire lever)
1 multi tools box
1 pump
1 bike computer
1 bottle

Touring bike

An upright and easy going position

Mixed aluminum frame, telescopic fork. Straight handlebars. Disc brakes. Transmission Shimano 24 to 30 speeds.

Supplied equipment per bike

1 helmet
1 back bag 20L (waterproof)
1 front bag 4L with plastic map holder (waterproof)
1 lock
1 repair kit (patches, tube, tire lever)
1 multi tools box
1 pump
1 bike computer
1 bottle

Ebike

With an autonomy of almost 120km, cycling has never been so easy!

Supplied equipment per bike

1 helmet
1 back bag 20L (waterproof)
1 front bag 4L with plastic map holder (waterproof)
1 lock
1 repair kit (patches, tube, tire lever)
1 multi tools box
1 pump
1 bike computer
1 bottle

Children Bike

20″ or 24″ bike

Bike trailer
Getting here
Departure city : PONTIVY
Coming by car
at 4h45 from PARIS
at 5h15 from BORDEAUX
at 8h from LYON
Parking
Place Aristide Briand – PONTIVY
Coming by train
Vannes train station - 2h30 from Paris
Pontivy bus station - 3h45 from Paris
Coming by plane
Arrival city : REDON
Coming by car
at 4h15 from PARIS
at 4h15 from BORDEAUX
at 7h from LYON
Coming by train
Redon train station - 2h30 from Paris
Coming by plane
Rennes Airport
Nantes airport
* Abicyclette Voyages accompanies you on demand, including transportation solutions.
How to get back to the starting point
By train from Redon to Gare routière de Pontivy in 2h30
Private shuttle: see detailed fares or contact us
Recommended equipment
Bike
Trekking or hybrid bike
21 to 30 speeds
26 or 28 inch (700) wheels
Clothing and equipment
Helmet (included with the rental)
Clothing suitable for cycling
Warm jacket (eg fleece)
Rain proof jacket
1 pair of sunglasses
1 pair of cycling shoes
1 small backpack or panniers
1 or 2 water flasks (included with the rental)
1 lock (included with the rental)
Our reccomendation for optimal comfort:

1 pair of gloves
1 special pair of pants (shammy leather)
1 night see fluorescent vest
Bike maintenance
Emergency repair kit: 2 or 3 tubes, patches, pump, tire levers, multi-tools
Daily use kit: cloth, brake pads, oil
Other
Suitcase for transporting personal effects in luggage transfers (limited to one per person when possible)
Change of clothes for the evening
Warm jacket for the evenings
Set of toiletries
Mobile phone and charger