Brittany port to port #2 - Paimpol to Morlaix
The ports of Brittany by bike: Paimpol, Perros-Guirec, Morlaix ...
Highlights
Pink Granite Coast
Long coastal roads
A wild coast with multiple landscapes
Tréguier, small city of character
The charming ports of Paimpol, Loguivy, Locquirec ...
Cycling along the Brittany coast
Chapter 2 of Brittany from port to port takes you to the shores of the fabulous Pink Granite Coast ...
Leaving from Paimpol, you will travel on a circuit that is resolutely centered around the sea. Six stages that will take you from Côtes d'Armor to Finistère, from Paimpol to Morlaix.
You start on a hybrid bike journey, you will discover a geological miracle: the pink granite coast. It unfolds along 15 kilometers between Trébeurden and Perros-Guirec, and counts among the most astonishing landscapes of Northern Brittany. On a festooned coast, strewn with pebbles, closed bays and peninsulas beaten by the swell, it offers a magical sight that underlines the changing breton lights. The chaos of Ploumanac'h made up of of huge blocks with refined or evocative forms offer a real moment of wonder.
The coast rises progressively towards the west between Trébeurden and the mouth of the Léguer river in Lannion. The steep slopes covered with moors or ferns descend abruptly to the sea towards a chiselled coastlin. The straight cliffs offer beautiful coastal roads with stunning wild landscapes.
The islands of Bréhat, Batz and the archipelago of the 7 islands can be reached by boat. Get on board for short but beautiful cruises to these location of a surprising exoticism!
Brittany from port to port, a journey in chapters that continues …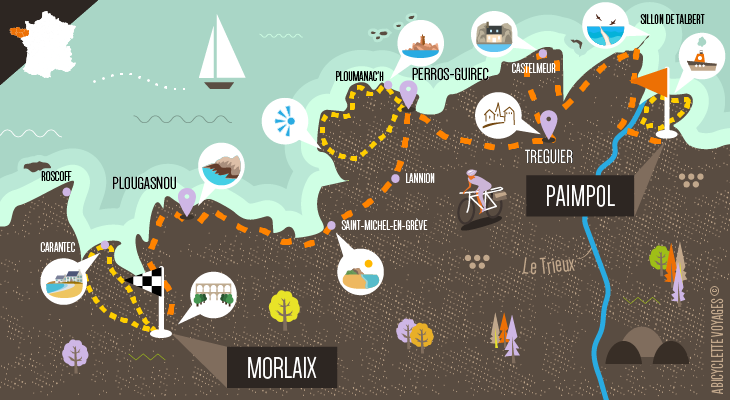 Leisure or
Fit
FROM PAIMPOL, LOGUIVY LOOP
31km
228m
This bike loop allows you to discover the Trieux, a powerful river that has drawn an extraordinary landscape. You go to the charming and typical of northern Brittany little port of Loguivy.
Briefing Orientation
Before your first ride, we invite you to meet one of our guides, at your place of departure. A time of exchange, a privileged moment to give you our last practical tips, must-see places and experiences, to answer all your questions, take care of your bike fitting to begin your trip.
From PAIMPOL to TREGUIER
31km
223m
After crossing the surrounding countryside of Paimpol, you cross the Trieux. Set back from the sea but bathed by the waters of the Channel, Lézardrieux is perched on the edge of the estuary. The rest of the journey takes you to the small town of Tréguier located at the confluence of Jaudy and Guindy, the two rivers that surround it.
For a few more km

49km

492m

From the Trieux estuary you will attain the coast to reach Sillon de Talbert. You will go down along from Jaudy to Tréguier.
From TREGUIER to PERROS-GUIREC
20km
161m
The route takes you to Perros-Guirec by the small bucolic roads of the Breton countryside. You find the seaside end of the stage on the marina of Perros-Guirec. You still need some effort to get to the heights of the seaside resort known for its Thalasso. The tip of the Château de Perros-Guirec provides you with a remarkable view of the archipelago of 7 islands.
For a few more km

40km

459m

In the morning, we suggest you go around the tip of the Château de Plougrescant and stop for a few moments at the Chasm of Castel Meur where stormy days shake the rocks, where the wind and unleashed elements scream with a rare intensity the strength of an ocean nearby. You will not be disappointed with the rest of the journey when you cross Port-Blanc and its sentry. Many panoramas will give you a breathtaking views of the horizon.
FROM PERROS-GUIREC, TREBEURDEN LOOP
47km
252m
You ride to the castle of Costaérès enthroned in the middle of a granitic disorder. No doubt it has been laid there by some giant. As if coming out a thousand and one nights' tale, it watches the coast since the 18th century. White and pink dominate, Trégastel opens its doors. Appreciate its beauty and nature's miracle. Spikes, creeks and islets succeed each other, offering a different view of a seaside resort.
In the afternoon enjoy the small beach in Saint-Guirec for a swim or sunbathing Venture out on the "Sentier des Douaniers" and walk among the Chaos and natural Pink Granite sculpture! Walk to the Men Ruz Lighthouse, a beautiful visual sight!
From PERROS-GUIREC to PLOUGASNOU
57km
482m
Near the sea, you ride along the most beautiful stretches of the pink granite coast. On the Grève de Saint-Michel stands a cross, in the middle of the huge beach, aptly named "Cross of Mi-lieue". Knocked down in 1944, it was found and put up again in May 1993 on the edge of what was, for a long time, the only possible crossing to reach Saint-Effla. The "Big Rock", a shy granite overhang towards the sea, marks the border of the Plestin territory.
From PLOUGASNOU to MORLAIX
25km
223m
The route takes you from outlook to outlook up to Morlaix for a stage under the sign of the contemplation … From the coastline, natural headlands make it possible to graze the islets: as from the Peninsula of Barnenez in Plouezoc'h, towered over by the most important Neolithic monument in Europe, Barnenez Cairn, 7000 years old. The Bay extends inland, by the River Morlaix, natural border between Leon and Trégor.
FROM MORLAIX, CARANTEC LOOP
35km
260m
On this last morning, go down the west bank of the Morlaix river to reach Carantec. Each small island is a postcard in itself: Île Louet and its only house turns its back on Taureau Castle, while the Île Sterec, bristling with dense vegetation contrasts with the barren Île Noire surmounted by a white square tower and its lighthouse. Further down, Île Callot, wonder of the Bay, is accessible by foot by a small road, but be careful this is only during a few hours a day.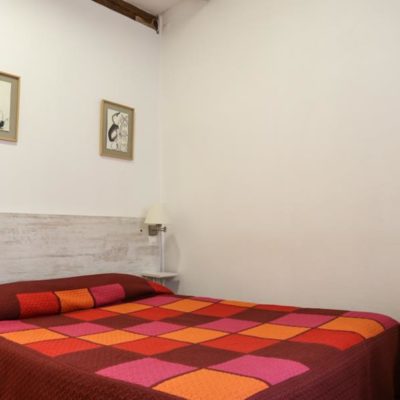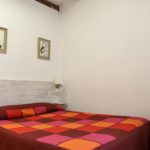 Essential Range
You want to enjoy your itinerary without anything fancy. Our "essential" range offers a simple accommodation for a good night's rest in a simple hotel, guesthouse, rest house or hostel.
---
Starting from 825€/participant in Self Guided option | See detailed prices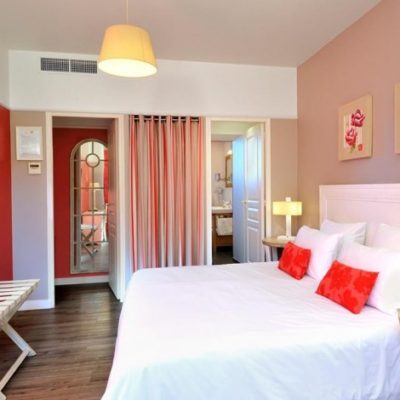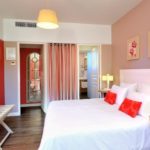 Comfort Range
Our quality standard at Abicyclette. This type of accommodation includes 2 and 3 stars hotels. Depending on the itinerary, you might spend some nights in approved guesthouses. You enjoy a double bedroom with private bathroom and toilet and adapted welcome for you and your bikes.
---
Starting from 905€/participant in Self Guided option | See detailed prices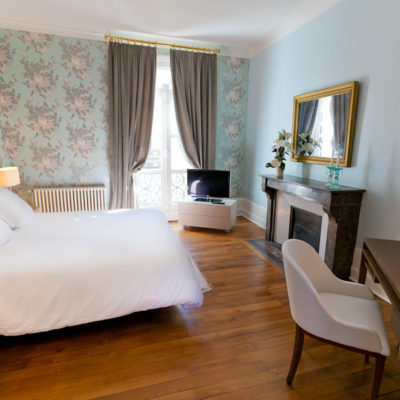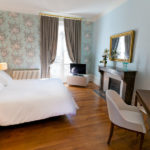 Privilege Range
Opt for total comfort in charming 3 and 4 star hotels which offer all the services you need and a special welcome for you and your bikes.
---
Starting from 1420€/participant in Self Guided option | See detailed prices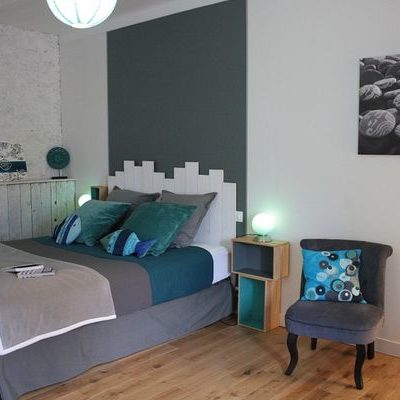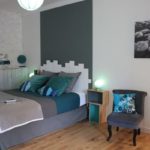 Bed & Breakfast Range
Another way to travel, meeting the people of the lands you cycle through. They welcome you in their home and offer board and lodging*. It gives you the opportunity to chat and deepen your knowledge of the region. We have selected them for their charm and privacy.
*breakfast included, diners available according to establishments
---
Starting from 710€/participant in Self Guided option | See detailed prices
Price includes
Accommodation: 6 nights in a Double room
6 breakfasts
Luggage transfer
Phone assistance 24/7
Application fee
A personalized greeting with our team at the beginning of the trip to receive your travel documents
Taxes
The trip itineraries available on the following supports:

Loan of a Bicycle GPS uploaded with full itinerary of the trip
Cycling practical guide including restaurant recommendations for lunch & dinner and with topo maps
Specific services
Day 1 : Meeting with our guide in Brittany
Price does not include
bike rental (see option)
Breakfast on day 1
Lunches
Dinners not included in "Price includes"
Drinks, visits & other personal expenses
---
Homemade and fully tested itineraries
Routes selected for their cycling and touristic interest entirely tested and away from traffic
Accomodations selected for their hospitality, atmosphere, services and quality meals
A flexible organisation to suit you needs and wishes: You choose the date you want to you leave on! We check the availability of each accomodation to make sure it is possible.
---
Close assistance
One of our guides greets you on your first day. He will hand out all the needed documents for the trip (hotel vouchers, maps of the area,GPS, practical guide), get you settled on your bikes (for rental bikes).
Phone assistance, you can reach the Abicyclette team whenever you need
A Luggage transfer service which respects your hours of rest (we pick them up after 10:00 and deliver them before 16:00)
---
Follow your itinerary anyway you like – modern, practical, traditional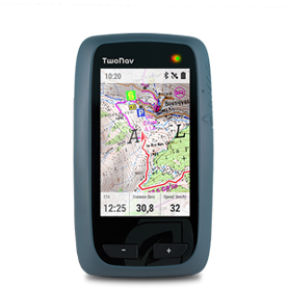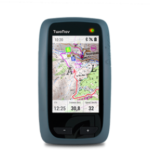 We loan you a GPS so that you can easily follow your itinerary without having to look for your way around (bike support included)
A practical cycling guide with all the useful information (addresses, highlights for the day, topo maps, and touristic information)
---
You can also
---
On our guided tours (for groups on demand), we accompany you every step of the way
One of our state qualified instructor and professional cycling guide accompanies you every step of the way
Full board (all meals covered unless asked otherwise)
A picnic buffet set up for lunch with a wide choice of fresh and local produce
We offer a high-end bike rental service. Our bikes are suited for road and gravel road long-distance cycling. Fully equipped and highly reliable, they are faithful travel companions.
---
Trekking bike

A layed out and dynamic position

Supplied equipment per bike

1 helmet
1 back bag 20L (waterproof)
1 front bag 4L with plastic map holder (waterproof)
1 lock
1 repair kit (patches, tube, tire lever)
1 multi tools box
1 pump
1 bike computer
1 bottle

Touring bike

A straight and easy going position

Supplied equipment per bike

1 helmet
1 back bag 20L (waterproof)
1 front bag 4L with plastic map holder (waterproof)
1 lock
1 repair kit (patches, tube, tire lever)
1 multi tools box
1 pump
1 bike computer
1 bottle

Ebike

With an autonomy of almost 120km, cycling has never been so easy!

Supplied equipment per bike

1 helmet
1 back bag 20L (waterproof)
1 front bag 4L with plastic map holder (waterproof)
1 lock
1 repair kit (patches, tube, tire lever)
1 multi tools box
1 pump
1 bike computer
1 bottle

Children Bike

20″ or 24″ bike

Bike trailer
Getting here
Departure city : PAIMPOL
Coming by car
at 4h from PARIS
at 5h from BORDEAUX
at 8h from LYON
Parking
Parking du Port – PAIMPOL
Parking Place du Goëlo – PAIMPOL
Parking de la Gare – PAIMPOL
Coming by train
Paimpol train station - 4h15 from Paris
Coming by plane
Lannion airport
Rennes Airport
Arrival city : MORLAIX
Coming by car
at 5h15 from PARIS
at 6h from BORDEAUX
at 8h from LYON
Parking
Parking Les Otages – MORLAIX
Coming by train
Morlaix train station - 3h45 from Paris
Rennes train station - 1h30 from Paris
Coming by plane
Brest airport
Rennes Airport
* Abicyclette Voyages accompanies you on demand, including transportation solutions.
How to get back to the starting point
By train from Morlaix to Paimpol in 1h30
Return by car in 1h15 to your starting point ?
Private shuttle: see detailed fares or contact us
Recommended equipment
Bike
Trekking or hybrid bike
21 to 30 speeds
26 or 28 inch (700) wheels
Clothing and equipment
Helmet (included with the rental)
Clothing suitable for cycling
Warm jacket (eg fleece)
Rain proof jacket
1 pair of sunglasses
1 pair of cycling shoes
1 small backpack or panniers
1 or 2 water flasks (included with the rental)
1 lock (included with the rental)
Our reccomendation for optimal comfort:

1 pair of gloves
1 special pair of pants (shammy leather)
1 night see fluorescent vest
Bike maintenance
Emergency repair kit: 2 or 3 tubes, patches, pump, tire levers, multi-tools
Daily use kit: cloth, brake pads, oil
Other
Suitcase for transporting personal effects in luggage transfers (limited to one per person when possible)
Change of clothes for the evening
Warm jacket for the evenings
Set of toiletries
Mobile phone and charger