Our favorite Brittany stays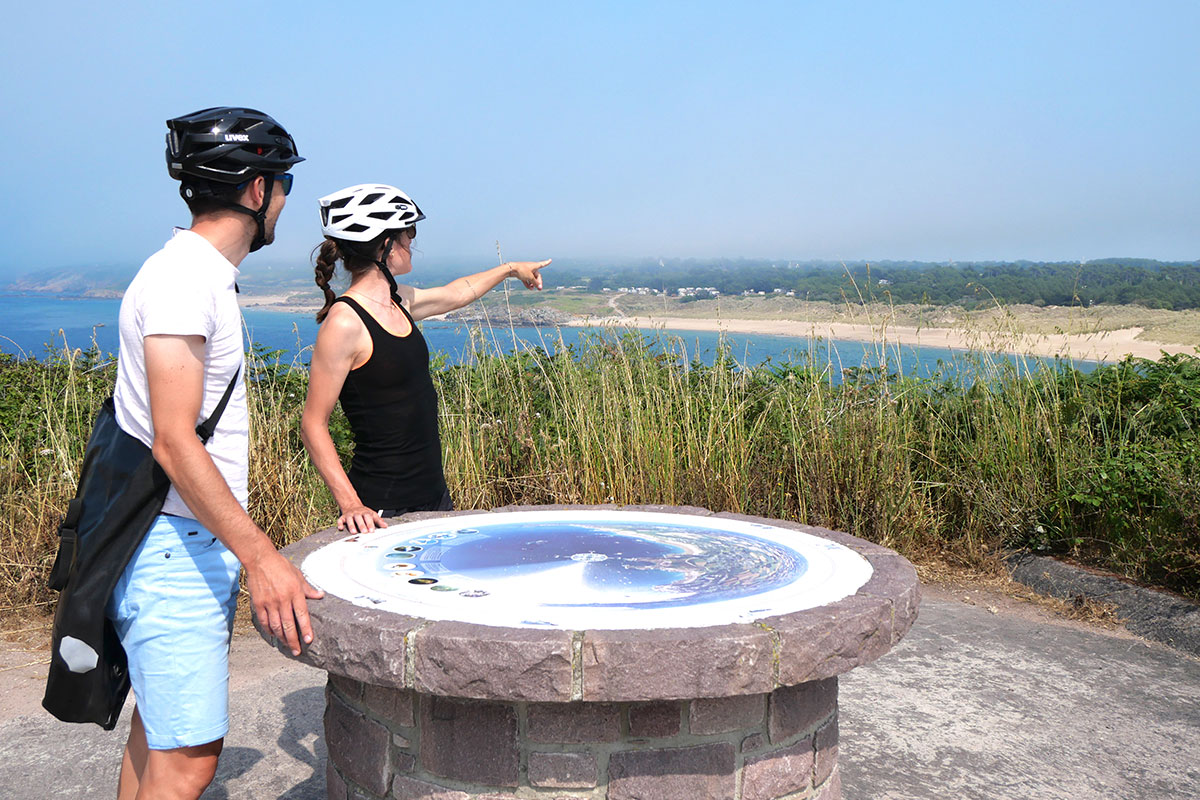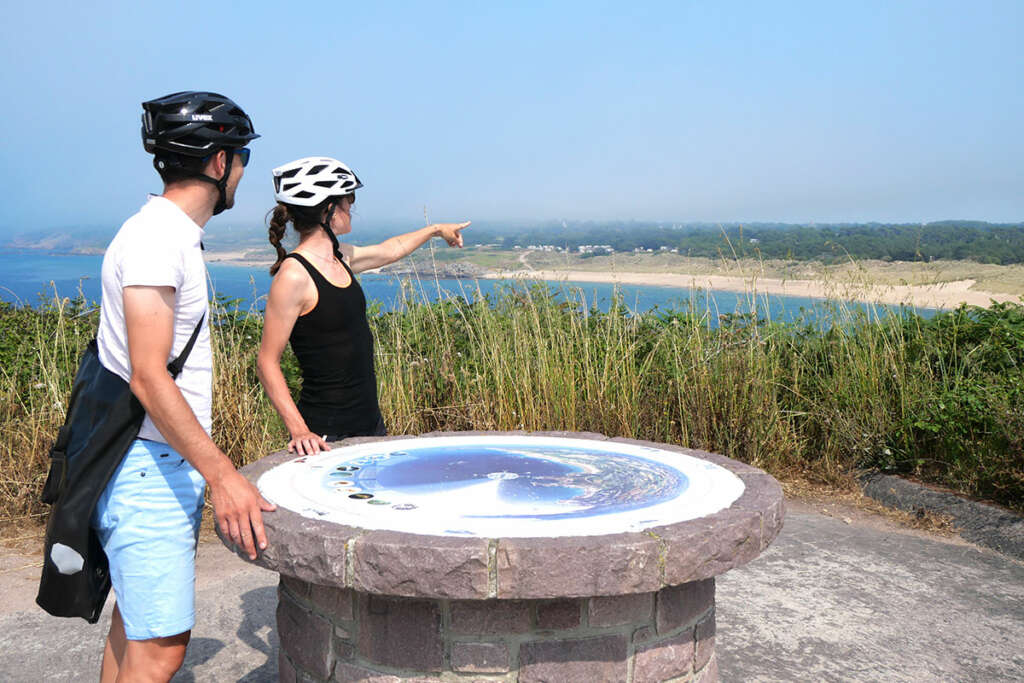 We take you on a journey through our favorite Brittany cycling vacations, allowing you to soak up the magic of this unique region. Brittany has something to offer every type of explorer, whether you're an avid cyclist looking for an athletic challenge or a traveler looking for bucolic rides. We share with you carefully selected itineraries, travel anecdotes and practical tips to make your cycling adventure in Brittany as memorable as possible.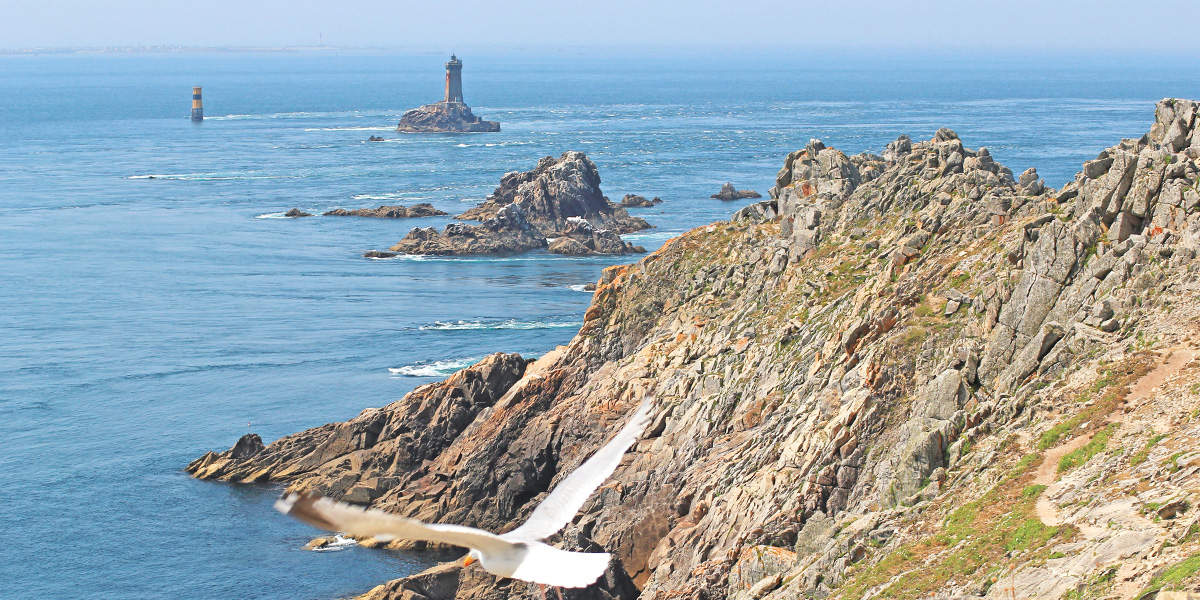 A stay in Brittany, from Brest to Quimper
par Gaëlle, Abicyclette Voyages
The port to port #4 trip from Brest to Quimper is particularly close to my heart, as my family hails from Finistère, and I was lucky enough to cycle this route with my best friends: a journey that left us with unforgettable memories!
If you're lucky (because the crossings aren't scheduled every day), the trip gets off to a great start with a boat trip across the Brest harbor. A breath of fresh sea air immediately puts us in the mood: this is Finistère, "Pen ar Bed" in Breton: "World's End"! We disembark at the port of Le Fret on the Crozon peninsula, and embark on an adventure in Breton Cornouaille. For me, the Crozon peninsula is one of the most beautiful places in the world: cliffs, long white sandy beaches, but also wild little coves, moors covered with heather and gorse… The scenery is magnificent!
Although the route mainly follows the coast, a short detour inland allows us to visit the village of Locronan, which has been listed as one of the "Most Beautiful Villages in France", and rightly so! I love this charming medieval village, famous for hosting the "Grande Troménie", one of the largest religious processions in Brittany, every 6 years. The adventure continues with the famous windswept Pointe du Raz, which offers breathtaking panoramic views of the ocean. As for me, I had traveled this stage into the wind in the pouring rain… The view at the finish was all the more impressive.
We then skirted the bay of Audierne to Pouldreuzic, a stage I'm particularly fond of as part of my family is from there. Pouldreuzic is the home of the Hénaff pâté (proudly displayed on the water tower!), famous in Brittany and beyond! We're in the heart of Bigouden country, famous for its traditional headdresses, which have become a true symbol of Brittany in the collective imagination. It's not just pâté that's made here, there's also a whole fishing culture and I love all the typical little ports along this coast: Saint-Guénolé, Le Guilvinec, Loctudy, Lesconil… If you're there in the late afternoon, don't miss the show of the fishing boats returning to port.
Once again, we leave the coast for the pretty town of Quimper, capital of Cornouaille and the last stop on this trip. Famous for its pottery, Quimper has a charming old town with cobbled streets and half-timbered houses. A great place to rest and recover after a week of cycling!
In short, it's a wonderful trip through South Finistère, with its history, culture and gastronomy, but also its magnificent natural spaces with the sea as a backdrop. The roads are pleasant and the terrain is as varied as the scenery. From wild coastlines to picturesque villages and fishing ports, from the Breton countryside to the ocean, this cycling adventure offers a veritable mosaic of landscapes and sensations. In any case, as you can see, I loved it and highly recommend it.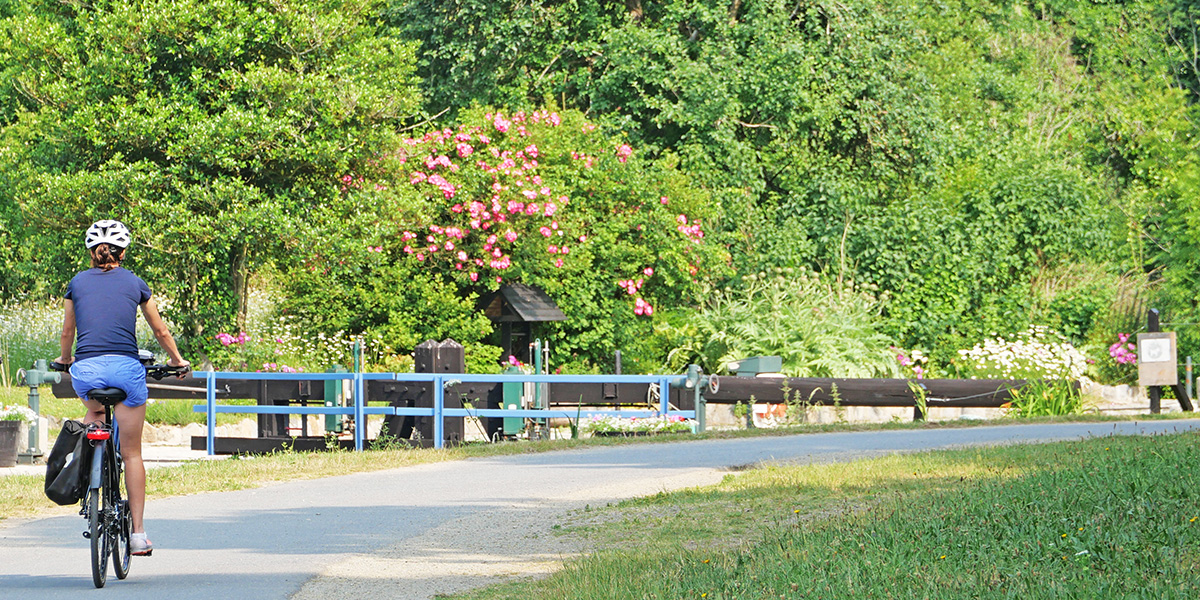 A weekend on the Ille-et-Rance Canal
By Johanne, Abicyclette Voyages
Travelling by bike is a new experience for me. I'm more used to hiking. But it's the same concept: let yourself be carried along by the scenery, let your mind wander and enjoy the air of Brittany, so dear to my heart. So I'll talk here about one of my only cycling experiences on the Canal d'Ille et Rance, which took me into a world I loved: From Rennes to Saint-Malo by bike, the Ille et Rance Canal.
We often talk about Brittany for its coastline, the sound of seagulls, the waves breaking on the rocks, the ocean as far as the eye can see. I think it's equally important to take into account the richness of the inland. The tour from Rennes to Saint-Malo, along the canal, brings us close to picturesque villages and preserved architectural heritage.
This short 3-day itinerary takes us on an intense discovery of this region in all its diversity. From Rennes to Dinan to Saint-Malo, the towpath takes us from a dynamic city full of life to the refreshing sea air. In between pedaling, I took time to stop at the lock houses, charming stone buildings with colorful shutters, often surrounded by beds of well-cut herbs and various fragrant flowers.
I took full advantage of the little paths that meandered among the trees, offering a bit of freshness and sweet fragrance. The ride is made all the more enjoyable by the fact that the path is relatively flat and requires little effort. In addition to cycling, it's also possible to take a short boat ride from Dinard and disembark in the heart of the corsair city of Saint-Malo.
I spent the weekend with my colleagues. We took advantage of this shared moment to discover charming little Breton restaurants, such as "Chez Tonton" in Tinténiac, with fresh local produce. And, of course, our cycling days ended with a thirst-quenching pint of beer.
To get the most out of the ride, you need to be at least a little prepared: back panniers to carry your gear for the day, water bottles for regular hydration, sunglasses and a waterproof jacket in case of showers. You'll also need a camera to record your trip. I'd also recommend you to bring a massage oil to relax your legs in the evening. There's nothing like it before a good night's sleep.
You may know certain corners of Brittany by heart, but I can assure you that discovering it by bike changes the way you see landscapes, and makes you feel great emotions.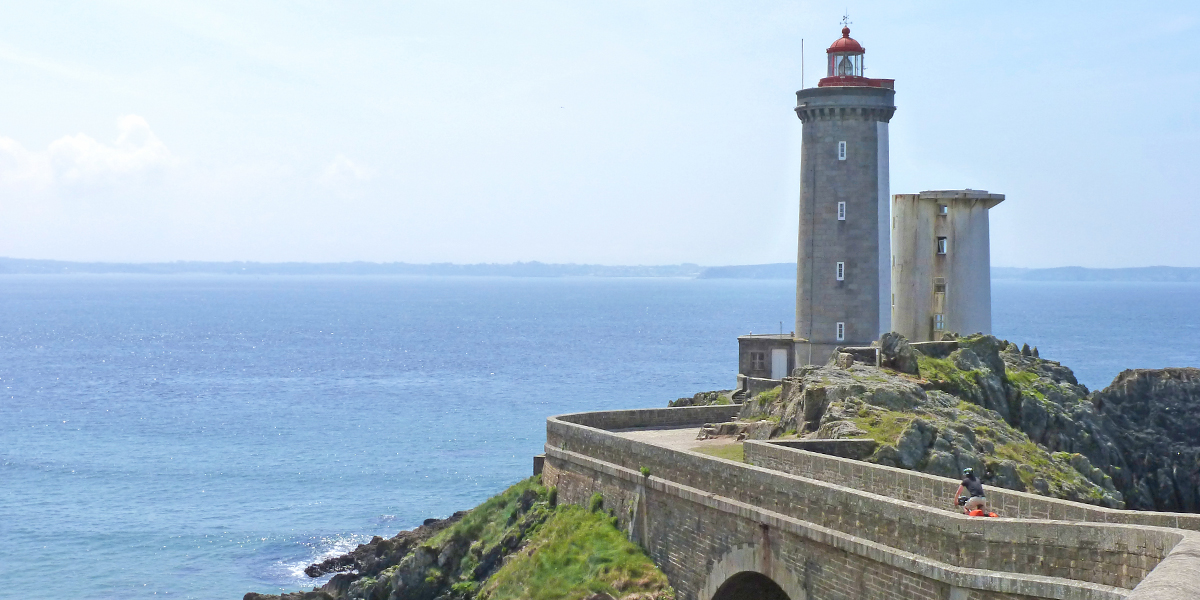 The lighthouse circuit
By Fabien, Abicyclette Voyages
If there's one route I particularly enjoy in Brittany, it's the 3rd chapter of our Brittany from port to port by bike. Starting from Morlaix, the route takes in the port of Roscoff and its lighthouse, along small roads lined with green banks and low stone walls. From this small town of character, along the sea, the route heads west to the end of the world. North Finistère is to Brittany what cheese is to France. A land of strong character and identity. The natural and geological spectacle of the coastline here makes you think you're at world's end. On one side, steep, jagged cliffs, torn apart by the sea when it rages in winter; on the other, lush green meadows, where sheep graze, that literally sink beneath the water, leaving only a fine stretch of beach with beautiful white sand and massive boulders. The latter form islets of varying sizes as the day progresses and the tides change, giving perspective to the blue horizon.
The granite boulders and chaotic rocks, sometimes several meters high, are scattered here and there, in the middle of fields, along roadsides, overlooking houses built against them, and at the foot of beautiful hydrangeas, providing a bucolic backdrop to the region. The winding roads also offer a playful course where you'll never get bored in the saddle. In fact, it's in this part of Brittany that the Tro Bro Léon is held every spring, one of the most beautiful and famous Breton cycling races, nicknamed the Paris-Roubaix Breton for its ribinoù, narrow, often hilly roads where grass has replaced the asphalt, which is gradually losing ground.
Along the sea and the Abers, there are some great paths and roads that take you from lighthouse to lighthouse. They are essential to protect all sailors on this rugged and treacherous coast. Underwater, there are countless wrecks. Despite the lights piercing the night, many boats have run aground, from small trawlers and sailboats to 2 large tankers. Fog can be treacherous. If it's thick when you wake up in the little port of Le Conquet, you'll hear the foghorn blowing at regular intervals, proof, if any were needed, that maritime activity is still very much alive here. There's no folklore here, just authenticity, right down to the dishes where you can feast on the day's catch of fish and shellfish.
It's an enchanting world's end, timeless and yet so alive and invigorating. If you bring your bike, you'll be able to extend your stay to Ouessant.