Bicycle tour from Rennes to Dunkirk: discovering the beauty of Northern France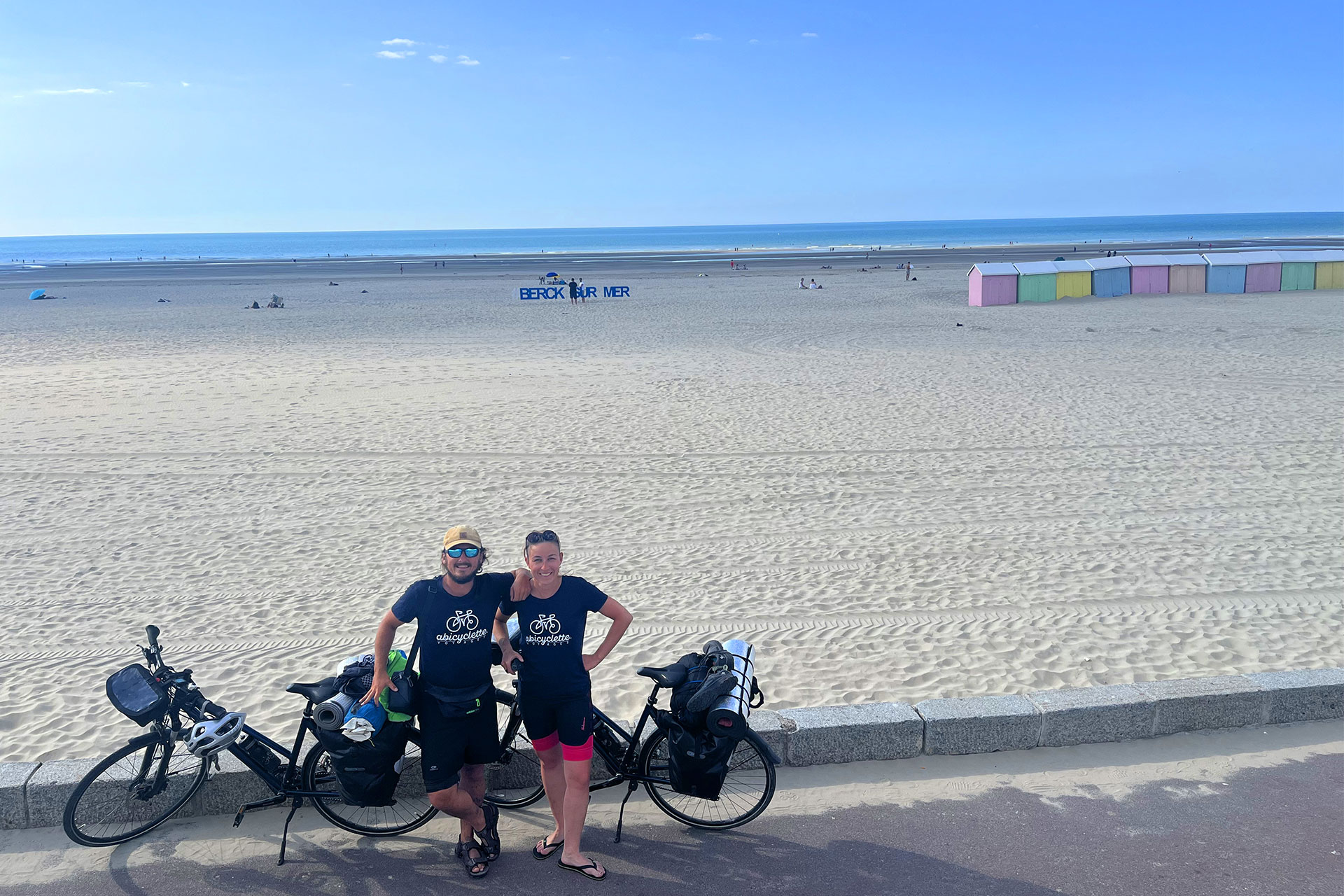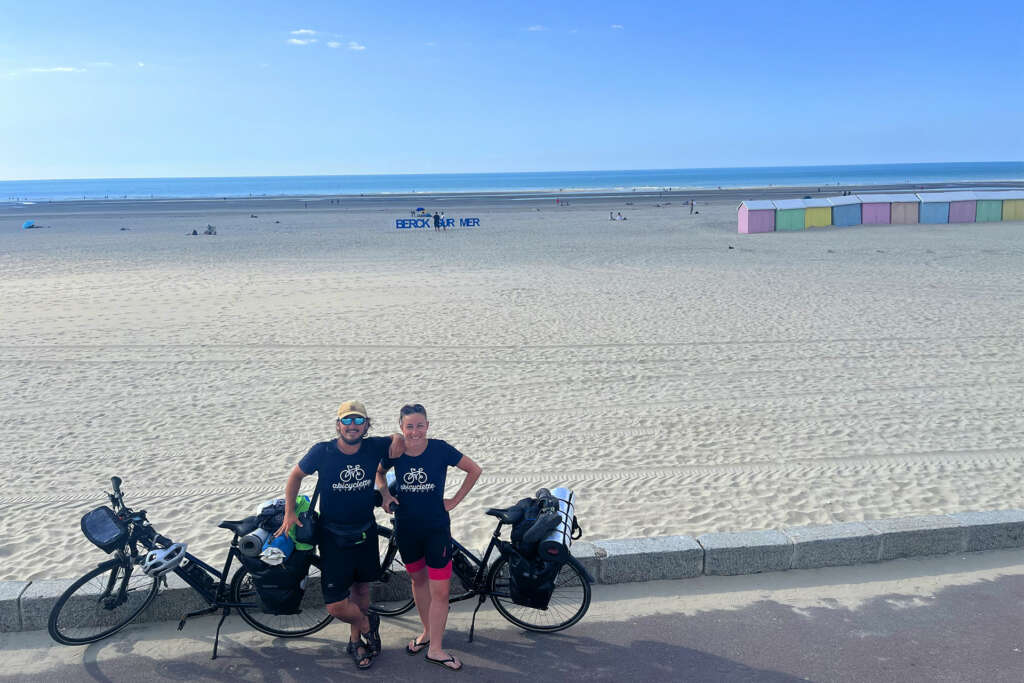 14 days, 8 departments, 1050 km and 2 travellers
Discover the extraordinary adventure of Julie and Constant, a young couple with a passion for discovery and escape. Abicyclette Voyages had the privilege of accompanying them on a great journey: a two-week bicycle tour through the unique, bucolic landscapes of Northern France, from Rennes, the capital of Brittany, to Dunkirk, on the Belgian border.
We were touched and seduced by their determination to rediscover Brittany, their region, their country, through the alternative perspective of bicycle travel, and by the altruistic and supportive dimension of their approach, which generously supports the work of Secours Populaire (a French non-profit organization dedicated to fighting poverty and discrimination in public life) . We're proud to have helped them organize this adventure.
We interviewed Julie and Constant to share with you their emotions, highlights, secrets and experiences of this trip and its preparation. Dive into the heart of their project, follow the contours of their itinerary and discover some good advice!
---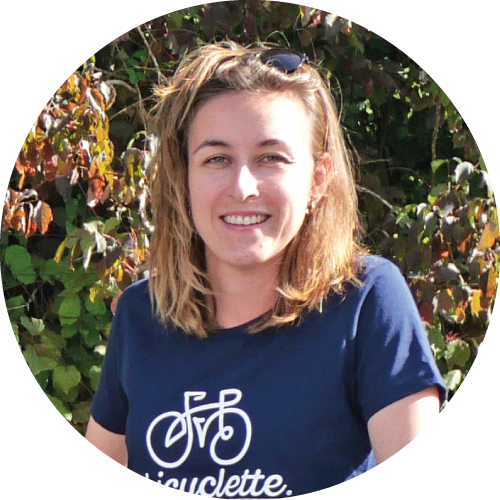 Julie, 30 years old
« As a nature lover, I've become more open to slow-paced adventures. I'm a neo-cyclist. My longest bike trip before this one was 3 days on the Vélo Francette. »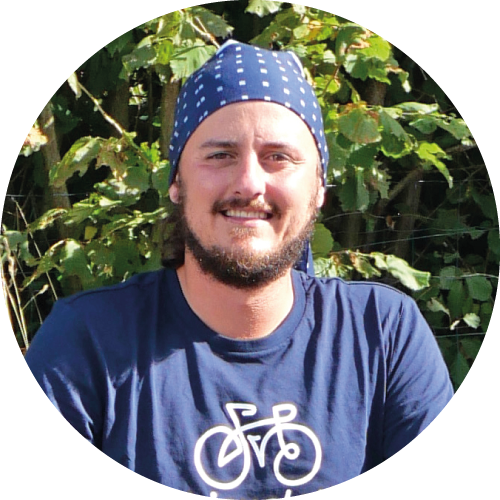 Constant, 28 years old
« A two-wheeled enthusiast, I cycled around the world for over 2 years between September 2019 and December 2021. I wrote a book about it, Du Rêve au Guidon! I was beginning to miss cycling, and what a joy it was to get back on the bike! »
Website : En Route Avec Etahlep
Instagram : @Etahlep
Facebook : @Etahlep
What's the point of this adventure?
Why Choose a Bicycle Tour in Northern France?
Julie and I were both new to the North, so for these two weeks together, we wanted to discover France's Far North. And this year, I'm carrying out an adventure project starting from home: Au Départ d'Ille-et-Vilaine for Secours Populaire.
After traveling the world by bike, and crossing France on foot (Marcher la France), the idea is to travel from my home, my department, Ille-et-Vilaine. In June, I travelled by canoe on the canals of Brittany, in July on foot in the Argoat, in August on horseback around the Ille-et-Vilaine, and in September by bike to the North.
How did you choose your equipment?
Personally, the bike from my world tour is dismantled and desoldered. We didn't want to invest in new equipment for these two weeks, so we called Abicyclette Voyages. We rented Vélo de Ville brand bikes (Vélo de Voyage "Sport") equipped with panniers and repair gear (multi-tools, inner tubes, etc.), and clearly it took a thorn from our side: we had nothing to prepare, just our daily essentials.
The advantage of going through Abicyclette Voyages also lies in the logistics. We rented the bikes in Rennes and returned them in Dunkirk. And it's really convenient not to have to bring the bikes back. We came back driving a free car (via Driiveme).
What route did you take to reach Dunkirk?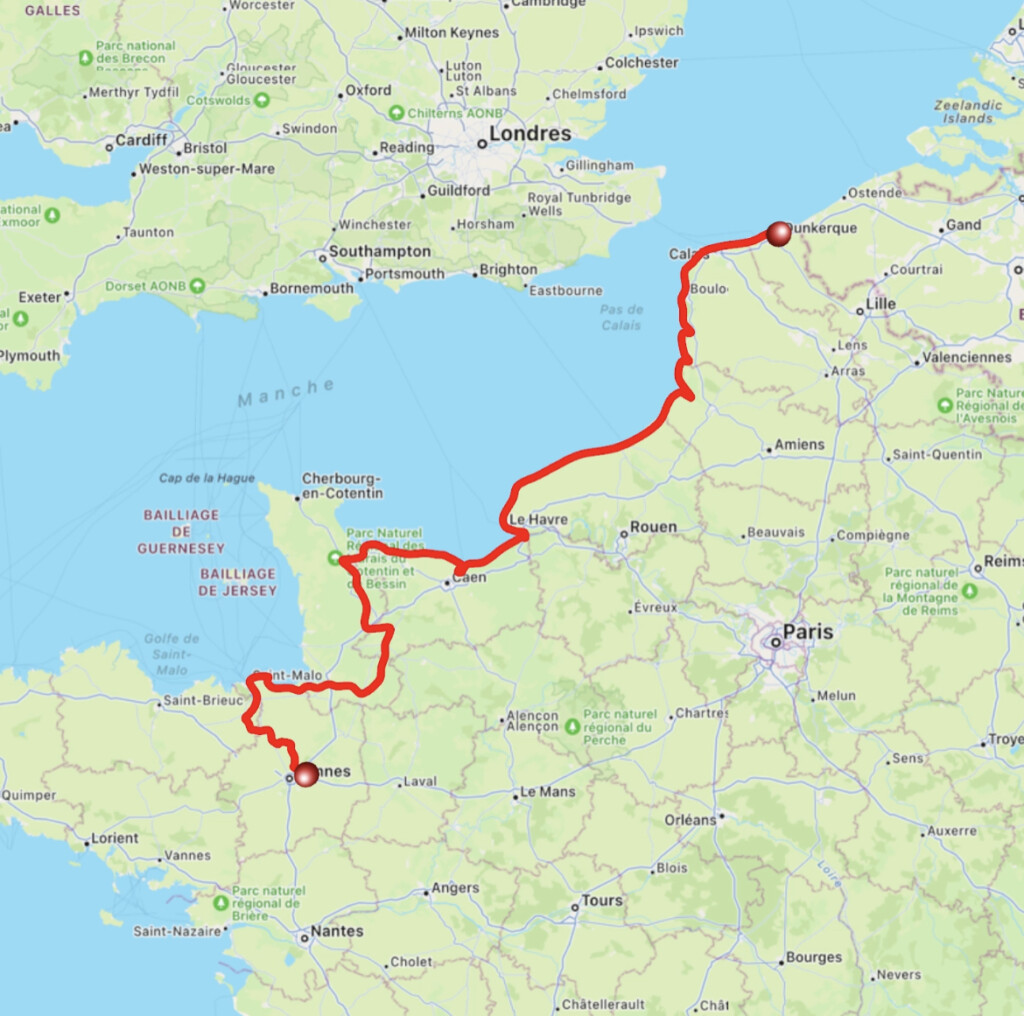 Can you go into detail about each of these parts?
From Ille-et-Rance on the Vélomaritime to leave Ille-et-Vilaine
STAGE 1: Acigné – Port du Lyvet: 85 km
STAGE 2: Port du Lyvet – Chapelle St Anne de la Grève: 70km
The English Channel, Suisse Normande and D-Day landing beaches
STAGE 3 : Chapelle St Anne de la Grève – Mortain : 78km
STAGE 4 : Mortain – Pont de Farcy : 76 km
STAGE 5 : Pont de Farcy – Carentan : 77km
STAGE 6 : Carentan – Arromanche : 82km
STAGE 7 : Arromanche – Blonville : 82km
The Pays de Caux and its Alabaster Coast, a real favorite
STAGE 8 : Blonville – St Jouin Bruneval : 81km
STAGE 9 : St Jouin Bruneval – Les Veulettes sur Mer : 66 km
STAGE 10 : Les Veulettes sur Mer – Mesnil Val de Mer : 80km
The Somme and the Opal Coast, a Nordic trail to Dunkerque
STAGE 11 : Mesnil val de Mer – Le Crotoy : 70km
STAGE 12 : Le Crotoy – Sainte Cécile : 80km
STAGE 13 : Sainte Cécile – Escalles : 62km
STAGE 14 : Escalles – Dunkerque : 61 km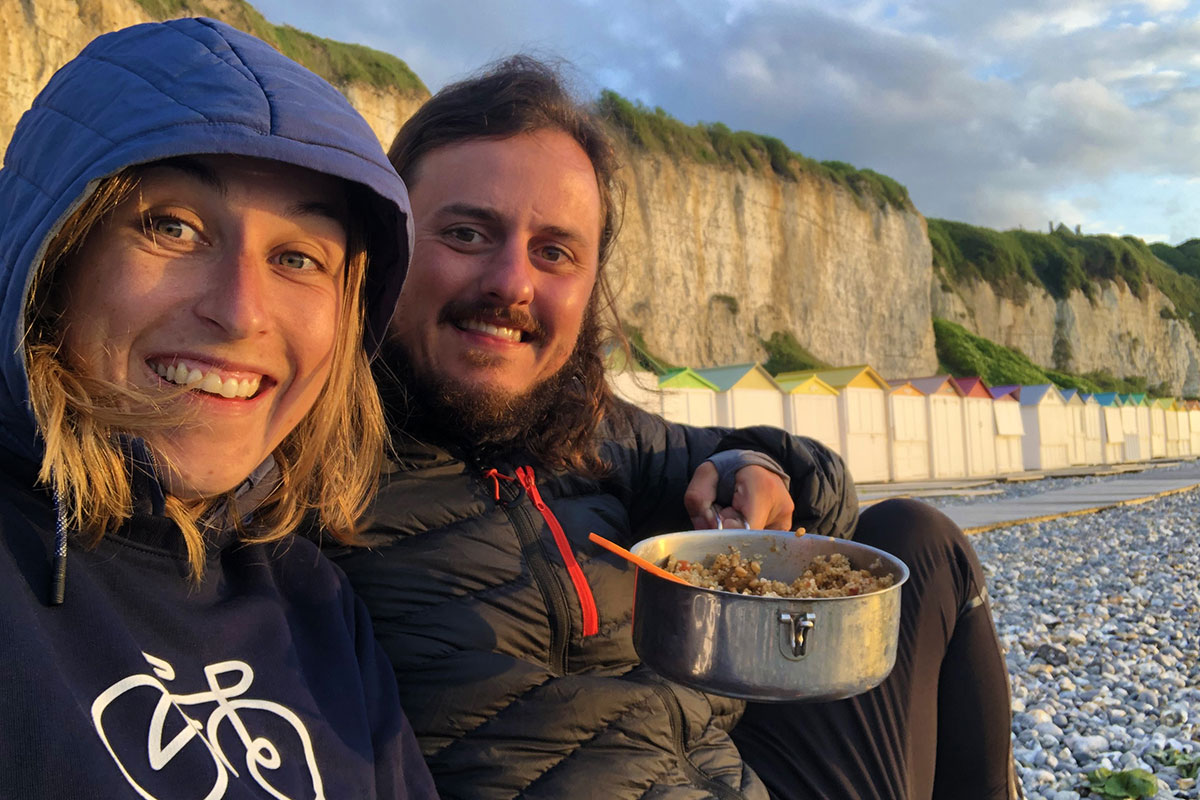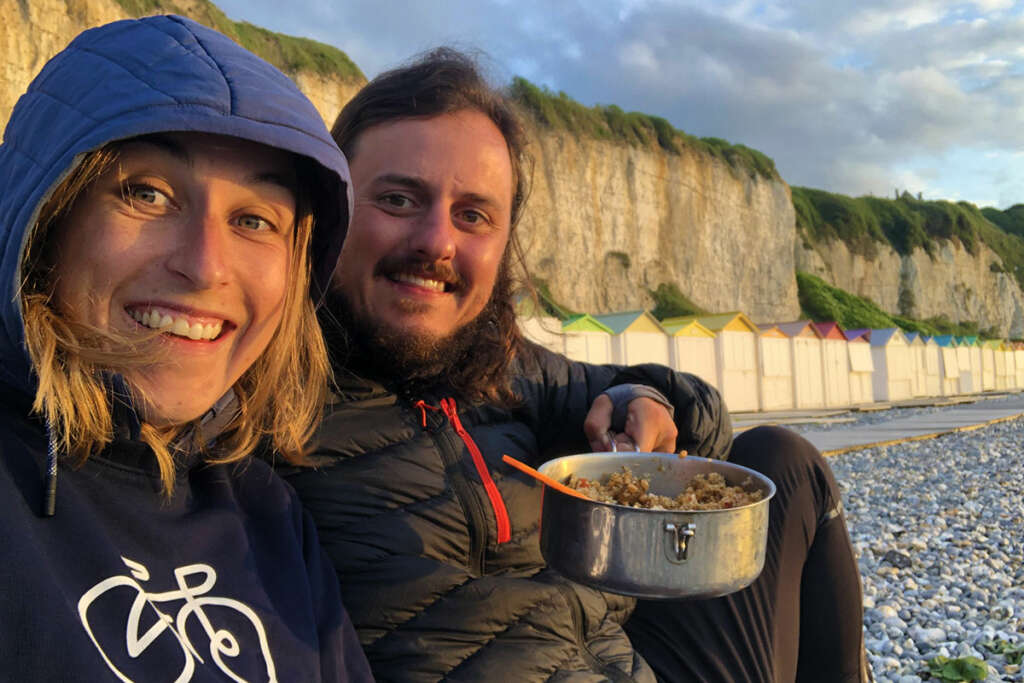 Where did you sleep?
We alternated between seven nights bivouac, six nights camping and the last night in a room in Dunkirk. I love bivouacs for the sense of freedom they give us: for an evening, we're the owners of the land, in harmony with the environment. Of course, we're careful to ask or not to disturb. We pay attention to signs, whether they're forbidden or not. In Mesnil Val de Mer, we had a visit from the police while we were asleep. The wake-up call with the flash to the tent stung, but we explained what we were doing and they were fine with it. A good bivouac is from 8pm to 8am!
Camping means paying for an evening's property and the amenities that go with it (toilets, showers, electricity). Camping means comfort while you're on the move. It means recharging your batteries.
Can you describe a typical day on a bike trip?
The magic of traveling is that there is no such thing as a typical day. Itinerant travel means going from surprise to surprise. Every day is a new story. After that, the rhythm of the trip inevitably sets in.
After waking up around 6:30 am, it's time for the morning's routine: we pack up the bivouac, prepare the bike, heat up our coffee and eat breakfast. Most mornings, we'd ride for three or four hours until we found a place to eat lunch. Often we'd look for local shops (butchers, delis or bakeries) to discover local produce (maroilles cheese, chef's salads…).
After a short digestive siesta, we'd also ride for three to four hours in the afternoon, at a leisurely pace of between 60 and 80 kilometers a day. At 6pm, we set off in search of our bivouac. Being on the coast, it was ideal to land on the beach and enjoy a good swim!
What about hygiene?
Don't worry, we don't wash! No, I'm kidding (just a little). When we are camping, we have all the comforts of a shower and a sink. And otherwise, when we're bivouacking, we wash ourselves with a bottle or wipes. It doesn't take much to feel clean on the road.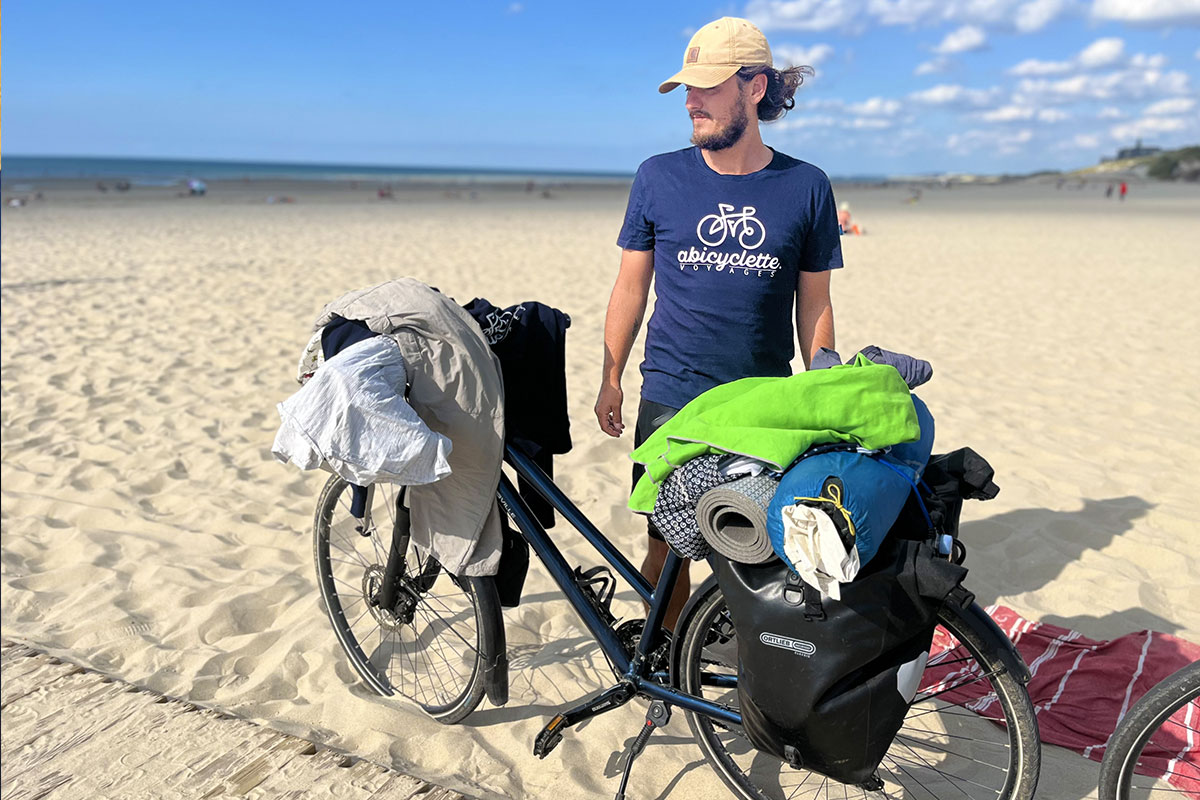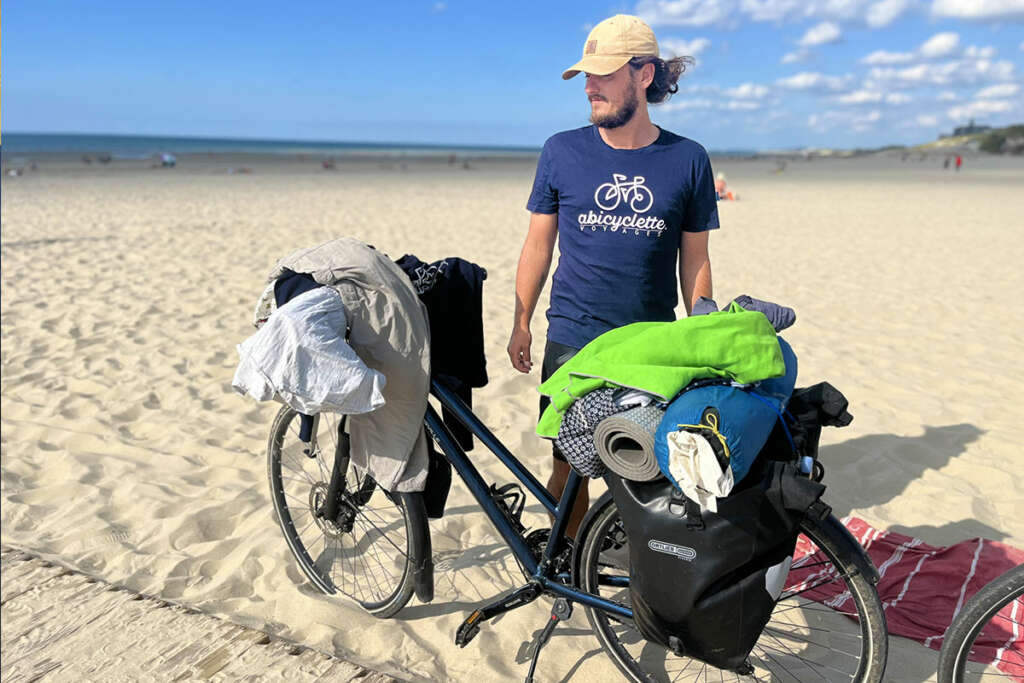 What will you remember about these two weeks of cycling?
First of all, the beauty and fine weather of the North! We were certainly lucky, but the sun was with us almost every day. Among our favorites were the Pays de Caux, the architecture of the brick and flint houses, the cliffs of Arromanche and the fine sand of the northern beaches, at Berck for example.
Secondly, the average age of the cyclists! Okay, it was September, the month of retirees, but I didn't expect to see so many people in their sixties, seventies and even eighties on bicycles. And many are using electric bikes for multi-day tours. I think it's really great that it's been democratized. Traveling by bike is possible for everyone.
Can you give us some travel tips?
A few useful apps:
Komoot, Geovelo, BikeMap, MapsMe are useful apps for finding your way around. Then, of course, the Vélomaritime website is great. And the road signs. And to find bivouacs, you have to use your eyes and Google Maps!
Constant, a few words to add?
Live your adventure as you see fit, there are as many travel-cyclists as there are ways of traveling. When it comes to equipment, some prefer ergonomics, others comfort, others weight, others quality… During my world tour by bike, I saw a Colombian friend traveling with his drums, another with his guitar, others with their dogs, others with babies. I believe that travel is like cargo, it's relative to each person and adapts to your personality.
In the act of traveling, I find it important to have a common thread, to build a project in parallel. This common thread ensures that I never feel lost, that I know why I wake up every morning, and that I set myself goals. That's why, this year, I'm making 4 micro-adventures dedicated to Secours Populaire. I'm currently shooting a documentary about them, and can't wait to share it with you.
Any words Julie?
So this is the first time I've cycled for so long. After two three-day itineraries on the Loire à vélo and the Vélofrancette, this was my first long itinerary, and I was delighted. All this to say that you don't need a great deal of physical preparation to embark on a cycling adventure. You adapt, you're free, you navigate, you marvel at nothing, you let yourself be carried along, you're surprised, you learn things, you discover… You just live!
Every morning, you wake up wondering what you're going to see during the day, where you're going to go, where you're going to sleep at night or what you're going to eat. And it's a real chance to get back to basics for a couple of weeks.
In conclusion, I'd say that adventure is freedom in its purest form. And my bottom thanks Abicyclette Voyages for the very comfortable bikes!
Bonus : armchair philosophy
To travel is not just a verb of action and movement: it's to adapt, to tolerate, to love, to receive, to give, to listen, to learn, to create, to be astonished, to laugh, to surpass oneself, to break the unknown, to live, to be free… and above all, it's what you want it to be!
To find out more about this adventure, we invite you to discover a video summary of this two-week crossing: