Experiencing family adventures on a bike trip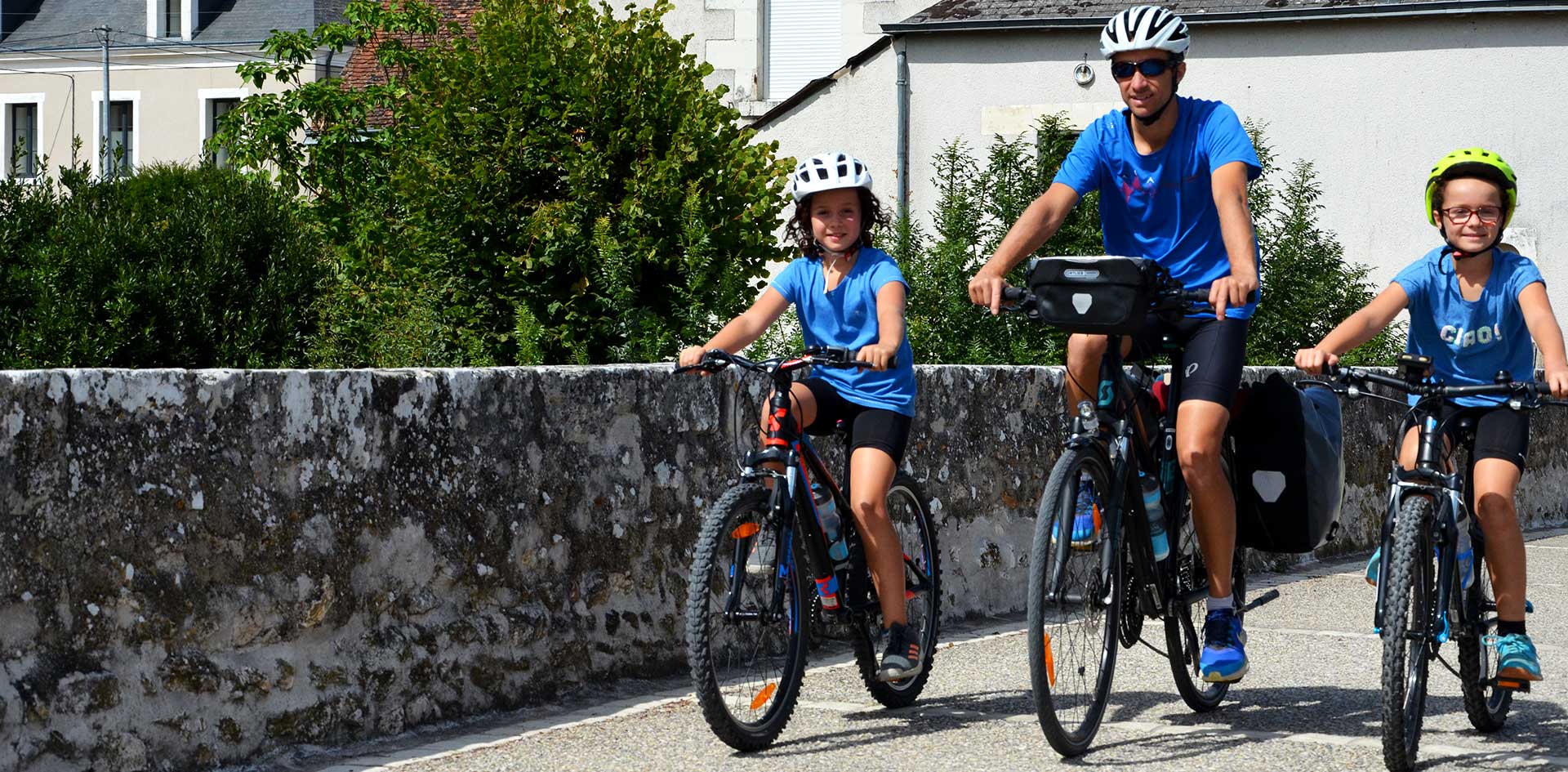 You might have been constrained indoors once again. You have probably used your imagination to escape. And if you have young children, you had to play teachers, nannies and camp counselors at home again. You have exhausted the list of "easy recipes with children" that seemed so long at first. So in the hope of some time off, you gave in to cartoons and screens. In short, for more than a year now, you have been living quite a family adventure! To prolong these intense family emotions, live the experience of a family bike trip!
Why travel by bike as a family this summer?
The family bike trip is above all a shared adventure, it's the mutual memories that strengthen ties. The curiosity of the children, kindled by the lovely encounters with the locals, the discovery of the heritage, the customs, the fauna, the flora and the gastronomy through all the delicacies of the region visited, is a source of joy every day.

This is an opportunity for the whole family to learn more about themselves. Cycling leads to surpassing yourself and above all to the development of self-confidence – what pride and satisfaction to reach your stopover town each day! It is an effective method of personal growth. Traveling by bike helps to slow down and allows access to a state of sweet daydream akin to mindfulness meditation.
A few words from children on bikes…
Charlotte and Juliette went on a family bike trip with their parents last summer. They traveled 150km along the Loire by bike between Beaugency and Amboise. Here is their feedback on this experience.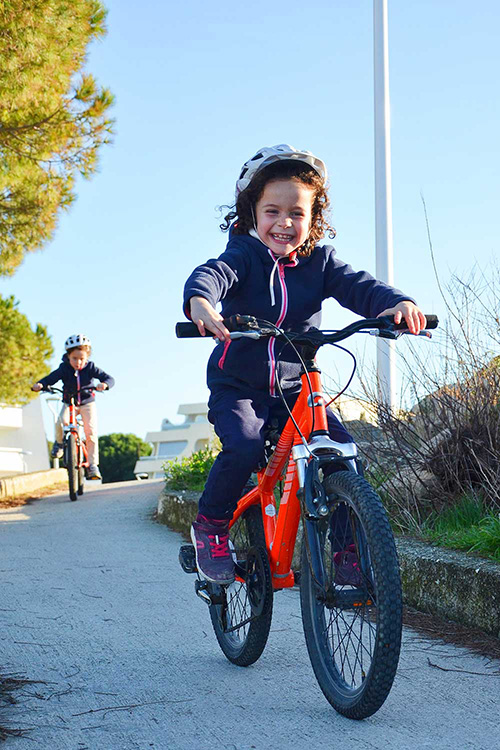 Juliette & Charlotte, 9 years old
"I liked where we slept with the animals and the pool, plus the people were nice and I slept really well! "
"It was nice to have picnics at noon because riding a bike makes you hungry"
"I liked to see the castles and the places where we slept"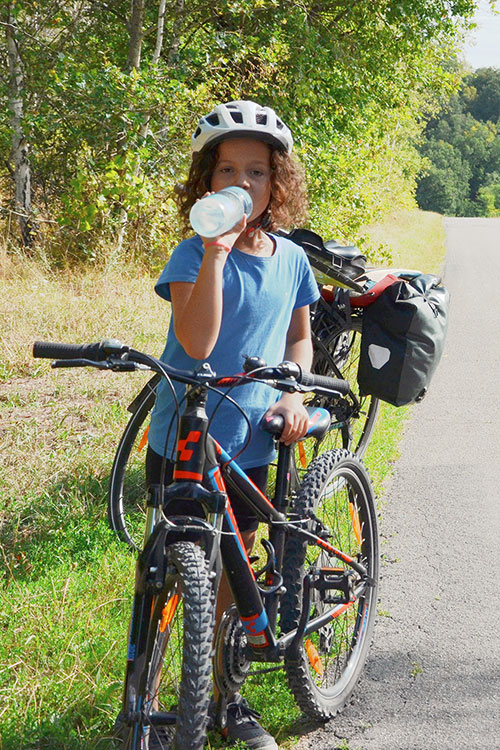 … and their parents, David & Stephanie
"It's a great family adventure from which we come out with beautiful memories."
"It's a moment that allows you to renew the ties and take the time to appreciate simple and light things."
"After a somewhat unusual period, how gratifying it is to get some fresh air and write a new chapter in the family history!"
Equipment for traveling by bike as a family
To travel by bike as a family with complete peace of mind, it is important to have suitable equipment. With the variety of models today, it is rather easy to find a bike that meets the expectations of adults. Now, there are also many solutions to equip children of all ages to travel by bike.
Children's bikes
Children's bikes are available in different sizes from 12 to 24 inches (from 3 years to 12 years approximately) so as to adapt to the size of your child. Tip for the bike trip: you must have a fairly large number of gears (minimum 7 gears) if you are going on a hilly or even uneven route.
The child trailer
Handy and comfortable, it can carry 1 or 2 children up to 22kg (48lbs) each. It also often turns into a stroller when you have arrived at your destination or at a place of visit. It is also a dream nap place for the little ones. Unfortunately there is no adult model!
The baby seat
It is a good complement to the child trailer to bring change to your child and make him enjoy the great outdoors a little more!
The FollowMe
It is a connection system that ensures the hauling of the child's bike by the adult bike. It allows a child of around 3 to 6 years old (16 or 20 inches) to have moments of assistance by traction thanks to their parent, while maintaining the possibility of pedaling. The connection forms a tandem that allows your child to keep the sensations and pleasures of cycling.
Saddlebags
There are different models of bags (handlebar, frame, saddle, luggage rack), with variable volumes (expressed in liters). Waterproof and robust models are to be preferred in case of capricious weather.
You can also opt for a more comfortable solution with the transport of your luggage. Abicyclette Voyages offers stays where the luggage transfer between your accommodations is included. This allows you to travel light by taking only a few clothes and the necessary to transport your snacks and your picnic.
With our bike rentals, you benefit from the provision of a handlebar bag (4 to 6 liters) and a waterproof bag on the luggage rack with a capacity of 20 liters.
Traveling by bike as a family with Abicyclette Voyages
Ready to take the plunge and experience your family cycling adventures? It's time to invite your loved ones to explore the most beautiful regions of France by bike. Abicyclette Voyages now offers many bike trips suitable for families. Our travel advisers are at your disposal to accompany you in your projects in order to personalize your cycling trip and meet the expectations of your whole family.