Get well equipped for cycling in autumn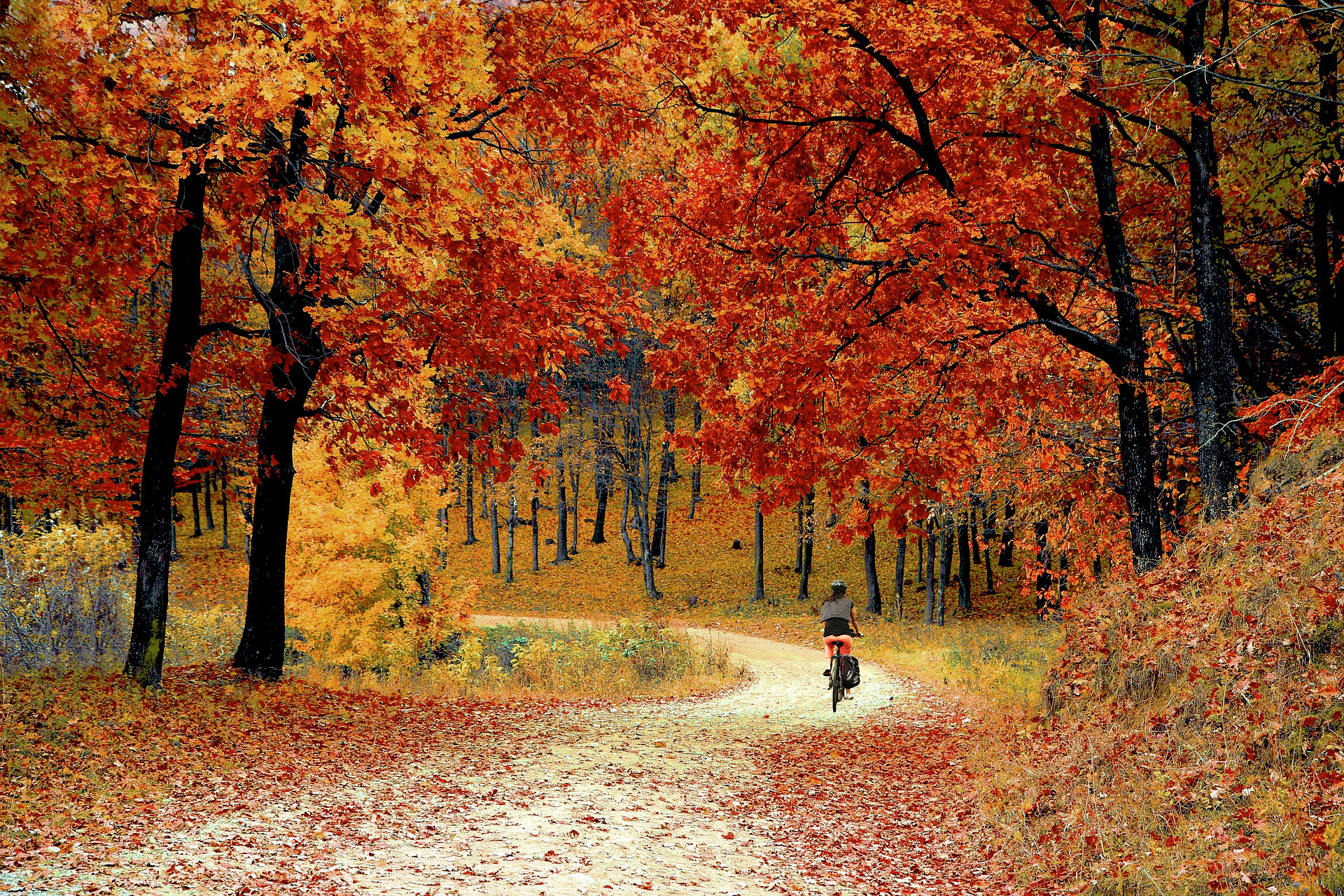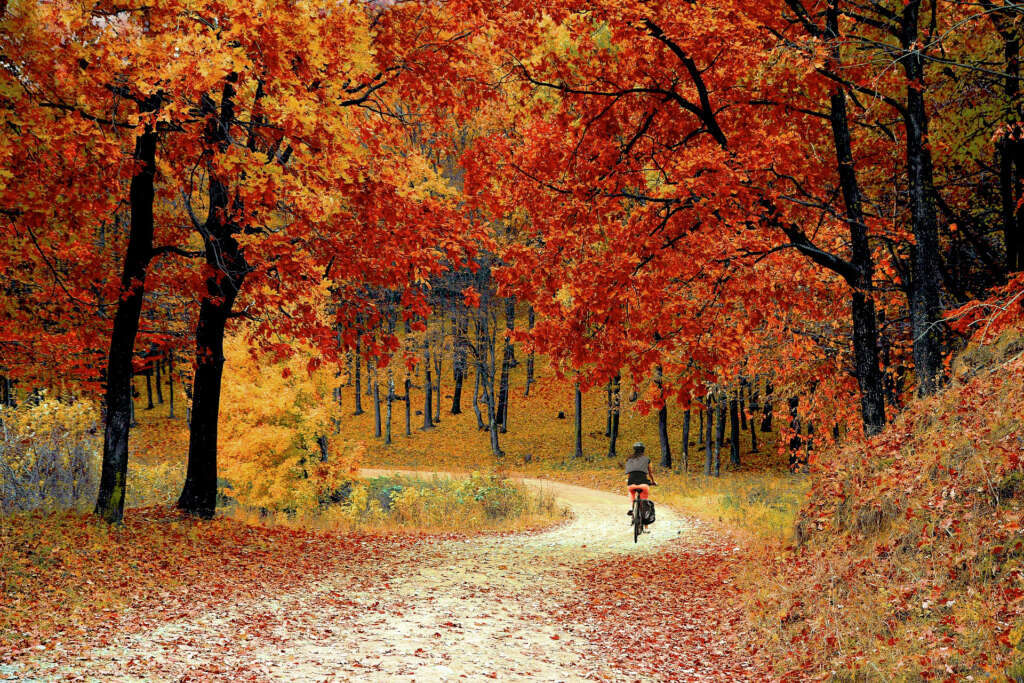 Autumn is back! The leaves on the trees are changing color, the roads are getting damp and the mild temperatures are starting to set in. And when we talk about autumn, we are talking about Indian summer, a period when the first frosts and summer mildness rub shoulders in the same day. Ideal climatic conditions to take out your bike and enjoy cycling in autumn in all its splendor!
Without further ado, we give you our 5 tips for an optimal bike ride during the fall season.
Adapt your bike to the season
With the change of season, cycling is different according to the weather conditions and the playgrounds on which we evolve. The daily sunshine time is getting shorter, the humidity is more present which makes the paths muddy and flooded and fruits and dead leaves cover the forest paths. In these conditions, the bike has much less grip. It is therefore cautious to adapt your bike to the season:
Choose a wide tire inflated to low pressure for good grip.
Apply a lubricant suitable for wet conditions to the transmission components.
For more comfort during fall rides in wet conditions, consider installing mudguards at the front and rear of the bike. They prevent water and mud from splashing onto your equipment, but also onto your feet and legs.
See and be seen
Due to the short days and weather conditions reducing visibility (cloudy and foggy weather), it is important to be concerned about your own safety and that of others. Motorists in particular must be able to identify you as quickly as possible and at all times. Headlights and taillights are therefore essential for riding in the off-season. To illuminate the path in front of you and be clearly visible, opt for a headlight model with a power of 150 lumens or more. If you only ride on well-lit lanes, lighting between 60 and 150 lumens is enough to be visible to other road users.
In addition, reflective clothing allows maximum visibility to road users. It is essential for safe cycling trips. Among these clothes and accessories, you can easily find safety vests, reflective gloves, luminous armbands, over-trousers and jackets or even scarves and shoe covers visible from afar.
Dress for cooler temperatures
Clothing for cycling in the off-season requires special attention. Too many layers of clothing promote body warming but do not wick away perspiration and too light an outfit may not protect you enough from the cold. You have to find the right balance with a good choice of clothing and the road will be yours… even when the temperatures are cooler:
A breathable lycra-type base layer: fitted to your body, breathable and wicks away moisture well.
A warm garment: fleece or merino wool materials combine breathability, warmth, softness and comfort
Cycling shorts: we highly recommend them! The crotch, padded with pads of different densities, allows you to sit on your saddle as on your sofa. But beware, to be effective, the shorts must be considered as underwear, worn next to the skin. Otherwise, beware of friction which can lead to annoying injuries.
Protect the extremities: cap, merino wool socks, neck warmer…
Stay dry
Riding in the rain is not the end of world. And as we often say, there is no bad weather, only bad equipment! With the right gear and clothing, you can ride dry and enjoy your ride. Here are a few tips to make your job easier:
Equipping yourself with waterproof bags and panniers will keep your belongings dry.
Rain protection clothing: waterproof jacket and trousers (we do not recommend the poncho which can get caught in the spokes or with the saddle). A windproof jacket can be a good complement if the rain jacket is not breathable enough.
Glasses and a cap allow you to maintain a good field of vision while keeping your head warm. Lightly tinted lenses will improve visibility when the clouds are out and clear lenses on the other hand are essential for riding at night.
Gloves: with synthetic leather or rubber gloves, you will keep your hands warm. In addition, waterproof and windproof gloves also aid blood circulation in the fingers.
Shoe covers: these thin latex covers that protect against rain and improve aerodynamics are ideal for riding.
A weather tracking app
Before starting your day and getting on your bike, remember to check the weather: temperatures, hours of sunshine, humidity, wind, precipitation… This will give you a good idea of how your day will go and what equipment to bring. To do this, use the tools at your disposal: mobile applications or websites. Some are quite reliable and used by our Abicyclette Voyages team:
Ventusky and Weatherspark: The app interestingly combines accurate weather forecasts for any city on the planet with a map showing the changing weather in the surrounding area. Thus, it is possible to clearly see from which region the precipitation is coming or from where the wind is blowing.
Raintoday: offers real-time rain alerts (up to 60 minutes in advance) and a high-resolution radar based on the latest technical innovations from MeteoGroup, the largest private weather service in Europe.
In addition to enjoying landscapes with fall colors and favorable weather for bike rides, there are fewer cyclists at the end of the year on the roads and paths. We hope these simple tips will help you get the most out of fall.
To go further, we advise you to read our "What is your next micro-adventure?" article which will give you tips on organizing your bike outings in all seasons!