The Vélomaritime from Caen to Dunkerque
From Belle-Epoque villas on the Côte Fleurie to the immense sandy beaches of the Côte d'Opale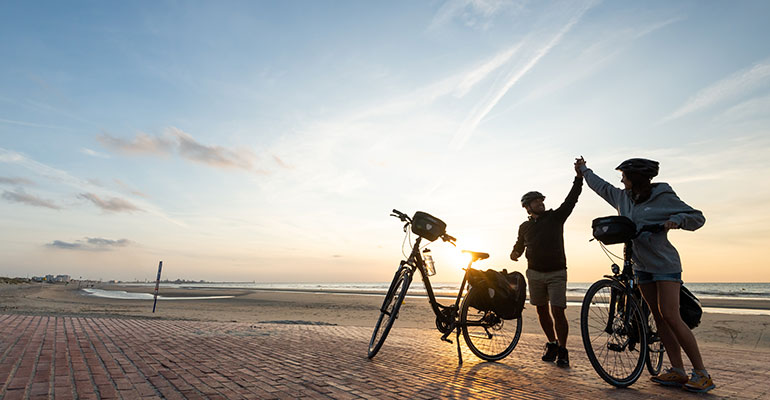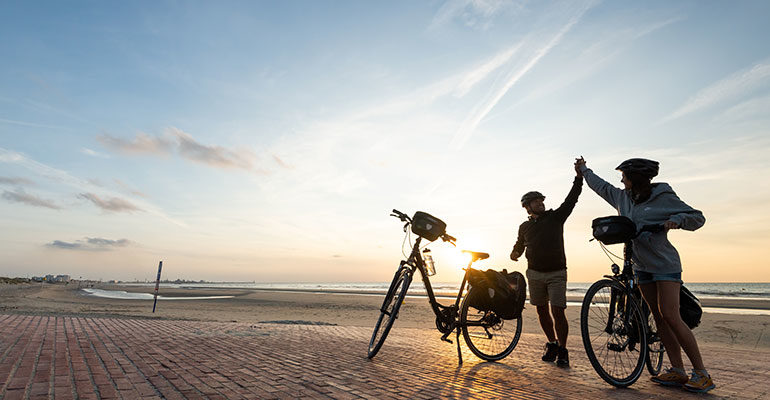 Highlights
An itinerary alternating between shared lanes and cycle paths
The Côte Fleurie and its charming seaside resorts
The White Cliffs of the Alabaster Coast, from Etretat to Tréport
The Baie de Somme, an exceptional natural site
The long sandy beaches of the Côte d'Opale
A rejuvenating journey between land and sea, discover the fabulous landscapes of the Vélomaritime
Departing from Caen, this route along the Vélomaritime takes you to discover the Normandy coast and the Hauts de France.
Always close to the sea, lulled by the song of seagulls, you ride on small roads to discover the most beautiful nature has to offer, for your eyes and your taste buds. You will discover spectacular flora and fauna, through the many nature reserves and exceptional sites found along the Vélomaritime.
From the Baie de l'Orne to the orchards of the Pays d'Auge, from the beach cabins of the Côte d'Albâtre to the White Chalk Cliffs, from the Baie de Somme to the vast dune massif, from the pebble beaches to the fine sand ones … Discover breathtaking landscapes as you cycle along the coast.
In addition to highlighting the many sites and natural reserves on the coast, the route takes you to mythical places, to discover the rich historical and cultural heritage, through its port cities of Le Havre, Dieppe, Tréport or Boulogne-sur-Mer. .. You also appreciate the more typical fishing villages, often brought to light by a lighthouse.
Lands of hospitality and authenticity, this cycling holiday also promises you moments of sharing with the locals, attached to their traditions. You will have the pleasure of discovering their local customs and traditional festivals (street markets and taverns in Nord-Pas de Calais, the Dunkirk Carnival…).
For your taste buds, gourmets appreciate the region's generous and delicious gastronomy: seafood of course, which you will find on the many fish stalls during a stroll in the market, but also crêpes and waffles, cheese, ciders, not to mention the famous Calvados, one of the emblems of Normandy. Enough to fill your bag and your panniers to brighten your breaks during the stage!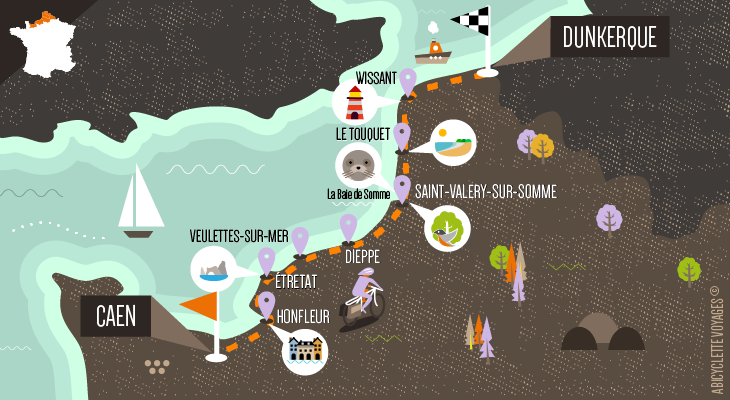 Fit
CAEN
Arrive on your own to Caen, easily accessible by train. Caen, city of William the Conqueror, offers a concentrate of medieval heritage between the ducal castle, the abbey to Men and the Abbey to the Ladies. Learn more about 20th century history with the Memorial for Peace.
Briefing Orientation
Before your first ride, we invite you to meet one of our guides, at your place of departure. A time of exchange, a privileged moment to give you our last practical tips, must-see places and experiences, to answer all your questions, take care of your bike fitting to begin your trip.
From CAEN to TROUVILLE SUR MER
56km
358m
You leave the Normandy capital along the banks of the Canal de Caen à la Mer. Like the allies of 1944, you cross the famous Pegasus Bridge before entering the enchanting space of the Baie de l'Orne. Nature lovers, make a stopover at the Maison de la nature et de l'estuaire located on the shore of Sallenelles if you want to learn more about this incredible natural space. The cycle route continues along the Côte Fleurie where charming villages follow one another: Cabourg and Houlgate, and their famous "Belle Epoque" villas, the timeless beach cabins, then Deauville and its famous Planches (beach promenade).
From TROUVILLE SUR MER to HONFLEUR
49km
358m
A beautiful green way leads you to the charming port of Honfleur. You can enjoy paintings in the Eugène Boudin museum, Sainte Catherine church the biggest wooden church in France, the Marine Museum for Honfleur history, or immerse yourself in the world of the musician Erik Satie.
From Honfleur to Etretat, with a shuttle transfer across the Pont de Normandie
45km
302m
To start of the day, a private shuttle will take you to Le Havre via the Normandy bridge, which is not very suitable for cycling. Before taking the road along the Alabaster Coast, you cross the city to discover its gigantic port and its unique post-war architecture listed as World Heritage.
Then as you roll, a succession of breathtaking landscapes are offered to you: white chalk cliffs, pebble beaches, small fishing villages … A route that ends in Etretat, well known for its cliffs sculpted by the sea that will leave you speechless.
From ETRETAT to VEULETTES SUR MER
48km
472m
You leave the pearl of the Alabaster Coast and Arsène Lupine's landmark behind you. Fairly quickly, you reach Fécamp, the ancient city of the Dukes of Normandy. The terrain becomes a little steeper but your efforts are quickly rewarded with, in particular, a breathtaking view at the Senneville Semaphore. On this portion along the coast, you follow in the footsteps of Sissi, the famous Empress of Austria who took revitalizing baths in the sea at Petites et Grandes Dalles and of enjoyed the calm of the Château de Sassetot-le-Mauconduit. You then reach Veulettes-sur-Mer, which marks the end of your cycling stage.
From VEULETTES SUR MER to DIEPPE
53km
545m
This route has some great discoveries in store for you along the way. A few pedal strokes away from the starting point, you cross Veules les Roses, a charming village classified among the most beautiful in France. You continue your journey on small roads between land and sea. In Varengeville-sur-Mer, climb a bit by reaching its Saint-Valery church, perched on the top of the cliffs, thus offering a remarkable view on the sea. Your route ends in Dieppe, city of Art and History, where it is pleasant to stroll.
From DIEPPE to SAINT-VALERY-SUR-SOMME
73km
398m
You get back on the road always as close to the sea as possible, on beautiful small country roads, sometimes with a few hills in reserve. In Criel-sur-Mer, discover the highest white chalk cliff in Europe! Then continue your journey to Tréport, a jewel of the Belle Epoque which will charm you with its colorful villas and its fishing port. If the weather allows it, take the funicular, it promises you a beautiful view of the city!
Before reaching Saint-Valéry-sur-Somme, you cross the small seaside resort of Cayeux-sur-mer, characterized by its white lighthouse, its pebble beach and its colorful cabins.
From SAINT-VALERY-SUR-SOMME to LE TOUQUET
72km
169m
Your route continues to Crotoy with a magnificent panorama over the Baie de Somme. From Quend-Plage to Fort-Mahon Plage, this route runs along the largest dune massif in northern Europe! In Berck-sur-Mer, you will be seduced by its immense beach with 12 kilometers of fine sand, a paradise for kites and the Bay d'Authie, a preserved natural setting. You reach the seaside resort of Le Touquet. Elegant and stylish, it stands out for its wooded avenues, remarkable villas and numerous cycle paths.
From LE TOUQUET to WISSANT
64km
535m
Today you ride on cycle paths and small peaceful roads, between sea and forest. After crossing the town of Etaples and its bay, you reach the Mont Saint-Frieux nature reserve. Then it is along the cycle path that you arrive in Hardelot and discover its castle, nestled in the heart of the Marais de Condette nature reserve. As you ride, you feel the sea air, especially when you arrive in Boulogne-sur-Mer, city of Art and History, renowned for being the first fishing port in France. Up to Wissant, many wonderful sites follow one another such as the colorful villas of Wimereux, typical fishing villages, or even the Cap Gris-Nez, the closest point to England, and the bay of Wissant.
From Wissant to Dunkirk
75km
293m
The Opal Coast hasn't ceased to amaze you. For this last cycling stage along the Vélomaritime, you leave Wissant and its bay and take the road to Cap Blanc-Nez, which again promises you a remarkable landscape. Your journey continues and takes you to Calais, a port city and also world famous for being the City of Lace. Towards Dunkirk, you cross the Platier d'Oye nature reserve where many animal and plant species coexist and make this place so unique. A little further north, take a short break in Gravelines to stroll through the alleys of this town fortified by Vauban. Finally, with its remarkable maritime heritage, the corsair city of Dunkirk warmly welcomes you after this great cycling adventure.
Dunkirk
End of stay after breakfast.
Have a safe journey home!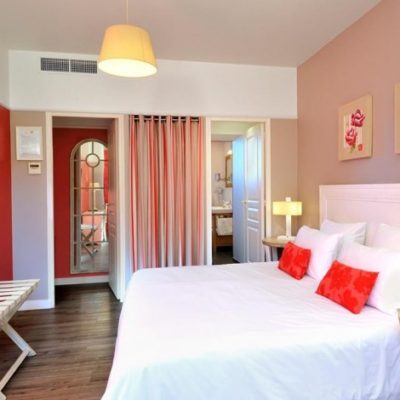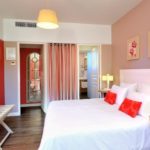 Comfort Range
Our quality standard at Abicyclette. This type of accommodation includes 2 and 3 stars hotels. Depending on the itinerary, you might spend some nights in approved guesthouses. You enjoy a double bedroom with private bathroom and toilet and adapted welcome for you and your bikes.
---
Starting from 2090€/participant in Self Guided option | See detailed prices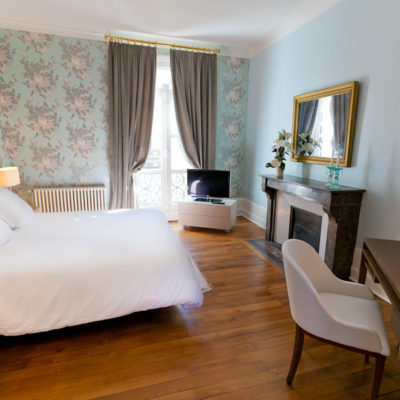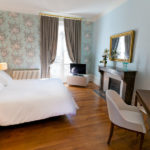 Privilege Range
Opt for total comfort in charming 3 and 4 star hotels which offer all the services you need and a special welcome for you and your bikes.
---
Starting from 2100€/participant in Self Guided option | See detailed prices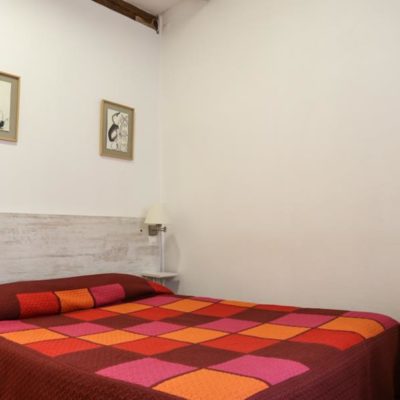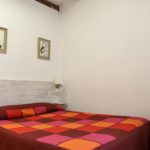 Essential Range
You want to enjoy your itinerary without anything fancy. Our "essential" range offers a simple accommodation for a good night's rest in a simple hotel, guesthouse, rest house or hostel.
---
Quote on request | Contact us
Price includes
Accommodation: 10 nights in a double room
10 breakfasts
Luggage transfer
Phone assistance
Application fee
Day 1 : Meeting with our guide in Normandy
Day 4 : Navette privée - HONFLEUR - LE HAVRE
A personalized greeting with our team at the beginning of the trip to receive your travel documents
Taxes
The trip itineraries available on the following supports:

Loan of a Bicycle GPS uploaded with full itinerary of the trip
Topo maps
Cycling practical guide including restaurant recommendations for lunch & dinner
Price does not include
bike rental (see option)
Breakfast on day 1
Lunches
Dinners not included in "Price includes"
---
Homemade and fully tested itineraries
Routes selected for their cycling and touristic interest entirely tested and away from traffic
Accomodations selected for their hospitality, atmosphere, services and quality meals
A flexible organisation to suit you needs and wishes: You choose the date you want to you leave on! We check the availability of each accomodation to make sure it is possible.
---
Close assistance
One of our guides greets you on your first day. He will hand out all the needed documents for the trip (hotel vouchers, maps of the area,GPS, practical guide), get you settled on your bikes (for rental bikes).
Phone assistance, you can reach the Abicyclette team whenever you need
A Luggage transfer service which respects your hours of rest (we pick them up after 10:00 and deliver them before 16:00)
---
Follow your itinerary anyway you like – modern, practical, traditional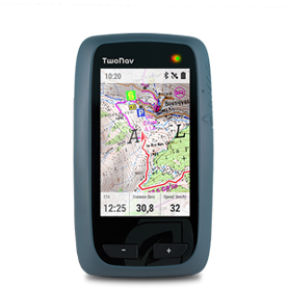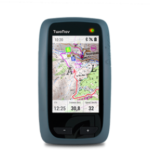 We loan you a GPS so that you can easily follow your itinerary without having to look for your way around (bike support included)
A practical cycling guide with all the useful information (addresses, highlights for the day, topo maps, and touristic information)
---
You can also
---
On our guided tours (for groups on demand), we accompany you every step of the way
One of our state qualified instructor and professional cycling guide accompanies you every step of the way
Full board (all meals covered unless asked otherwise)
A picnic buffet set up for lunch with a wide choice of fresh and local produce
We offer a high-end bike rental service. Our bikes are suited for road and gravel road long-distance cycling. Fully equipped and highly reliable, they are faithful travel companions.
---
Trekking bike

A layed out and dynamic position

Supplied equipment per bike

1 helmet
1 back bag 20L (waterproof)
1 front bag 4L with plastic map holder (waterproof)
1 lock
1 repair kit (patches, tube, tire lever)
1 multi tools box
1 pump
1 bike computer
1 bottle

Touring bike

A straight and easy going position

Supplied equipment per bike

1 helmet
1 back bag 20L (waterproof)
1 front bag 4L with plastic map holder (waterproof)
1 lock
1 repair kit (patches, tube, tire lever)
1 multi tools box
1 pump
1 bike computer
1 bottle

Ebike

With an autonomy of almost 120km, cycling has never been so easy!

Supplied equipment per bike

1 helmet
1 back bag 20L (waterproof)
1 front bag 4L with plastic map holder (waterproof)
1 lock
1 repair kit (patches, tube, tire lever)
1 multi tools box
1 pump
1 bike computer
1 bottle

Bike trailer

Children Bike

20″ or 24″ bike
Getting here
Departure city : CAEN
Coming by car
at 2h45 from PARIS
at 5h45 from BORDEAUX
at 6h from LYON
Coming by train
Caen train station - 2h from Paris
Coming by plane
Arrival city : DUNKERQUE
Coming by car
at 3h15 from PARIS
at 8h from BORDEAUX
at 7h from LYON
Coming by train
Dunkerque train station - 2h15 from Paris
* Abicyclette Voyages accompanies you on demand, including transportation solutions.
How to get back to the starting point
By train from Dunkerque to Caen in 6h30
Return by car in 3h00 to your starting point ?
Private shuttle: see detailed fares or contact us
Recommended equipment
Bike
Trekking or hybrid bike
21 to 30 speeds
26 or 28 inch (700) wheels
Clothing and equipment
Helmet (included with the rental)
Clothing suitable for cycling
Warm jacket (eg fleece)
Rain proof jacket
1 pair of sunglasses
1 pair of cycling shoes
1 small backpack or panniers
1 or 2 water flasks (included with the rental)
1 lock (included with the rental)
Our reccomendation for optimal comfort:

1 pair of gloves
1 special pair of pants (shammy leather)
1 night see fluorescent vest
Bike maintenance
Emergency repair kit: 2 or 3 tubes, patches, pump, tire levers, multi-tools
Daily use kit: cloth, brake pads, oil
Other
Suitcase for transporting personal effects in luggage transfers (limited to one per person when possible)
Change of clothes for the evening
Warm jacket for the evenings
Set of toiletries
Mobile phone and charger