Cycling around the Cotentin peninsula
From port to port from Granville to Carentan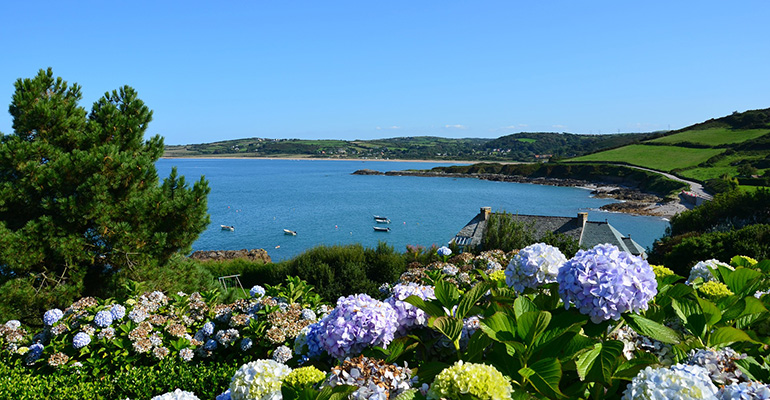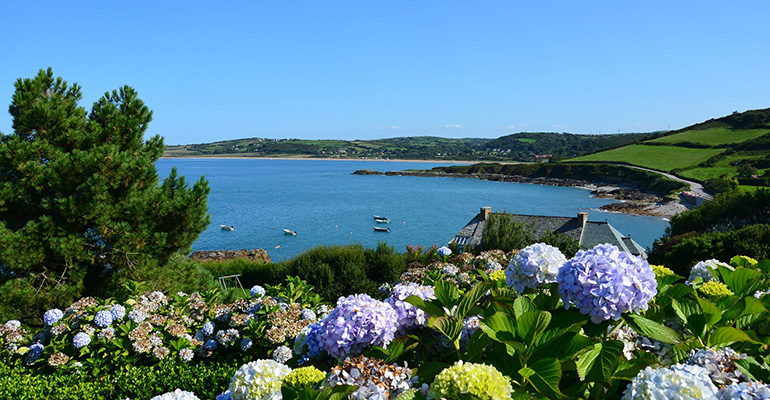 Highlights
Towns & villages of charm and character such as Granville, Portbail and Saint-Vaast-la-Hougue
Cap de la Hague, an exceptional natural site between moors and sea which earned it the nickname of "Little Ireland"
Cape Carteret and the coastline beaches of the Isles coast
Cherbourg, a port city steeped in history
A beautiful getaway along the Normandy coast
An invigorating journey that takes you to discover the untamed landscapes and villages of character of the region of La Manche. Experience a cycling epic from Granville to the landing beaches, via Cherbourg!
Here is a trip for all lovers of the sea and port life. Thanks to a preserved natural coast made up of dunes and steep cliffs, the Cotentin offers you a delightful sea trip. Greeted in lovely lively ports, you share the life of fishermen who are keen to make you taste their specialties. By bike, you ride on small, sometimes sandy roads, and on beautiful and large cycle paths that wind between impressive buildings, often in bloom.
At the start along the Côte des Havres, between Granville and Carteret, dunes and estuaries follow one another, offering a remarkable and unique natural space. The vast impressive dunes change color with the winds and tides. Small seaside resorts intersperse the route, such as Agon-Coutainville and Blainville sur mer, where a stop is recommended to taste the oysters and other seafood.
Little by little, the scenery changes and gives way to the vast fine sandy beaches of the Côte des Isles. The route sometimes has steep drops, but it is worthwhile thanks to the many vantage points it offers in return. Picturesque villages and seaside resorts take turns: Portbail, Barneville-Carteret, Diélette, Siouville, Cherbourg …  For the lovers of nautical activities, a stopover at Sciotot beach is highly recommended! The beach is a little paradise for surfers.
The rocky coasts of La Hague emerge as the wheels turn. The cliffs and pebble beaches are part of the scenery, and offer breathtaking panoramas. You continue to Cherbourg, a historic town and port, where the sea air will not be lacking there either. The circuit then takes you through the typical ports of Barfleur and Saint-Vaast-la-Hougue. Take advantage of a stopover to visit Tatihou Island and the Vauban Towers, listed as a UNESCO World Heritage Site.
You enter the Cotentin Marsh along the Landing beaches, via Utah Beach. You follow the route of the soldiers, liberating during the Second World War, the villages of Sainte-Mère-Eglise and Sainte-Marie-du-Mont.
The tour of the Cotentin peninsula by bike tells you both the stories of the inhabitants who make the charm of the place and the great history that played out here in the middle of the twentieth century. Endowed with an exceptional varied natural heritage, this stay offers a great change of scenery to all bicycle travelers.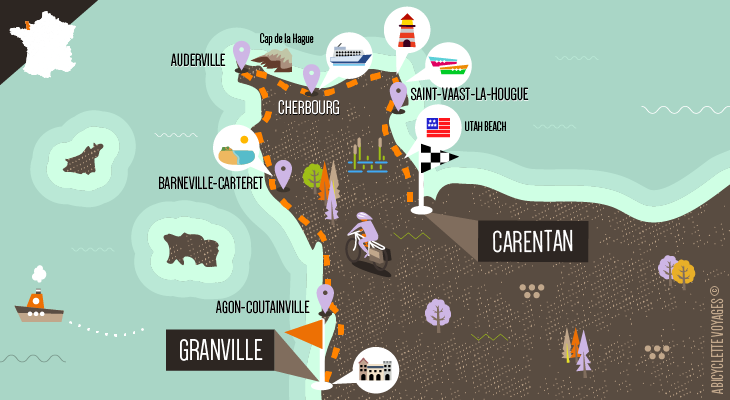 Fit
GRANVILLE
Welcome to Granville!
After settling into your accommodation, take a moment to take a deep breath of sea air and roam the streets of the port city. Perched on its Roc, the upper town offers remarkable views of the sea and the rest of the town.
Briefing Orientation
Before your first ride, we invite you to meet one of our guides, at your place of departure. A time of exchange, a privileged moment to give you our last practical tips, must-see places and experiences, to answer all your questions, take care of your bike fitting to begin your trip.
From GRANVILLE to AGON-COUTAINVILLE
42km
182m
Granville is worth a visit, so if you ran out of time the day before, take a trip to its charming downtown area and waterfront.
The rest of the day is by bike towards Agon-Coutainville. For this first stage, the course is relatively flat. It alternates between sandy portions on the coast and passages in the middle of the marshes. Along the way, a few slopes allow you to test your legs before arriving in Agon-Coutainville.
From AGON-COUTAINVILLE to BARNEVILLE-CARTERET
51km
258m
Like the day before, the course is generally quite rolling. Sections in the forest and parts on agricultural roads enliven this stage. You also pass through some typical Norman villages with imposing granite houses. The arrival at Portail is superb. A footbridge spans the Olonde stream and guides you to the pretty town center of Portbail. Then you reach Barneville-Carteret.
From BARNEVILLE-CARTERET to AUDERVILLE
65km
940m
This is by far the most spectacular stage on your Normandy adventure. You will be amazed.
Today's route to Auderville is very demanding. Many hills are on the menu but magnificent panoramas of the coast and the sea will make you forget the rugged profile of the stage. Evening in Auderville.
From AUDERVILLE to CHERBOURG
31km
339m
This stage between Auderville and Cherbourg is quite hilly, especially at the start of the route. Very steep slopes will put a strain on your thighs and calves. However, from Urville, the profile flattens out and allows you to finish calmly. A greenway that runs along the seaside drops you off in Cherbourg town center.
From CHERBOURG to SAINT-VAAST-LA-HOUGUE
55km
281m
You leave the Cherbourg agglomeration and ride along the bucolic landscapes along the Saire. On the way, stop at the Vast to discover this picturesque village and the nature that surrounds it: steep reliefs, forests, rivers and waterfalls… Also taste the famous Vast brioche made since 1900. You ride along the coast and finally, you reach the sea and enjoy a sweet evening in Saint-Vaast-la-Hougue. Do not miss the Vauban Tower, a UNESCO World Heritage Site.
From SAINT-VAAST-LA-HOUGUE to CARENTAN
68km
285m
From Saint-Vaast-la-Hougue, the La Vélomaritime route follows the small roads of the Regional Natural Park of the Cotentin and Bessin Marshes. Take advantage of your stopover in Quinéville to taste the famous cakes of the artisanal biscuit factory. This itinerary allows you to take a leap in time and learn many facts about the landing of June 6, 1944. You arrive in front of the famous church of Sainte-Mère-Eglise: look up, you will see John Steel's parachute , American paratrooper. You continue your way to Utah Beach: this 5 km long beach saw the disembarkation of more than 20,000 men and 1,700 vehicles on June 6, 1944. You can also discoverd, along the way, the Azeville batterie, these fortifications of the Atlantic Wall erected by the Germans at the beginning of the 1940s. Your route ends in Carentan.
CARENTAN
End of stay after breakfast.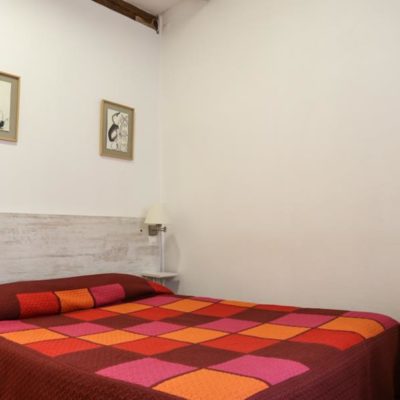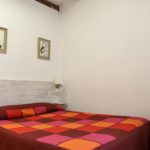 Essential Range
You want to enjoy your itinerary without anything fancy. Our "essential" range offers a simple accommodation for a good night's rest in a simple hotel, guesthouse, rest house or hostel.
---
Starting from 992€/participant in Self Guided option | See detailed prices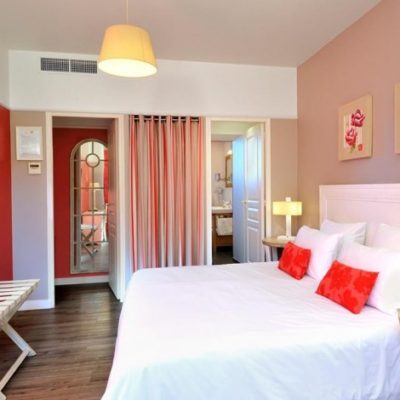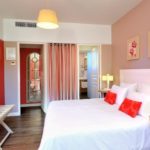 Comfort Range
Our quality standard at Abicyclette. This type of accommodation includes 2 and 3 stars hotels. Depending on the itinerary, you might spend some nights in approved guesthouses. You enjoy a double bedroom with private bathroom and toilet and adapted welcome for you and your bikes.
---
Starting from 1120€/participant in Self Guided option | See detailed prices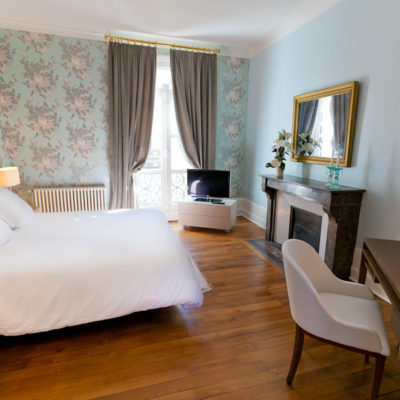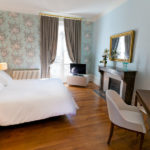 Privilege Range
Opt for total comfort in charming 3 and 4 star hotels which offer all the services you need and a special welcome for you and your bikes.
---
Quote on request | Contact us
Price includes
Accommodation: 7 nights in a double room
7 breakfasts
Luggage transfer
Phone assistance
Application fee
Day 1 : Meeting with our guide in Normandy
A personalized greeting with our team at the beginning of the trip to receive your travel documents
Taxes
The trip itineraries available on the following supports:

Loan of a Bicycle GPS uploaded with full itinerary of the trip
Cycling practical guide including topo maps, restaurant recommendations for lunch & dinner
Price does not include
bike rental (see option)
Breakfast on day 1
Lunches
Dinners not included in "Price includes"
Drinks, visits & other personal expenses
---
Homemade and fully tested itineraries
Routes selected for their cycling and touristic interest entirely tested and away from traffic
Accomodations selected for their hospitality, atmosphere, services and quality meals
A flexible organisation to suit you needs and wishes: You choose the date you want to you leave on! We check the availability of each accomodation to make sure it is possible.
---
Close assistance
One of our guides greets you on your first day. He will hand out all the needed documents for the trip (hotel vouchers, maps of the area,GPS, practical guide), get you settled on your bikes (for rental bikes).
Phone assistance, you can reach the Abicyclette team whenever you need
A Luggage transfer service which respects your hours of rest (we pick them up after 10:00 and deliver them before 16:00)
---
Follow your itinerary anyway you like – modern, practical, traditional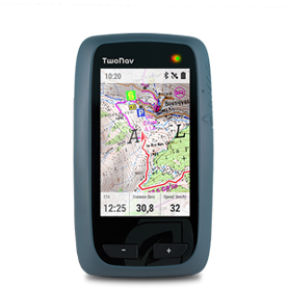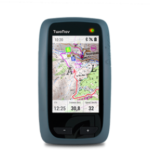 We loan you a GPS so that you can easily follow your itinerary without having to look for your way around (bike support included)
A practical cycling guide with all the useful information (addresses, highlights for the day, topo maps, and touristic information)
---
You can also
---
On our guided tours (for groups on demand), we accompany you every step of the way
One of our state qualified instructor and professional cycling guide accompanies you every step of the way
Full board (all meals covered unless asked otherwise)
A picnic buffet set up for lunch with a wide choice of fresh and local produce
We offer a high-end bike rental service. Our bikes are suited for road and gravel road long-distance cycling. Fully equipped and highly reliable, they are faithful travel companions.
---
Touring bike

A straight and easy going position

Supplied equipment per bike

1 helmet
1 back bag 20L (waterproof)
1 front bag 4L with plastic map holder (waterproof)
1 lock
1 repair kit (patches, tube, tire lever)
1 multi tools box
1 pump
1 bike computer
1 bottle

Trekking bike

A layed out and dynamic position

Supplied equipment per bike

1 helmet
1 back bag 20L (waterproof)
1 front bag 4L with plastic map holder (waterproof)
1 lock
1 repair kit (patches, tube, tire lever)
1 multi tools box
1 pump
1 bike computer
1 bottle

Ebike

With an autonomy of almost 120km, cycling has never been so easy!

Supplied equipment per bike

1 helmet
1 back bag 20L (waterproof)
1 front bag 4L with plastic map holder (waterproof)
1 lock
1 repair kit (patches, tube, tire lever)
1 multi tools box
1 pump
1 bike computer
1 bottle

Children Bike

20″ or 24″ bike
Getting here
Departure city : GRANVILLE
Coming by car
at from PARIS
at from BORDEAUX
at from LYON
Parking
Parking Fontaine Bedeau – GRANVILLE
Parking Centre Régional de Nautisme de Granville
Coming by train
Granville train station - 3h from Paris
Arrival city : CARENTAN
Coming by car
at 3h15 from PARIS
at 6h from BORDEAUX
at 7h from LYON
Coming by train
Carentan train station - 2h45 from Paris
* Abicyclette Voyages accompanies you on demand, including transportation solutions.
How to get back to the starting point
By train from Carentan to Granville in 1h45
Private shuttle: see detailed fares or contact us
Recommended equipment
Bike
Trekking or hybrid bike
21 to 30 speeds
26 or 28 inch (700) wheels
Clothing and equipment
Helmet (included with the rental)
Clothing suitable for cycling
Warm jacket (eg fleece)
Rain proof jacket
1 pair of sunglasses
1 pair of cycling shoes
1 small backpack or panniers
1 or 2 water flasks (included with the rental)
1 lock (included with the rental)
Our reccomendation for optimal comfort:

1 pair of gloves
1 special pair of pants (shammy leather)
1 night see fluorescent vest
Bike maintenance
Emergency repair kit: 2 or 3 tubes, patches, pump, tire levers, multi-tools
Daily use kit: cloth, brake pads, oil
Other
Suitcase for transporting personal effects in luggage transfers (limited to one per person when possible)
Change of clothes for the evening
Warm jacket for the evenings
Set of toiletries
Mobile phone and charger