8 tips for travelling by bike in an eco-friendly way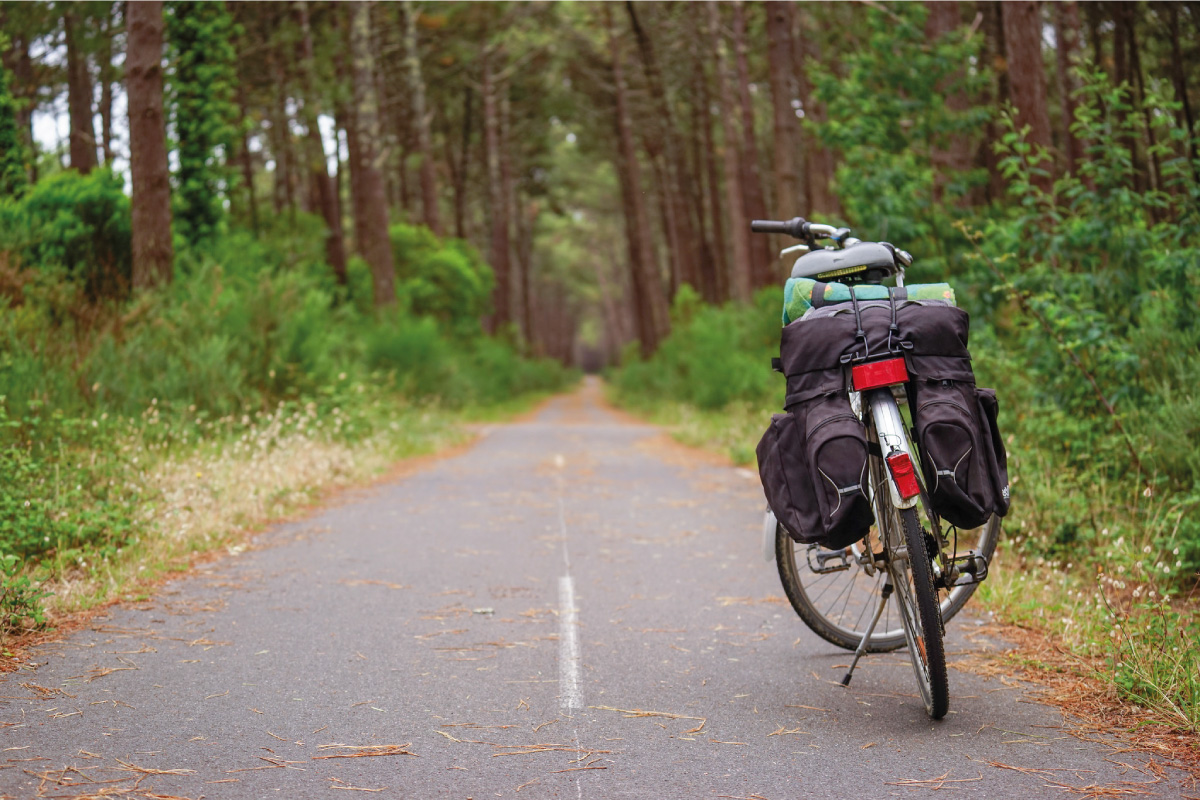 You feel concerned being a bike eco-friendly and want to travel responsibly to preserve the planet. To achieve this, you want to travel by bike in an eco-friendly way! If the choice of the bicycle makes it possible to travel much more sustainably than traditional holidays, you can make even more ecological sense of your bicycle trips by adopting some best practices.
How to do it? Well it's simple, find all our little Abicyclette Voyages tips.
Traveling by bike is already an eco-friendly trip
What qualifies a trip as eco-friendly is largely the mode of transport used and the way you approach your stay. By bicycle, CO2 emissions are naturally reduced compared to other modes of transport. Note that if you opt for this choice, the electric bike has a higher carbon footprint than the traditional bike. However, it remains more ecological compared to other means of transport such as the car!
"Slow tourism" is also more eco-friendly than traditional holidays in seaside resorts. On a bike trip, you progress in the heart of nature and stay away from mass tourism, which limits your participation in the deterioration of places due to their overcrowding.
Although seasoned bike travelers occasionally visit very touristy places, they always say they prefer to stay away from the crowds. Places that are too densely frequented hinder the serene progress and the contemplative wandering that the cyclist seeks.
The passing of the bike traveler therefore leaves few traces and contributes very little to energy-intensive and destructive tourism. Even if it is already a good action, it is possible to increase your commitment to an eco-friendly bike trip by adopting the best practices that we will tell you about in the rest of this article.
A local bike trip
Leaving for South America does not have the same consequence as a trip to your local small town! It is of course preferable to choose a local destination. The latter is more easily accessible, which allows you to opt for a more sustainable means of transport.
Take a look around you to discover varied landscapes & terrains as well as rich historical and culinary heritages that offer you a wide choice for your cycling trips, whatever your tastes and your level may be! You lose nothing by opting for a destination closer to home, quite the contrary.
An eco-friendly mode of transport
If the bike trip is low in CO2 emissions, your round trip to your destination can have a significant ecological impact.
For an eco-responsible bike trip, the optimal solution is to make a loop starting from your home or to plan the arrival or departure from your home. Thus, you save a journey made by other means of transport.
If your region no longer holds any secrets for you, preferably choose a destination accessible by train. If you are traveling with your bike, be sure to do some research before you leave. On some train lines, you have to disassemble your bike, which can make the journey more difficult. To find out more, find our advice for taking the train with your bike.
The less environmentally friendly options for getting to your destination are by plane and by car. If you opt for the second option and are alone or in a couple in your vehicle, you can always moderate the ecological impact of your trip by carpooling.
Renting and second-hand rather than buying new
Many bike travelers aren't everyday cyclists and don't own bikes that are particularly good for touring. If the bike manufacturers tend to suggest that you need the latest travel bike for your journeys, remember that the first adventurers started at the end of the 19th century. This did not constrain them in achieving their world tour by bicycle.
The building of a bicycle has an ecological impact, even more if it is not used much. If this is your first bike trip, opt for renting or choosing a second-hand bike. Before finding a frame that suits you perfectly, testing several bikes allows you to get to know yourself better and thus know exactly what suits you at the time of your final purchase.
At Abicyclette Voyages, we offer a bike rental service for your cycling trips.
Long-lasting equipment
The choice of your equipment also has an ecological impact. Favoring certain equipment can be more eco-responsible. It can be clothing, which you can buy second-hand or from brands with high environmental value. The brands involved are very varied, they can made locally or have a real sustainable approach as is the case for Vaude which achieved carbon neutrality in 2022.
Regarding bicycle bags, many French brands are now starting out with a committed approach. This is the case of Sacoche Hirondelle, le Rouquin Qui Roule or Helmut Equipement, all small companies that manufacture everything by hand. Ortlieb or Vaude saddlebags are made in Germany and known for their durability.
Eco-friendly accomodation
The construction of accommodation intended for tourists is often not very sustainable. Witness the long rows of high hotels that have concreted the coastline and that are often found in the seaside resorts of Europe, especially on the Mediterranean coast. Beyond their often unsightly visual aspect, it is an entire local ecosystem that is impacted by these buildings.
Promoting accommodation on a human scale, small hotels or guest houses in destinations less sought after by tourism, also means committing to more responsible and more moderate tourism.
At Abicyclette Voyages, we always favor a lasting relationship with the accommodation we offer for our cycling trips in France or abroad.
Buy/consume local
For an eco-friendly bike trip, favor outdoor markets for your food purchases. Bring a small reusable bag with you for your fruits and vegetables to avoid plastic packaging. On the road, you inevitably pass local producers and a few farms where direct sales are customary. Take the opportunity to do your shopping there, it will be an opportunity to taste local specialties! Small restaurants serving regional dishes and bakeries are also to be encouraged.
So that you have all the information about markets and restaurants, we provide you with a travel diary during our Abicyclette Voyages stays.
Do you also know that most of the souvenirs you buy in the shops of tourist places are, in fact, made in China? Their ecological footprint is very strong for products that are often totally useless. To bring back memories of your cycling trip to your loved ones, favor local products and especially culinary specialties. This allows you to offer a beautiful gift to your loved ones while being almost certain that it will be appreciated!
Traveling by bike without leaving a trace
Since the pandemic, many natural spaces, hitherto preserved, have seen their attendance jump up. Small piles of stones called cairns have become increasingly common and are a problem. The trampling of protected areas also. Leaving no traces behind means respecting nature and paying attention to everything you do there. Small gestures that seem harmless to us often have more impact than we think.
It is generally well accepted that we should not leave waste in nature. However, natural spaces are full of slightly hidden places transformed into open-air public toilets. When traveling by bike, not leaving traces also means respecting the place, even if we consider that the waste is biodegradable. In reality, it never really is. So, bury your necessities, burn your toilet paper or take it away in a small trash bag! And if you don't like the option, you always have the alternative of consuming local by having a coffee on the terrace.