The Douro Valley by bike
Riding the roads of Porto wines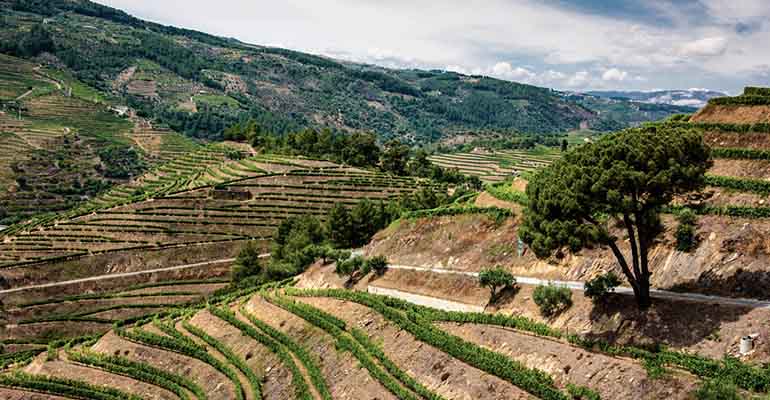 Highlights
Vineyard of the Upper Douro Valley, a UNESCO World Heritage Site
The Douro Gorge 200 meters high
The boat cruise on the river
Charming addresses at oil and wine producers
The 2 nights in Porto to discover this city of history
The history of the trip
Passionate about wines and bicycle routes winding through the vineyards, great olive oil customer … when Abicyclette Voyages heard about this region that produced both and offered a beautiful natural area to discover, it became a must to get our wheels on the area. The meeting of João and his team in Porto did the rest: a generous sharing of the passion for his country, the love of beautiful things and the good products of the land and the sea. He transmitted to us the love of this region of northern Portugal, very welcoming and full of simplicity. We participated in the finishing touches of this circuit by donning the jersey in 2016. We are happy to offer the Douro Valley  by bike in 2018!
Your cycling trip in the Douro Valley
Wine, nature and traditions of a UNESCO World Heritage region
Discover the Douro Valley through cycling. You cycle through fascinating landscapes and cross natural areas of great worth. From Porto, our guide takes you to the border with Spain, in the gorges of the Douro River. With its cliffs over 200 meters high, the Douro has shaped a beautiful valley that you follow for a few days.
You ride along the plateau of the "Natural Park of Douro Internacional" (Natural Park of the Douro), which has more than 170 species of birds, including the Egyptian vulture. Pedal quietly and soak up the peaceful and wild atmosphere of northeastern Portugal. An old railway line transformed into an "ecopista" (greenway) allows you to cross vast forests, alleys of almond trees, olive trees, vineyards and typical agricultural landscapes.
The terraced vineyards, unique in the world and typical of the region, listed as World Heritage by UNESCO are a feast for the eyes. Your trip allows you to visit Pinhão, city around which the majority of the famous wine producers of Douro and Porto are installed, and Peso da Régua, chief town of the region. Here we produce excellent wines, often unknown in other producers such as France. The winemakers do not have to be ashamed of their high quality work. Enjoy varieties of grape varieties and appellations during your walks or evenings stages.
The hosts we have selected carefully, are representative of local life and customs. You can relax in a hotel overlooking the river, at an olive oil producer, or in a charming winemarker's guest house. This is also the opportunity to sit down with the men and women who work the land you are traveling. Portuguese cuisine of a tasty simplicity: fish (especially cod, sardines, octopus …), beef, cooked in a thousand and one ways but always generously accompanied by their delicious olive oil!
The kindness and generosity of the Portuguese people, allows you to travel with peace of mind (Portugal is one of the 5 safest countries in the world!) And to let you cradle like a "Rabelo" (flat-bottomed boat) on the Douro, bringing its casks of Port Wine to the cellars of Villa de Gaia.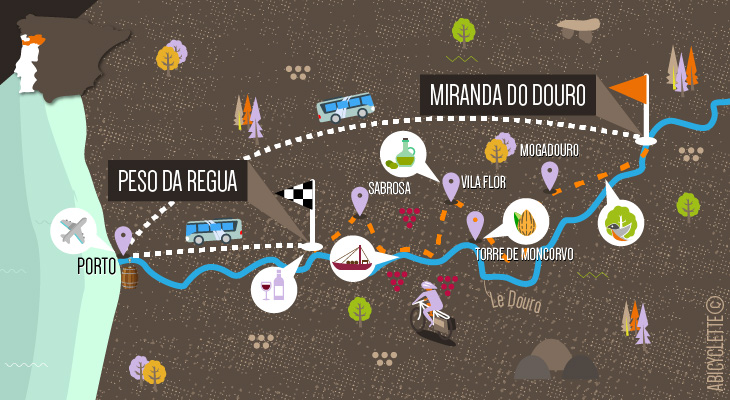 Fit
PORTO
Arrival at Porto. Settle in your hotel and free evening to discover the city.
From PORTO to MIRANDA DO DOURO
Meeting at your hotel. During the transfer to Miranda do Douro, enjoy the landscape that is emerging around you, like a canvas of green trees and gray and brown stones, hills and mountains, which is stands out under a blue and mild sky. The cliffs of the Douro River, more than 200m high, also offer a fascinating view. The small town of Miranda do Douro, with its typical whitewashed houses, of Roman origin, and its narrow stone streets, is worth a visit.
Briefing Orientation
Before your first ride, we invite you to meet one of our guides, at your place of departure. A time of exchange, a privileged moment to give you our last practical tips, must-see places and experiences, to answer all your questions, take care of your bike fitting to begin your trip.
From MIRANDA DO DOURO to MOGADOURO
47km
320m
The first leg of your cycling route includes the eastern part of the Douro International Nature Park, where wild nature and radiant landscapes are the most outstanding features. Here you will cycle along a medium difficulty plateau. It is a peaceful place, populated by more than 170 species of birds, wild boars and Iberian wolves. Even the farmers' herds graze silently. Stay alert, you may have the chance to see an Egyptian Vulture or a Bonelli Eagle in the sky.
From MOGADOURO to TORRE DE MONCORVO
40km
150m
Today, your route includes an old railway line. The green trail will take you between forests and typical agricultural landscapes. Pedal between the olive trees to Torre de Moncorvo, the almond capital. In Torre de Moncorvo, you will be warmly welcomed by the owner of a charming manor house, proud of the accommodation he offers. You will taste his delicious artisanal liqueurs, which perfectly accompany the almonds of Moncorvo.
From TORRE DE MONCORVO to VILA FLOR
30km
200m
You will pedal today along the Douro River. Prepare for a magnificent view and a magical landscape. You will descend to the river by a winding trail between the olive groves of the properties that produce some of the best olive oils in the world. Tonight, you will be hosted by a producer of organic olive oil. At dinner, you can savor some of the region's finest culinary products – artisan cheeses, sausages, wood-fired bread and olive oil, organic oranges and, of course, Douro wine.
From VILA FLOR to SABROSA
25km
150m
The Vineyard of the Alto Douro Valley is known worldwide for its wines (Douro and Porto) and for its Touriga Nacional variety, the most important in the region.The terraced vineyards, so distinctive of this UNESCO World Heritage Region, are a feast for the eyes. One of the highlights of your day will be the Rabelo boat ride that once carried the wine barrels, following the river to Porto. While you relax in the sun, take the opportunity to take pictures of the landscape around you, and let yourself be enchanted by the Douro region. In Pinhão, where the majority of Porto wine producers are located, do not forget to visit the railway station, whose facade is entirely covered with azulejos. Private transfer from Douro river to your hotel.
From SABROSA to PESO DA REGUA
36km
270m
At first, the bike tour will take you to the secondary roads of the Douro, and then to the Douro River. The views are breathtaking and it almost feels like the Douro Valley, knowing that this is the last stop on your vacation, wants to make sure you will not forget its enchanting beauty. At the end of the day, you will arrive at Peso da Régua, a town in the center of the Porto Wine Region. A wine producer will welcome you with a good glass of wine on the terrace and at dinner, you can share with him a culinary experience.
From PESO DA REGUA to PORTO
Back to Porto. Night on the city. The opportunity to go down to Villa Nova de Gaia and enter the largest Porto cellars in the world. You will have then followed the same road as the wine to get there. One last evening allows you to enjoy the Portuguese cuisine and lively docks of the city.
PORTO
End of the trip after breakfast.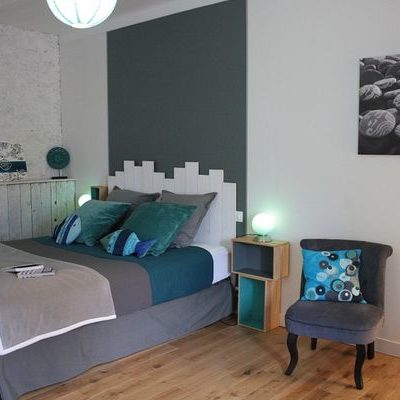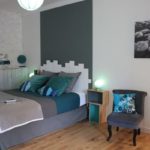 Bed & Breakfast Range
Another way to travel, meeting the people of the lands you cycle through. They welcome you in their home and offer board and lodging*. It gives you the opportunity to chat and deepen your knowledge of the region. We have selected them for their charm and privacy.
*breakfast included, diners available according to establishments
---
Starting from 1545€/participant in Self Guided option | See detailed prices
Price includes
Accommodation: 8 nights in a double room
8 breakfasts
2 dinners
Luggage transfer
Phone assistance
Application fee
Day 2 : Navette privée - PORTO - PORTO (AIRPORT)
Day 2 : Meeting with our guide
Day 2 : Navette privée - PORTO (AIRPORT) - MIRANDA DO DOURO
Day 5 : Gîte rural Quinta Do Barracao Da Vilarica - Olive oil tasting
Day 6 : Traversée maritime - FOZ DO TUA - PINHAO
Day 6 : Navette privée - PINHAO - SABROSA
Day 7 : Chambre d'hôtes La Quinta de Tourais - Wine tasting & visit
Day 8 : Navette privée - PESO DA REGUA - PORTO
Hybrid bike rental 27 speed with pannier, helmet and tools
The loan of a mobile phone to call for free (in the limit of 10 euros in Portugal)
The itinerary as detailed above trackable on the following supports:

Loan of a GPS with full itinerary
Cycling practical guide including restaurant recommendations for lunch & dinner
Price does not include
Breakfast on day 1
Lunches
Dinners not included in "Price includes"
Drinks, visits & other personal expenses
Repairs, spareparts and mileage allowance
---
A "homemade" tour by a local partner, specialist in bike trips:
Routes picked with the Abicyclette team for their tourist & cycling interests, completely identified, removed from trafic
Accommodation chosen for the quality of their welcome, atmosphere, services and gastronomy
A great flexibility of organization which adapts to your needs and desires: you leave on the date of your choice! We check the availability of accommodation to ensure your departure.
---
Assistance close at hand :
A personalized reception on the first day of your trip by a local guide that will provide you travel documents (reception & documents in English)
Telephone assistance

from the ABICYCLETTE team

Local telephone assistance
Luggage transfer service
---
A modern and efficient route tracking:
A logbook to find all useful addresses and tourist information, maps and a description of the circuit.
We provide a GPS

to follow the route without ever having to look for directions (bike mount provided)
---
And also:
Confortable bike rental, ideal for this varied route made up  roads and paths
The option to subscribe to a cancellation & multi-risk insurance covering you in case of problems or the unexpected
We offer a high-end bike rental service. Our bikes are suited for road and gravel road long-distance cycling. Fully equipped and highly reliable, they are faithful travel companions.
---
Ebike

Supplied equipment per bike

1 rear pannier
1 handlebar bag
1 helmet
1 bike tool kit for quick repairs
1 first aid kit

Touring bike

Supplied equipment per bike

1 rear pannier
1 handlebar bag
1 helmet
1 bike tool kit for quick repairs
1 first aid kit
Getting here
Departure city : PORTO
Coming by car
at 15h from PARIS
at 9h from BORDEAUX
at 14h from LYON
Coming by train
Porto Campanha train station - Plus de 12h from Paris
Porto Sao bento train station - Plus de 12h from Paris
Coming by plane
Arrival city : PORTO
Coming by car
at 15h from PARIS
at 9h from BORDEAUX
at 14h from LYON
Coming by train
Porto Campanha train station - Plus de 12h from Paris
Porto Sao bento train station - Plus de 12h from Paris
Coming by plane
* Abicyclette Voyages accompanies you on demand, including transportation solutions.
How to get back to the starting point
Private shuttle: see detailed fares or contact us
Return by car in 0h00 to your starting point ?
Recommended equipment
Bike
Trekking or hybrid bike
21 to 30 speeds
26 or 28 inch (700) wheels
Clothing and equipment
Helmet (included with the rental)
Clothing suitable for cycling
Warm jacket (eg fleece)
Rain proof jacket
1 pair of sunglasses
1 pair of cycling shoes
1 small backpack or panniers
1 or 2 water flasks (included with the rental)
1 lock (included with the rental)
Our reccomendation for optimal comfort:

1 pair of gloves
1 special pair of pants (shammy leather)
1 night see fluorescent vest
Bike maintenance
Emergency repair kit: 2 or 3 tubes, patches, pump, tire levers, multi-tools
Daily use kit: cloth, brake pads, oil
Other
Suitcase (for transporting personal effects in luggage transfers)
Change of clothes for the evening
Warm jacket for the evenings
Set of toiletries
Mobile phone and charger