The Portuguese coast from Porto to Lisbon by bike
Portuguese getaway from Porto to Lisbon by the wild coast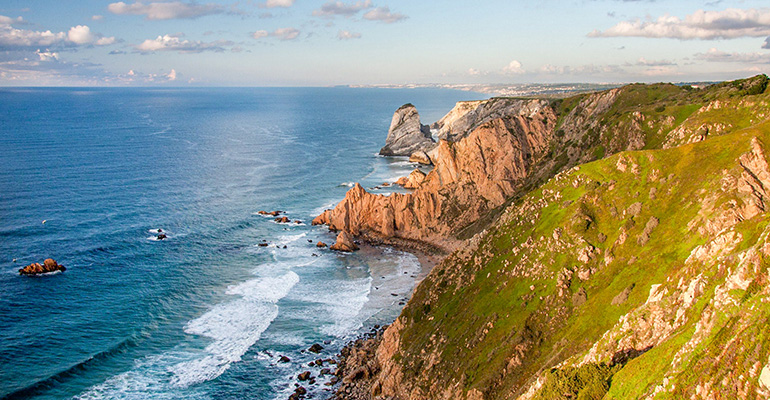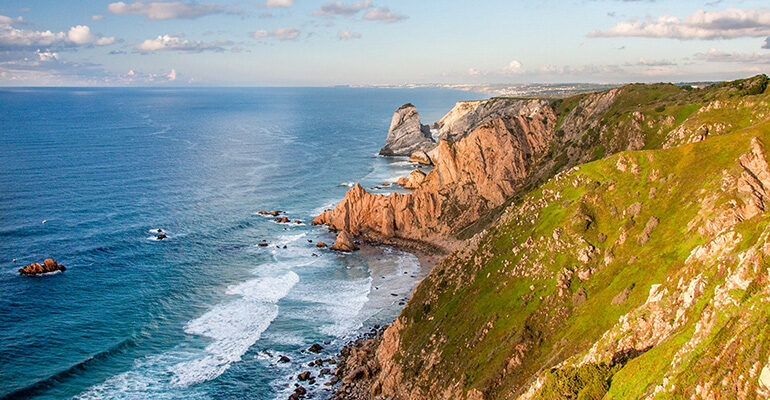 Highlights
Porto, the second Portuguese city listed as a UNESCO World Heritage Site
Ria de Aveiro and its nature reserve
Discover the wild coast from port to port
Aveiro, the little Portuguese Venice
The charm of the city of Coimbra
Óbidos, its medieval town and its castle
Sintra, a UNESCO World Heritage Site
The exceptional beaches
The delicious Portuguese gastronomy
From Porto to Lisbon by bike along the Portuguese coast
This cycling route between Porto and Lisbon allows you to discover the beauty of the Portuguese coast between seaside resorts, charming fishing villages, steep cliffs and breathtaking beaches.
From Porto to the seaside resort of Cascais, in the province of Lisbon, this bike trip allows you to discover the charms and beauties of the Portuguese wild coast.
Second Portuguese city in terms of population, Porto is a beautiful and pleasant city to discover. Nestled on the banks of the Douro River, it spreads out from square to small square through a maze of lively streets decorated with typical azulejos. An azulejo is an earthenware tile decorated with geometric patterns or figurative representations. Porto is the capital of the north and the ideal place to spend 1 or 2 days before hitting the road by bike. Along the way, you will discover other charming towns such as Aveiro, the Portuguese little Venice, Coimbra and the city of Óbidos, surmounted by an imposing medieval castle. Not far from Lisbon, the majestic town of Sintra is also one of the architectural, historical and cultural curiosities of the trip, undoubtedly one of the highlights of your cycling adventure.
Between these major sites, what makes up the identity and meaning of this bike trip is the discovery of the Portuguese wild coast from north to south. From port to port, your getaway guides you along an exceptional coastline of the Costa da Prata which stretches for tens of kilometers and which offers a fabulous mosaic of coastal landscapes. From breathtaking beaches where surfers try to tame the biggest waves in the world to steep and jagged cliffs where you watch colorful sunsets. The landscapes are spectacular. Climbing the Cabo da Roca, you reach the westernmost point of continental Europe! In front of you, the Atlantic Ocean stretches as far as the eye can see.
Your pedal strokes also allow you to reach the small authentic fishing villages and the beautiful sunny seaside resorts that invite you to rest. The generous Portuguese cuisine inspired by the sea, and the welcoming smiling faces of the people complete this wonderful trip.
At the end of your cycling holiday, we invite you to take advantage of an extra night or even a few days to discover the Portuguese capital, Lisbon. The opportunity to stroll through the streets of the beautiful city of a thousand colors of Vasco da Gama. If you feel melancholy overwhelm you, don't be surprised. It's only an air of Fado, a traditional Portuguese song, is played a few steps from you, in one of the welcoming inns of the city. Let yourself be enchanted and transported by these deep and sincere songs, it's a real inner journey.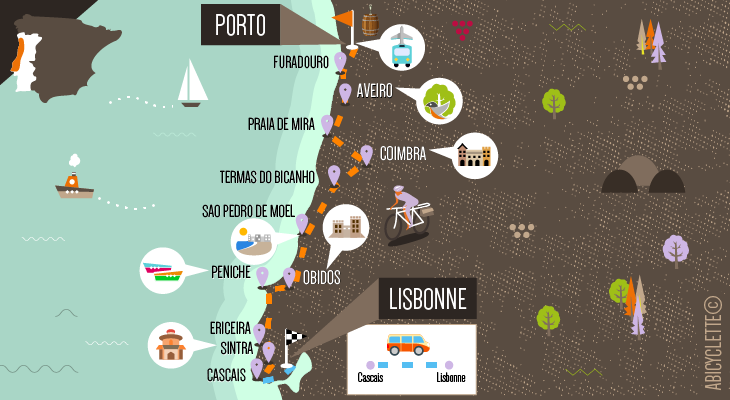 Fit
PORTO
Arrival at Porto. Settle in your hotel and free evening to discover the city.
From PORTO to OVAR
46km
300m
From OVAR to AVEIRO
57km
200m
From AVEIRO to PRAIA DE MIRA
42km
200m
As you leave Aveiro, you head down a path that crosses a land of ponds, where salt is extracted by an old traditional method passed down through generations. As you head-on, you arrive at a dock where you can view the harbor and some old codfish boats. After crossing the main bridge you arrive in Barra Village, a typical village settled down in a narrow stretch of a sand dune between the sea and the Ria. As the day goes on, you ride along the Costa Nova. You discover the "palheiros", the colorful striped houses of the Costa Nova! A day rich in beautiful landscapes that ends in Praia de Mira.
From PRAIA DE MIRA to COIMBRA
62km
500m
This day starts on gravel roads, taking you through villages, towns until reaching the Mondego river, which guides you to the heart of Coimbra. This charming city was the first capital of Portugal, and the first University was placed there in 1537, where many Portuguese writers, doctors, philosophers, or scientists studied throughout the times. University of Coimbra – Alta and Sofia was built in the Royal Palace of Alcáçova, a historical place full of charm, beauty, and heritage, as the 12th-century Cathedral of Santa Cruz, several 16th-century colleges, the Joanine Library with a baroque decor, or the 18th-century Botanical Garden. There is a lot to see and explore around Coimbra!
From COIMBRA to MAIORCA
66km
300m
From MAIORCA to SÃO PEDRO DE MOEL
71km
400m
From SÃO PEDRO DE MOEL to OBIDOS
71km
900m
You leave São Pedro de Moel along the wild coast. The village of Nazaré is the first highlight of the stage Typical fishing village, it is sublimated by a festival of color which can be seen in the houses and the boats. Nazaré is also known for its huge waves that delight experienced surfers. You continue pedaling near the sea to the beautiful bay of Foz do Arelho. Then you head inland and drive to the medieval town of Óbidos. In Óbidos, you discover one of the most picturesque and best preserved castles in Portugal. Once in Obidos, don't forget to drink the bright red Ginja from the little dark chocolate cup, a delicious tradition not to be missed.
From OBIDOS to PENICHE
61km
600m
This day begins close to the lagoon of Óbidos, which is considered the most extensive coastal lagoon system on the Portuguese coast. As you continue heading south, you cycle inland through an area where dinosaurs once roamed. Almost at the end of the day, you discover an incredible place on a very small peninsula that looks like an island. Peniche is a city of fishing traditions. So, as you might expect, here you can find many seafood restaurants serving up tasty sea bass, seafood rice, and charcoal-grilled sardines, among others. Besides the sea and the local cuisine, Peniche is also known for the art of bobbin lacework and its incredible bays and beaches, popular among surfers.
From PENICHE to ERICEIRA
71km
800m
The day starts with some small rolling hills, through tiny Portuguese villages. Always not far away from the ocean, you pass by incredible valleys of limestone and vibrant green Mediterranean vegetation. An incredible coastal scenario that leads you to Ericeira through some of the most amazing beaches and cliffs of the region. Ericeira, known as the Portuguese Mecca of Surf, is one of the most beautiful and popular fishermen villages in Portugal. Picturesquely draped above the blue ocean, it also offers you the perfect place for an excellent seafood dinner. Enjoy the free time walking along the town's old center and admiring the great vistas.
From ERICEIRA to SINTRA
50km
800m
Departing from Ericeira, you reach the natural park and the hills of Sintra. The profile is steep but the landscapes are well worth the pedal strokes. Enjoy the beauty of Monserrate Palace for a well-deserved break and visit the gardens and its exotic palace built in 1858. At the end of the day, you arrive at the beautiful UNESCO-listed village of Sintra. Enjoy free time to climb the mountain and discover the incredible Moorish castle dating back to the 8th century.
From SINTRA to CASCAIS
51km
700m
Your cycling day first immerses you in the mystical surroundings of the Franciscan Capuchin Convent. You then continue your journey along the Atlantic Ocean and arrive at the westernmost point of mainland Europe, Cape Roca, a promontory rising 150m above sea level. Discover impressive beaches nestled between cliffs, artistically sculpted by the power of nature and end with a scenic walk along the coast.
The stage ends in Cascais, a charming seaside town.
Transfer to Lisbon
After a transfer from Cascais to Lisbon explore the capital!
Prepare yourself to get lost while exploring the old
neighborhoods of Lisbon like Alfama, Graça, and Chiado,
discover the many viewpoints offering a magnificent view of
Lisbon. Stroll through the Pombaline grid of streets in the Baixa
district that opens on to the Tagus in Praça do Comércio, then
follow the river to discover some of the city's most beautiful parts,
like the monumental area of Belém with its World Heritage
monuments, the medieval quarters and the latest contemporary
leisure spaces, such as the Parque das Nações.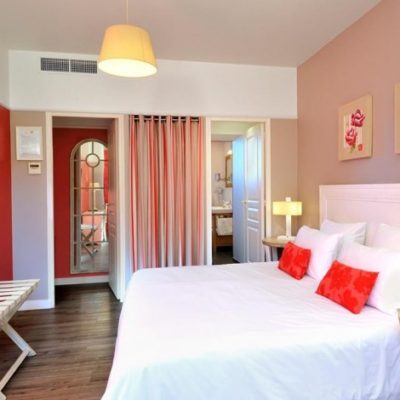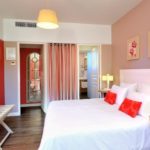 Comfort Range
Our quality standard at Abicyclette. This type of accommodation includes 2 and 3 stars hotels. Depending on the itinerary, you might spend some nights in approved guesthouses. You enjoy a double bedroom with private bathroom and toilet and adapted welcome for you and your bikes.
---
Starting from 1500€/participant in Self Guided option | See detailed prices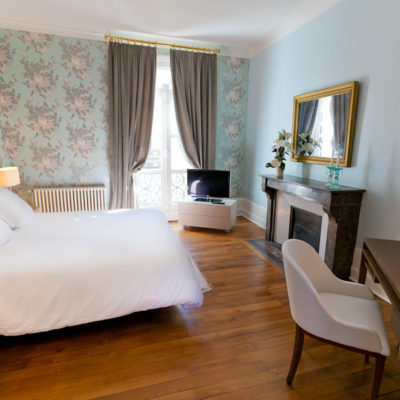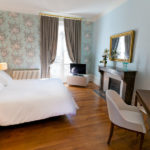 Privilege Range
Opt for total comfort in charming 3 and 4 star hotels which offer all the services you need and a special welcome for you and your bikes.
---
Starting from 1915€/participant in Self Guided option | See detailed prices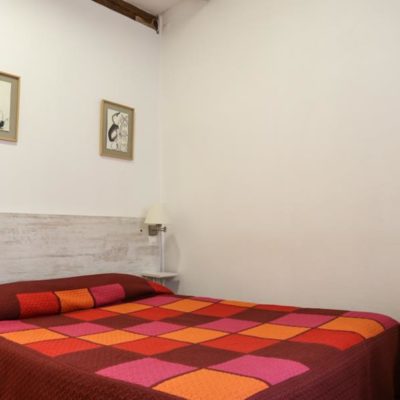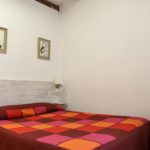 Essential Range
You want to enjoy your itinerary without anything fancy. Our "essential" range offers a simple accommodation for a good night's rest in a simple hotel, guesthouse, rest house or hostel.
---
Quote on request | Contact us
Price includes
Accommodation: 12 nights in a Double room
12 breakfasts
Luggage transfer
Phone assistance 24/7
Application fee
The itinerary as detailed above trackable on the following supports:
An app  to follow the routes step by step
A practical and descriptive road book in English including all our recommended addresses.
Specific services
Jour 1 : Navette privée - PORTO (AIRPORT) - PORTO
Jour 1 : Orientation in Porto
Jour 13 : Navette privée - CASCAIS - LISBONNE
Price does not include
bike rental (see option)
Breakfast on day 1
Lunches
Dinners not included in "Price includes"
Drinks during dinners (unless otherwise stated), visits not listed in "The price includes" and other personal expenses
---
A "homemade" stay made by a local partner, specialist in cycling holidays in Portugal:
Routes picked with the Abicyclette team for their tourist & cycling interests, fully marked, removed from trafic
Accommodation offered for the quality of their welcome, atmosphere, services and gastronomy
A great flexibility of organization which adapts to your needs and desires: you leave on the date of your choice! We check accomodation availability to ensure your departure.
---
Local support :
A personalized reception on the first day of your trip by a local guide that will provide you the travel documents (reception in English)
Telephone assistance from 9 a.m. to 8 p.m.
Luggage transfer service
---
A simplified route tracking:
A digital road book to find all useful addresses, recommended restaurants and tourist information, maps and a description of the circuit.
An application to follow the route without ever having to look for directions (bike mount provided)
(for an optional fee): rental of a GPS to ease tracking without using your smartphone.
---
And also:
Rental of technical and comfortable bikes, ideal for this varied route combining roads and paths.
The possibility of taking out a cancellation & multi-risk insurance covering you in the event of a problem or unforeseen event
We offer a high-end bike rental service. Our bikes are suited for road and gravel road long-distance cycling. Fully equipped and highly reliable, they are faithful travel companions.
---
Touring bike

Supplied equipment per bike

Helmet
Tool Kit
1 Rear Rack + Bag
1 Handle Bar Bag
Water Bottle
Tubes
Repair Kit

Ebike

Supplied equipment per bike

-Helmet
-Tool kit
-Inner tube
-1 Rear Rack + Bag
-1 Handle Bar Bag
-Water Bottle
Getting here
Departure city : PORTO
Coming by car
at 15h from PARIS
at 9h from BORDEAUX
at 14h from LYON
Coming by train
Porto Campanha train station - Plus de 12h from Paris
Porto Sao bento train station - Plus de 12h from Paris
Coming by plane
Arrival city : LISBONNE
Coming by car
at more than 16h from PARIS
at 11h from BORDEAUX
at more than 16h from LYON
Coming by train
Lisbonne Oriente train station - Plus de 12h from Paris
Lisbonne Rossio train station - Plus de 12h from Paris
Lisbonne Santa Apolonia train station - Plus de 12h from Paris
Coming by plane
* Abicyclette Voyages accompanies you on demand, including transportation solutions.
How to get back to the starting point
Return by car in 3h00 to your starting point ?
Private shuttle: see detailed fares or contact us
Recommended equipment
Bike
Trekking or hybrid bike
21 to 30 speeds
26 or 28 inch (700) wheels
Clothing and equipment
Helmet (included with the rental)
Clothing suitable for cycling
Warm jacket (eg fleece)
Rain proof jacket
1 pair of sunglasses
1 pair of cycling shoes
1 small backpack or panniers
1 or 2 water flasks (included with the rental)
1 lock (included with the rental)
Our reccomendation for optimal comfort:

1 pair of gloves
1 special pair of pants (shammy leather)
1 night see fluorescent vest
Bike maintenance
Emergency repair kit: 2 or 3 tubes, patches, pump, tire levers, multi-tools
Daily use kit: cloth, brake pads, oil
Other
Suitcase for transporting personal effects in luggage transfers (limited to one per person when possible)
Change of clothes for the evening
Warm jacket for the evenings
Set of toiletries
Mobile phone and charger