The Douro Valley by bike
Wine tasting, picture perfect landscapes and charming villages in the Douro Valley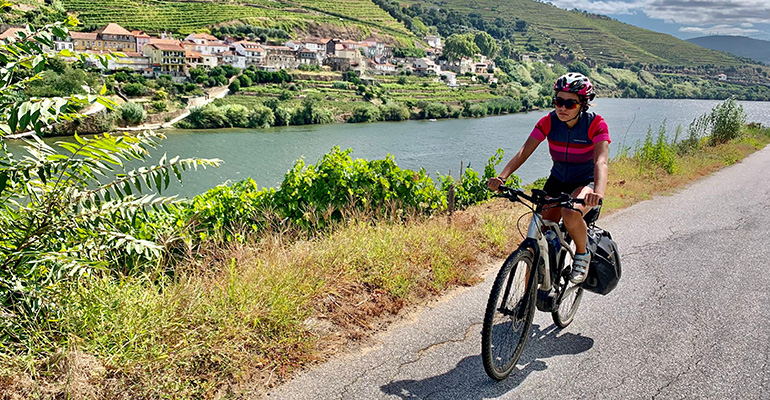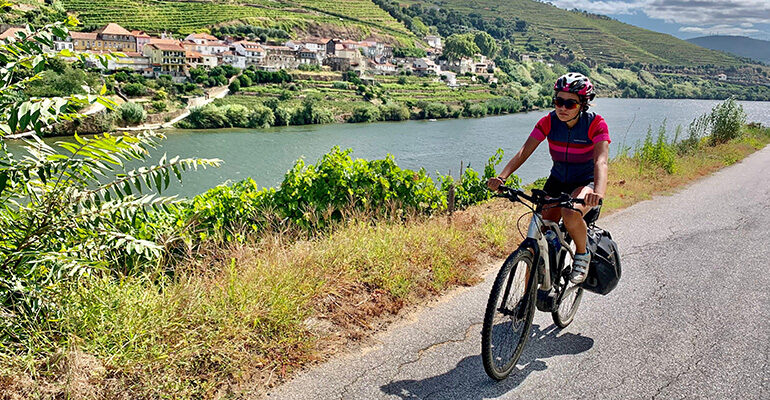 Highlights
The landscapes of the Douro Valley classified as UNESCO heritage
Tasting of Douro Valley wines, among the most famous in the world
The typical mountain villages of the Douro Valley
The generous Portuguese gastronomy
Charming accommodation
The story behind the trip
Passionate about wines and cycling routes winding through the vineyards, fans of olive oil… when our team at Abicyclette Voyages heard about this region which produced both and offered a beautiful natural space to discover, we felt an urgency to go and give our wheels a spin there. The meeting with the country and our partners did the rest: a generous sharing of their passion for their regions, the love of beautiful things and good products from the land and the sea. We fell in love for this region of northern Portugal, very welcoming and with an easy way of life. We participated in the finishing of this circuit on site by putting in the miles. Also we are happy to share with you this beautiful trip in the Douro Valley.
The Douro Valley by bike: its spectacular landscapes and famous vineyards
This cycling route takes you to discover the charms of the Douro Valley, its wines and its spectacular landscapes classified as UNESCO heritage
Cycling through the Douro Valley is  to discover exceptional landscapes and a region rich in wine-growing expertise that has been passed down from generation to generation for centuries. It is no coincidence that the Upper Douro vineyards have been listed as UNESCO World Heritage since 2001.
The terraced vineyards are typical of the Upper Douro region. Around Pinhão and Peso la Regua, you cycle through these landscapes, unique in the world. Sublime panoramas over the Douro Valley complete this unspoiled scene in shades of green and blue. A feast for the eyes!
It is near Pinhão that the majority of the famous Douro and Porto wine producers are located. The 2 nights planned in Pinhão allow you to visit wine estates and taste superb wines, often unknown. And yet, the winegrowers of the Douro Valley need not be shy of their quality work. Proof of the region's long wine-growing history, Douro wine benefits from the oldest appellation contrôlée in the world, awarded in 1756!
In addition to the ubiquitous vineyards, you also cross vast forests as well as crops of almond and olive trees which grow in abundance on the fringes of the Douro Valley. The charming towns and villages clinging to the rock also punctuate your Portuguese getaway. Vila Real, Lamego, Peso de Regua, Pinhão, Sabrosa are the most picturesque.
If the decor is magnificent and the tasting possibilities numerous, the relief is steep. Depending on your physical abilities, the electric bike option may be an good alternative for this stay, which has a sporty profile with significant elevation changes, although the stages are not very long (from 18 to 52 kilometers maximum).
As a reward for your efforts, Portuguese cuisine is tasty in its simplicity. The spotlight is on fish (notably the famous cod, sardines, octopus, etc.) and beef, cooked in a thousand and one ways but always generously accompanied by a drizzle of olive oil and a good glass of wine.
The hospitality and generosity of the Portuguese, who often speak English, allow you to travel in peace and sail like a rabelo (Portuguese flat-bottomed boat built to navigate the Douro) to discover the Douro Valley and its make your cycling trip in Portugal unforgettable.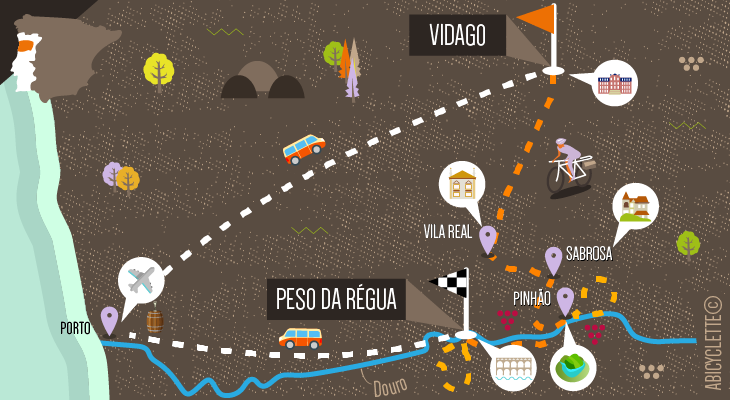 Fit
From PORTO (AIRPORT) to VIDAGO
Welcome to northern Portugal.
A private shuttle takes you from Porto airport to Vidago, a small town known for its healing mineral water.
From VIDAGO to VILA REAL
52km
570m
You leave Vidago heading south along an old railway line. It will guide you for a good part of the day through the hilly landscapes and typical villages of northern Portugal. Halfway through you reach the village of Vila Pouca de Aguiar. Now the Corgo River, a tributary of the Douro which has its source here, guides you to Vila Real where you spend the night.
From VILA REAL to SABROSA
27km
640m
Today's stage is short but steep through the mountains of the Douro region. Along the way, you cross several small isolated villages in this unspoiled setting. Among the curiosities of the stage, don't miss the Mamoa de Madorras, an ancient tumulus dating from the Bronze Age. Then, following a beautiful descent you reach São Martinho da Anta. This small town is the birthplace of Miguel Torga, one of the greatest Portuguese writers of the 20th century. Finally, you reach Sabrosa, birthplace of the famous Ferdinand Magellan who was the first
(with his crew) to circumnavigate the earth. Overnight in Sabrosa.
From SABROSA to PINHAO
29km
420m
Today's stage between Sabrosa and Pinhao is magnificent and typical of the Douro Valley. Throughout the stage, you wind between the vines with unobstructed views of the Douro River which you finally meet. Along the way, typical villages like Covas do Douro are a good excuse to stop and enjoy a glass of wine. In moderation! At the end of the stage, you reach the picturesque locality of
Pinhão, famous for its landscapes and breathtaking views of the Douro.
PINHAO, BOUCLE DE PINHAO
18km
380m
Looping around Pinhão, you set off to explore the splendid and UNESCO World Heritage-listed landscapes of the Douro Valley. The opportunity to visit wine estates and learn more about local wines.
For a few more km

38km

770m

With the long version, you pass through the village of Favaios, famous for its Moscatel wine but also for its archaeological remains, its religious heritage and its tasty cuisine. You return to Pinhão along the river among the vineyards in a breathtaking setting.
From PINHAO to PESO DA REGUA
27km
600m
You take the train to Covelinhas. Then from this pretty village, you cycle towards Peso da Regua.
The scenic route offers breathtaking viewpoints over the Douro Valley. The end of the route to Peso da Regua is downhill which is very pleasant after climbing hills during the day. In Peso da Regua do not miss the Douro Museum before returning to your accommodation located in a wine estate.
For a few more km

47km

970m

You cover the entire stage between Pinhao and Peso da Regua by bike. The Douro and the rows of vines accompany you throughout the stage.
PESO DA REGUA, BOUCLE DE LAMEGO
31km
540m
This route takes you to the heights in Lamego, an old town rich in monuments and with a fascinating history. It will delight lovers of history and heritage. Do not miss the São Pedro de Balsemão Chapel, the second oldest chapel in Europe and the Cathedral of Nossa Senhora da Assunção.
PESO DA REGUA, BOUCLE DU DOURO
27km
600m
This alternative route gives you an additional opportunity to pedal along the banks of the Douro. The blue of the river and the green of the vines take you on a romantic and bucolic getaway.
From PESO DA REGUA to PORTO (AIRPORT)
End of your stay to discover the Douro Valley. After breakfast a shuttle takes you to Porto airport. The journey time is approximately 1h30.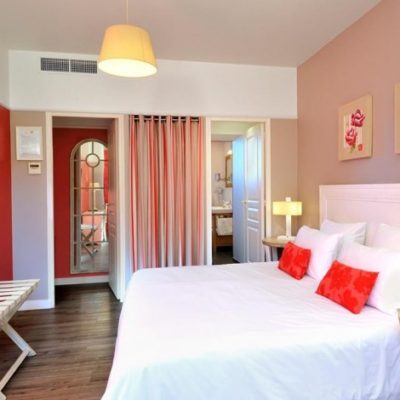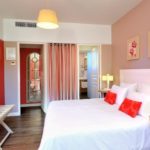 Comfort Range
Our quality standard at Abicyclette. This type of accommodation includes 2 and 3 stars hotels. Depending on the itinerary, you might spend some nights in approved guesthouses. You enjoy a double bedroom with private bathroom and toilet and adapted welcome for you and your bikes.
---
Starting from 1215€/participant in Self Guided option | See detailed prices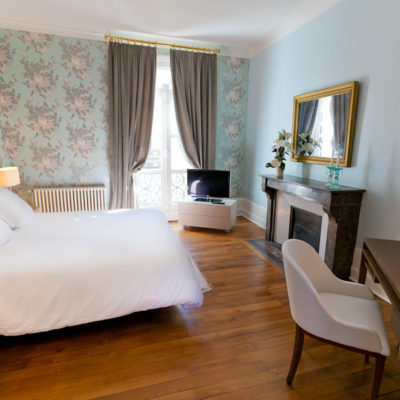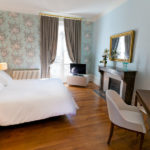 Privilege Range
Opt for total comfort in charming 3 and 4 star hotels which offer all the services you need and a special welcome for you and your bikes.
---
Starting from 1565€/participant in Self Guided option | See detailed prices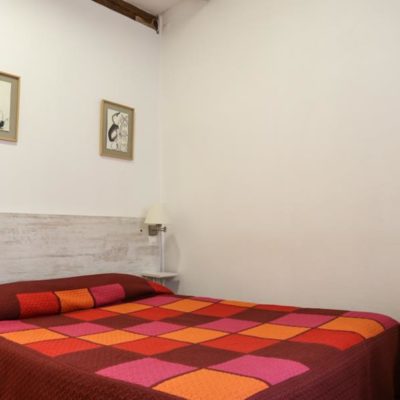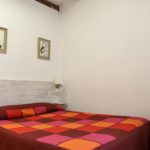 Essential Range
You want to enjoy your itinerary without anything fancy. Our "essential" range offers a simple accommodation for a good night's rest in a simple hotel, guesthouse, rest house or hostel.
---
Quote on request | Contact us
Price includes
Accommodation: 7 nights in a Double room
7 breakfasts
Luggage transfer
Phone assistance 24/7
Application fee
The itinerary trackable on the following supports :

An app to follow the itinerary step by step
A practical and descriptive road book in English including all our recommended addresses.
(GPS rental possible as an option)
Specific services
Jour 1 : Navette privée - PORTO (AIRPORT) - VIDAGO
Jour 1 : Personalized welcome meeting in Vidago
Jour 8 : Navette privée - PESO DA REGUA - PORTO (AIRPORT)
Price does not include
bike rental (see option)
Breakfast on day 1
Lunches
Dinners not included in "Price includes"
Drinks during dinners (unless otherwise stated), visits not listed in "The price includes" and other personal expenses
Tourist tax
---
A "homemade" stay made by a local partner, specialist in cycling holidays in Portugal:
Routes picked with the Abicyclette team for their tourist & cycling interests, fully marked, removed from trafic
Accommodation offered for the quality of their welcome, atmosphere, services and gastronomy
A great flexibility of organization which adapts to your needs and desires: you leave on the date of your choice! We check accomodation availability to ensure your departure.
---
Local support :
A personalized reception on the first day of your trip by a local guide that will provide you the travel documents (reception in English)
Telephone assistance from 9 a.m. to 8 p.m.
Luggage transfer service
---
A simplified route tracking:
A digital road book to find all useful addresses, recommended restaurants and tourist information, maps and a description of the circuit.
An application to follow the route without ever having to look for directions (bike mount provided)
(for an optional fee): rental of a GPS to ease tracking without using your smartphone.
---
And also:
Rental of technical and comfortable bikes, ideal for this varied route combining roads and paths.
The possibility of taking out a cancellation & multi-risk insurance covering you in the event of a problem or unforeseen event
We offer a high-end bike rental service. Our bikes are suited for road and gravel road long-distance cycling. Fully equipped and highly reliable, they are faithful travel companions.
---
Touring bike

Supplied equipment per bike

Helmet
Tool Kit
1 Rear Rack + Bag
1 Handle Bar Bag
Water Bottle
Tubes
Repair Kit

Ebike

Supplied equipment per bike

-Helmet
-Tool kit
-Inner tube
-1 Rear Rack + Bag
-1 Handle Bar Bag
-Water Bottle
Getting here
Departure city : PORTO (AIRPORT)
Coming by car
at 15h from PARIS
at 9h from BORDEAUX
at 14h from LYON
Coming by train
Porto Campanha train station - Plus de 12h from Paris
Coming by plane
Arrival city : PORTO (AIRPORT)
Coming by car
at 15h from PARIS
at 9h from BORDEAUX
at 14h from LYON
Coming by train
Porto Campanha train station - Plus de 12h from Paris
Coming by plane
* Abicyclette Voyages accompanies you on demand, including transportation solutions.
Recommended equipment
Bike
Trekking or hybrid bike
21 to 30 speeds
26 or 28 inch (700) wheels
Clothing and equipment
Helmet (included with the rental)
Clothing suitable for cycling
Warm jacket (eg fleece)
Rain proof jacket
1 pair of sunglasses
1 pair of cycling shoes
1 small backpack or panniers
1 or 2 water flasks (included with the rental)
1 lock (included with the rental)
Our reccomendation for optimal comfort:

1 pair of gloves
1 special pair of pants (shammy leather)
1 night see fluorescent vest
Bike maintenance
Emergency repair kit: 2 or 3 tubes, patches, pump, tire levers, multi-tools
Daily use kit: cloth, brake pads, oil
Other
Suitcase for transporting personal effects in luggage transfers (limited to one per person when possible)
Change of clothes for the evening
Warm jacket for the evenings
Set of toiletries
Mobile phone and charger