La Vélocéan: the Guérande peninsula by bike
A bicycle-touring stay in La Baule, on the Côte d'Amour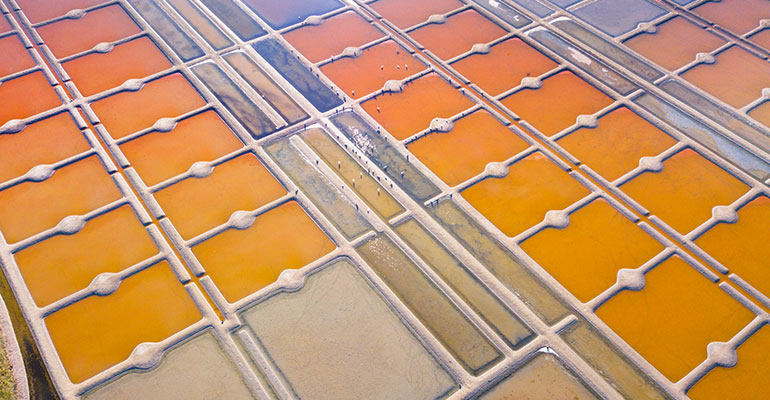 Highlights
A star-shaped stay accessible to all
Flat bike routes, between land and sea
The salt marshes of Guérande
The ports of Le Croisic, Piriac, Saint-Nazaire
The beaches of La Baule and the coves of the Côte d'Amour
The story behind the trip
Fabien's historical land, founder of Abicyclette Voyages, he had to move away from it for a few years to better see and appreciate how exceptional and enchanting these places and landscapes in southern Brittany are. Also we try to make you benefit from his knowledge of several years of cycling and bicycle-touring explorations, visits and meetings, to share with you the places he loves for their uniqueness and authenticity.
We appreciate the density and variety at the same time:
places of tourist interest and its activities: beaches, seaside resorts, villages of character, associated services …
natural spaces: Vilaine and Loire valley, salt evaporation ponds and Briere, wild coast, peninsulas, longest bay in Europe!
human economic activities (excluding tourism): fishing, salt, market gardening, shipyards, aeronautics …
A wealth that was important to us to make you discover and enjoy by bike.
Between sea and Brière, all the colors of the Guérandaise peninsula
A 2 to 6 days stay in La Baule to enjoy the sea air and discover the charms of the Guérande peninsula, the Côte d'Amour on the Vélocéan.
The Guérande peninsula by bike, you ride on small bucolic roads and large white paths whose network is quite developed. The signposted cycle route of the Vélocéan offers secondary routes in the middle of the quiet countryside. The coast is dynamic, touristy in high season (July – August), so the side roads are very valuable!
This seaside cycling holiday allows you to discover the riches of the Côte d'Amour and the Brière Marshes. You visit in particular:
The salt marshes of Guérande which are part of the region's reputation worldwide.

The Brière marshes. The opportunity to venture in a barge, a traditional flat-bottomed boat, in a Regional Natural Park of great ornithological richness.
Piriac and Le Croisic are classified as small cities of character. They have a well preserved historical heritage, the charm of granite houses and colorful half-timbering.
The port of Saint-Nazaire and its famous shipyard which saw the construction of legendary ocean liners:  France, Normandy or more recently the Queen Mary 2. Several thousand workers work on today's liners, giants of the seas, that come out every year.
The ports of La Turballe, Saint-Nazaire and Le Croisic have a heart that beats to the rhythm of the activity of the fishermen. Sardines, sea bream, bass, pollocks, fresh mackerel line the market stalls. And your plates if you so desire!
The cuisine here is well seasoned and oriented towards the sea. The salt workers have developed natural spaces into veritable white gold mines, otherwise known as salt marshes. Guérande fleur de sel is renowned worldwide, used in particular in the kitchens of great starred chefs. The opportunity to slip a small salt bag into your belongings that you bought on the side of the road, directly from the producer.
The large bay and beach of La Baule – the longest in Europe – is a few dozen meters from your hotel. 1 to 5 nights in one of the oldest seaside resort in France allow you to easily travel around by bike between all the ports on the Guérande peninsula.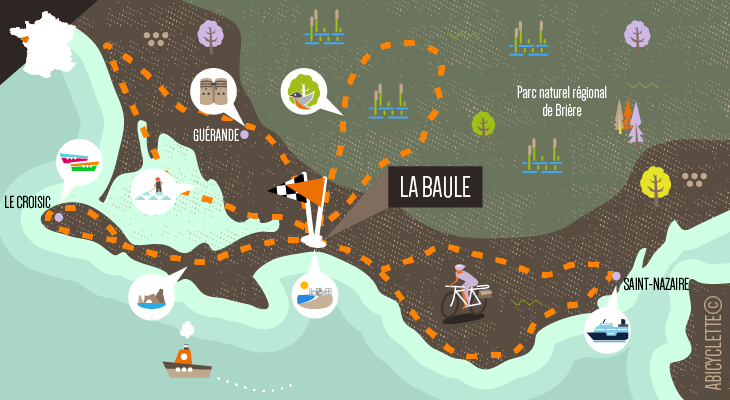 Leisure or
Fit
LA BAULE
Arrive to La Baule on your own.
LA BAULE, GUERANDE LOOP
32km
70m
This loop takes you to the discovery of Guérande and its famous salt evaporation ponds, a magnificent landscape, shaped by the hand of man for centuries. Admire the work of the salt workers! The city proudly overlooks the salt evaporation ponds which produce "white gold": the very famous Guérande Salt.
You go up to Guérande. Take the time to discover this pretty medieval city, its ramparts and its pleasant cobbled streets. You will meet many artisans and be able to enjoy a salted caramel crêpe. Thanks to the fleur de sel, this stage is certainly well seasoned!
For a few more km

42km

100m

You then reach La Turballe and its fishing port.

Sardine fishing was the sailors' specialty, an entire fleet was dedicated to it!

Return by the salt evaporation ponds.

For a few more km

58km

150m

Before reaching La Turballe, you are invited to a detour through the pretty village of Mesquer. At the port of Kercabellec, some oyster farmers offer oysters fresh from their oyster farms. The route is extended by a beautiful coastal road, where overhanging the cliffs you benefit from deep blue panoramas. Piriac-sur-Mer is finally seen. One of the charming harbors of the southernmost of the Breton peninsulas
LA BAULE, SAINT-NAZAIRE LOOP
44km
100m
This day offers you the discovery of the port of Saint-Nazaire. Situated on the mouth of the Loire, the working-class city has been able to give itself a makeover over the past decade thanks to the development of a rich industrial heritage around historic and flourishing shipbuilding. It is also an important witness to the 2 world wars of the 20th century. Its port, to which the city seemed to have turned its back, is now part of a major commercial and tourist axis. Trendy brasseries and cafes have opened on a refurbished seafront giving priority to pedestrians and cyclists.
From La Baule, you sail along the sea to the Saint-Nazaire shipyard to discover the latest ocean liners under construction. Along your route, there are many opportunities to stop  to enjoy a beach, a panorama of the Loire estuary and the coasts of the Pays de Retz just opposite.
For a few more km

58km

200m

Before returning to La Baule, we invite you to reach  the Grande Brière marshes, in the town of Saint-André-des-Eaux. Beautiful white paths and small carriage roads offer you joyful kilometers of cycling in peace and in nature. On the port of Chaussée Neuve, you have the opportunity to embark on a barge, the flat-bottomed boat typical of the region. The pole guide, through the canals, and in the reeds, tells you the geological, botanical and ornithological stories of this exceptional Regional Natural Park.
LA BAULE, LE CROISIC LOOP
36km
100m
This loop on the Guérande peninsula allows you to discover the coast of the Côte d'Amour. By the salt evaporation ponds you quickly reach Batz sur Mer where we advise you to climb to the top of the Saint-Guénolé Tower. The view of the entire peninsula is unique and fascinating. You pass the Barrière Isthmus to reach the charming port of Le Croisic. A small town with character, Le Croisic lives to the rhythm of fishermen and the tides. The colorful trawlers are positioned all around the big fish markets, the modern one on one side, and more interesting, the old one, transformed into an exhibition hall.
Your route then continues along the wild coast, dotted with cliffs and small coves that invite you to swim. A beautiful cycle path allows you to take advantage of this beautiful coastal road. The ride takes you to the port of Pouliguen and La Baule where this stage ends.
LA BAULE, BRIERE MARSHES LOOP
46km
150m
Water surrounds you everywhere, rivers, sea, marshes of the Brière Regional Natural Park, salt evaporation ponds of the Guérandaise peninsula. A unique, flat and picturesque landscape. The large white paths and small secondary roads allow you to avoid the main tourist routes in the summer. They lead you to Kerhinet, a village restored to better understand life and Briéronne architecture with large houses which are distinguished by thatched roofs. Your itinerary then takes you to Breca for an overview of this unspoiled area of ​​the Grande Brière marshes. For the more curious, you can embark on a barge, a traditional flat-bottomed boat. Silent, the barge is maneuvered with a pole on the canals and allows you to enjoy wilderness and a the dance of birds.
A few more pedal strokes on beautiful white paths through the golf of La Baule and you reach the seafront and the longest beach in Europe which stretches here for 9 km. The latter is waiting for you for a well-deserved swim!
LA BAULE
End of your stay after breakfast.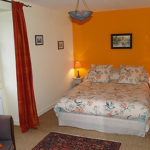 Essential Range
You want to enjoy your itinerary without anything fancy. Our "essential" range offers a simple accommodation for a good night's rest in a simple hotel, guesthouse, rest house or hostel.
---
Starting from 475€/participant in Self Guided option | See detailed prices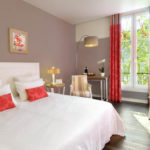 Comfort Range
Our quality standard at Abicyclette. This type of accommodation includes 2 and 3 stars hotels. Depending on the itinerary, you might spend some nights in approved guesthouses. You enjoy a double bedroom with private bathroom and toilet and adapted welcome for you and your bikes.
---
Starting from 540€/participant in Self Guided option | See detailed prices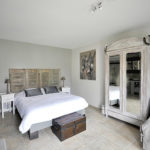 Privilege Range
Opt for total comfort in charming 3 and 4 star hotels which offer all the services you need and a special welcome for you and your bikes.
---
Starting from 730€/participant in Self Guided option | See detailed prices
Price includes
Accommodation: 5 nights in a double room
5 breakfasts
Phone assistance
Application fee
Day 1 : Orientation by phone
A personalized greeting with our team at the beginning of the trip to receive your travel documents
Taxes
The itinerary trackable on the following supports:

Loan of a Bicycle GPS uploaded with full itinerary of the trip
Cycling practical guide including restaurant recommendations for lunch & dinner with french topo maps
Price does not include
bike rental (see option)
Breakfast on day 1
Lunches
Dinners not included in "Price includes"
Drinks, visits & other personal expenses
---
Homemade and fully tested itineraries
Routes selected for their cycling and touristic interest entirely tested and away from traffic
Accomodations selected for their hospitality, atmosphere, services and quality meals
A flexible organisation to suit you needs and wishes: You choose the date you want to you leave on! We check the availability of each accomodation to make sure it is possible.
---
Close assistance
One of our guides greets you on your first day. He will hand out all the needed documents for the trip (hotel vouchers, maps of the area,GPS, practical guide), get you settled on your bikes (for rental bikes).
Phone assistance, you can reach the Abicyclette team whenever you need
A Luggage transfer service which respects your hours of rest (we pick them up after 10:00 and deliver them before 16:00)
---
Follow your itinerary anyway you like – modern, practical, traditional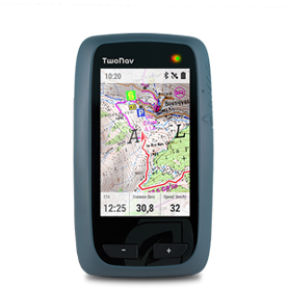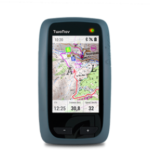 We loan you a GPS so that you can easily follow your itinerary without having to look for your way around (bike support included)
A practical cycling guide with all the useful information (addresses, highlights for the day, topo maps, and touristic information)
---
You can also
---
On our guided tours (for groups on demand), we accompany you every step of the way
One of our state qualified instructor and professional cycling guide accompanies you every step of the way
Full board (all meals covered unless asked otherwise)
A picnic buffet set up for lunch with a wide choice of fresh and local produce
We offer a high-end bike rental service. Our bikes are suited for road and gravel road long-distance cycling. Fully equipped and highly reliable, they are faithful travel companions.
---
Trekking bike

A layed out and dynamic position

Supplied equipment per bike

1 helmet
1 back bag 20L (waterproof)
1 front bag 4L with plastic map holder (waterproof)
1 lock
1 repair kit (patches, tube, tire lever)
1 multi tools box
1 pump
1 bike computer
1 bottle

Touring bike

A straight and easy going position

Supplied equipment per bike

1 helmet
1 back bag 20L (waterproof)
1 front bag 4L with plastic map holder (waterproof)
1 lock
1 repair kit (patches, tube, tire lever)
1 multi tools box
1 pump
1 bike computer
1 bottle

Ebike

With an autonomy of almost 120km, cycling has never been so easy!

Supplied equipment per bike

1 helmet
1 back bag 20L (waterproof)
1 front bag 4L with plastic map holder (waterproof)
1 lock
1 repair kit (patches, tube, tire lever)
1 multi tools box
1 pump
1 bike computer
1 bottle

Children Bike

20″ or 24″ bike

Bike trailer
Getting here
Meeting point
La Baule, Loire Atlantique (44)
Coming by car
From Nantes by the N171 (80 km 1H)
From Paris by the A11 (450 km 4H30)
Coming by train*
TGV station in La Baule (from Paris: 3H20)
Coming by plane*
Nantes Airport
*Transport to your meeting point can be included as an option.
Recommended equipment
Bike
Trekking or hybrid bike
21 to 30 speeds
26 or 28 inch (700) wheels
Clothing and equipment
Helmet (included with the rental)
Clothing suitable for cycling
Warm jacket (eg fleece)
Rain proof jacket
1 pair of sunglasses
1 pair of cycling shoes
1 small backpack or panniers
1 or 2 water flasks (included with the rental)
1 lock (included with the rental)
Our reccomendation for optimal comfort:

1 pair of gloves
1 special pair of pants (shammy leather)
1 night see fluorescent vest
Bike maintenance
Emergency repair kit: 2 or 3 tubes, patches, pump, tire levers, multi-tools
Daily use kit: cloth, brake pads, oil
Other
Suitcase (for transporting personal effects in luggage transfers)
Change of clothes for the evening
Warm jacket for the evenings
Set of toiletries
Mobile phone and charger