Saint-Malo & the Emerald Coast by bike
A long bike touring ride in Brittany starting from Saint-Malo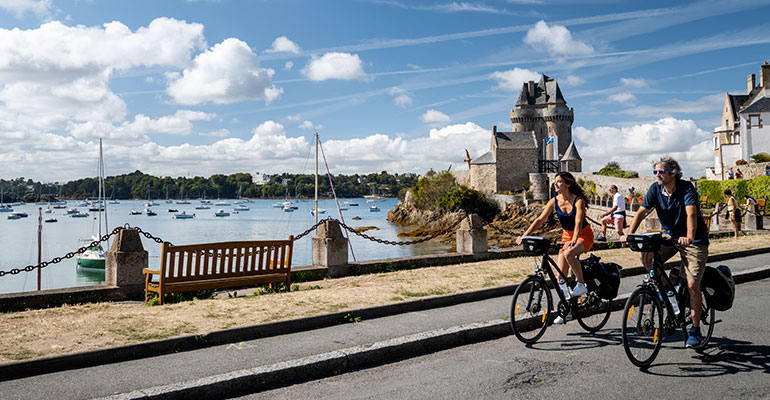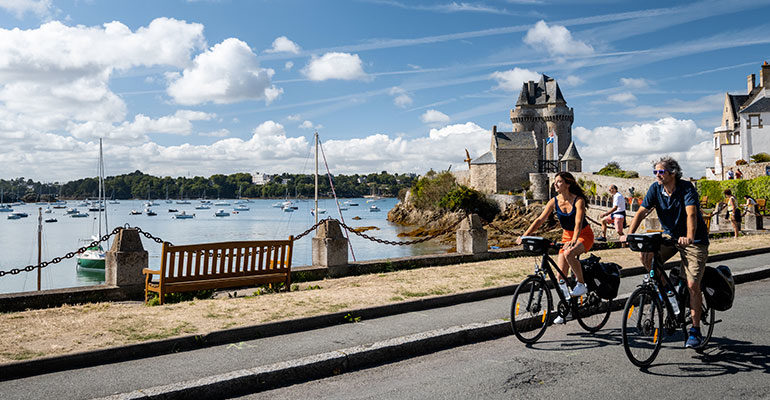 Highlights
Saint-Malo: its ramparts, its port and its shipowners' houses
Dinan, medieval town on the banks of the Ille & Rance Canal
Erquy, a typical fishing port on the Breton coast
Cap Fréhel: a breathtaking natural site
Dinard, a luxurious seaside town with beautiful beaches
Cancale, its port and its oyster market
Travel by bike along the Emerald Coast, between Cap Fréhel and Cancale
A trip between land and sea discovering Brittany's beauty and identity
Saint-Malo is a traveler's city. Its history and its heroes instill a taste for adventure and travel. Get on your bicycle and explore the Emerald Coast and Saint-Malo by bike.
6 stages for a large loop from Saint-Malo to Saint-Malo by bike to reach:
Dinan, one of the best-preserved medieval towns in Brittany in which to stroll by bike and on foot
Jugon-les-Lacs: a small town full of character which offers a pleasant historic stopover.
Lamballe, its collegiate church and its national stud farm that you can visit
Erquy and its Cape. Enjoy a superb panorama over the English Channel from its pink cliffs. In the port, the fish auction awaits the early risers to experience the atmosphere of the return of the fishermen. In August, also experience an open-air Fest-Noz on the port (Breton music, dances and songs).
Cap Fréhel: a protected natural site that you can reach by bike via one of the most beautiful coastal cycle paths in the whole region. Visit the lighthouse for a 360 ° panorama from the top of the stone colossus. If all the weather conditions are right, you might see the Jersey mirage looming on the horizon, the largest of the Channel Islands.
Dinard, nicknamed the Nice of the North, is a very beautiful seaside town with its architecture and 19th century villas. The city gives you the opportunity for a good swim and an ice cream or a crêpe to reward the cycling effort.
To return to Saint-Malo by bike, the Compagnie Corsaire boat bus connecting Dinard to the city Intra-Muros is a pleasant moment to conclude this stage. Taking your bikes on board, 10 minutes are enough to cross the Rance, the river which flows into the Channel at the foot of the ramparts of Saint-Malo.
A final bike ride invites you to Cancale to taste the famous oysters, jewels of the Emerald Coast. They are served to you on the port by the oyster farmers gathered on the oyster market which is held daily from 9 am to 7 pm. Take with you the taste of the sea for an imperishable sensorial memory of your cycling holidays in Brittany.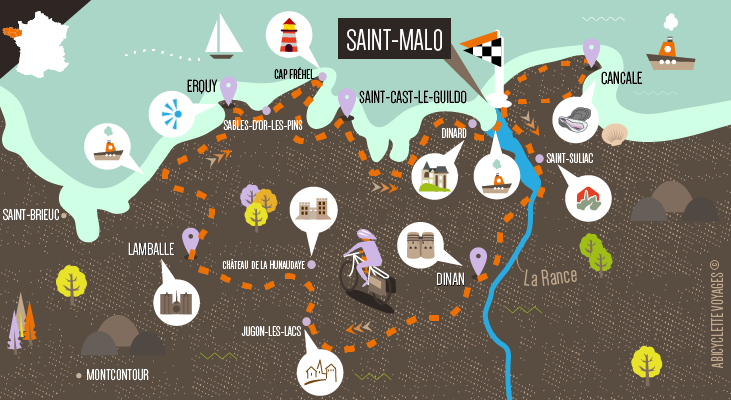 Fit
SAINT-MALO
Welcome to Saint-Malo. After the orientation with our guide, enjoy the city in evening.
Briefing Orientation
Before your first ride, we invite you to meet one of our guides, at your place of departure. A time of exchange, a privileged moment to give you our last practical tips, must-see places and experiences, to answer all your questions, take care of your bike fitting to begin your trip.
From SAINT-MALO to DINAN
40km
400m
You leave Saint-Malo by the Dinan gate. Cycling along the Rance River you will reach the medieval city of Dinan in the middle of the afternoon. You enjoy a first halt in Saint-Suliac, one the most beautiful village in France.
From DINAN to LAMBALLE
58km
543m
You cycle on small roads through charming villages and the Breton countryside. Jugon-les-Lacs offers a pleasant stopover with its traditional granite-built houses. In Lamballe you can visit the 14th century church of Notre Dame de Lamballe and for horse lovers, the National Stud.
From LAMBALLE to ERQUY
40km
437m
You are back along the coast, the Emerald Coast, and won't leave it for the rest of the trip. As the name suggests, it is its true color. The site will blow you away when you view the vertiginous cliffs of Cap d'Erquy. On the port, feast with sailors. But don't go to bed too late if you want to enjoy a visit of the fish market at dawn.
From ERQUY to SAINT-CAST-LE-GUILDO
37km
390m
A path marked "Tour de Manche", leads you by pathways and bike paths to Cape Fréhel. On the cliffs, 70m above the sea, you witness the unreeling of a grandiose landscape. The area leading to the Cap Fréhel lighthouse is protected. It's made up of heather moors, gorse, broom and ferns, all contributing to a beautiful mix of colors. After the lighthouse you visit the fort of La Latte built on the coast overlooking the sea. The fort is a filming location for several famous films because its exceptional location is as interesting as its state of conservation and renovation. You go around the beautiful bay of Fresnaye where you can meet some oyster farmers at work. The arrival in Saint-Cast allows you to enjoy a beautiful beach for swimming. The family resort is lively all summer!
From SAINT-CAST-LE-GUILDO to SAINT-MALO
43km
385m
You ride along the coast on your bike. The spikes and bays are numerous and lengthen the stages for your eyes' pleasure, which can see an infinite variety of landscapes and colors. After a visit to Dinard you embark on the water bus with your bikes. You reach Saint-Malo.
FROM SAINT-MALO, CANCALE LOOP
42km
532m
The corsair city and its ramparts open its doors. You discover the Emerald Coast and this varied city, from the beautiful Sillon beach to the mythical "intra-muros" city. A loop to Cancale will allow gourmets to taste its famous oysters!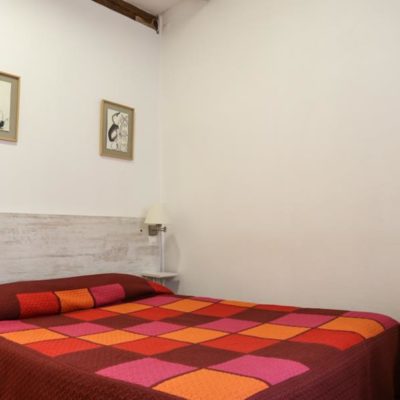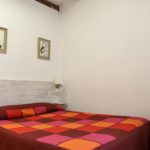 Essential Range
You want to enjoy your itinerary without anything fancy. Our "essential" range offers a simple accommodation for a good night's rest in a simple hotel, guesthouse, rest house or hostel.
---
Starting from 755€/participant in Self Guided option | See detailed prices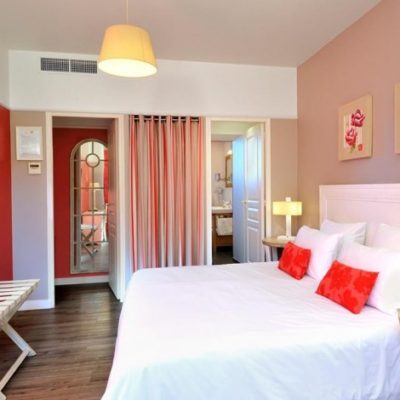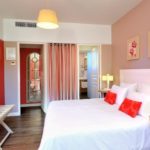 Comfort Range
Our quality standard at Abicyclette. This type of accommodation includes 2 and 3 stars hotels. Depending on the itinerary, you might spend some nights in approved guesthouses. You enjoy a double bedroom with private bathroom and toilet and adapted welcome for you and your bikes.
---
Starting from 830€/participant in Self Guided option | See detailed prices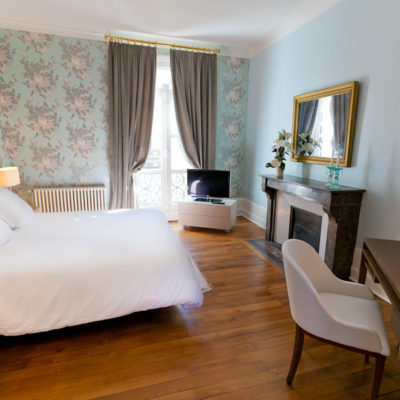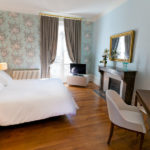 Privilege Range
Opt for total comfort in charming 3 and 4 star hotels which offer all the services you need and a special welcome for you and your bikes.
---
Quote on request | Contact us
Price includes
Accommodation: 6 nights in a double room
6 breakfasts
1 dinner
Luggage transfer
Phone assistance
Application fee
Day 1 : Meeting with our guide in Brittany
Day 6 : Traversée maritime - DINARD - SAINT-MALO
A personalized greeting with our team at the beginning of the trip to receive your travel documents
Taxes
The trip itineraries available on the following supports:

Loan of a Bicycle GPS uploaded with full itinerary of the trip
Topo maps
Cycling practical guide including restaurant recommendations for lunch & dinner
Price does not include
bike rental (see option)
Breakfast on day 1
Lunches
Dinners not included in "Price includes"
Drinks, visits & other personal expenses
Repairs, spareparts and mileage allowance
---
Homemade and fully tested itineraries
Routes selected for their cycling and touristic interest entirely tested and away from traffic
Accomodations selected for their hospitality, atmosphere, services and quality meals
A flexible organisation to suit you needs and wishes: You choose the date you want to you leave on! We check the availability of each accomodation to make sure it is possible.
---
Close assistance
One of our guides greets you on your first day. He will hand out all the needed documents for the trip (hotel vouchers, maps of the area,GPS, practical guide), get you settled on your bikes (for rental bikes).
Phone assistance, you can reach the Abicyclette team whenever you need
A Luggage transfer service which respects your hours of rest (we pick them up after 10:00 and deliver them before 16:00)
---
Follow your itinerary anyway you like – modern, practical, traditional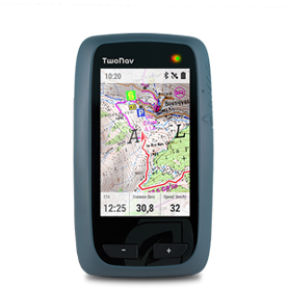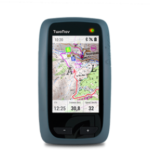 We loan you a GPS so that you can easily follow your itinerary without having to look for your way around (bike support included)
A practical cycling guide with all the useful information (addresses, highlights for the day, topo maps, and touristic information)
---
You can also
---
On our guided tours (for groups on demand), we accompany you every step of the way
One of our state qualified instructor and professional cycling guide accompanies you every step of the way
Full board (all meals covered unless asked otherwise)
A picnic buffet set up for lunch with a wide choice of fresh and local produce
We offer a high-end bike rental service. Our bikes are suited for road and gravel road long-distance cycling. Fully equipped and highly reliable, they are faithful travel companions.
---
Trekking bike

A layed out and dynamic position

Supplied equipment per bike

1 helmet
1 back bag 20L (waterproof)
1 front bag 4L with plastic map holder (waterproof)
1 lock
1 repair kit (patches, tube, tire lever)
1 multi tools box
1 pump
1 bike computer
1 bottle

Touring bike

A straight and easy going position

Supplied equipment per bike

1 helmet
1 back bag 20L (waterproof)
1 front bag 4L with plastic map holder (waterproof)
1 lock
1 repair kit (patches, tube, tire lever)
1 multi tools box
1 pump
1 bike computer
1 bottle

Ebike

With an autonomy of almost 120km, cycling has never been so easy!

Supplied equipment per bike

1 helmet
1 back bag 20L (waterproof)
1 front bag 4L with plastic map holder (waterproof)
1 lock
1 repair kit (patches, tube, tire lever)
1 multi tools box
1 pump
1 bike computer
1 bottle

Children Bike

20″ or 24″ bike

Bike trailer
Getting here
Starting point
Saint-Malo,Ile et Vilaine (35)
Coming to Saint-Malo by car*
From Rennes by the D137 (70 km 1h)
From Paris by the A11 highway (420 km 4h)
Coming to Saint-Malo by train*
TGV train station in Saint-Malo (from Paris: 3h)
Coming to Saint-Malo by plane*
Airport in Rennes
* Transport to your starting point can be included as an option.
Recommended equipment
Bike
Trekking or hybrid bike
21 to 30 speeds
26 or 28 inch (700) wheels
Clothing and equipment
Helmet (included with the rental)
Clothing suitable for cycling
Warm jacket (eg fleece)
Rain proof jacket
1 pair of sunglasses
1 pair of cycling shoes
1 small backpack or panniers
1 or 2 water flasks (included with the rental)
1 lock (included with the rental)
Our reccomendation for optimal comfort:

1 pair of gloves
1 special pair of pants (shammy leather)
1 night see fluorescent vest
Bike maintenance
Emergency repair kit: 2 or 3 tubes, patches, pump, tire levers, multi-tools
Daily use kit: cloth, brake pads, oil
Other
Suitcase (for transporting personal effects in luggage transfers)
Change of clothes for the evening
Warm jacket for the evenings
Set of toiletries
Mobile phone and charger