Cycling Provence and the Ventoux climb
A challenging stay with magnificent panoramas!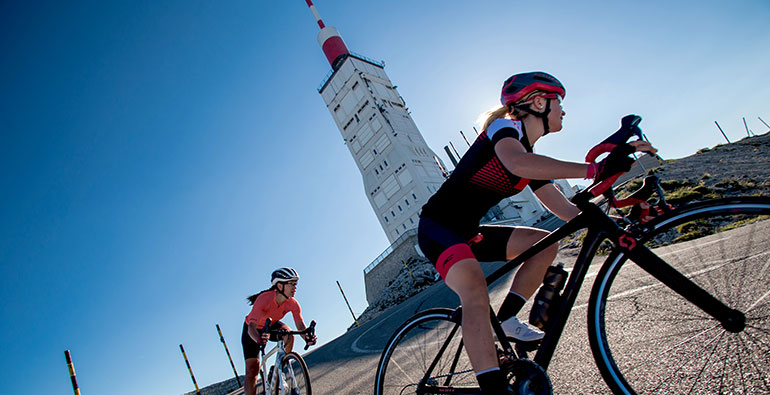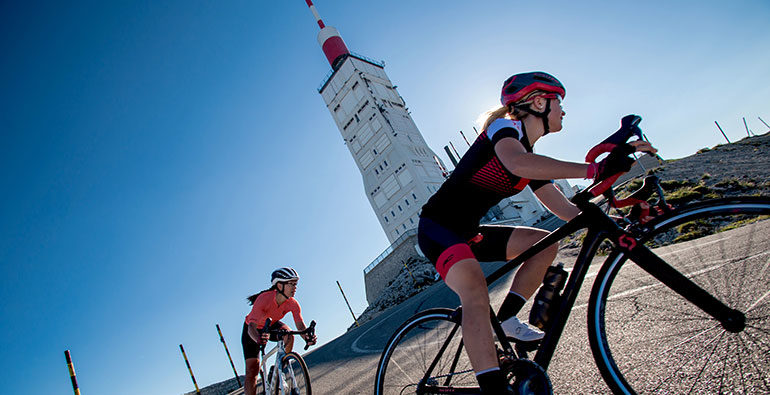 Highlights
Climbing the legendary Mont Ventoux
A challenging course with numerous mountain passes offering magnificent landscapes
Vaison La Romaine, and its remains dating from the Roman Empire
The Côtes du Ventoux vineyards
The village of Sault, its lavender fields and the Albion plateau
The gorgeous Gorges de la Nesque
The Giant of Provence in all its facets
Your stay takes you on the legendary Ventoux road and on the magnificent roads which surround it : a true paradise for cyclists!
What cycling enthusiast dream of discovering the Mont Ventoux region and above all climbing the legendary Mont Chauve? With this stay tailored for enthusiasts, you will combine the joy of effort and the discovery of the many charms of Provence.
It is in Vaucluse that the heart of authentic Provence beats. Little known, this territory nevertheless has a rich history, a variety of landscapes, quality roads without traffic and a steep relief which offers cyclists a great playground to indulge in their passion for cycling.
This trip around the Mont Ventoux massif takes you on a discovery tour and promises you the ascent of numerous passes in addition to the emblematic giant of Provence which from its height of 1912 meters proudly dominates the region. It is at the end of the stay, after you have proven yourself on lower category climbs that you will face Mont Ventoux and its 22.7 kilometers at 7.2%. Will you be able to tame this climb classified Hors Catégorie just like the Col du Tourmalet or the Col du Galibier?
In addition to the exciting sporting challenge, discovering the Ventoux region will fill you with magnificent landscapes, canyons, lavender fields, rocky plateaus, famous vineyards. Often perched on hills, small Provencal villages like that of Venasque are full of charm and tourist curiosities. However, to discover them, you will need plenty of leg power in order to climb the steep slopes which lead to them. Sweat, physical effort but nothing but happiness with breathtaking panoramas.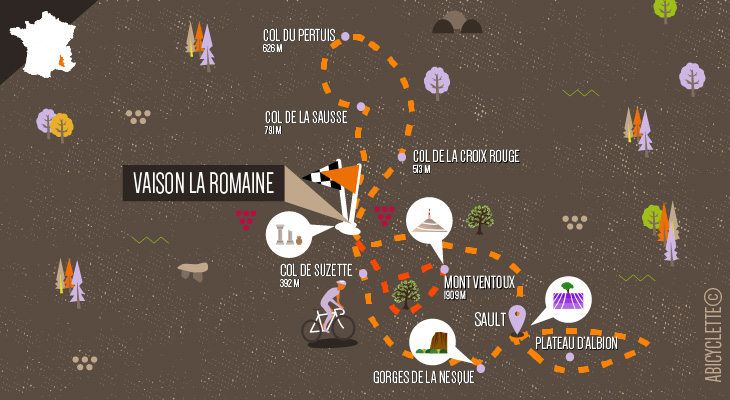 Expert or
Aventure
VAISON LA ROMAINE
Arrival at Vaison la Romaine. Unmissable site of the Haut Vaucluse, Vaison la Romaine has a rich historical and cultural heritage dating in particular from the Roman Empire. Make the most of your first evening on site to discover the city. From the bridge which overlooks the Ouvèze at the entrance to the medieval city, you can already see Mont Ventoux which will accompany you throughout your journey!
Briefing Orientation
Before your first ride, we invite you to meet one of our guides, at your place of departure. A time of exchange, a privileged moment to give you our last practical tips, must-see places and experiences, to answer all your questions, take care of your bike fitting to begin your trip.
VAISON LA ROMAINE, LOOP THE NORTH OF PROVENCE PASSES
110km
1513m
Astride the departments of Vaucluse and Drôme, this hilly loop around Vaison la Romaine will appeal to experienced cyclists. The ascent of three mountain passes is on the menu today. If the climbing of the Col du Pertuis does not have high gradients, those of the Col la Sausse and the Col de la Croix Rouge are more impressive. Perfect to set the mood for this challenging trip.
For a few more km

133km

2238m

A sporting diversions via the small passes of Lescou, Pré Guittard and La Pertie before reaching the Eygues valley.
From VAISON LA ROMAINE to SAULT
100km
2293m
Between Vaison la Romaine and Sault, it is a new steep stage with 4 mid-mountain passes which are on this fun program. Rest assured these ares still not the severe ramps of Mont Ventoux that you see throughout the stage. However, with 2,200 meters of elevation gain, it's a day for the strong! The arrival in the village of Sault is gorgeous. Erected on a limestone plateau, Sault is surrounded by forests and lavender fields.
For a few more km

136km

2931m

You avoid the col d'Aulan by a magnificent road which bypasses the mountains of Buc and Bergiès, passing through the village of Séderon. A few kilometres further on, you start to climb the small Macuègne pass before reaching the charming village of Montbrun les Bains.
SAULT, THE LAVENDER LOOP
90km
1256m
This stage allows you to ride across the vast plateau of Albion which stretches over the departments of Vaucluse, Drôme and the Alpes de Haute Provence. Take advantage of this day to discover the particular geology (limestone pavements, pit caves, sinkholes) offered by this karst region.
For a few more km

138km

2525m

It is a climb well known to the locals that is proposed on this variant with the ascent of the Montagne de Lure situated at 1746m of altitude (17.6km at 6% average). Your efforts will be rewarded with a breathtaking view at the summit of this "Petit Ventoux".
From SAULT to VAISON LA ROMAINE
104km
1479m
The first part of the stage is quite downward. Along the way, you will discover the Nesque gorges, a wild canyon carved out by the river millions of years ago. The road is dotted with panoramic viewpoints which offer superb views of the arid and rocky landscapes of the region. With the ascent of the Col de Suzette (7.5 kilometers at 4% on average), the end of the route is more demanding. After the effort of the climb, make way for the enjoyment of a long and considerable descent to reach Vaison la Romaine.
For a few more km

140km

2239m

After descending the Gorges de la Nesque, you head south to discover the magnificent roads of the Monts de Vaucluse with the Col de Murs and the perched village of Venasque, classified as one of the most beautiful villages in France.
VAISON LA ROMAINE, MONT VENTOUX LOOP
75km
2175m
The best for last ! This stage is both terrifying and exciting because you will climb the legendary Mont Ventoux! Placed at the start of the stage, the Col de la Madeleine gives you the opportunity to test your legs. After a short descent, you reach the locality of Bedoin, regularly associated with the ascent of Mont Ventoux in the Tour de France. From then on, we set off for an ascent of 22.7 kilometers with an average gradient of 7.2%. Once at the top, it's over you have climbed the famous Ventoux which is among the most mythical peaks of France. So take the time to breathe after this epic climb and savor the splendid 360 ° panorama offered at its summit! Then, enjoy the descent to Malaucène then Vaison la Romaine.
For a few more km

106km

2572m

We propose a warm-up of a little more than 45km on beautiful roads to the north of Mont-Ventoux, passing through the village of Veaux before attacking its ascent by the southern slope from Bédoin.
VAISON LA ROMAINE
End of stay after breakfast in Haut Vaucluse.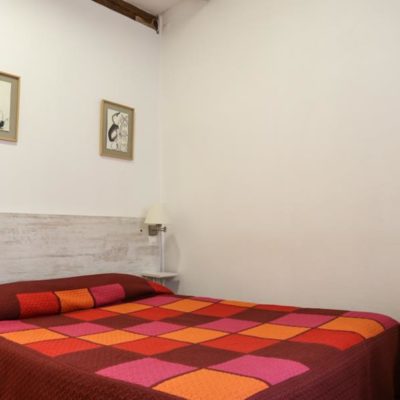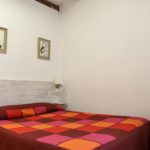 Essential Range
You want to enjoy your itinerary without anything fancy. Our "essential" range offers a simple accommodation for a good night's rest in a simple hotel, guesthouse, rest house or hostel.
---
Starting from 805€/participant in Self Guided option | See detailed prices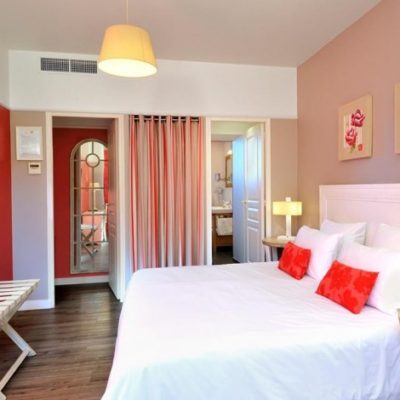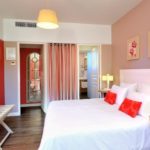 Comfort Range
Our quality standard at Abicyclette. This type of accommodation includes 2 and 3 stars hotels. Depending on the itinerary, you might spend some nights in approved guesthouses. You enjoy a double bedroom with private bathroom and toilet and adapted welcome for you and your bikes.
---
Starting from 1070€/participant in Self Guided option | See detailed prices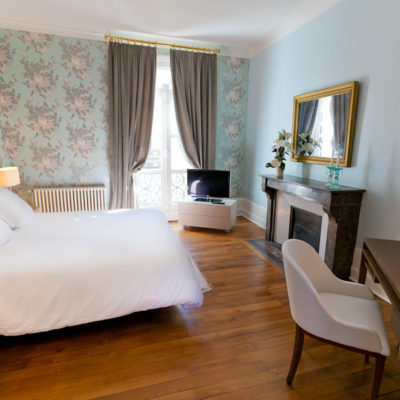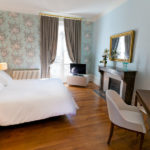 Privilege Range
Opt for total comfort in charming 3 and 4 star hotels which offer all the services you need and a special welcome for you and your bikes.
---
Quote on request | Contact us
Price includes
Accommodation: 6 nights in a double room
6 breakfasts
4 dinners
Luggage transfer
Phone assistance
Application fee
Day 1 : Welcome meeting
A personalized greeting with our team at the beginning of the trip to receive your travel documents
Taxes
The itinerary trackable on the following supports:

Loan of a Bicycle GPS uploaded with full itinerary of the trip
Topo maps
Cycling practical guide including restaurant recommendations for lunch & dinner
Price does not include
bike rental (see option)
Breakfast on day 1
Lunches
Dinners not included in "Price includes"
Drinks, visits & other personal expenses
---
Homemade and fully tested itineraries
Routes selected for their cycling and touristic interest entirely tested and away from traffic
Accomodations selected for their hospitality, atmosphere, services and quality meals
A flexible organisation to suit you needs and wishes: You choose the date you want to you leave on! We check the availability of each accomodation to make sure it is possible.
---
Close assistance
One of our guides greets you on your first day. He will hand out all the needed documents for the trip (hotel vouchers, maps of the area,GPS, practical guide), get you settled on your bikes (for rental bikes).
Phone assistance, you can reach the Abicyclette team whenever you need
A Luggage transfer service which respects your hours of rest (we pick them up after 10:00 and deliver them before 16:00)
---
Follow your itinerary anyway you like – modern, practical, traditional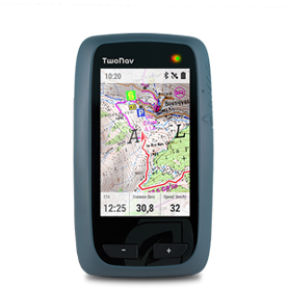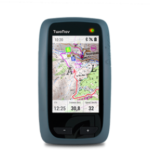 We loan you a GPS so that you can easily follow your itinerary without having to look for your way around (bike support included)
A practical cycling guide with all the useful information (addresses, highlights for the day, topo maps, and touristic information)
---
You can also
---
On our guided tours (for groups on demand), we accompany you every step of the way
One of our state qualified instructor and professional cycling guide accompanies you every step of the way
Full board (all meals covered unless asked otherwise)
A picnic buffet set up for lunch with a wide choice of fresh and local produce
We offer a high-end bike rental service. Our bikes are suited for road and gravel road long-distance cycling. Fully equipped and highly reliable, they are faithful travel companions.
---
Road bike

SCOTT ADDICT 20

Carbon frame
Derailleurs Shimano 105, 11 speed ; 50/34 – 11-32
Rims Syncro 700 alu
Tires 700x25c
Weight: <9kg

We only provide flat pedals! Bring your own pedals !

Supplied equipment per bike

1 helmet
1 saddlebag of 4L to bring repair tool kit, lock, a jacket…
1 lock
1 puncture repair kit: patches, tube, tire levers
1 multi tools
1 pump
2 bottles
Getting here
Departure city : VAISON LA ROMAINE
Coming by car
at 6h from PARIS
at 5h from BORDEAUX
at 2h15 from LYON
Coming by train
Orange train station - 4h30 from Paris
Avignon train station - 2h45 from Paris
Coming by plane
Marseille Provence airport
Lyon Saint Exupéry airport
Arrival city : VAISON LA ROMAINE
Coming by car
at 6h from PARIS
at 5h from BORDEAUX
at 2h15 from LYON
Coming by train
Orange train station - 4h30 from Paris
Avignon train station - 2h45 from Paris
Coming by plane
Marseille Provence airport
Lyon Saint Exupéry airport
* Abicyclette Voyages accompanies you on demand, including transportation solutions.
Recommended equipment
Bike
Roadbike, 25/28 tires, chain ring compact or triple, 10/28 to 12/32 cassette 

Automatic pedals
Clothing and equipment
Helmet

3 to 7 cycling shorts

1 pair of Legs Warmer

1 pair of Arms Warmer

Short sleeve jerseys

Long sleeve jerseys

Base layer (short or long) (merino or synthetic)

Sport socks

Thermal jacket

Wind Jacket

Rain proof jacket

1 pair of gloves

1 pair of cycling shoes

1 pair of sunglasses

2 cycling bottles

1 bike lock
Bike maintenance
Emergency repair kit : 1 or 2 tubes, patches, pump, tire levers, drift chain and quick couplers, derailleur hanger, multi-tool

Daily use kit : Foot pump, cloth, oil, brake pads, spare tire
Other
Suitcase ( for transporting personal effects in luggage transfer)

Change of clothes for the evening

Warm jacket for the evening

Jersey and towel

Set of Toiletries

Mobile phone and charger