The Brest to Nantes Canal - complete
From Brest to Nantes, a complete crossing of Brittany by bike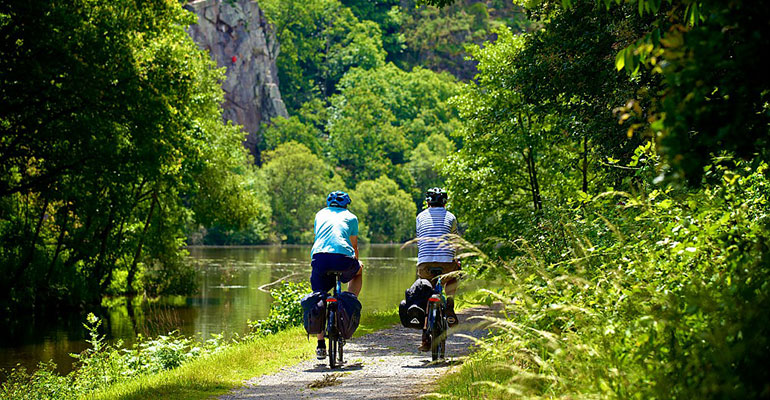 Highlights
The complete Nantes to Brest canal
Crossing the Brest harbor by boat
The Le Fret Port on the Crozon Peninsula
Bon Repos Abbey
The lake and dam of Guerlédan
The castles of Brest, Pontivy, Josselin, Nantes
The flowery locks that line the route
From the ocean to the city of Dukes of Brittany by bike
From Brest to Nantes in 11 days, cross an authentic and bucolic Brittany by bike
The Nantes to Brest canal starting from Brest offers you a beautiful crossing of Brittany! It is in the port of Brest that you start this bike tour. The adventure begins with a sea crossing of the Brest harbor to reach the Crozon peninsula.
It's on a hilly course, with a rich natural heritage, that you arrive in Châteaulin and quickly reach the towpath. At a speed a little faster than a barge, you follow a bucolic route. The locks punctuate your stages without forcing you to stop. 238 in total, they grant water management, its flow in hilly areas. The relief is mild at the edge of this long interior artery of Brittany.
450 km between Brest and Nantes, including 364 km between the Châteaulin lock and that of Nort-sur-Erdre. What makes this cycling route rich is the variety of rivers that are ridden on more often natural than artificial. In fact, only 20%, or 73 km, have been dug to connect the rivers including the Aulne, the Oust and the Erdre. You are in the heart of Brittany and you cross a route accessible to all thanks to the maintained hauling combining combining asphalt roads, white paths and well maintained trails.
A bit of history:
The construction projects of the Nantes to Brest canal were initiated under the old regime. They began under the reign of Napoleon 1st for strategic reasons. In 1804, the canal starts from both ends of Loire Atlantique (the lower Loire) and in the Finistère (the west end of Brittany). It will take 38 years to complete the work (in 1842). The operation cost 160 million gold francs in 1860, a current equivalent estimated at 150 million euros.
* 238 locks in total but none with that number: in Redon, there is a 17 bis lock; 18 were swallowed up in the construction of the Guerlédan dam in 1923.
Discover all our trips in the Nantes to Brest canal.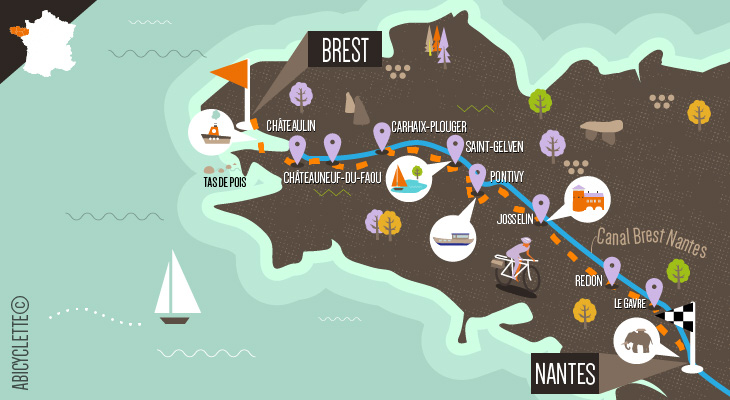 Leisure or
Fit
BREST
Arrival on your own and check in to your hotel. Orientation with our guide today (5 pm)
Briefing Orientation
Before your first ride, we invite you to meet one of our guides, at your place of departure. A time of exchange, a privileged moment to give you our last practical tips, must-see places and experiences, to answer all your questions, take care of your bike fitting to begin your trip.
From BREST to CHATEAULIN, via THE CROZON PENINSULA
43km
390m
You leave Brest as you should, by its port! The Brestoa is a boat that allows you to reach the Crozon peninsula with your bikes. You leave the port of Le Fret and the Crozon peninsula and make your way between the Aulne valley and the summit of Menez-Hom.
For a few more km

62km

666m

Then a beautiful course on the peninsula of Crozon before joining Chateaulin. It is a hilly course, with a very rich natural heritage and beautiful views of the sea.
From CHATEAULIN to CHATEAUNEUF DU FAOU
44km
229m
A beautiful day in wild nature with mountainous area much more presen. The Monts d'Arrée and the Menez Hom one of the peaks of the Massif Armorican, are not far away. Fortunately, cycling on the towpath, you enjoy the scenery without having to climb !
From CHATEAUNEUF DU FAOU to CARHAIX-PLOUGUER
38km
461m
You leave behind the Château de Trévarez behind to start a stage at the foot of the Black Mountains which takes you to port of Carhaix on the towpath.
From CARHAIX-PLOUGUER to MUR DE BRETAGNE
64km
365m
Your bike takes you 200m above sea level, reaching the canal's culminating point. This is where the Glomel trench was dug, where many convicts lost their life digging it. For you it's a delivery, as a descending false flat of dozens of kilometers awaits ! You will reach the "Lac de Guerlédan" at the end of the day.
From MUR DE BRETAGNE to PONTIVY
25km
36m
From PONTIVY to JOSSELIN
50km
118m
From one castle to another, you connect two cities of history. As you approach Rohan, you can discover the Abbey of Notre-Dame de Timadeuc. A community of monks lives there under the rule of Saint-Benoit. The monks make cheeses, jams, fruit jellies which you can find in their shop. Enjoy a stroll on Josselin at the end of the day.
From JOSSELIN to REDON
64km
108m
The beginning of the route takes you to the Roc Saint André which offers an impressive religious architecture. The village is also known for its famous Lancelot Brewery. You can make a halt and enjoy the traditional beers and Cola from the Phare Ouest! A few kilometers further and you're in Malestroit, a small typical town where you can enjoy a meal. Later on, as you face the cliffs of the Ile aux Pies, which lie on the other side of the canal, Brittany shows you just how surprising she can be.
From REDON to LE GAVRE
50km
134m
Change of scenery after Redon. The landscape is more open and allows for more sun to shine to come your way. You pass by a few cafés where it's good to take a rest and sip a drink on the terrace.
From LE GAVRE to NANTES
68km
243m
From your hotel you ride along the Canal until Quiheix, its last sluice. Small roads take you to Nantes. You spend the night close to the Loire River.
NANTES
End of stay after your breakfast. Enjoy your day to discover Nantes, its heritage and its Machines de l'île!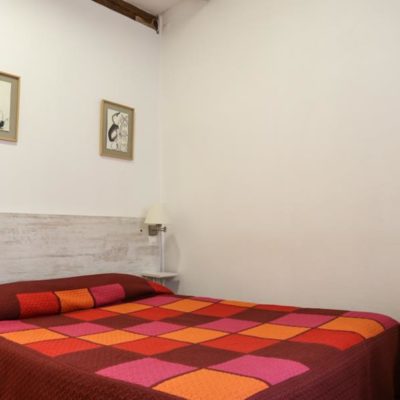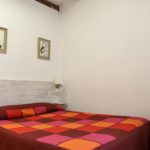 Essential Range
You want to enjoy your itinerary without anything fancy. Our "essential" range offers a simple accommodation for a good night's rest in a simple hotel, guesthouse, rest house or hostel.
---
Starting from 1335€/participant in Self Guided option | See detailed prices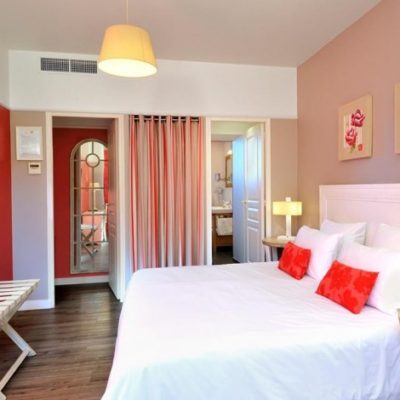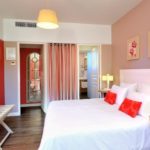 Comfort Range
Our quality standard at Abicyclette. This type of accommodation includes 2 and 3 stars hotels. Depending on the itinerary, you might spend some nights in approved guesthouses. You enjoy a double bedroom with private bathroom and toilet and adapted welcome for you and your bikes.
---
Quote on request | Contact us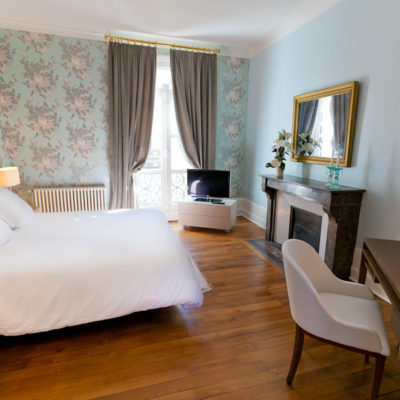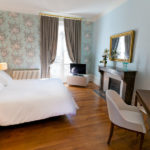 Privilege Range
Opt for total comfort in charming 3 and 4 star hotels which offer all the services you need and a special welcome for you and your bikes.
---
Quote on request | Contact us
Price includes
Accommodation: 10 nights in a double room
10 breakfasts
1 dinner
Luggage transfer
Phone assistance
Application fee
Day 1 : Meeting with our guide in Brittany
Day 2 : Traversée maritime - BREST - CROZON
A personalized greeting with our team at the beginning of the trip to receive your travel documents
Taxes
The itinerary trackable on the following supports:

Loan of a Bicycle GPS uploaded with full itinerary of the trip
Cycling practical guide including restaurant recommendations for lunch & dinner
Price does not include
bike rental (see option)
Breakfast on day 1
Lunches
Dinners not included in "Price includes"
Drinks, visits & other personal expenses
---
Homemade and fully tested itineraries
Routes selected for their cycling and touristic interest entirely tested and away from traffic
Accomodations selected for their hospitality, atmosphere, services and quality meals
A flexible organisation to suit you needs and wishes: You choose the date you want to you leave on! We check the availability of each accomodation to make sure it is possible.
---
Close assistance
One of our guides greets you on your first day. He will hand out all the needed documents for the trip (hotel vouchers, maps of the area,GPS, practical guide), get you settled on your bikes (for rental bikes).
Phone assistance, you can reach the Abicyclette team whenever you need
A Luggage transfer service which respects your hours of rest (we pick them up after 10:00 and deliver them before 16:00)
---
Follow your itinerary anyway you like – modern, practical, traditional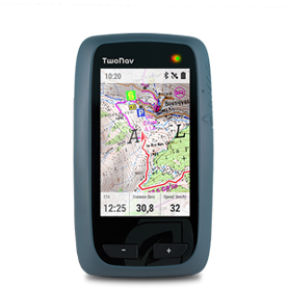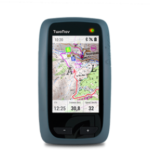 We loan you a GPS so that you can easily follow your itinerary without having to look for your way around (bike support included)
A practical cycling guide with all the useful information (addresses, highlights for the day, topo maps, and touristic information)
---
You can also
---
On our guided tours (for groups on demand), we accompany you every step of the way
One of our state qualified instructor and professional cycling guide accompanies you every step of the way
Full board (all meals covered unless asked otherwise)
A picnic buffet set up for lunch with a wide choice of fresh and local produce
We offer a high-end bike rental service. Our bikes are suited for road and gravel road long-distance cycling. Fully equipped and highly reliable, they are faithful travel companions.
---
Trekking bike

A layed out and dynamic position

Supplied equipment per bike

1 helmet
1 back bag 20L (waterproof)
1 front bag 4L with plastic map holder (waterproof)
1 lock
1 repair kit (patches, tube, tire lever)
1 multi tools box
1 pump
1 bike computer
1 bottle

Touring bike

A straight and easy going position

Supplied equipment per bike

1 helmet
1 back bag 20L (waterproof)
1 front bag 4L with plastic map holder (waterproof)
1 lock
1 repair kit (patches, tube, tire lever)
1 multi tools box
1 pump
1 bike computer
1 bottle

Ebike

With an autonomy of almost 120km, cycling has never been so easy!

Supplied equipment per bike

1 helmet
1 back bag 20L (waterproof)
1 front bag 4L with plastic map holder (waterproof)
1 lock
1 repair kit (patches, tube, tire lever)
1 multi tools box
1 pump
1 bike computer
1 bottle

Children Bike

20″ or 24″ bike

Bike trailer
Getting here
Departure city : BREST
Coming by car
at 5h from PARIS
at 6h from BORDEAUX
at 9h from LYON
Parking
Q-Park Brest Liberté – BREST
Q-park Parking Colbert – BREST
Coming by train
Brest train station - 3h30 from Paris
Coming by plane
Arrival city : NANTES
Coming by car
at 3h45 from PARIS
at 3h30 from BORDEAUX
at 6h from LYON
Parking
Parking gare de Nantes Sud 1 – EFFIA – NANTES
Coming by train
Nantes train station - 2h15 from Paris
Coming by plane
* Abicyclette Voyages accompanies you on demand, including transportation solutions.
How to get back to the starting point
By train from Nantes to Brest in 3h35
Return by car in 3h15 to your starting point ?
Private shuttle: see detailed fares or contact us
Recommended equipment
Bike
Trekking or hybrid bike
21 to 30 speeds
26 or 28 inch (700) wheels
Clothing and equipment
Helmet (included with the rental)
Clothing suitable for cycling
Warm jacket (eg fleece)
Rain proof jacket
1 pair of sunglasses
1 pair of cycling shoes
1 small backpack or panniers
1 or 2 water flasks (included with the rental)
1 lock (included with the rental)
Our reccomendation for optimal comfort:

1 pair of gloves
1 special pair of pants (shammy leather)
1 night see fluorescent vest
Bike maintenance
Emergency repair kit: 2 or 3 tubes, patches, pump, tire levers, multi-tools
Daily use kit: cloth, brake pads, oil
Other
Suitcase for transporting personal effects in luggage transfers (limited to one per person when possible)
Change of clothes for the evening
Warm jacket for the evenings
Set of toiletries
Mobile phone and charger