CANAL DU MIDI FROM TOULOUSE TO SETE
A journey on the canal du midi to the Mediterranean see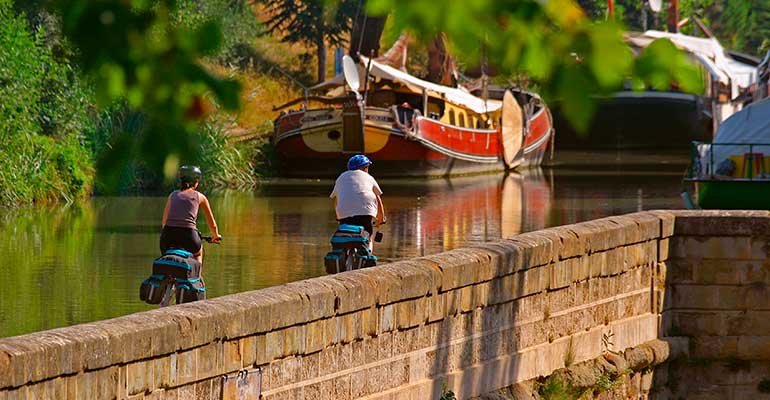 Highlights
Listed as UNESCO World Heritage
A journey across nature, culture and history
The Carcassonne Medieval Town
The Greek city of Agde
The discovery of the local gastronomy
The cultural heritage of the Pink City
Cycling from the pink city to the sea
A magnificent crossing along the "royal canal of Languedoc"
Your journey start in Toulouse where you discover the cultural richness of the Pink City. You then start cycling the canal du midi across cultural, natural and historical landscapes. Paul Pierre Riquet make you live to the rythm of the surrounding countryside among ports and locks.
At Castelnaudary, capital of the well-knwon French "Cassoulet" you enjoy the local gastronomy.
Biking on the canal du midi path to Carcassonne, you ride in the heart of the medieval city of Carcassone. It is then time to relax and enjoy some oenology discovery in one of the wine-making-village of the region.
You finish your bike journey along the canal du midi in Sète, where you appreciate the Mediterranean beach and the cultural heritage of the city.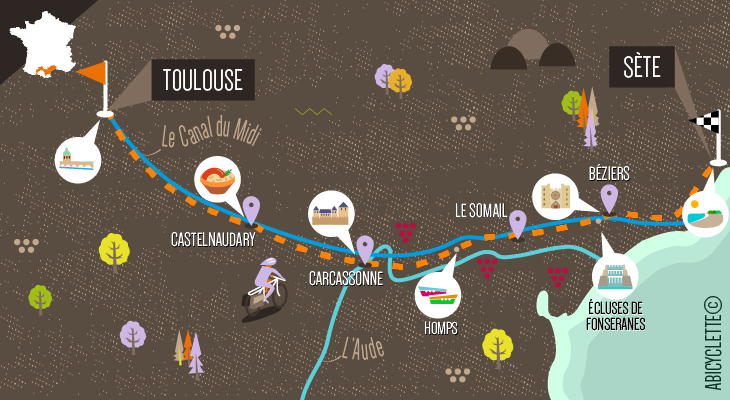 Leisure
TOULOUSE
You arrive in Toulouse where you discover the richness of the Pink City. You can walk across the "Place du Capitol", the "Jacobins' museum" or even the Cité de l'Espagne. Toulouse will offer you a total immersion into authenticity and modernity and you will be captured by this harmonious cohabitation between old and new.
From TOULOUSE to CASTELNAUDARY
62km
170m
You leave the pink city and enjoy a journey in the heart of the nature. You bike through the Lauragais countryside full of authentic small villages. You  continue to the Seuil de Naurouze, where watersheld are separated. You can make a stop at the Maison de la Haute Garonne located in the Lauragais' port. There is an exposition about the Canal du Midi construct by Riquet. You then take the road again to Castelnaudary where you will have the opportunity to savour the culinary speciality: a Cassoulet.
From CASTELNAUDARY to CARCASSONNE
45km
55m
From Castelnaudary you travel to Carcassonne. From port to port you discover architectural gems such as the Treboul's Aqueduct. You take a break at Pennautier to discover its amazing castle as well as the local gastronomy. You finish your bike tour at Carcassonne where you walk across the amazing medieval town.
For a few more km

54km

652m

For this long and sporty version, you leave the Canal des 2 Mers. The relief is a bit steeper but you are rewarded by the discovery of the Abbey of Villelongue then of Montolieu, a charming village of Books and the Arts.
From CARCASSONNE to LE SOMAIL
60km
106m
Between Carcassone and Le Somail you discover many small wine-villages. Near Homps, you offer yourself a moment of relaxation at the lake of Jouarres, where you can enjoy several nautical activities. You will enjoy the dynamism of the city of Homps and especially its port, which was one of the most important in the Canal du Midi. You take the road again surrounded with authentical villages. The castles in the region give you the opportunity to make a stop and to discover architectural jewel.  Your journey finish in Le Somail where you stay overnight.
From LE SOMAIL to BEZIERS
48km
34m
On the road to Béziers, you pass through the city of Capestang, where you have the chance to admire the wonderful Collegiate Church of the city. You then pass under the Malpas tunnel and end with the 9 locks of Fonseranes at the entrance of Béziers.
From BEZIERS to SETE
48km
106m
SETE
End of your stay after breakfast.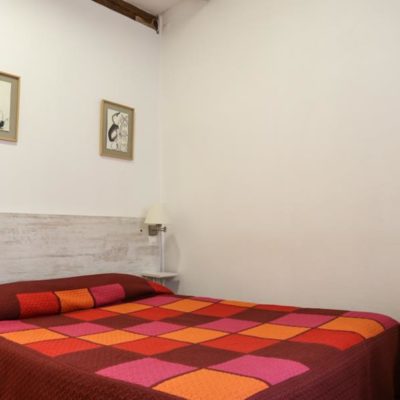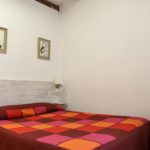 Essential Range
You want to enjoy your itinerary without anything fancy. Our "essential" range offers a simple accommodation for a good night's rest in a simple hotel, guesthouse, rest house or hostel.
---
Starting from 535€/participant in Self Guided option | See detailed prices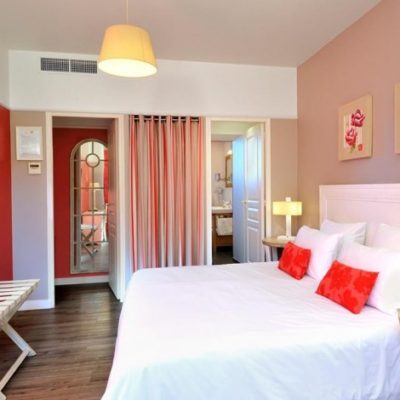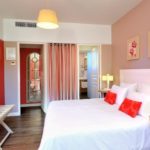 Comfort Range
Our quality standard at Abicyclette. This type of accommodation includes 2 and 3 stars hotels. Depending on the itinerary, you might spend some nights in approved guesthouses. You enjoy a double bedroom with private bathroom and toilet and adapted welcome for you and your bikes.
---
Starting from 715€/participant in Self Guided option | See detailed prices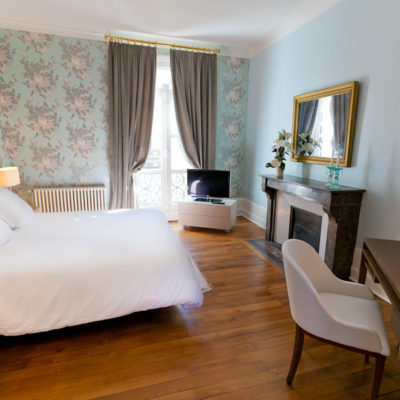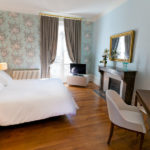 Privilege Range
Opt for total comfort in charming 3 and 4 star hotels which offer all the services you need and a special welcome for you and your bikes.
---
Quote on request | Contact us
Price includes
Accommodation: 6 nights in a double room
6 breakfasts
Luggage transfer
Phone assistance
Application fee
Day 1 : Orientation by phone
Taxes
The itinerary trackable on the following supports:

Loan of a Bicycle GPS uploaded with full itinerary of the trip
Cycling practical guide including restaurant recommendations for lunch & dinner
Price does not include
bike rental (see option)
Breakfast on day 1
Lunches
Dinners not included in "Price includes"
Drinks, visits & other personal expenses
Repairs, spareparts and mileage allowance
---
"Homemade" tours created and tested for you: :
Routes chosen  by the Abicyclette Voyages team for their touristic and cycling interest, fully tested, safe from traffic
Accommodations have been visited beforehand and are proposed for the quality of their reception, atmosphere, services and gastronomy
Great flexibility for the organization of your tour which adapts to your needs and your desires: you leave on the date you wish! We check the availability of accommodations and to ensure your departure.
---
An assistance close at hand :
7/7 assistance from the Abicyclette Voyages team
Orientation by phone at the departure of your tour
The possibility of subscribing to a cancellation & multi-risk insurance covering you in case of  problems or mishaps
---
Modern and efficient route tracking: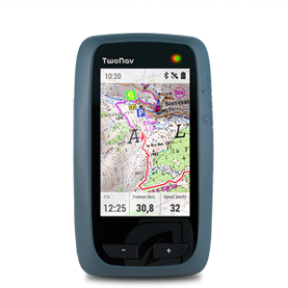 We provide a GPS to follow the route without ever having to look for directions (bike mount provided)
A logbook to find all useful addresses and tourist information
---
High-end bike rental for true comfort and riding pleasure, with the reliability needed for a long bike trip
We offer a high-end bike rental service. Our bikes are suited for road and gravel road long-distance cycling. Fully equipped and highly reliable, they are faithful travel companions.
---
Premium Trekking Bike

Frame: aluminum,

Speeds: 24 Shimano,

Fork: front suspension,

Saddle: with suspension,

Tires: puncture-proof,

Position: tilting handlebars, ergonomic handles,

Equipment: mudguard, luggage rack, dynamo lighting, crutch.

Supplied equipment per bike

1 Ortlieb rear bag (20 Liters)

1 Ortlieb front bag (5 Liters)

1 bottle holder

1 Code lock

1 repair kit : 1 pump, 2 air chambers, 1 tire sealant, 3 tire levers, 1 multi tools.

1 helmet (only on request.)

Electric Bike

A high-end electrically assisted bicycle with its BOSCH crank motor :

Schwalbe Energizer tires,

Saddle very comfortable,

Bosch Active Line Plus motor,

Bosch 400 Wh integrated battery.

Supplied equipment per bike

1 Ortlieb rear bag (20 Liters)

1 Ortlieb front bag (5 Liters)

1 bottle holder

1 Code lock

1 repair kit : 1 pump, 2 air chambers, 1 tire sealant, 3 tire levers, 1 multi tools.

1 helmet (only on request.)
Getting here
Ville de départ : TOULOUSE
Venir en voiture
à 6h de PARIS
à 2h30 de BORDEAUX
à 5h15 de LYON
Venir en train*
Toulouse train station - 6h depuis Paris
Venir en avion
Ville d'arrivée : SETE
Venir en voiture
à 7h de PARIS
à 4h30 de BORDEAUX
à 3h15 de LYON
Venir en train*
Sete train station - 3h45 depuis Paris
Montpellier train station - 3h30 depuis Paris
Venir en avion
* Abicyclette Voyages vous accompagne à la demande, en incluant des solutions de transport.
Comment revenir au point de départ ?
Navette privée : voir les tarifs détaillés ou nous consulter
En train de Sete à Toulouse en 2h
Recommended equipment
Bike
Trekking or hybrid bike
21 to 30 speeds
26 or 28 inch (700) wheels
Clothing and equipment
Helmet (included with the rental)
Clothing suitable for cycling
Warm jacket (eg fleece)
Rain proof jacket
1 pair of sunglasses
1 pair of cycling shoes
1 small backpack or panniers
1 or 2 water flasks (included with the rental)
1 lock (included with the rental)
Our reccomendation for optimal comfort:

1 pair of gloves
1 special pair of pants (shammy leather)
1 night see fluorescent vest
Bike maintenance
Emergency repair kit: 2 or 3 tubes, patches, pump, tire levers, multi-tools
Daily use kit: cloth, brake pads, oil
Other
Suitcase (for transporting personal effects in luggage transfers)
Change of clothes for the evening
Warm jacket for the evenings
Set of toiletries
Mobile phone and charger