Alsace Deluxe cycling
Discover Alsace, in its most beautiful hotels.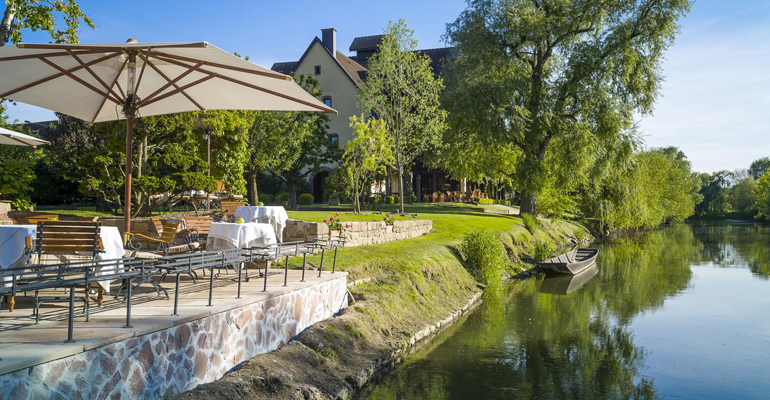 Highlights
The discovery of the Alsace Wine Route via the Véloroute du Vignoble d'Alsace
The Great Ribeauvillé Vineyard
Colmar, the capital of Alsace wines
Eguisheim, ranked most beautiful village in France
Strasbourg: Alsatian capital
High-end hotels
A unique vineyard to discover by bike with exceptional stages
A large network of cycle paths and charming and prestigious hotels.
During this visit, you have the chance to stay in the most beautiful and prestigious hotels in Alsace. All of these carefully chosen establishments tell a story. Often nestled in sumptuous small villages, they also offer you a great time with a renowned cuisine. In addition, being located at the heart of the Alsace Wine Route, these establishments will certainly offer you the opportunity to taste their best wines.
In order to highlight the quality of its wines, Alsace inaugurated in 1953 the Alsace Wine Route. It is today one of the oldest wine routes in France. It crosses many wine communities and allows you to discover around fifty terroirs classified as A.O.C. Alsace Grand Cru. You therefore discover Alsace by bike by taking the Véloroute du Vignoble, which runs parallel to the traditional Wine Route. You ride on old railways, parts of the old Roman road, as well as small paths winding between the vines. With peace-of-mind, throughout this trip, you will cross postcard landscapes that come to life.
From Strasbourg, attractive towns and villages follow one another: you discover the very well-preserved little village of Barr, the former fishing village of Illhaeusern, or the charming little village of Kaysersberg. Half-timbered houses, flowery alleys, Romanesque and Gothic churches follow one another along your route to Colmar.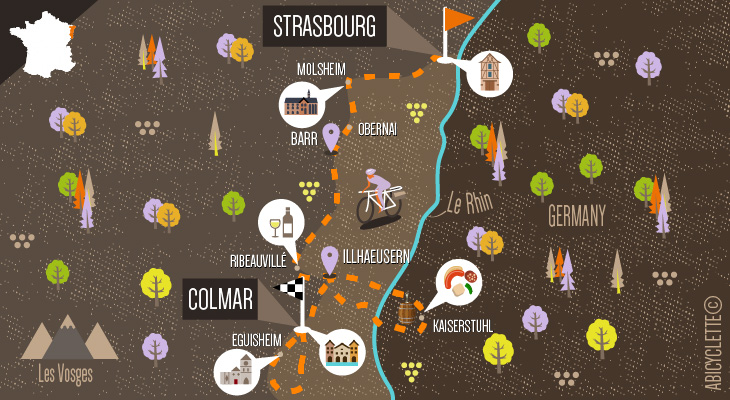 Leisure
STRASBOURG
Arrival on your own. Take the time to discover the charming city center and "la petite France" area. Strasbourg's historic city centre is classified a World Heritage Site by UNESCO since 1988, the first time such for an entire city centre. In the evening, meet with our guide for an orientation meeting.
Briefing Orientation
Before your first ride, we invite you to meet one of our guides, at your place of departure. A time of exchange, a privileged moment to give you our last practical tips, must-see places and experiences, to answer all your questions, take care of your bike fitting to begin your trip.
From STRASBOURG to BARR
49km
302m
From Strasbourg, you reach Molsheim through plains, fields and vineyards. Molsheim was an important center of the Counter-Reformation in the XVIth century, it has kept its Jesuit church from that time, which is also the largest church in Alsace. Today, Molsheim's reputation is based above all on the famous luxury car brand Bugatti. You continue your way towards Obernai, city of the Dukes of Alsace, then towards Barr, where you spend the night.
From BARR to ILLHAEUSERN
42km
340m
After a hearty breakfast, you continue your journey between the vineyards. You reach the town of Bergheim, the discovery of which is a real delight. The city walls are dotted with towers and dominated by the High Gate. The vast majority of the town's residences date from the Renaissance. After a few pedal strokes, you arrive in Ribeauvillé, village of the Geisberg, Kirchberg and Osterberg grand crus. Take advantage of a stopover in this small city settled in the middle of the vineyard to taste local wines and dishes. You continue your journey towards Illhaeusern where you can end your day at the Spa.
ILLHAEUSERN, GERMAN LOOP
57km
371m
You first cross the "Grand Canal d'Alsace" then the Rhine and enter Germany by bike into a region renowned for its wines: The Kaiserstuhl. Some beautiful ascents in the hills will allow you to access a breathtaking view of this very particular wine region. You will pass through charming German villages and can try the famous German cold meats!
On your return, you ride on an easy path that runs along the Rhine through the forest, you can take your time to make the most of of this cycle path far from civilization.
From ILLHAEUSERN to COLMAR
38km
409m
Along small roads between the vines, you leave Illhaeusern to reach Ribeauvillé first then peacefully the small active city of Kayserberg. Stop and take the time to explore the pretty streets of this 13th century imperial city. After a stroll, you arrive in the small village of Katzenthal where you will find, nestled on the hill, the Wineck Castle built at the very beginning of the 13th century. You reach Turckheim, one of the indispensable stages of the Wine Route. To end the day, make some time to stroll through the streets of Colmar, a real open-air museum!
For a few more km

68km

693m
COLMAR EGUISHEIM LOOP
25km
113m
An easy loop ride to take the time to enjoy Eguisheim, one of the most beautiful villages of France and one of the most famous in Alsace. 
For a few more km

40km

352m

Before going to Eguisheim, you rie your bike in the south direction to Ruffac. On you way back to Colmar, you take a short climb to reach Hussereau les chateaux and admire the impressive panoramic view from this village. You ride between chateaux, vineyards, short hills and scenic view to the Vosges mountains.
COLMAR
End of stay after breakfast. If you wish, you can request a transfer to Strasbourg (optional).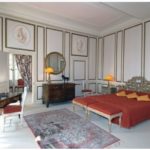 Deluxe range
For an exceptional stay you enter some of the best residences, castles and mansions and sleep in princes and duchesses' rooms.
---
Starting from 2055€/participant in Self Guided option | See detailed prices
Price includes
Accommodation: 6 nights in a Double room
6 breakfasts
Luggage transfer
Phone assistance 24/7
Application fee
A personalized greeting with our team at the beginning of the trip to receive your travel documents
Taxes
The itinerary trackable on the following supports:

Loan of a Bicycle GPS uploaded with full itinerary of the trip
Topo maps
Cycling practical guide including restaurant recommendations for lunch & dinner
Specific services
Jour 1 : Orientation in Strasbourg
Price does not include
bike rental (see option)
Breakfast on day 1
Lunches
Dinners not included in "Price includes"
Drinks, visits & other personal expenses
---
Homemade and fully tested itineraries
Routes selected for their cycling and touristic interest entirely tested and away from traffic
Accomodations selected for their hospitality, atmosphere, services and quality meals
A flexible organisation to suit you needs and wishes: You choose the date you want to you leave on! We check the availability of each accomodation to make sure it is possible.
---
Close assistance
One of our guides greets you on your first day. He will hand out all the needed documents for the trip (hotel vouchers, maps of the area,GPS, practical guide), get you settled on your bikes (for rental bikes).
Phone assistance, you can reach the Abicyclette team whenever you need
A Luggage transfer service which respects your hours of rest (we pick them up after 10:00 and deliver them before 16:00)
---
Follow your itinerary anyway you like – modern, practical, traditional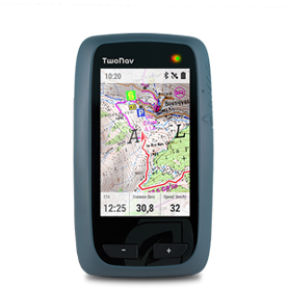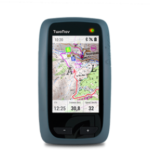 We loan you a GPS so that you can easily follow your itinerary without having to look for your way around (bike support included)
A practical cycling guide with all the useful information (addresses, highlights for the day, topo maps, and touristic information)
---
You can also
---
On our guided tours (for groups on demand), we accompany you every step of the way
One of our state qualified instructor and professional cycling guide accompanies you every step of the way
Full board (all meals covered unless asked otherwise)
A picnic buffet set up for lunch with a wide choice of fresh and local produce
We offer a high-end bike rental service. Our bikes are suited for road and gravel road long-distance cycling. Fully equipped and highly reliable, they are faithful travel companions.
---
Trekking bike

Supplied equipment per bike

1 helmet
2 back bag 15L
1 front bag 3L with plastic map holder
1 lock
1 repair kit (patches, tube, tire lever)
1 multi tools box
1 pump
1 bike computer
1 bottle

Ebike

Supplied equipment per bike

1 helmet
2 back bag 15L
1 front bag 3L with plastic map holder
1 lock
1 repair kit (patches, tube, tire lever)
1 multi tools box
1 pump
1 bike computer
1 bottle

Child bike

from 1.20 meters
with or without gears

Supplied equipment per bike

1 helmet
1 lock
1 repair kit (patches, tube, tire lever)
1 multi tools box
1 pump
1 bike computer
1 bottle
Getting here
Departure city : STRASBOURG
Coming by car
at 4h45 from PARIS
at 9h from BORDEAUX
at 4h45 from LYON
Coming by train
Strasbourg train station - 2h from Paris
Coming by plane
Arrival city : COLMAR
Coming by car
at 5h30 from PARIS
at 8h from BORDEAUX
at 4h15 from LYON
Coming by train
Colmar train station - 2h45 from Paris
Coming by plane
Bâle airport
Strasbourg airport
* Abicyclette Voyages accompanies you on demand, including transportation solutions.
How to get back to the starting point
By train from Colmar to Strasbourg in 30 min (hotline)
Return by car in 0h00 to your starting point ?
Private shuttle: see detailed fares or contact us
Recommended equipment
Bike
Trekking or hybrid bike
21 to 30 speeds
26 or 28 inch (700) wheels
Clothing and equipment
Helmet (included with the rental)
Clothing suitable for cycling
Warm jacket (eg fleece)
Rain proof jacket
1 pair of sunglasses
1 pair of cycling shoes
1 small backpack or panniers
1 or 2 water flasks (included with the rental)
1 lock (included with the rental)
Our reccomendation for optimal comfort:

1 pair of gloves
1 special pair of pants (shammy leather)
1 night see fluorescent vest
Bike maintenance
Emergency repair kit: 2 or 3 tubes, patches, pump, tire levers, multi-tools
Daily use kit: cloth, brake pads, oil
Other
Suitcase for transporting personal effects in luggage transfers (limited to one per person when possible)
Change of clothes for the evening
Warm jacket for the evenings
Set of toiletries
Mobile phone and charger