Cycling around the Gorges du Verdon
The beauty of the Verdon landscapes and the scents of Provence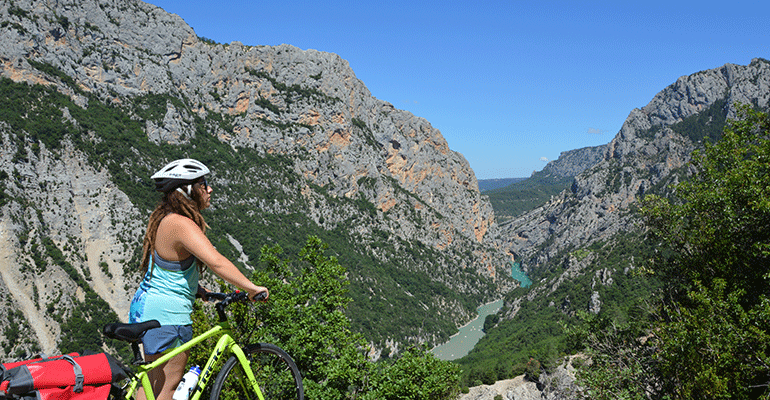 Highlights
The breathtaking landscapes of the Verdon gorges
The charm of Provencal villages: Trigance, Tourtour, Gréoux les Bains ...
The lavender fields of the Valensole plateau
The earthenware factory of Moustiers-Sainte-Marie
The lakes, suitable for swimming and water sports
Provençal gastronomy and its easy living
A getaway by bike that awakens all your senses
Departing from Manosque, discover the Verdon region by bike. Its gorges, lakes and lavender fields. A fragrant and dazzling stay of natural beauty.
Cycling through the Verdon region means pedaling to discover landscapes that are among the most breathtaking in France. Who has never daydreamed in front of photos or postcards of the Verdon? Vertiginous gorges that cut through limestone cliffs, lakes with emerald blue eyes, fragrant hills carpeted with olive trees and pine forests, picturesque Provencal villages, lavender fields. The charms of the Verdon are manifold. If the decor is magnificent, the relief is rugged. The electric bike option is recommended for this challenging trip. Intoxicated by the scent of the lavender and dazzled by the beauty of the scenery, your adventure in the Verdon region is unique.
The Gorges du Verdon are the emblem of the region. For millennia, the Verdon river has dug in the limestone rock to sculpt one of the deepest canyons in Europe. Up to 700 meters deep in some places. Abyssal, vertiginous, the Gorges du Verdon stretch between the towns of Castellane and Moustiers-Sainte-Marie. By bicycle, you meander along the route of the ridges as close as possible to this magnificent picture drawn by the forces of nature. The route is mountainous but your efforts are rewarded by the breathtaking landscapes.
The many lakes in the region, such as Lake of Sainte-Croix, are an opportunity for refreshing breaks with your feet dipped in the water. On the small squares, under the shade of the plane trees, or in the labyrinth of alleys with colorful facades, the Provencal villages are also pleasant stops. Moustiers-Sainte-Marie, renowned for its pottery, and Tourtour, are classified as the Most Beautiful Villages of France. Perched at an altitude of 800 meters, the medieval village of Trigance also enjoys a privileged position.
Lavender fields line and perfume the Valensole plateau. Known for its calming and healing properties, lavender is the emblematic flower of Provence. This flower with a lively and fresh scent is grown for its essential oil and used in the manufacture of cosmetics and perfumes. It is between mid-June and the beginning of August, at the time of flowering, that the fields are adorned with mauve and violet and that travelers are intoxicated with its unique scent.
Witnesses to the Provençal art of living, a myriad of local specialties are to be tasted. Olive oil, lavender honey, Provence herbs, tapenade, Sisteron lamb, fougasses and wines from the Var vineyards top the list. Discovering these local products allows you to keep hunger at bay and combine the pleasure of physical effort with that of the table to make your trip to the Verdon an adventure rich in flavor!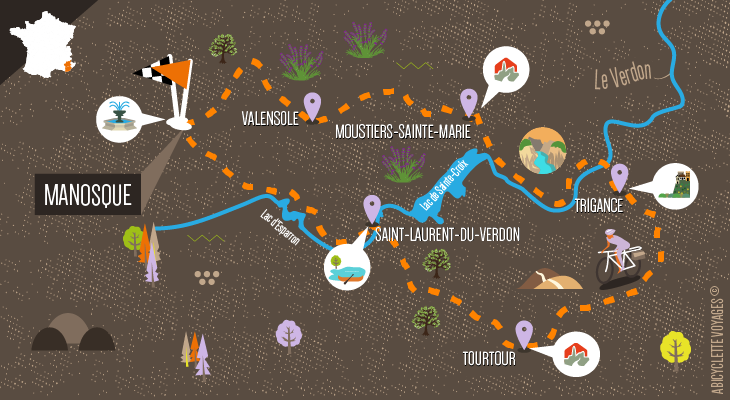 Leisure or
Fit
MANOSQUE
Arrive on your own to Manosque. Take the time to discover this small town between Luberon and Verdon. Its pretty town center is dotted with alleys and squares adorned with fountains.
Briefing Orientation
Before your first ride, we invite you to meet one of our guides, at your place of departure. A time of exchange, a privileged moment to give you our last practical tips, must-see places and experiences, to answer all your questions, take care of your bike fitting to begin your trip.
From MANOSQUE to VALENSOLE
33km
532m
You leave Manosque towards Oraison. Wooded, the route is pleasant on small country roads. The scent of lavender heralds the arrival on the Valensole plateau. Here, at an altitude of 600 meters, the expanses of lavender cover it with their mauve hues and the scent of their refreshing scents.
For a few more km

70km

930m

A more challenging option which circumvents the Valensole plateau from the north between pines and olive trees and rounded peaks. You will discover the localities of Castelet and Bras d'Asse before becoming intoxicated with the scent of lavender as you ride towards Valensole.
From VALENSOLE to MOUSTIERS-SAINTE-MARIE
35km
497m
From Valensole, you ride east. The lavender fields perfume your pedal strokes. The hilly course takes you to Moustiers-Sainte-Marie. Since 1981, Moustiers-Sainte-Marie has been classified among the Most Beautiful Villages of France. Its earthenware tradition is world famous. Church, ramparts, chapels, aqueduct, fountains, the meeting of water and stone, pastel tones of tiles and tuff shape a homogeneous and living architectural whole.
For a few more km

47km

589m

You walk along the Lake of Sainte-Croix from the panoramic road. On the bike, you contemplate magnificent views of the lake and the surrounding mountains.
From MOUSTIERS-SAINTE-MARIE to TRIGANCE
48km
1620m
This is the flagship stage of the stay. Today, you meander on the winding roads that overlook the Gorges du Verdon. The difference in elevation is significant. But not as much as the pleasure of the eyes in front of this exceptional geological spectacle. The Gorges du Verdon are one of the deepest canyons in Europe. 50 kilometers long, they stretch from Castellane to Lake Sainte-Croix, reaching in places 700 meters deep. They form a magnificent and wild landscape, characterized by its unspoiled nature and its green waters. End of the stage in Trigance, a pretty medieval village flanked by ramparts.
From TRIGANCE to TOURTOUR
48km
818m
Between Trigance and Tourtour, you cross the Haut Var. Between the fragrant hills and the limestone plateaus, the route is hilly and wild. Along the way, each village is an opportunity for a stopover. This is the case for Comps sur Artuby, Chateaudouble and Ampus. Perched at an altitude of 635 meters, Tourtour is nicknamed "the village in the sky of Provence". The stone houses topped with round tiles, the Place des Ormeaux and its eight fountains, the vaulted passages and the alleys bathed in sunlight … Tourtour offers the perfect setting to enjoy the end of the day.
For a few more km

75km

1454m

The longer option invites you to discover the Gorges de l'Artuby near the village of Le Martre. Between the limestone walls, a tumultuous water splashes the rock worn by time
From TOURTOUR to SAINT-LAURENT-DU-VERDON
40km
551m
The pine forest and rows of olive trees dominate the landscape. Once again, the Provençal scents perfume the stage. The cicadas lull your pedal strokes. You pass through Aups, the "capital" of the Haut Var before reaching the hilltop village of Montpezat. For a refreshing swim or a canoe trip, Lake Montpezat lends itself well to nautical activities. End of stage in Saint-Laurent sur Verdon.
For a few more km

52km

797m

After Baudinard sur Verdon, you make a pleasant detour via the Sainte-Croix lake and its beach.
From SAINT-LAURENT-DU-VERDON to MANOSQUE
45km
863m
This is the stage of the lakes. Irrigated by the Verdon, the Quinson and Esparron lakes provide the opportunity for new swimming. On the road to Manosque, Albiosc and especially Gréoux les Bains are two villages of character to discover. Known since antiquity, the thermal baths of Gréoux-les-Bains were visited by the Romans. In addition to the dry and sunny microclimate, the medicinal properties of naturally warm thermal water drawn from the depths are added to treat rheumatism and respiratory tract disorders.
For a few more km

62km

1364m

From Gréoux les Bains, the beach of Saint-Julien on the shores of Lake Esparron is an opportunity for a swim.
MANOSQUE
End of stay after breakfast. Have a safe journey home!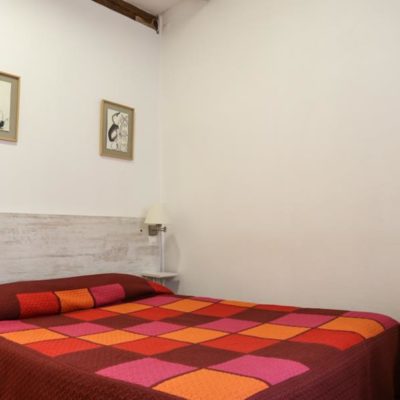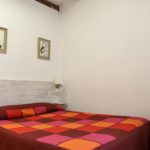 Essential Range
You want to enjoy your itinerary without anything fancy. Our "essential" range offers a simple accommodation for a good night's rest in a simple hotel, guesthouse, rest house or hostel.
---
Starting from 1059€/participant in Self Guided option | See detailed prices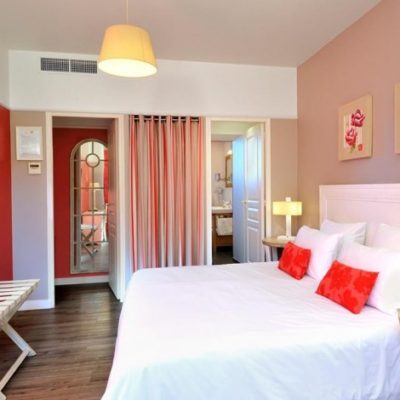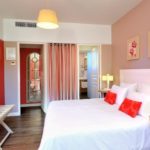 Comfort Range
Our quality standard at Abicyclette. This type of accommodation includes 2 and 3 stars hotels. Depending on the itinerary, you might spend some nights in approved guesthouses. You enjoy a double bedroom with private bathroom and toilet and adapted welcome for you and your bikes.
---
Starting from 1326€/participant in Self Guided option | See detailed prices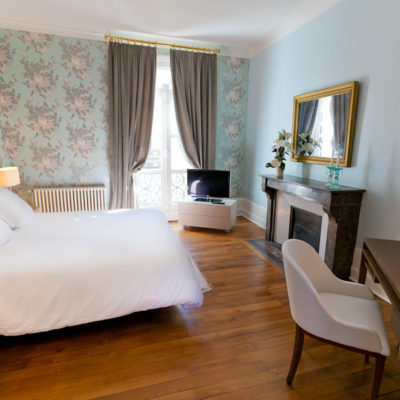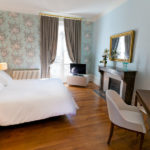 Privilege Range
Opt for total comfort in charming 3 and 4 star hotels which offer all the services you need and a special welcome for you and your bikes.
---
Quote on request | Contact us
Price includes
Accommodation: 7 nights in a double room
7 breakfasts
2 dinners
Luggage transfer
Phone assistance
Application fee
Day 1 : Orientation [in Manosque]
A personalized greeting with our team at the beginning of the trip to receive your travel documents
Taxes
The itinerary trackable on the following supports:

Loan of a Bicycle GPS uploaded with full itinerary of the trip
Cycling practical guide including restaurant recommendations for lunch & dinner with topo maps
Price does not include
bike rental (see option)
Breakfast on day 1
Lunches
Dinners not included in "Price includes"
Drinks, visits & other personal expenses
---
Homemade and fully tested itineraries
Routes selected for their cycling and touristic interest entirely tested and away from traffic
Accomodations selected for their hospitality, atmosphere, services and quality meals
A flexible organisation to suit you needs and wishes: You choose the date you want to you leave on! We check the availability of each accomodation to make sure it is possible.
---
Close assistance
One of our guides greets you on your first day. He will hand out all the needed documents for the trip (hotel vouchers, maps of the area,GPS, practical guide), get you settled on your bikes (for rental bikes).
Phone assistance, you can reach the Abicyclette team whenever you need
A Luggage transfer service which respects your hours of rest (we pick them up after 10:00 and deliver them before 16:00)
---
Follow your itinerary anyway you like – modern, practical, traditional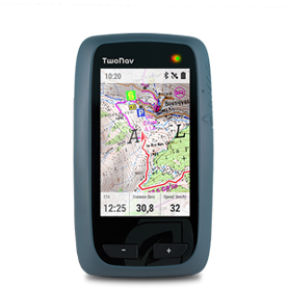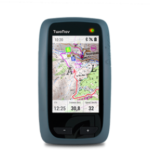 We loan you a GPS so that you can easily follow your itinerary without having to look for your way around (bike support included)
A practical cycling guide with all the useful information (addresses, highlights for the day, topo maps, and touristic information)
---
You can also
---
On our guided tours (for groups on demand), we accompany you every step of the way
One of our state qualified instructor and professional cycling guide accompanies you every step of the way
Full board (all meals covered unless asked otherwise)
A picnic buffet set up for lunch with a wide choice of fresh and local produce
We offer a high-end bike rental service. Our bikes are suited for road and gravel road long-distance cycling. Fully equipped and highly reliable, they are faithful travel companions.
---
Touring bike

Supplied equipment per bike

1 helmet
1 pannier
1 lock
1 multi-tools
1 pump
1 repar tool kit with tube, tires levers, patches

E-Bike

An E-bike with a full equipment and a large autonomy (100km).

Supplied equipment per bike

1 helmet
1 pannier
1 lock
1 multi-tools
1 pump
1 repair tool kit with patches, tires levers, tube
Getting here
Departure city : MANOSQUE
Coming by car
at 7h from PARIS
at 6h from BORDEAUX
at 3h30 from LYON
Arrival city : MANOSQUE
Coming by car
at 7h from PARIS
at 6h from BORDEAUX
at 3h30 from LYON
* Abicyclette Voyages accompanies you on demand, including transportation solutions.
Recommended equipment
Bike
Trekking or hybrid bike
21 to 30 speeds
26 or 28 inch (700) wheels
Clothing and equipment
Helmet (included with the rental)
Clothing suitable for cycling
Warm jacket (eg fleece)
Rain proof jacket
1 pair of sunglasses
1 pair of cycling shoes
1 small backpack or panniers
1 or 2 water flasks (included with the rental)
1 lock (included with the rental)
Our reccomendation for optimal comfort:

1 pair of gloves
1 special pair of pants (shammy leather)
1 night see fluorescent vest
Bike maintenance
Emergency repair kit: 2 or 3 tubes, patches, pump, tire levers, multi-tools
Daily use kit: cloth, brake pads, oil
Other
Suitcase for transporting personal effects in luggage transfers (limited to one per person when possible)
Change of clothes for the evening
Warm jacket for the evenings
Set of toiletries
Mobile phone and charger