Movies about sports, travel and cycling have the power to transport you to another world. They entertain, educate and inspire. Very often, they also highlight unique places in the world. Abicyclette Voyages takes you on an adventure and shares its favorite films with you.
Objectif Cercle Polaire Arctique by Corentin Leduc
Originally from Ligné on the outskirts of Nantes, Corentin Leduc is passionate about nature and adventure. During the summer of 2018, his love for the great outdoors led him to reach the lands of the Far North of Europe up to the Arctic Circle. Very concerned about the protection of the environment, Corentin wishes to have the lowest negative impact on Earth. This is why, for each of his expeditions, he likes to devise his material by his own means and in the most eco-responsible way possible. Tent, canoe, and even wooden car. For Valentin (sales advisor at Abicyclette Voyages), this amateur film proves that everyone can go on an adventure!
The movie 2018 – Objectif Cercle Polaire Arctique (in French)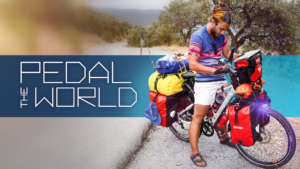 Pedal the World by Felix Starck
In this 90-minute film, the young German, Felix Starck takes us with him on his 18,000 km bicycle adventure across 22 countries in 365 days. In this film, Felix is ​​not afraid to tell us about the difficulties of the adventure. Left by his traveling companion after a few weeks because they did not share the same vision of the trip, he finds himself alone. The loneliness is heavy, so he is joined by friends or his family on certain sections of the trip. He lost his grandfather that same year and questioned the entirety of his project. Despite everything, he does not give up. He is back on the road and continues his world tour. Felix feeds on the adventure and encounters he makes throughout his journey. He grows so much from this experience. This is the first movie on bicycle travel that Marine watched and it was the one that made her want to get on the road. It was also greatly appreciated by Constance and Vincent. This film will inevitably make you want to go on a trip!
Valentin Chapalain's Iberian pedal strokes
Following his cycling trip to Portugal and Spain in November 2019, Valentin, travel advisor at Abicyclette Voyages, wanted to share the highlights of his trip. An adventure of 950 kilometers from Valladolid, in Castile and Leon to Seville, Andalusia, passing through the southern part of Portugal! We follow Valentin and his friend Aurélien on the Spanish and Portuguese roads. Even if some incidents marked the start of their journey, they were quickly forgotten. Indeed, beautiful encounters, landscapes and moments of life made this trip a great adventure … Constance strongly recommends that you set off to explore the Iberian Peninsula with Valentin!
Valentin's cycling trip to Spain and Portugal (in French)

Into the Wild by Sean Penn
Vincent really likes the fact that this 22 year old American, just graduated from the University leaves a promising future and his comfortable life in order to live the adventure … He takes the road and leaves everything behind. This adventure ultimately becomes the adventure of a lifetime! Wheat fields from Dakota to Colorado, passing through California, this young American will meet many people. They will shape his vision of life but also his vision of others. He will eventually reach his ultimate goal: to reach Alaska and live in total communion with nature. For Vincent, Alaska is not just any region of the world! Indeed, Vincent really likes the expanses of forests accompanied by snowy peaks, it gives him the impression of being very small in this world. This is perhaps one of the lessons to be learned from this film. Marine was in high school when she first saw this movie. She loved it and has watched it many times since. For the record, while preparing her baccalauréat (high school qualification), this movie motivated her to study. She told herself that once the bac was over, she too could go on an adventure!
Race Across The Sky 2009 by Daniel Arango
David, travel advisor at Abicyclette Voyages, participated in the Leadville Trail 100 also called "The Race Across the Sky" in 2009. This mountain bike race takes place every year in Colorado. It is one of the toughest mountain biking events in the world due to its distance (around 160km) and altitude (the highest point is located at 3600 meters). It was the same year that this film was shot. David still has chills every time he watches it!
Race Across The Sky on Youtube.

Solidream by Brian Mathé, Morgan Monchaud and Siphay Vera.
This travel movie recounts the adventure of a group of childhood friends who decide to make their dream come true by setting off on a 54,000-kilometer bicycle tour of the world. They even give themselves unusual challenges to carry out throughout their journey. In the three years of adventure, the succession of trials and encounters taught them, over the course of the journey, the greatness of man. In addition, the images in this film are magnificent, Marine and Valentin loved it!
We hope you enjoyed this first part of the cultural recommendations. These 5 films are the ones that the Abicyclette Voyages team chose, but of course, there are many others!
Have you spotted any films in this selection that you would like to see?