My e-bike trip along the Canal d'Ille-et-Rance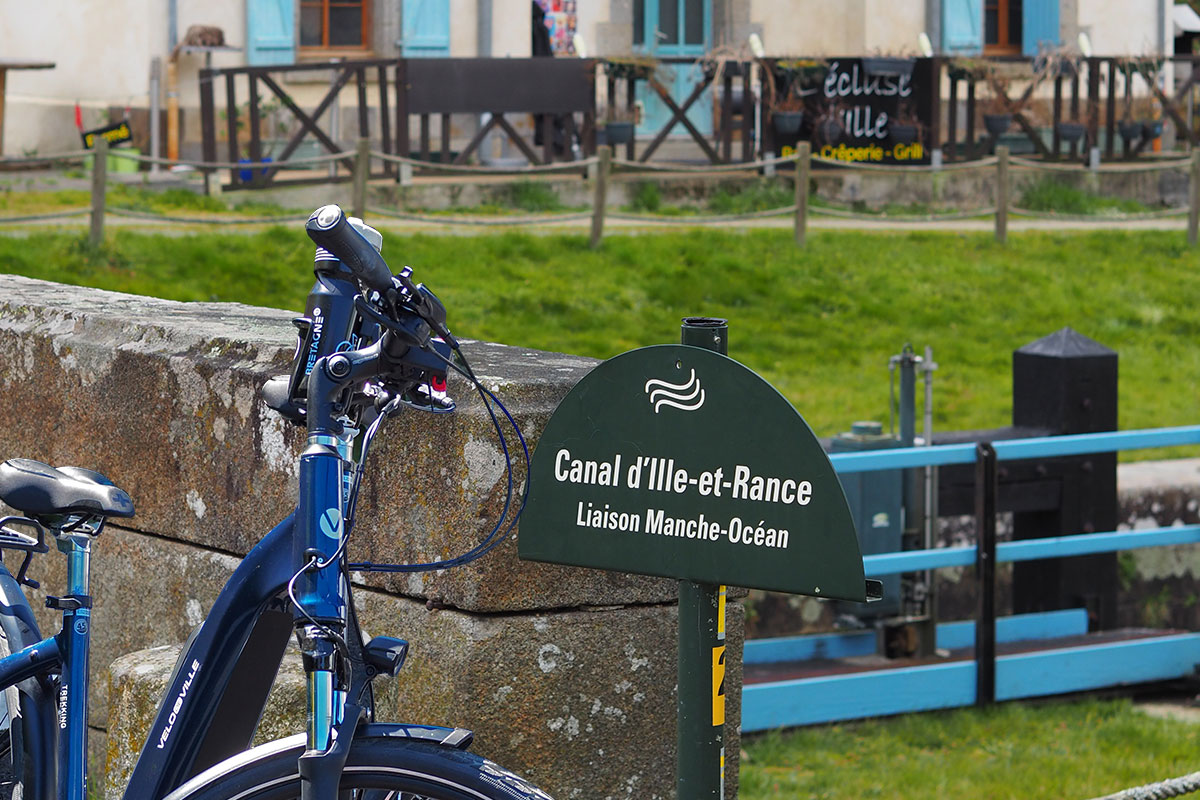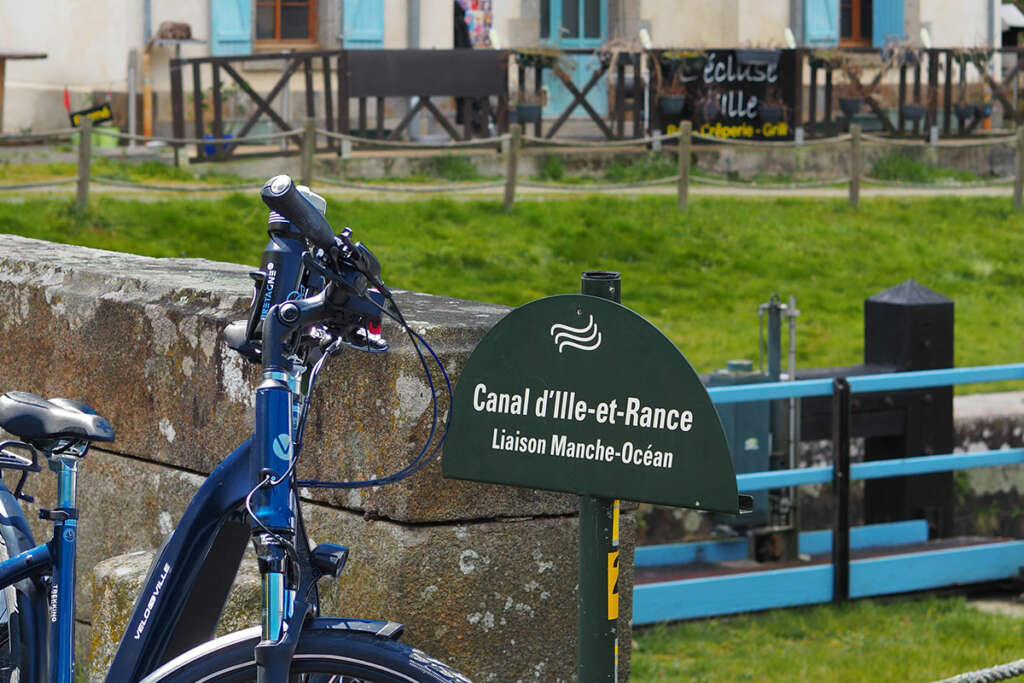 At Abicyclette Voyages, the community is driven by the same desire for adventure. Weekend trips, outdoor activities and the desire to learn more about the world around us… It didn't take long for us to get together for a day of cycling. A trip from Rennes to the beautiful medieval city of Dinan, along the Ille-et-Rance canal. It's a two-day micro-adventure full of surprises.
It's with great motivation and impatience that I'm looking forward to this trip, which will be my first experience of cycling. I also have some reservations about my physical ability to keep up with my teammates, most of whom are regular cyclists. So the choice of an e-bike for this trip is an obvious one!
Choosing an e-bike for a comfortable ride
So I chose an e-bike from "Vélo de Ville", the EAB that we rent out at Abicyclette Voyages. I'd never had the chance to use this technology before. I chose it for its comfort, so that I could make the most of this adventure without too much physical effort.
Without further ado, I took possession of this new travel companion and adapted it to my riding comfort: I adjusted the saddle and stem, installed my handlebar bag and rear panniers on a rack to be well equipped for this trip. With the battery fully charged, it's time to start the adventure.
My travel experience on an e-bike
Leaving the agency in Rennes, we quickly reach the towpath and enjoy the calm and peaceful setting of the canal. The cool but sunny winter weather is very pleasant. Equipped with my neck gaiter and warm clothes, I'm happy with the comfort of the ride and the first sensations of the "Eco" mode, the first assistance level of my electric bike.
After two hours on the road, the physical effort begins to show. Don't forget that an electric bike weighs between 20 and 30 kilos on average. And on a flat route like the towpath of the Canal d'Ille-et-Rance, the weight of the bike can be quite noticeable. Then it's time to test the bike's various assistance modes. The e-bike's second "Tour" mode offers a more comfortable ride after this morning's sluggishness. It allows me to maintain a good pace of 20km/h while enjoying the scenery of the Canal d'Ille-et-Rance: beautiful locks in blossom, colorful houses typical of the region and lots of wildlife.
We've already covered more than 40 kilometers, and after a hot meal, we're back on the road to Dinan. It's a bit harder to get the legs going again. I use the "Sport" mode to gently wake up all the muscles that fell asleep during the lunch break. I'm halfway through my range, so I decide to continue at this pace.
The sun begins to set and we start to see the surrounding cliffs of the Dinan region. Before the final push to the medieval town, we pass through Léhon, one of the most beautiful small towns in Brittany. All the houses are beautiful, lit with pretty lanterns that accompany us in the evening light. The atmosphere is old-fashioned, but lively and warm. Next, we admire and pass under the Viaduc de Dinan, illuminated in different colors. It's a beautiful sight before the most challenging climb of the day!
We arrive in Dinan at 19:00. Perched on an imposing rocky spur, the pretty town is well worth a visit and promises a nice challenge with a positive gradient to our hotel. It's time to build up some momentum and speed before switching to "Turbo" mode! This latest assistance mode lives up to its name. I effortlessly started up the climb and managed to overtake my companions who had gotten a head start on me. I give them a word of encouragement before heading back to the hotel. After 78 kilometers of riding during the day, my battery life is down to one-fifth of its capacity. It's important to conserve your battery in anticipation of the last few kilometers, which are harder than the first. I'm happy to have been able to enjoy this day to the fullest while optimizing the battery on my e-bike.
The e-bike, a bike that opens up new horizons of travel
By taking over some of the physical effort required to keep me moving, the electric bike freed up my mind. I was able to take in the scenery around me and linger over the little details that made this trip a real discovery of the Canal-d'ille-et-Rance. I was also able to make several stops, especially to take photos and videos of my teammates. Thanks to the electric assistance, I was able to catch up with the group in no time!
What's more, the e-bike allowed me to ride at the same speed as my teammates, who are used to cycling. I can therefore confirm that the electric bike is a good way to bring together different levels of cycling experience.
My tips for traveling by electric bike
Conserve your battery: to optimize your bike's autonomy, use the "Eco" mode on flat and downhill sections. It's also important to adjust your gears to match the change in assistance mode.
Pedal faster, not harder: Just like on a conventional bike, it's more effective to increase your cadence over time than to pedal harder. The Bosch motor on the Vélo de Ville e-bike encourages you to do this by giving priority to assistance when you're pedaling smoothly.
Recharge your battery every day: To maintain your autonomy, recharge your battery every evening, for example at dinner. The battery recharges quickly (about 4 hours for a full charge). To be on the safe side, do not leave it charged overnight.
Don't forget the battery key when you're away: if you leave your bike in a restaurant or on a cultural tour, don't forget to remove the battery key. If it's lost or stolen, you won't be able to remove the battery from your bike…
Consider the weight of the bike: as mentioned above, an electric bike weighs between 20 and 30 kilos on average. It can be difficult to carry or lift. Removing the battery makes the bike easier to handle. Transporting it in a car also requires specially designed bike racks to support this weight.
If you'd like to try your hand at electric bike travel, take a look at our trips!