The Loire Valley cycle route #4 from Angers to Pornic
Stroll along the Loire à vélo from Angers to Pornic.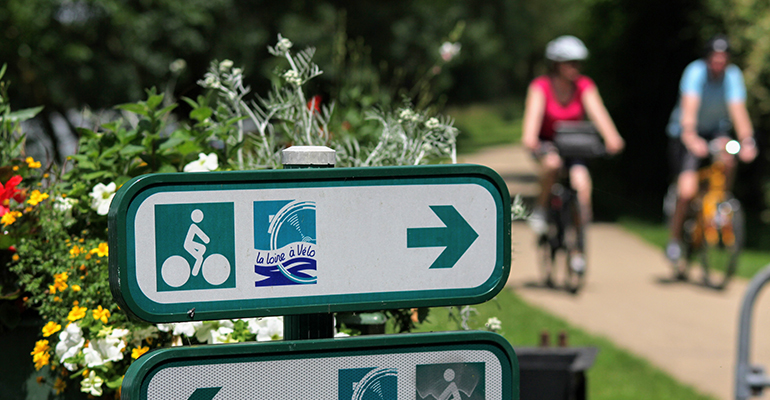 Highlights
Angers and Nantes, cities of Art and History
The Loire à Vélo route: marked, secure and accessible
The varied landscapes of the Loire Valley
Saint-Florent-le-Vieil: small town with character
Champtoceaux and its splendid panorama over the Loire
The Loire estuary and the Atlantic Ocean
The marvelous port of Pornic
Cycle along the Loire à vélo to the Ocean
Departing from Angers, cycle through one of the most untouched parts of the Loire Valley in 7 days and reach the sea.
Flat, peaceful, marked and safe, the paths taken by the Loire à vélo lend themselves perfectly to an itinerant ride as a couple, with family or with friends. It's an ideal route for an introduction to bike-travelling.
At the outskirts of Angers, the Loire has already reached a very significant size thanks to the confluence of the Sarthe and the Maine. It will continue to increase as you descend to reach the ocean. It is an untouched, changing landscape, of a luxuriant nature taking advantage of the sandbanks created here and there. The metal bridges allow you to ride sometimes on the north bank, sometimes on the south bank to reach the most beautiful towns and your accommodation, most often labeled Accueil Vélo (Cyclists Welcome).
On your way, you have the leisure to balance out your breaks by visiting picturesque villages, beautiful panoramas, parks, cultural sites or even renowned vineyards.
At the halfway point, you will enjoy a visit to the beautiful city of Nantes. The city of the Dukes of Brittany displays strange articulated creatures that roam the island. Les Machines de L'Île, and in particular the famous elephant are now the pride of this city of Art and History.
The fisheries and the Saint-Nazaire bridge herald the proximity of the estuary. A magnificent landscape is created by the river here. The arrival on the ocean is an accomplishment. You can be proud to have reached the sea from Angers on the strength of your legs alone!
The route continues to Pornic on the Vélodyssée road markings, the Eurovélo 1, which you have already ridden in Nantes and which can lead you to all the way to Portugal! This time, the southernmost port of influence and Breton history offers you a final stop and a pleasant and lively evening. If it's still the time for a snack, the Fraiseraie ice cream is deserved after a great day of bike touring. You have to queue, it's a local institution on the port!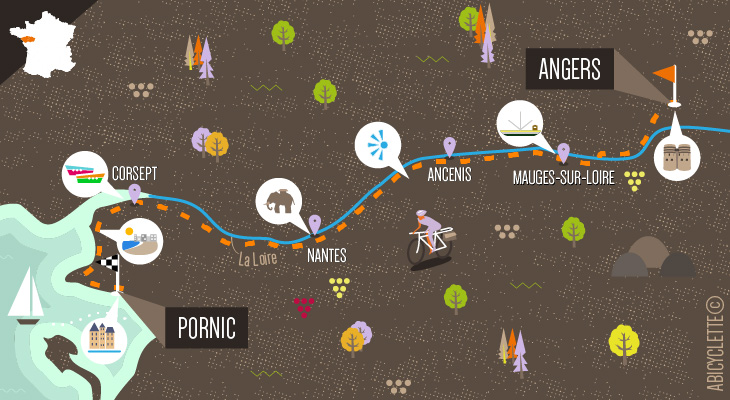 Easy or
Leisure
ANGERS
Arrival on your own and check in to your hotel. Orientation with our guide today. Take time to explore Angers and the peaceful banks of the Loire river.
Briefing Orientation
Before your first ride, we invite you to meet one of our guides, at your place of departure. A time of exchange, a privileged moment to give you our last practical tips, must-see places and experiences, to answer all your questions, take care of your bike fitting to begin your trip.
From ANGERS to MONTJEAN-SUR-LOIRE
36km
81m
You leave Angers on the banks of the Maine. The stage starts with a peaceful ride through a park by the river. It is pleasant to stop on the quays in Bouchemaine for a picnic on the banks of the Loire. A little further, the Loire à Vélo route allows you to contemplate the prestigious hillside vineyards of Savennières. Here you follow the wild river as closely as possible and the detour to Béhuard Island is unmissable, before embarking on the crossing of Chalonnes Island. At the end of the stage, the hilltop village of Montjean sur Loire welcomes you.
From MONTJEAN-SUR-LOIRE to ANCENIS
30km
13m
The start of the stage is ridden on small road towards the city of character of Saint-Florent Le Vieil. From the top of Mont Glonne, where an abbey sits, a sumptuous panorama offers a spectacular view of the Loire Valley. A must-see! Then, you join Ancenis by a greenway which winds between woods and meadows.
From ANCENIS to NANTES
39km
106m
You are in Basse-Loire. The maritime influence starts here with the Loire islands, the vineyard slopes of Muscadet and market gardens. On a greenway shaded, easy and secure, you join the city of Nantes, European green capital in 2013. Do not miss the island of Nantes and its machines.
From NANTES to CORSEPT
53km
171m
You leave Nantes through its island, located in the middle of the Loire. After crossing the second branch of the river, you arrive in an old district, Trentemoult. A first break is strongly recommended to discover the maze of alleys which allows you to appreciate beautiful colorful houses that differ from those of Northwest France. You then continue along the Loire and reach Corsept thanks to the Canal de la Martiniere. The ocean is no longer far away.
From CORSEPT to PORNIC
45km
231m
Today you will see the ocean. This route takes you to discover the coast: you cross Saint-Brévin-les-Pins and Saint-Michel-Chef-Chef before joining Pornic.
PORNIC
End of stay after breakfast. Have a safe journey home!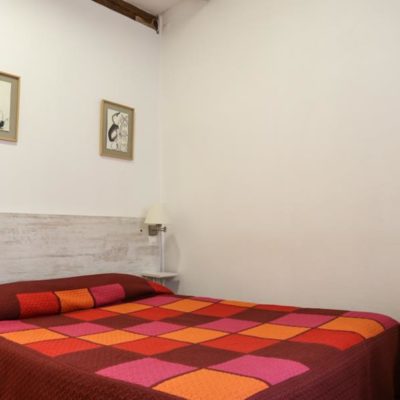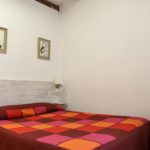 Essential Range
You want to enjoy your itinerary without anything fancy. Our "essential" range offers a simple accommodation for a good night's rest in a simple hotel, guesthouse, rest house or hostel.
---
Starting from 765€/participant in Self Guided option | See detailed prices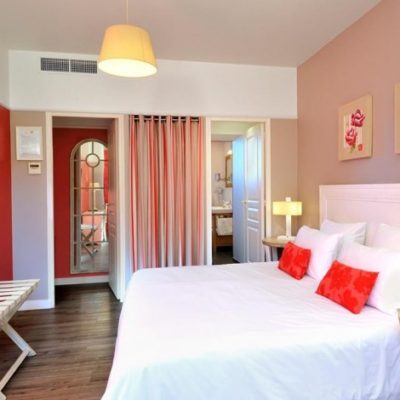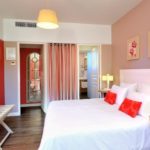 Comfort Range
Our quality standard at Abicyclette. This type of accommodation includes 2 and 3 stars hotels. Depending on the itinerary, you might spend some nights in approved guesthouses. You enjoy a double bedroom with private bathroom and toilet and adapted welcome for you and your bikes.
---
Starting from 895€/participant in Self Guided option | See detailed prices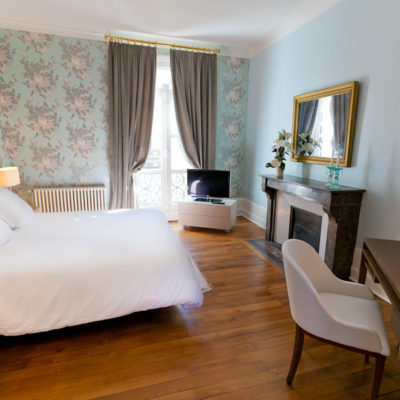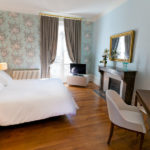 Privilege Range
Opt for total comfort in charming 3 and 4 star hotels which offer all the services you need and a special welcome for you and your bikes.
---
Quote on request | Contact us
Price includes
Accommodation: 6 nights in a twin ou double room
6 breakfasts
2 dinners
Luggage transfer
Phone assistance
Application fee
Day 1 : Meeting with our guide in Loire Valley
Price does not include
bike rental (see option)
Breakfast on day 1
Lunches
Dinners not included in "Price includes"
---
Homemade and fully tested itineraries
Routes selected for their cycling and touristic interest entirely tested and away from traffic
Accomodations selected for their hospitality, atmosphere, services and quality meals
A flexible organisation to suit you needs and wishes: You choose the date you want to you leave on! We check the availability of each accomodation to make sure it is possible.
---
Close assistance
One of our guides greets you on your first day. He will hand out all the needed documents for the trip (hotel vouchers, maps of the area,GPS, practical guide), get you settled on your bikes (for rental bikes).
Phone assistance, you can reach the Abicyclette team whenever you need
A Luggage transfer service which respects your hours of rest (we pick them up after 10:00 and deliver them before 16:00)
---
Follow your itinerary anyway you like – modern, practical, traditional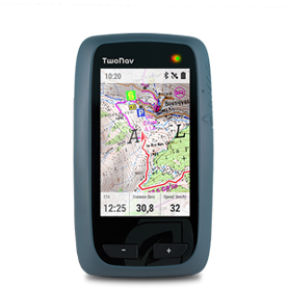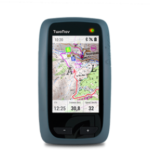 We loan you a GPS so that you can easily follow your itinerary without having to look for your way around (bike support included)
A practical cycling guide with all the useful information (addresses, highlights for the day, topo maps, and touristic information)
---
You can also
---
On our guided tours (for groups on demand), we accompany you every step of the way
One of our state qualified instructor and professional cycling guide accompanies you every step of the way
Full board (all meals covered unless asked otherwise)
A picnic buffet set up for lunch with a wide choice of fresh and local produce
We offer a high-end bike rental service. Our bikes are suited for road and gravel road long-distance cycling. Fully equipped and highly reliable, they are faithful travel companions.
---
Trekking bike

A layed out and dynamic position

Supplied equipment per bike

1 helmet
1 back bag 20L (waterproof)
1 front bag 4L with plastic map holder (waterproof)
1 lock
1 repair kit (patches, tube, tire lever)
1 multi tools box
1 pump
1 bike computer
1 bottle

Touring bike

A straight and easy going position

Supplied equipment per bike

1 helmet
1 back bag 20L (waterproof)
1 front bag 4L with plastic map holder (waterproof)
1 lock
1 repair kit (patches, tube, tire lever)
1 multi tools box
1 pump
1 bike computer
1 bottle

Ebike

With an autonomy of almost 120km, cycling has never been so easy!

Supplied equipment per bike

1 helmet
1 back bag 20L (waterproof)
1 front bag 4L with plastic map holder (waterproof)
1 lock
1 repair kit (patches, tube, tire lever)
1 multi tools box
1 pump
1 bike computer
1 bottle

Children Bike

20″ or 24″ bike

Bike trailer
Getting here
Departure city : ANGERS
Coming by car
at 2h from PARIS
at 3h45 from BORDEAUX
at 5h30 from LYON
Coming by train
Angers train station - 1h45 from Paris
Coming by plane
Angers airport
Nantes airport
Arrival city : PORNIC
Coming by car
at 4h30 from PARIS
at 3h from BORDEAUX
at 6h from LYON
Coming by train
Pornic train station - 4h30 from Paris
Nantes train station - 2h30 from Paris
Coming by plane
* Abicyclette Voyages accompanies you on demand, including transportation solutions.
How to get back to the starting point
By train from Pornic to Angers in 1h50
Private shuttle: see detailed fares or contact us
Recommended equipment
Bike
Trekking or hybrid bike
21 to 30 speeds
26 or 28 inch (700) wheels
Clothing and equipment
Helmet (included with the rental)
Clothing suitable for cycling
Warm jacket (eg fleece)
Rain proof jacket
1 pair of sunglasses
1 pair of cycling shoes
1 small backpack or panniers
1 or 2 water flasks (included with the rental)
1 lock (included with the rental)
Our reccomendation for optimal comfort:

1 pair of gloves
1 special pair of pants (shammy leather)
1 night see fluorescent vest
Bike maintenance
Emergency repair kit: 2 or 3 tubes, patches, pump, tire levers, multi-tools
Daily use kit: cloth, brake pads, oil
Other
Suitcase for transporting personal effects in luggage transfers (limited to one per person when possible)
Change of clothes for the evening
Warm jacket for the evenings
Set of toiletries
Mobile phone and charger