The Valley of the Kings from Blois to Tours
Passing by Amboise and Chenonceaux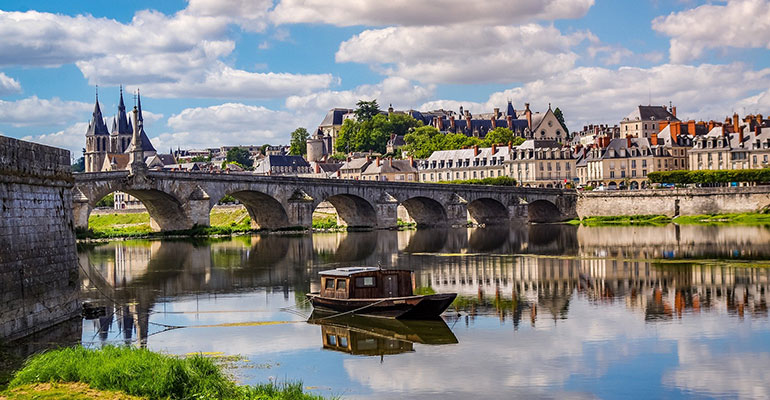 Highlights
The castles of the Loire by bike: Chambord, Chenonceau, Amboise ...
Flat courses along the Loire
The vineyards of Touraine: Montlouis, Vouvray ...
The beautiful cities of Blois and Tours
The residences of the majesty
Leaving from Blois, come and discover the "Loire Valley", with inexhaustible mysteries and secrets that we have discovered.
The Loire tinted gold by the sky's reflection, where the sun comes to dive, the light, the breeze, the calm, this restrained impetuosity is there, the sign of a big and beautiful river. It is not by chance that this region was called by our ancestors the "Garden of France", so let yourself be guided through the parks and castles, in this flat, cool and green country. The valley, deceived by the undulations of the ground which blur the horizon, seems infinite.
From castle to castle, Blois, Amboise, Chambord, Cheverny, Chenonceaux, so many opportunities to enter the most beautiful residences of the majesty!
In the footsteps of François I, Joan of Arc or Leonardo da Vinci, this is much more than a bike trip, it's a journey back in time. Stages that take you to the heart of the great cities of the valley, allow you to understand part of the history of France. A trip to the land of kings, queens and artists who made our history!
Discover all our cycling trips for the Loire valley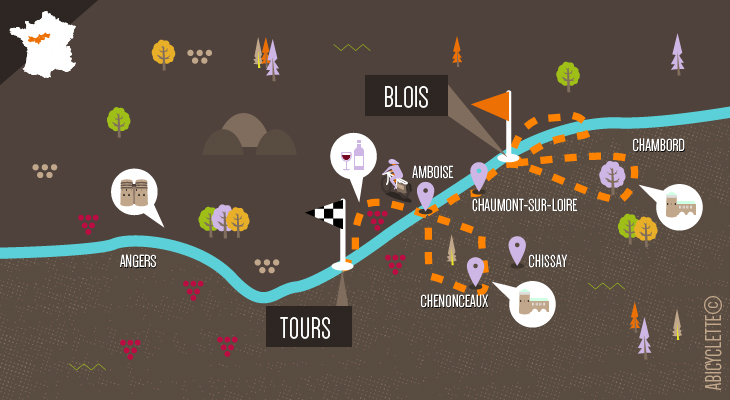 Leisure
FROM BLOIS, LOIRE LOOP
39km
254m
A smooth loop, along the longest river in France. You ride along its banks and enjoy heritage of the Loire. First architectural, that you enjoy thanks to small villages such as Cour-sur-Loire; then natural which is expressed mainly by the many birds that are indivisible from the majestic river. Back on Blois, lose yourself in its narrow streets. Discover its castle, its churches, its houses, its gardens, organized like an amphitheater on a rock. A bourgeois city with a staircase of streets where at the top near the cathedral you will appreciate the panorama of the surrounding countryside and forests.
Briefing Orientation
Before your first ride, we invite you to meet one of our guides, at your place of departure. A time of exchange, a privileged moment to give you our last practical tips, must-see places and experiences, to answer all your questions, take care of your bike fitting to begin your trip.
FROM BLOIS, CHAMBORD LOOP
48km
139m
A bike loop to Chambord Castle and its forest park. You will leave Blois to ride on royal paths. They will lead you straight to the four towers of this impressive castle, built as a hunting lodge for Francis I. From the Renaissance to the Empire, let yourself be surprised by the historical richness of the place! Return to Blois.
From BLOIS to CHAUMONT SUR LOIRE
28km
71m
From Blois you observe the Loire weaving its way through the heart of the valley, look west, because this is your direction! Objective of this day: Chaumont-sur-Loire and its castle which hosts the famous international garden festival every year. You ride on the Loire à vélo route and pass through some villages where beautiful residences are hidden. Arrived at Candé sur Beuvron, you ride along the small stream of Beuvron and join the castle of Chaumont sur Loire.
For a few more km

48km

206m

Departing from Blois, you ride your bike in direction of the Russy forest estate. You pass near the castle of Beauregard, a former hunting lodge of François 1er. From here started a royal alley of 15 km leading directly to Chambord. You then join the castle of Cheverny, inhabited by the same family for more than 6 centuries, you can visit the castle, its gardens, its labyrinth and its Tintin exhibition in 3D. You continue your day by bike towards the castle of Chaumont sur Loire.
From CHAUMONT SUR LOIRE to AMBOISE
22km
100m
A day to wonder along the Loire by bike.You arrive in Amboise, city of Leonardo da Vinci.His last home, the Clos Lucé, and the royal castle make this a city of character where it is pleasant to stroll through its alleys or on the quays
FROM AMBOISE, CHENONCEAUX LOOP
35km
217m
You leave the Loire riverbanks and head toward the south. Welcome in Touraine! Luxuriant, abundant and spiritual this is the land of Rabelais and Balzac Courier. In this Eden of fine food, let yourself be tempted by local dishes and spirits … In Chenonceaux, take time to enjoy its famous castle (the same name without an X). Built in 1513, it is one of the most beautiful of the Loire Valley.
For a few more km

59km

318m

After your visit to the castle of Chenonceau, enjoy a few more kilometers on your route to reach the medieval city of Montrichard. A small beach is laid out in the summer if you want to go for a swim. Return to Amboise by small country roads.
From AMBOISE to TOURS
28km
125m
You leave Amboise by its hillsides. Take the opportunity to taste a few Touraine wines, or simply learn more about the wine making. This day leads you to the old city of Tours, capital of the Loire castles. Take time to discover the fifteenth century wooden houses still present here; they share beautiful bits of history…
For a few more km

50km

295m

In this version, you can compare the vineyards of Montlouis and Vouvray. After the vineyards of Montlouis, you cross the Loire to reach Vouvray and the Château of Jallanges. Ride along the Loire on the Vouvray side to reach Tours.
FROM TOURS, VILLANDRY LOOP
40km
100m
You leave the city of Tours quickly and easily by cycling the Loire à vélo route. On this portion of the route you follow the Cher river along a dedicated cycle path. Only a few fishermen, cyclists and birds will be found on your way. Halfway, take the opportunity to enjoy Savonnières for a coffee break and perhaps a swim on the beach … You will then discover the exhilaration of colors and the beauty of the gardens of the Château de Villandry. A dip in the heart of the 16th century that will not leave you indifferent! Peacefully, you return to Tours.
For a few more km

65km

296m

For the more fit, after visiting the Château de Villandry, you branch off towards the town and the Azay le Rideau castle and town while crossing the Tours countryside. Your return to Tours is by a beautiful bike route along the mill road on the edge of the Cher.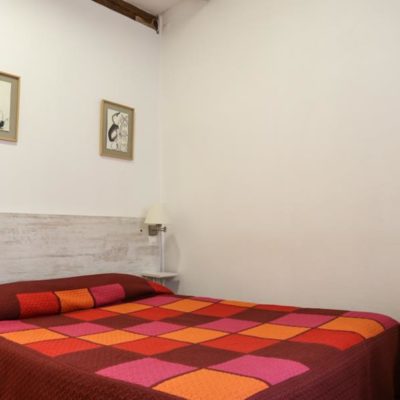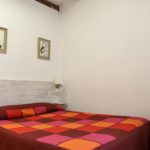 Essential Range
You want to enjoy your itinerary without anything fancy. Our "essential" range offers a simple accommodation for a good night's rest in a simple hotel, guesthouse, rest house or hostel.
---
Starting from 615€/participant in Self Guided option | See detailed prices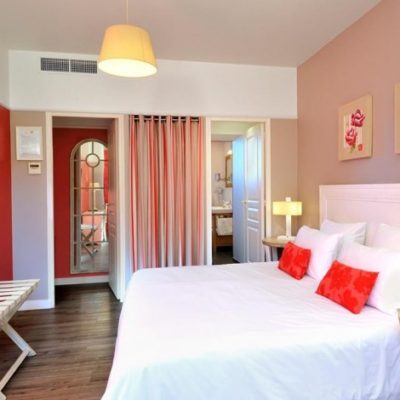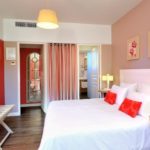 Comfort Range
Our quality standard at Abicyclette. This type of accommodation includes 2 and 3 stars hotels. Depending on the itinerary, you might spend some nights in approved guesthouses. You enjoy a double bedroom with private bathroom and toilet and adapted welcome for you and your bikes.
---
Starting from 770€/participant in Self Guided option | See detailed prices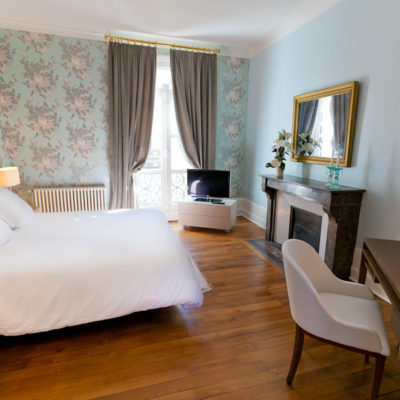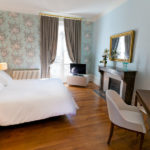 Privilege Range
Opt for total comfort in charming 3 and 4 star hotels which offer all the services you need and a special welcome for you and your bikes.
---
Starting from 1230€/participant in Self Guided option | See detailed prices
Price includes
Accommodation: 6 nights in a double room
6 breakfasts
Luggage transfer
Phone assistance
Application fee
Day 1 : Meeting with our guide in Loire Valley
A personalized greeting with our team at the beginning of the trip to receive your travel documents
Taxes
The trip itineraries available on the following supports:

Loan of a Bicycle GPS uploaded with full itinerary of the trip
Topo maps
Cycling practical guide including restaurant recommendations for lunch & dinner
Price does not include
bike rental (see option)
Breakfast on day 1
Lunches
Dinners not included in "Price includes"
Drinks, visits & other personal expenses
---
Homemade and fully tested itineraries
Routes selected for their cycling and touristic interest entirely tested and away from traffic
Accomodations selected for their hospitality, atmosphere, services and quality meals
A flexible organisation to suit you needs and wishes: You choose the date you want to you leave on! We check the availability of each accomodation to make sure it is possible.
---
Close assistance
One of our guides greets you on your first day. He will hand out all the needed documents for the trip (hotel vouchers, maps of the area,GPS, practical guide), get you settled on your bikes (for rental bikes).
Phone assistance, you can reach the Abicyclette team whenever you need
A Luggage transfer service which respects your hours of rest (we pick them up after 10:00 and deliver them before 16:00)
---
Follow your itinerary anyway you like – modern, practical, traditional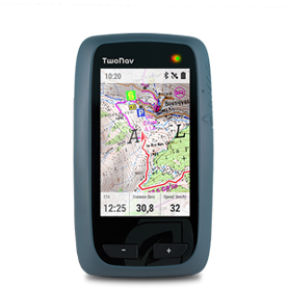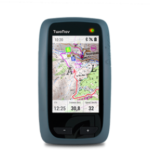 We loan you a GPS so that you can easily follow your itinerary without having to look for your way around (bike support included)
A practical cycling guide with all the useful information (addresses, highlights for the day, topo maps, and touristic information)
---
You can also
---
On our guided tours (for groups on demand), we accompany you every step of the way
One of our state qualified instructor and professional cycling guide accompanies you every step of the way
Full board (all meals covered unless asked otherwise)
A picnic buffet set up for lunch with a wide choice of fresh and local produce
We offer a high-end bike rental service. Our bikes are suited for road and gravel road long-distance cycling. Fully equipped and highly reliable, they are faithful travel companions.
---
Touring bike

A straight and easy going position

Supplied equipment per bike

1 helmet
1 back bag 20L (waterproof)
1 front bag 4L with plastic map holder (waterproof)
1 lock
1 repair kit (patches, tube, tire lever)
1 multi tools box
1 pump
1 bike computer
1 bottle

Trekking bike

A layed out and dynamic position

Supplied equipment per bike

1 helmet
1 back bag 20L (waterproof)
1 front bag 4L with plastic map holder (waterproof)
1 lock
1 repair kit (patches, tube, tire lever)
1 multi tools box
1 pump
1 bike computer
1 bottle

Ebike

With an autonomy of almost 120km, cycling has never been so easy!

Supplied equipment per bike

1 helmet
1 back bag 20L (waterproof)
1 front bag 4L with plastic map holder (waterproof)
1 lock
1 repair kit (patches, tube, tire lever)
1 multi tools box
1 pump
1 bike computer
1 bottle

Children Bike

20″ or 24″ bike

Bike trailer
Getting here
Departure city : BLOIS
Coming by car
at 2h from PARIS
at 4h from BORDEAUX
at 4h30 from LYON
Coming by train
Blois train station - 1h30 from Paris
Coming by plane
Arrival city : TOURS
Coming by car
at 2h30 from PARIS
at 3h30 from BORDEAUX
at 4h30 from LYON
Coming by train
Tours train station - 1h30 from Paris
Saint Pierre des Corps train station - 1h from Paris
Coming by plane
* Abicyclette Voyages accompanies you on demand, including transportation solutions.
How to get back to the starting point
By train from Tours to Blois in 35 min (hotline)
Private shuttle: see detailed fares or contact us
Recommended equipment
Bike
Trekking or hybrid bike
21 to 30 speeds
26 or 28 inch (700) wheels
Clothing and equipment
Helmet (included with the rental)
Clothing suitable for cycling
Warm jacket (eg fleece)
Rain proof jacket
1 pair of sunglasses
1 pair of cycling shoes
1 small backpack or panniers
1 or 2 water flasks (included with the rental)
1 lock (included with the rental)
Our reccomendation for optimal comfort:

1 pair of gloves
1 special pair of pants (shammy leather)
1 night see fluorescent vest
Bike maintenance
Emergency repair kit: 2 or 3 tubes, patches, pump, tire levers, multi-tools
Daily use kit: cloth, brake pads, oil
Other
Suitcase for transporting personal effects in luggage transfers (limited to one per person when possible)
Change of clothes for the evening
Warm jacket for the evenings
Set of toiletries
Mobile phone and charger