The Vélomaritime route in 10 days
From Roscoff to the Mont Saint-Michel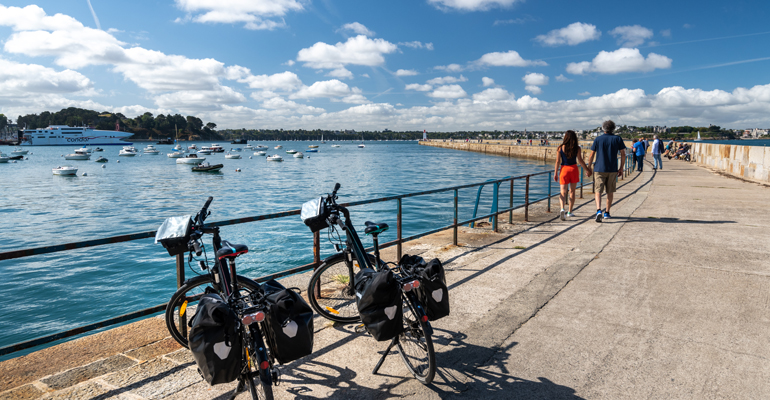 Highlights
A wild and diversified coast: Emerald Coast, Pink Granite Coast
Typical ports: Cancale, Erquy, Paimpol, Roscoff
Towns with character: Saint-Malo, Tréguier, Dinard
Hilly yet very accessible and enjoyable countryside roads
Signpost itinerary
An epic cycling tour in Brittany by the Velomaritime route
The Vélomaritime from Roscoff to the Mont Saint-Michel in 10 days
The Vélomaritime, a cycling itinerary opened in June 2013, offers a unique adventure over more than 1200 km on both sides of the English Channel, with a wide variety of coastal landscapes. This secured and signpost path mixes small roads and greenways. The itinerary sometimes offers steep climbs, but they are worth it. The easier days will give you time to relax and enjoy the beautiful scenery, culture and way of life of each country.
On the Brittany part, you will enjoy:
– Pink Granite Coast and its excpetional natural sculptures
– Attractive ports which have preserved their authenticity: Paimpol, Erquy, Binic, Saint-Malo, Cancale…
– Towns and villages with charm and character: Tréguier, Dinard, Mont-Dol…
– Cap Fréhel, one of the most beautiful natural sites with its craggy cliffs plunging into the sea
– Emerald Coast with its magical colors from Cap Fréhel to Cancale
– Mont Saint-Michel, classified as world heritage by Unesco
This trip can be done in small portions or in its totality. It can be extended by its Norman and/or English part. You can also check out the easy version of the "Vélomaritime" :
– La Vélomaritime – version facile
Enjoy a few glimpses of this trip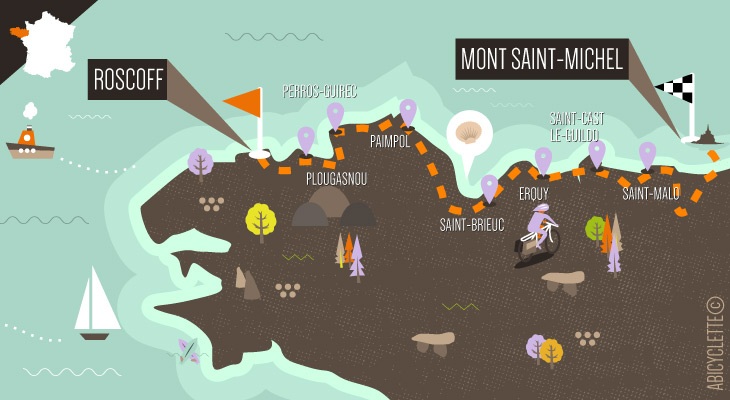 Fit
ROSCOFF
Arrival in Roscoff. You meet with our guide at your hotel for an orientation meeting. If you arrive early enough, take a boat to ile de Batz.
Meeting with our local guide
Before your first ride, we invite you to meet one of our guides, at your place of departure. A time of exchange, a privileged moment to give you our last practical tips, must-see places and experiences, to answer all your questions, take care of your bike fitting to begin your trip.
From ROSCOFF to PLOUGASNOU
62km
722m
This route starts in the Breton grove: small roads, lined with high hedges and stone walls. You bypass the bay of Morlaix and cross the city of the same name. Along the coast you reach the Cairn of Barnenez, one of the highest in Europe, which bears witness to a very old human presence! The colors and scents that surround you, make it easy to understand the settlement of men here.
From PLOUGASNOU to PERROS-GUIREC
63km
686m
Close to the sea, you ride along the most beautiful beaches of the pink granite coast. The "Croix de Mi-lieue" cross stands on the On Saint-Michel shore in the middle of the huge beach, Knocked down in 1944, it was found and replanted in May 1993 on the edge of what was long ago the only possible passage to reach Saint-Effla. The "Grand Rocher", a shy granite overhang towards the sea, marks the border of the Plestin territory. The small port of Locquirec welcomes you for a beautiful evening.
For a few more km

79km

862m

Follow the coast towards Trébeurden and be sure to stop to contemplate the view from the tip of Bihit to Trébeurden.
From PERROS-GUIREC to PAIMPOL
52km
378m
The route takes you to Tréguier by the small bucolic roads of the Breton countryside. The route of the Vélomaritime offers some greenways that soften a hilly landscape.The small city of character Tréguier charms visitors thanks to its rich historic architecture. You cross the Jaudy and enjoy small country roads and bicycle facilities on the former railway line of the Côtes du Nord. As you approach the broad valley of the Trieux, you enter Lézardrieux, perched on the edge of the estuary. After crossing the surrounding Paimpol countryside, you enter one of the most lively and colorful ports in the English Channel.
For a few more km

71km

625m

On this longer version, you ride by the coast towards la pointe du chateau between Tréguier and Tréguignec.
From PAIMPOL to SAINT-BRIEUC
65km
786m
On the cliffs of Goëlo, you ride along the sea. Indeed the course takes you by the scenic route to the craggy cliffs of Plouha. A most enjoyable way to admire the beauties that the channel offers you. You join the charming little port of Binic and the coast of Penthièvre, carved, hammered, by the incessant chisels of the tides. You go back to the historic center of Saint-Brieuc for a night of history and discovery.
From SAINT-BRIEUC to ERQUY
40km
419m
You leave Saint-Brieuc by taking the old railway line (the little train of the northern coast). You descend in the cove of Yffiniac where a museum tells the story of the railway in Brittany. The latter has left an exceptional heritage restored for bicycles today (viaduct, tracks dug in the rock …). The cove of Yffiniac represents the bottom of the bay of Saint-Brieuc. A marsh landscape offers a natural reserve to enjoy many species of birds. You follow a steep coast before reaching the small port of Dahouët. The colors of the boats mix with each other to offer nice reflections on the water. You cross the seaside resort of Pleneuf Val-André, the opportunity to enjoy a well-deserved ice cream! There are still some beautiful hilly coastal roads before reaching the port of Erquy and its beach.
From ERQUY to SAINT-CAST-LE-GUILDO
38km
336m
The cycle itinerary marked "Vélomaritime", leads you by pathways and bike paths to Cape Fréhel. On the cliffs, 70m above the sea, you witness the unreeling of a grandiose landscape. The area leading to the Cap Fréhel lighthouse is protected. It's made up of heather moors, gorse, broom and ferns, all contributing to a beautiful mix of colors. After the lighthouse you visit the fort of La Latte built on the coast overlooking the sea. The fort is a filming location for several famous films because its exceptional location is as interesting as its state of conservation and renovation. You go around the beautiful bay of Fresnaye where you can meet some oyster farmers at work. The arrival in Saint-Cast allows you to enjoy a beautiful beach for swimming. The family resort is lively all summer!
From SAINT-CAST-LE-GUILDO to SAINT-MALO
39km
338m
On small hilly roads your route takes you into the bucolic Breton countryside. After the peninsula of Saint-Jacut de la mer which deserves a small detour, you quickly reach Trémereuc. There, an old railroad track, redeveloped into a greenway allows you to easily reach the city of Dinard. On the port your boat awaits you to join Saint-Malo.
From SAINT-MALO to MONT-SAINT-MICHEL, [VIA LA VÉLOMARITIME]
62km
124m
Your route runs along the Emerald Coast and the Bay of Mont Saint-Michel. Between land and sea your path takes you to meet local producers: Oyster farmers, mussel farmers, breeders… As many specialties as you can enjoy throughout your stay.
After tying your bike to the foot of Mont Saint-Michel, hop on the shuttle that takes you there. Another small walk to reach the surprising abbey, classified as a UNESCO World Heritage site.
MONT-SAINT-MICHEL
It's the end of your stay after breakfast. You are able to enjoy a morning to visit to the Abbey which sits at the top of the Mount!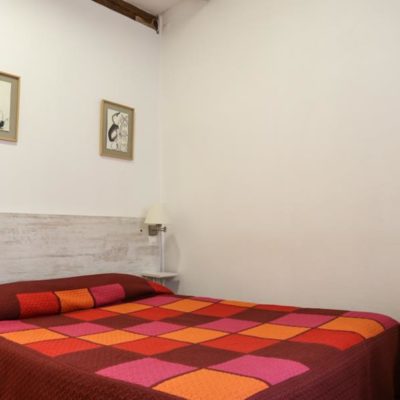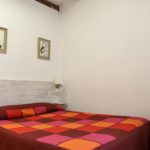 Essential Range
You want to enjoy your itinerary without anything fancy. Our "essential" range offers a simple accommodation for a good night's rest in a simple hotel, guesthouse, rest house or hostel.
---
Starting from 1435€/participant in Self Guided option | See detailed prices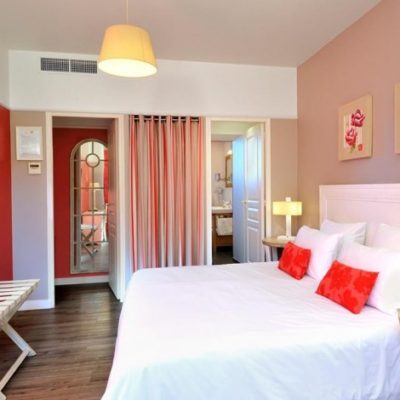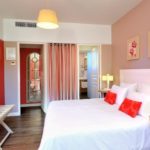 Comfort Range
Our quality standard at Abicyclette. This type of accommodation includes 2 and 3 stars hotels. Depending on the itinerary, you might spend some nights in approved guesthouses. You enjoy a double bedroom with private bathroom and toilet and adapted welcome for you and your bikes.
---
Starting from 1505€/participant in Self Guided option | See detailed prices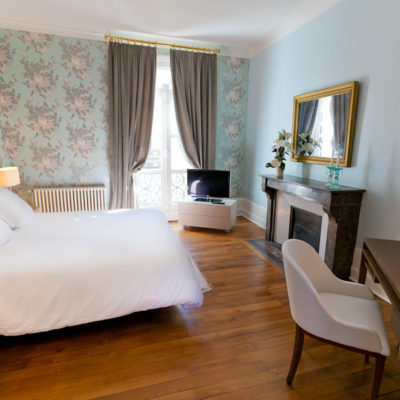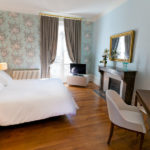 Privilege Range
Opt for total comfort in charming 3 and 4 star hotels which offer all the services you need and a special welcome for you and your bikes.
---
Quote on request | Contact us
Price includes
Accommodation: 9 nights in a Double room
9 breakfasts
1 dinner
Luggage transfer
Phone assistance 24/7
Access to our exclusive travel application to follow your route, inform you about places of interest, restaurants, facilitate your assistance in case of emergency, find all your travel documents and our practical advice.
Application fee
Taxes
Boat transfer from Dinard to Saint-Malo
The itinerary trackable on the following supports:

Loan of a Bicycle GPS uploaded with full itinerary of the trip
Topo maps
Cycling practical guide including restaurant recommendations for lunch & dinner
Additional services included:
Jour 1 : A personalized greeting with our team at the beginning of the trip to receive your travel documents
Jour 8 : Sea crossing - DINARD - SAINT-MALO
Price does not include
bike rental (see option)
Breakfast on day 1
Lunches
Dinners not included in "Price includes"
Drinks, visits & other personal expenses
---
Homemade and fully tested itineraries
Routes selected for their cycling and touristic interest entirely tested and away from traffic
Accomodations selected for their hospitality, atmosphere, services and quality meals
A flexible organisation to suit you needs and wishes: You choose the date you want to you leave on! We check the availability of each accomodation to make sure it is possible.
---
Close assistance
One of our guides greets you on your first day. He will hand out all the needed documents for the trip (hotel vouchers, maps of the area,GPS, practical guide), get you settled on your bikes (for rental bikes).
Phone assistance, you can reach the Abicyclette team whenever you need
A Luggage transfer service which respects your hours of rest (we pick them up after 10:00 and deliver them before 16:00)
---
Follow your itinerary anyway you like – modern, practical, traditional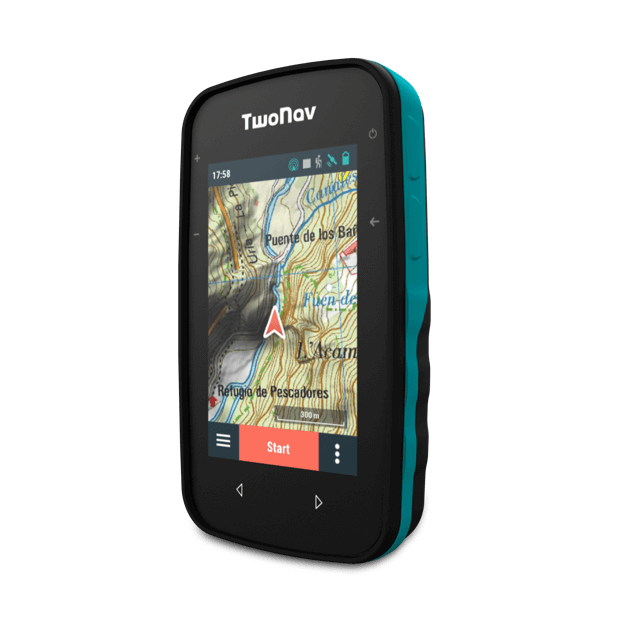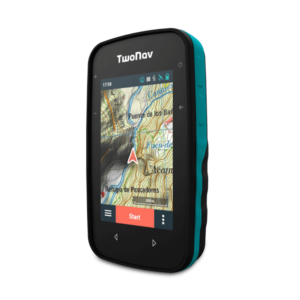 We loan you a GPS so that you can easily follow your itinerary without having to look for your way around (bike support included)
A practical cycling guide with all the useful information (addresses, highlights for the day, topo maps, and touristic information)
---
You can also
---
On our guided tours (for groups on demand), we accompany you every step of the way
One of our state qualified instructor and professional cycling guide accompanies you every step of the way
Full board (all meals covered unless asked otherwise)
A picnic buffet set up for lunch with a wide choice of fresh and local produce
We offer a high-end bike rental service. Our bikes are suited for road and gravel road long-distance cycling. Fully equipped and highly reliable, they are faithful travel companions.
---
Trekking bike

A layed out and dynamic position

Mixed aluminum frame, telescopic fork. Straight handlebars. Disc brakes. Transmission Shimano 24 to 30 speeds.

Supplied equipment per bike

1 helmet
1 back bag 20L (waterproof)
1 front bag 4L with plastic map holder (waterproof)
1 lock
1 repair kit (patches, tube, tire lever)
1 multi tools box
1 pump
1 bike computer
1 bike water bottle

Touring bike

An upright and easy going position

Mixed aluminum frame, telescopic fork. Straight handlebars. Disc brakes. Transmission Shimano 24 to 30 speeds.

Supplied equipment per bike

1 helmet
1 back bag 20L (waterproof)
1 front bag 4L with plastic map holder (waterproof)
1 lock
1 repair kit (patches, tube, tire lever)
1 multi tools box
1 pump
1 bike computer
1 bike water bottle

Ebike

With an autonomy of almost 120km, cycling has never been so easy!

Supplied equipment per bike

1 helmet
1 back bag 20L (waterproof)
1 front bag 4L with plastic map holder (waterproof)
1 lock
1 repair kit (patches, tube, tire lever)
1 multi tools box
1 pump
1 bike computer
1 bike water bottle

Children Bike

Recommended bike size (to be confirmed when booking) :

16 inches from 105cm to 120cm (or 6 to 7 years old)
20 inches from 120cm to 135cm (or 7 to 10 years old)
24 inches from 135cm to 145cm (or 10 to 12 years old)
SPORT XS bike (adult frame) from 145cm to 155cm (from age 10)

Supplied equipment per bike

1 helmet
1 inner tube
1 bike water bottle

Bike trailer

Thule Chariot Cross 2
Children's trailers can only be rented for installation on one of our bikes.
We do not provide this service on any other bike. There is too much risk of incompatibility and breakage.
Por one or 2 children.
Max child trailer load: 45kg.

Supplied equipment per bike

1 helmet (or 2 if 2 kids)
1 inner tube
1 bike water bottle (or 2)
Accessories on request: baby hammock. A padded hammock that supports baby's sides and offers maximum stability (1 to 10 months). Use only the newborn hammock for walking.
Getting here
Departure city : ROSCOFF
Coming by car
at 5h30 from PARIS
at 6h from BORDEAUX
at 8h from LYON
Parking*
Parking Quai d'Auxerre – ROSCOFF
Parking Quai (Harbor) – ROSCOFF
Parking de l'École – ROSCOFF
Parking de la Gare – ROSCOFF
Coming by train
Morlaix train station - 3h30 from Paris
Rennes train station - 1h30 from Paris
Coming by plane
Arrival city : MONT-SAINT-MICHEL
Coming by car
at 3h from PARIS
at 5h30 from BORDEAUX
at 7h from LYON
Coming by train
Pontorson train station - 3h30 from Paris
Coming by plane
* Abicyclette Voyages accompanies you on demand, including transportation solutions.
How to get back to the starting point
By train from Pontorson to Roscoff in 4h45
Return by car in 2h45 to your starting point ?
Private shuttle: see detailed fares or contact us
Recommended equipment
Bike
Trekking or hybrid bike
21 to 30 speeds
26 or 28 inch (700) wheels
Clothing and equipment
Helmet (included with the rental)
Clothing suitable for cycling
Warm jacket (eg fleece)
Rain proof jacket
1 pair of sunglasses
1 pair of cycling shoes
1 small backpack or panniers
1 or 2 water flasks (included with the rental)
1 lock (included with the rental)
Our reccomendation for optimal comfort:

1 pair of gloves
1 special pair of pants (shammy leather)
1 night see fluorescent vest
Bike maintenance
Emergency repair kit: 2 or 3 tubes, patches, pump, tire levers, multi-tools
Daily use kit: cloth, brake pads, oil
Other
Suitcase for transporting personal effects in luggage transfers (limited to one per person)
Change of clothes for the evening
Warm jacket for the evenings
Set of toiletries
Mobile phone and charger