The Alsace wine road cycle route - 7 days
From Colmar to Strasbourg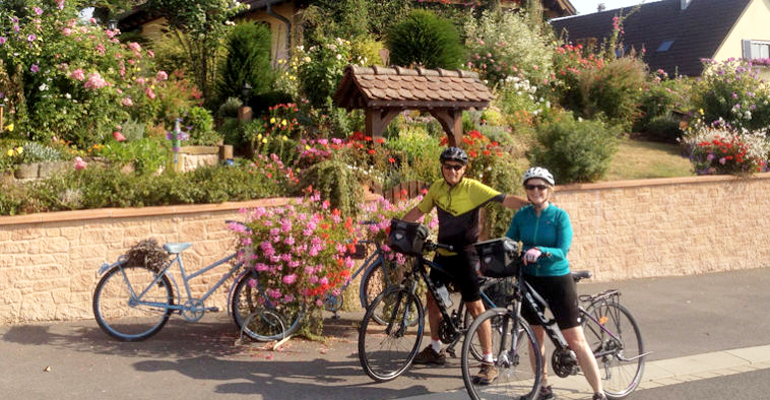 Highlights
The most beautiful villages of Alsace
The Alsace wine road from Colmar to Strasbourg
Shorter and longer options each day
Cycling the alsace wine road
Alsace bike territory and an exceptional vineyard
Alsace is famous throughout France for its floral decorations, Christmas markets and vineyards. Now it's time for the reputation of its bike routes to gain ground. Alsace has one of the most dense network of green ways and bike lanes in France, offering a great playground for cyclists. It has all the ingredients make your cycling trip a success : narrow quiet bike paths crisscrossing small hills, a rich gastronomy to discover, a range of excellent quality wines, a climate protected by the nearby mountains of the Vosges and a rich historical culture.
You discover, on the wine route from Colmar to Strasbourg, the heart of Alsace. You cycle through villages, each more charming than the next, under the dominant gaze of the green mountains of the Vosges on one side and the plain of Alsace on the other. On the road, you stop to enjoy some local "Bretzels". Later, you knock on the door of a winemaker who welcomes you with a beautiful Alsatian accent and invites you to discover Alsatian wines such as a Riesling or a fresh and sweet Gewurztraminer.
The many half-timbered houses and church steeples punctuate your visits to villages such as Eguisheim, Kaysersberg, Riquewihr, Obernai, Itterswiller, etc … Cars no longer have a place in Alsatian villages, to the delight of cyclists !
Restaurants featuring Alsatian cuisine such as Sauerkraut, meats, flambé pies ("Flamenkuch" if you want to speak like a local), cakes, garnish the hearty plates. It is not uncommon to not finish them!
Fortunately your cycling rides offers you a way to eliminate the excesses of the table!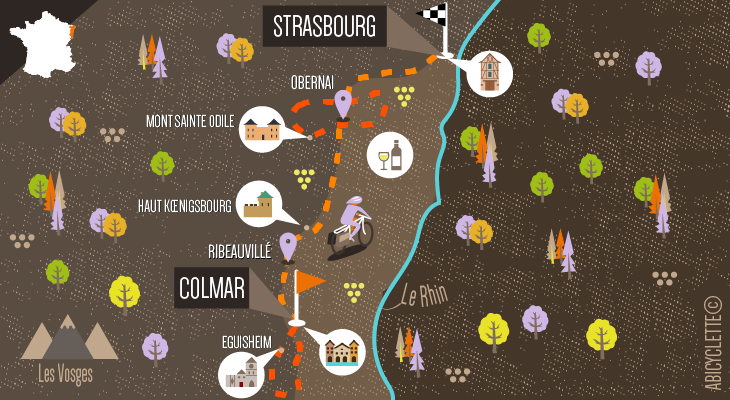 Leisure or
Fit
COLMAR
Meet your guide at the hotel in the late afternoon. Take advantage of the rest of your day to discover the city of Colmar.
COLMAR EGUISHEIM LOOP
25km
130m
An easy loop ride to take the time to enjoy Eguisheim, one of the most beautiful villages of France and one of the most famous in Alsace. 
For a few more km

45km

390m

Before going to Eguisheim, you rie your bike in the south direction to Ruffac. On you way back to Colmar, you take a short climb to reach Hussereau les chateaux and admire the impressive panoramic view from this village. You ride between chateaux, vineyards, short hills and scenic view to the Vosges mountains.
From COLMAR to RIBEAUVILLE
35km
457m
First, you start south to discover Eguisheim. Then Cycle on the wine road from Colmar to Ribeauvillé, you cycle through these emblematic villages of the Alsace Wine Route. Kaysersberg, imperial city overlooked by the remains of his castle, Ammerschwihr, Riquewihr, ranked among the Most Beautiful Villages of France with its Dolder Towera and finally Ribbeauvillé, with its 3 chateaux overlooking the village and its many half-timbered houses
For a few more km

63km

756m

On this longer version, after your visit of the village of Eguisheim, your ride to the most famous cheese area of the Vosges mountain region: Munster. Rounded summits, thatched farms and glacial lakes make up the varied landscape of the Munster Valley.
From RIBEAUVILLE to OBERNAI
48km
705m
Today, you follow the route of the "Alsace wine route". You meet many winegrowers along your journey. The occasion for a gourmet, friendly and enthusiast tasting. Your ride follows the hillsides among the vineyards and you cross many beautiful villages like Orschwiller, Kintzeim or Dambach. The village of Itterswiller is undoubtedly one of the most interesting stops with an architectural heritage typical of Alsace.
For a few more km

61km

1238m

This longer option involves a challenging climb to the Haut-Koenigsbourg castle. It is a rewarding climb of 17km for 500m elevation.Since its construction in the 12th century, the Haut-Koenigsbourg castle has been a constant witness to both European conflicts and rivalry between lords, kings and emperors. Its strategic position, quite easy to defend in former times, now provides visitors with an exceptional panoramic view over the Alsace plain, the Vosges Mountains, the Black Forest and even -on a clear day- the Alps.
OBERNAI
33km
250m
This varied itinerary takes you to the plains of Alsace and through some picturesque villages such as Ottrot, Rosheim. A relatively short day of cycling to fully have the time to enjoy Obernai.
For a few more km

51km

725m

A rewarding climb takes you to Mont Saint Odile, a well-known spiritual center of Alsace located at an altitude of 753m. At Mont Sainte-Odile, you enjoy an extraordinary panorama and discover an exceptional natural and archaeological environment. Continue your ride to the Alsatian valley for a flatter ride through picturesque villages.
From OBERNAI to STRASBOURG
39km
150m
After a short passage through the vineyards along the Alsace wine route by bike, the road winds through the long Bruche valley. An easy, calm and flat ride takes you directly into the city center of Strasbourg. Strasbourg was one of the first cities in France to adapt to cycling and you will love riding in this city which accompanies your day beautifully.
STRASBOURG
End of your adventure in Strasbourg. If you want, you can extend your trip with an extra free day in Strasbourg.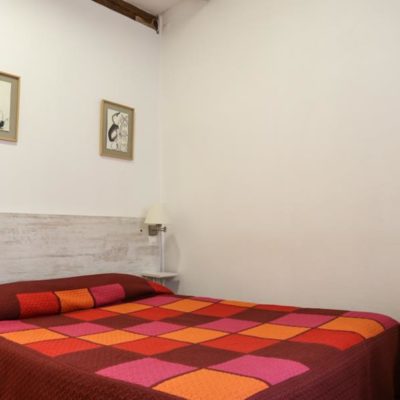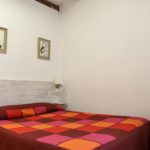 Essential Range
You want to enjoy your itinerary without anything fancy. Our "essential" range offers a simple accommodation for a good night's rest in a simple hotel, guesthouse, rest house or hostel.
---
Starting from 695€/participant in Self Guided option | See detailed prices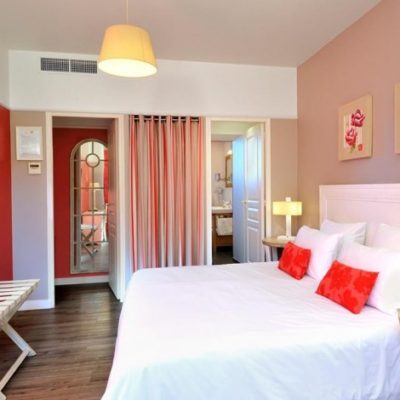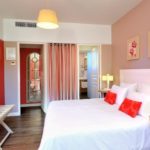 Comfort Range
Our quality standard at Abicyclette. This type of accommodation includes 2 and 3 stars hotels. Depending on the itinerary, you might spend some nights in approved guesthouses. You enjoy a double bedroom with private bathroom and toilet and adapted welcome for you and your bikes.
---
Starting from 815€/participant in Self Guided option | See detailed prices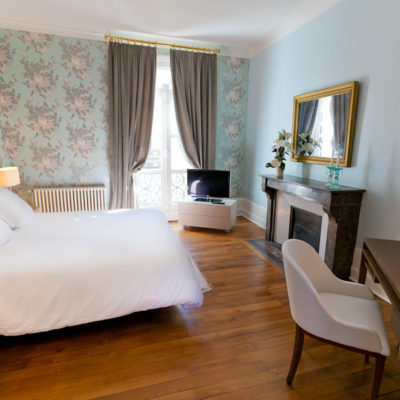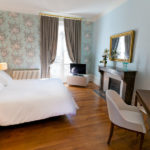 Privilege Range
Opt for total comfort in charming 3 and 4 star hotels which offer all the services you need and a special welcome for you and your bikes.
---
Starting from 1285€/participant in Self Guided option | See detailed prices
Price includes
Accommodation: 6 nights in a double room
6 breakfasts
Luggage transfer
Phone assistance
Application fee
Day 1 : Orientation by phone
Taxes
A personalized greeting with our team at the beginning of the trip to receive your travel documents
The itinerary trackable on the following supports:

Loan of a Bicycle GPS uploaded with full itinerary of the trip
Topo maps
Cycling practical guide including restaurant recommendations for lunch & dinner
Price does not include
bike rental (see option)
Breakfast on day 1
Lunches
Dinners not included in "Price includes"
Drinks, visits & other personal expenses
Repairs, spareparts and mileage allowance
---
Homemade and fully tested itineraries
Routes selected for their cycling and touristic interest entirely tested and away from traffic
Accomodations selected for their hospitality, atmosphere, services and quality meals
A flexible organisation to suit you needs and wishes: You choose the date you want to you leave on! We check the availability of each accomodation to make sure it is possible.
---
Close assistance
One of our guides greets you on your first day. He will hand out all the needed documents for the trip (hotel vouchers, maps of the area,GPS, practical guide), get you settled on your bikes (for rental bikes).
Phone assistance, you can reach the Abicyclette team whenever you need
A Luggage transfer service which respects your hours of rest (we pick them up after 10:00 and deliver them before 16:00)
---
Follow your itinerary anyway you like – modern, practical, traditional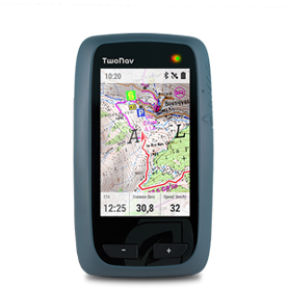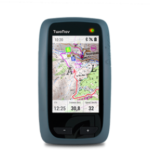 We loan you a GPS so that you can easily follow your itinerary without having to look for your way around (bike support included)
A practical cycling guide with all the useful information (addresses, highlights for the day, topo maps, and touristic information)
---
You can also
---
On our guided tours (for groups on demand), we accompany you every step of the way
One of our state qualified instructor and professional cycling guide accompanies you every step of the way
Full board (all meals covered unless asked otherwise)
A picnic buffet set up for lunch with a wide choice of fresh and local produce
We offer a high-end bike rental service. Our bikes are suited for road and gravel road long-distance cycling. Fully equipped and highly reliable, they are faithful travel companions.
---
Trekking bike

A layed out and dynamic position

Supplied equipment per bike

1 helmet
1 back bag 20L (waterproof)
1 front bag 4L with plastic map holder (waterproof)
1 lock
1 repair kit (patches, tube, tire lever)
1 multi tools box
1 pump
1 bike computer
1 bottle

Ebike

With an autonomy of almost 120km, cycling has never been so easy!

Supplied equipment per bike

1 helmet
1 back bag 20L (waterproof)
1 front bag 4L with plastic map holder (waterproof)
1 lock
1 repair kit (patches, tube, tire lever)
1 multi tools box
1 pump
1 bike computer
1 bottle

Children Bike

20″ or 24″ bike

Bike trailer
Getting here
Ville de départ : COLMAR
Venir en voiture
à 5h30 de PARIS
à 8h de BORDEAUX
à 4h15 de LYON
Venir en train*
Colmar train station - 2h45 depuis Paris
Venir en avion
Bâle airport
Strasbourg airport
Ville d'arrivée : STRASBOURG
Venir en voiture
à 4h45 de PARIS
à 9h de BORDEAUX
à 4h45 de LYON
Venir en train*
Strasbourg train station - 2h depuis Paris
Venir en avion
* Abicyclette Voyages vous accompagne à la demande, en incluant des solutions de transport.
Comment revenir au point de départ ?
Navette privée : voir les tarifs détaillés ou nous consulter
En train de Strasbourg à Colmar en 30 min (ligne directe)
Recommended equipment
Bike
Trekking or hybrid bike
21 to 30 speeds
26 or 28 inch (700) wheels
Clothing and equipment
Helmet (included with the rental)
Clothing suitable for cycling
Warm jacket (eg fleece)
Rain proof jacket
1 pair of sunglasses
1 pair of cycling shoes
1 small backpack or panniers
1 or 2 water flasks (included with the rental)
1 lock (included with the rental)
Our reccomendation for optimal comfort:

1 pair of gloves
1 special pair of pants (shammy leather)
1 night see fluorescent vest
Bike maintenance
Emergency repair kit: 2 or 3 tubes, patches, pump, tire levers, multi-tools
Daily use kit: cloth, brake pads, oil
Other
Suitcase (for transporting personal effects in luggage transfers)
Change of clothes for the evening
Warm jacket for the evenings
Set of toiletries
Mobile phone and charger