Marine discovers Périgord and Quercy by bike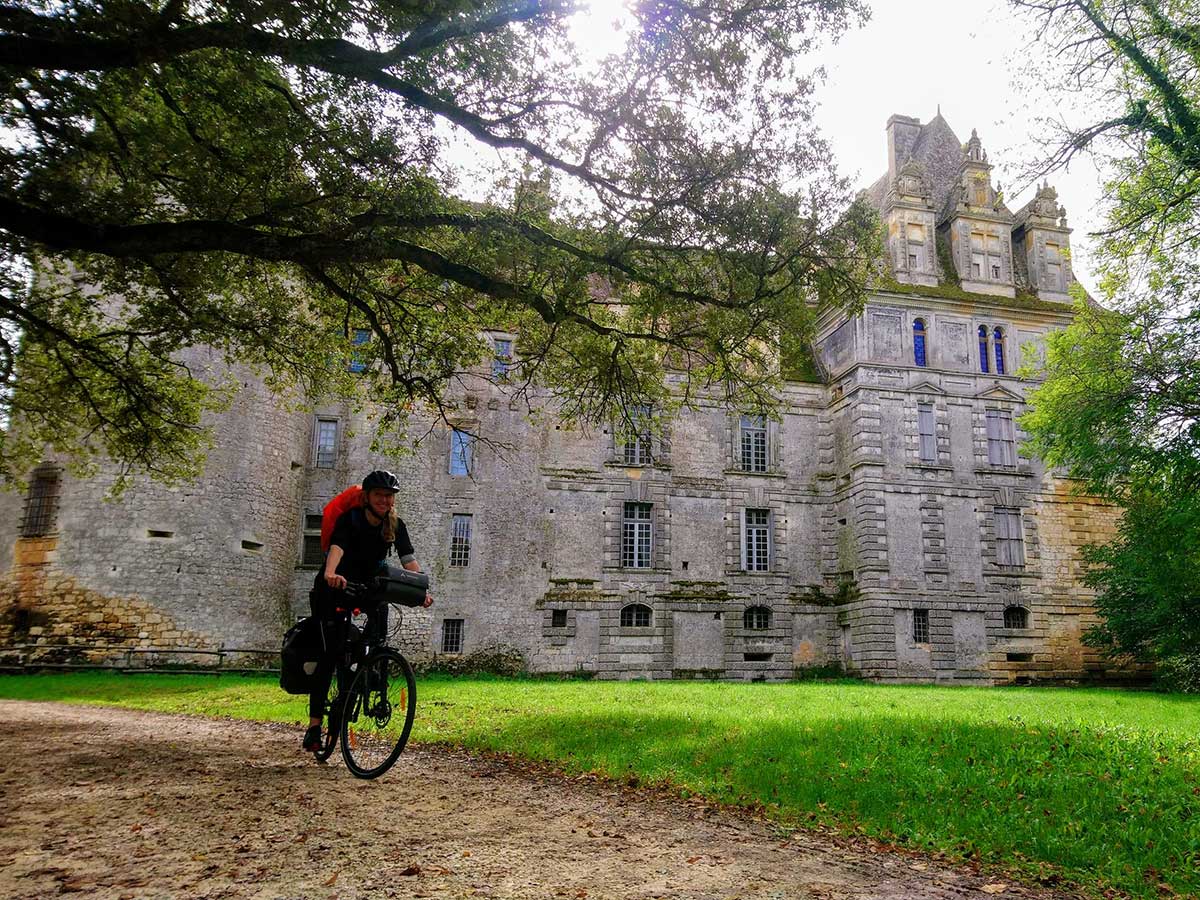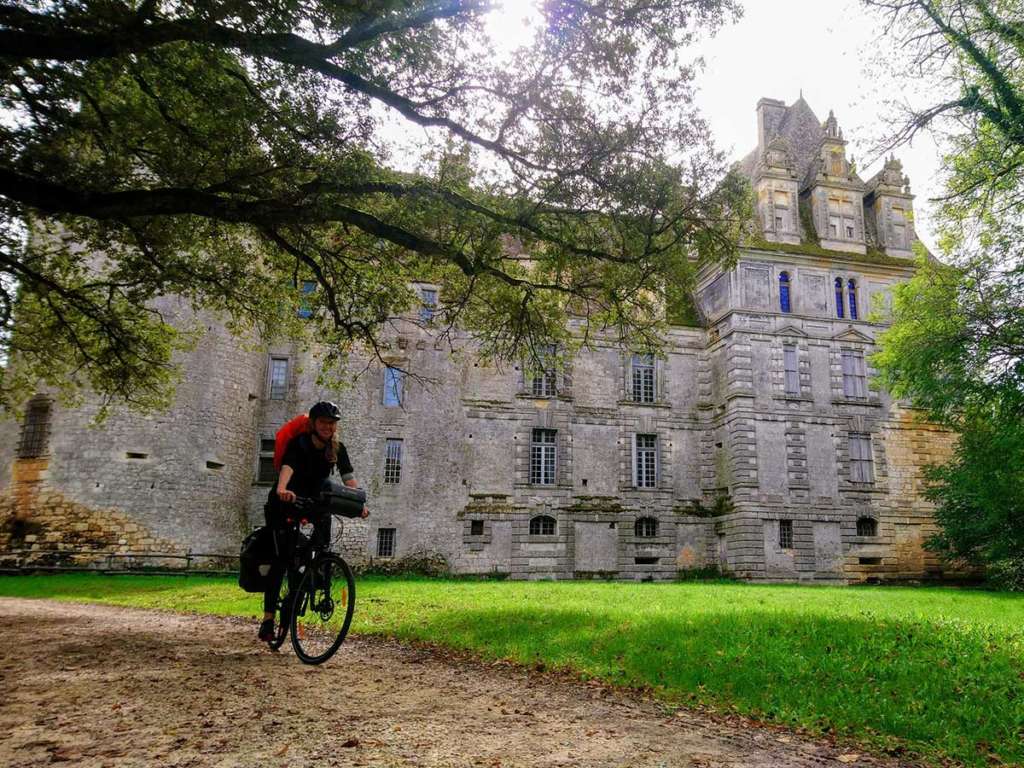 By Marine Hecquard, Travel Advisor in Abicyclette Voyages
At the beginning of autumn, I chose to go on a bike trip, discovering Périgord and Quercy through the Vézère, Dordogne and Célé valleys. Territories renowned for their gastronomy as well as their incredible natural, historical and cultural heritage. The Périgord and Quercy areas are full of many assets. And especially at this time of year. It is true that in the autumn, temperatures gradually drop, as does the light fall. The sun is scarce and often hides behind the clouds. But in addition to its often rainy and humid weather, autumn also offers a resplendent annual spectacle, both visual, through its flamboyant colors, and gustatory, with many local products.
So, equipped with my bike and full panniers, I set off on the hilly roads of Périgord and Quercy.
Black and purple Périgord: through the Vézère and Dordogne valleys by bike
Although I loved the whole trip, the first wheel spins along the Vézère remain one of my favorite memories. Cradle of Prehistory, this valley takes us back in the footsteps of the first men. I discovered many prehistoric sites and fabulous castles. The stream sets the pace for the ride and takes me to the heart of the Périgord Noir. From villages to authentic cities, I visit Montignac, located a few wheel lengths away from the famous caves of Lascaux, or Saint-Léon sur Vézère and Limeuil, two small villages classified among the most beautiful villages in France.

As drops go by – yes, autumn is here! – I immerse myself a little more in the decor and its relief. I ride between the river and limestone cliffs. The first – small – climb of my trip is exhausting. But the wonderful viewpoint it gives me in return is only the better. The path continues to Eyzies-de-Tayac, where I discover its incredible troglodyte architecture. I fall under the charm!
The crossing of Périgord continues towards Bergerac, capital of purple Périgord, between plains and hills. Since the start of my trip, nature has been omnipresent and impressive. Rivers, oak forests, limestone cliffs, plains, alleys of walnut and chestnut trees accompany my journey. A bucolic route where nature constantly surrounds us. How good it feels to breathe fresh air!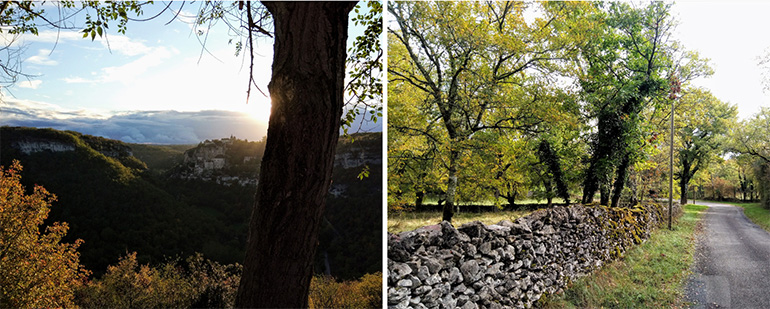 On the other side of the shore, the course seems more hilly and challenging, but accompanied by many small castles and villages of Perigord. Each one as wonderful as the next: Belvès, Beynac or Castelnaud-la-Chapelle… Then I arrive in Sarlat-la-Canéda, a city full of art and fabulous history where I have the pleasure of getting lost in its cobbled streets.
Beyond these magnificent landscapes and this exceptional heritage, this trip to Périgord and Quercy naturally brings me to meet its inhabitants and its exceptional products. At this time of year, visitors have deserted, giving way to narrow, almost empty alleys where you can enjoy walking. The locals welcome us warmly and kindly share their history and their specialties. A region where life is good, and where there is no shortage of quality products at this time of year. I try nuts, figs, grapes, foie gras, duck confit, goat cheese… so many dishes to (re) compensate the effort made on my bike. Clearly, happiness is everywhere, even on one's plate!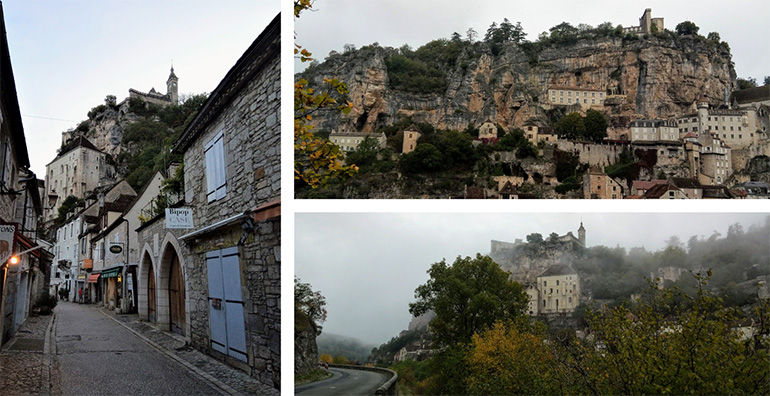 Le Quercy: Through the Dordogne and Lot Valley, by the Célé
The entrance to the Lot department is felt by a cooler and more humid climate. The oak forests have given way to a rather dry vegetation, free of trees and bordered by low stone walls.
Although motivation is at its max, each stage is still a bit more tiring than the previous one. But THE long-awaited moment of my trip has arrived: my encounter with Rocamadour! I don't know what made me most happy when I reached it:
1 – To admire the beauty of this medieval village,
2 – To have succeeded in reaching it on the strength of my legs.
I'm speechless, the photos will speak for themselves.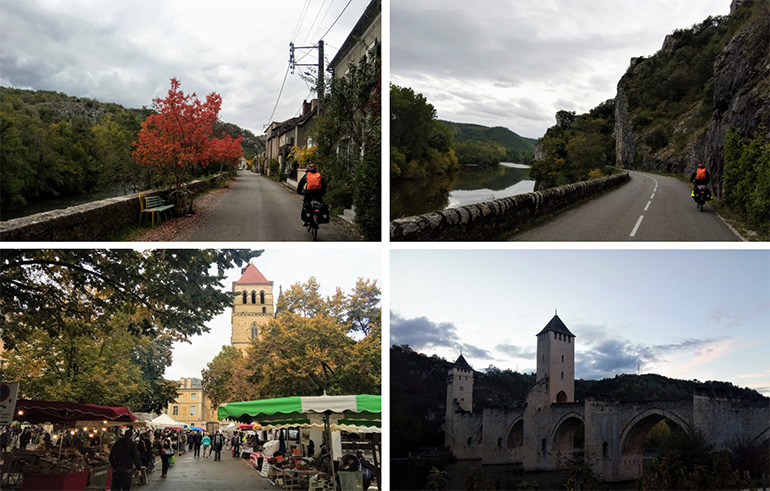 The wonder continues, and particularly between Figeac and Cahors. I decide to reach Cahors on the advice of a Figeac local, via the Célé Valley. Bordered by the river, I advance on undulating and deserted roads, watched over by tall grayish and white cliffs. This last route is relatively flat until the village of Saint-Cirq-Lapopie. Also a jewel from medieval times. We pause around a hot chocolate, then take the road back to Cahors and its fortified bridge, where my trip ends.
With a little more than 460 kilometers on the counter, I leave captivated, my head is full of memories (as are my legs). Despite a few moments of rain, cold and fatigue, I had a smile on my lips throughout the whole trip … Aren't these the joys of cycling?
Marine Hecquard