There are many documentaries on sport, travel or cycling. It is sometimes difficult to explore new cultures and distant lands. But today, thanks to new technologies, it is very simple to document and escape through magnificent reports. These allow you to discover corners of the planet that are still little known or to witness real sports exploits! Here are the documentaries that the members of the Abicyclette Voyages team appreciate and recommend.
Melons, Trucks & Angry Dogs by Ertzui Film
This documentary film retraces a human adventure on the Transcontinental Race with Recep Yesil and Erik Nohlin. One is slow and calm and wants to reach the end of the journey without pitfalls, while the other is fiery, rides fast and does not wait. We quickly understand that the race will not go as planned. Embellished with beautiful landscapes, this documentary film is very pleasant to watch. For Sébastien, we can discover in this documentary the soul of bike-travelling…
Melons, Trucks & Angry Dogs: Full Documentary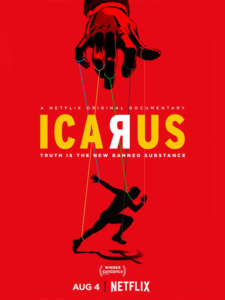 ICARUS by Bryan Fogel
Oscar for best documentary film in 2018. A word from the director: "At the start, I wanted to explore the way in which the doping system worked and not just in cycling but all sports. I wanted to show in front of the camera what doping is and what an athlete goes through when he takes drugs. You never see it. I was curious to find out how it worked, what these drugs do or do not do on your body, what it changed about your performance or not, if the system detected it." Fogel happened upon cycling thanks, in particular, to the three victories of his compatriot Greg LeMond at the Tour de France, the American director surrounded himself with different specialists to put together his ruse. For a time, he corresponded with Don Catlin, former director of the Los Angeles anti-doping laboratory and former collaborator of Lance Armstrong in 2009. The scientist will finally walk away from the documentary doubting the legality of his involvement in the project but not before introducing him to a friend and Russian colleague: Grigory Rodchenkov. A gift from heaven for the American director and his film which then takes another turn.
Movistar by José Larraza and Marc Pons
Sébastien loved this documentary mini-series which shows the underside of a great Tour de France team. Some great cyclists even make their appearance there as the world champion: Valverde! The series covers the 3 major cycling tours: the Tour de France, the Vuelta and the Giro. We see and feel a lot of emotions. We also discover the famous "error" in communication for which the Movistar has been so criticized on the Vuelta. Sébastien also greatly appreciated the interviews of certain racing cyclist with their families. And, finally, the images in this series are superb!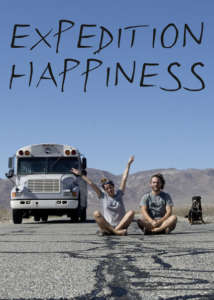 Expedition Happiness by Felix Starck
Once again, Felix Starck (already mentioned in our movie selection), makes us want to go on an adventure. In this documentary, Felix takes us on a new project: that of renovating a school bus to go on a road trip on American roads. From Alaska to Mexico, Felix and his partner Selima, take us everywhere with them and share with us their experience without filters. The main drawback of the school bus is that with such a length, getting around the big cities, but especially parking, turns out to be very complicated. Felix and Selima are forced to leave the cities and travel spaces proportional to the size of their vehicle. It doesn't seem to bother them, quite the contrary. It is in these great spaces that they find happiness. For Constance, this documentary is really worth it. In addition, the landscapes crossed during this trip are magnificent!
Expedition Happiness on Netflix.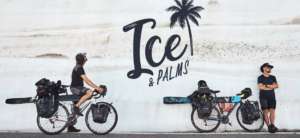 Ice & Palms by Jochen Mesle, Max Kroneck, Philipp Becker and Johannes Müller
The Germans Jochen Mesle and Max Kroneck, crazy about skiing, gave themselves a challenge: to cross the Alps in the South of Germany to Nice by bike, interspersing their journey with ski climbs. We follow them throughout 1800km of adventure, some mountain passes by bike and the others on skis until they arrive under the palm trees. Fabien loved following this extraordinary adventure between skiing and bikepacking!
We hope you enjoyed this selection. If you have any idea of ​​documentaries to watch, please let us know, we will share your findings.
You can also discover the selection of movies from the Abicyclette Voyages team.