The most beautiful regions to cycle in the sun in winter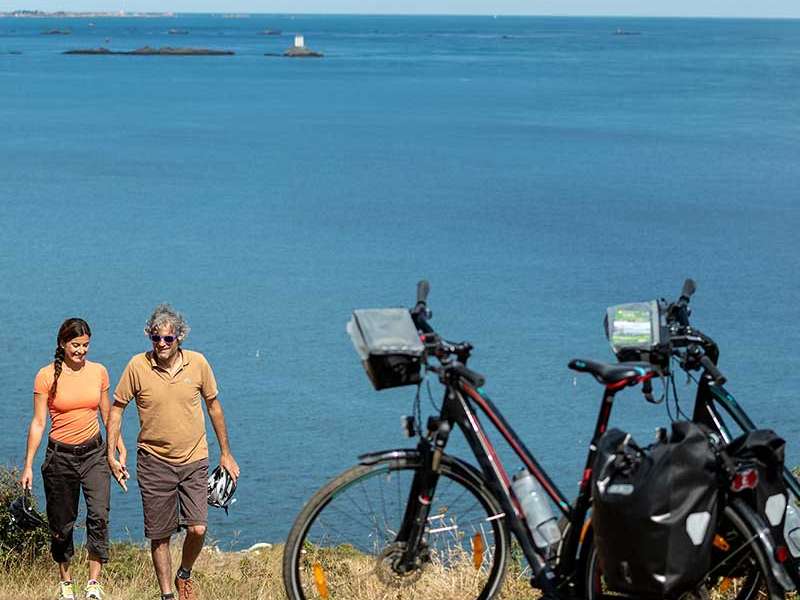 EV4©Emmanuel Berthier
Despite all our advice for cycling in the rain, do you still prefer to ride in the sun? Do the cold, rain and winter in general make you leave your bike in the garage? We have selected some destinations for you where you can cycle in the sun in winter.
In France, it's possible to escape the cold and rain and cycle in the sun in winter
Our advice to go to the Côte d'Azur or Provence will come as no surprise. Of course, you will have to dress in tights and keep your jacket, but in general, temperatures do not drop below 10°C in winter. These regions have a lot to offer culturally all year round. And winter offers a much lower tourist attendance than summer allowing you to discover of the region in peace.

Another French destination, but an island one this time: Corsica. The Isle of Beauty has rather mild temperatures with an average temperature of 14°C in January. Corsica offers you magnificent landscapes. Bring your raincoat anyway, because you may experience a few showers.
Southern Europe, must-go destinations
Europe is a very large continent. Endowed with very different climates. Southern European countries are ideal destinations to escape the winter cold and rain.
Italy, a pleasant destination for cycling in the sun in winter
Italy, and more particularly Tuscany, offers mild temperatures that can reach over 10°C during the day. Beautiful Italy enthralls with its history, the art of living of its inhabitants and its magnificent landscapes. Along the greenways or on the roads of Tuscany, cradle of the Renaissance, Italy invites you to take the time to enjoy the beautiful and good things in life. The many wine routes allow you to discover cities of art steeped in history. The local gastronomy does not fail to surprise your taste buds and to offer you gourmet stops throughout your stay.

Spain, an ideal country to escape the gloominess
Spain is a country much appreciated by Europeans and French. A very prized destination in summer, in winter, it parts with its tourists. Make the most of it, its climate remains mild and pleasant!
Catalonia and Costa Brava
This region of Spain is enjoyable in winter especially thanks to its good weather conditions and its average temperature of 16°C. This region is very popular with mountain bikers because it offers steep rocky paths and many sharp turns. It is also a beautiful region for road biking and cycle tourism in general. Indeed, many greenways will allow you to discover the riches of the region, its landscapes and its heritage. Catalonia also offers beautiful reliefs allowing athletes to ride on fun routes. On the Costa Brava, you will even have the chance to enjoy the beach at the end of the day.

Andalusia, an exotic and sunny region
Andalusia is THE ideal region for cycling in winter. With only 5 rainy days and an average temperature of 17°C in winter, it is a pleasant destination for cycling at this time of the year. It is also a very exotic region. From the mountains to the beach, between towns and villages, you ride on small empty roads. Take the time to discover the unique Arab-Andalusian architecture that the region offers.
The Canaries, between insularity and exoticism
Traveling by bike to the Canaries in winter ensures an average temperature of 20°C. In addition, on the island of Tenerife, many routes are ideal for cycling. You can also enjoy volcanic passes and magnificent landscapes. The island of Gran Canaria is full of routes just waiting for lovers of cycling and nature. The mountainous part of the island is also a true paradise for mountain bikers.
The Algarve region, in the south of Portugal
The Algarve region in the south of Portugal is sunny all year round. The temperatures are mild and easily reach 15°C during the day in January. In summer, this region of Portugal is taken over by tourists. Take advantage of winter to discover the charm and authenticity of this region, far from the hordes of visitors. Winding paths, hills or a flatter path by the sea, this region of Portugal lends itself to all levels of cycling.

Leave the north and join summer in the southern hemisphere
To escape the cold and the rain, you may also go to a country where it's already summer! Australia and New Zealand are calling you. Magnificent landscapes and warmth await you. You can also opt for destinations in Southeast Asia, where radiant sunshine and pleasant temperatures are waiting for you, as in Thailand, Vietnam, India or Sri Lanka. Nevertheless, avoid mountain regions (Nepal and Laos) where the nights are very cold.

Do you have any suggestions for destinations to cycle in the sun in winter? You have a bike trip project, contact our advisors!