La Vélodyssée - From Nantes to La Rochelle
The Atlantic cycling route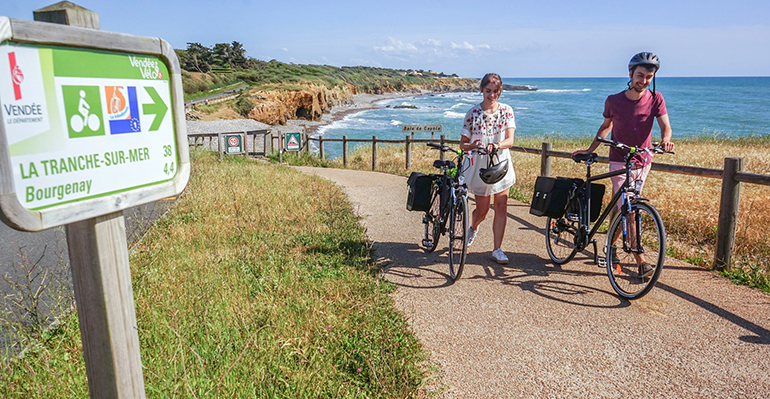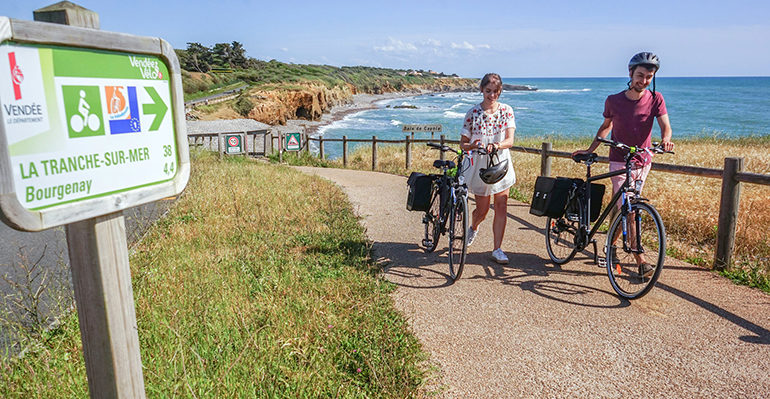 Highlights
A secured and signpost itinerary, mostly flat
Cycling along the Loire river and the city of Nantes
Beaches in Vendée
Islands of Noirmoutier, Yeu, Ré (optional)
Fishing ports and fresh seafood
La Rochelle, an artistic and historical city
La Vélodyssée route along the Atlantic coast
From one port to the next, discover the ones which made France's naval power in modern times.
After the English and Brittany part of the Vélodyssée here you are for the Atlantic section.  Only a few dozen kilometers by bike along the Loire and you reach the Atlantic beaches which you will follow for 6 days!
For those who had the chance to go to the sea in your early years this trip will remind you of your childhood holidays. The smell of warm sand, salty air, sea breeze and pine tree forests surround you on this recent greenway.
You cycle through authentic and unique landscapes, like the Breton marshlands in Vendée. You also stop in some colorful ports enlightened by their houses and fishing boats. Oyster and mussel farming are important activities and their products have earned a solid reputation.
The "Côte de Lumière", named Coast of Light for its long beaches lined with dunes, offers infinite possibilities during the day for cycling and a swim in the ocean. In the evening enjoy a seafood platter or potatoes from Noirmoutier to name only a few local delicacies.
La Vélodyssée is a 80% flat and fully signpost route, mostly on secured greenways. You can cycle it from top to bottom or in small portions, from 2 days to 3 weeks. Share your project with us. We can tailor a cycling trip on this great itinerary.
Get a sneak peak of La Vélodyssée :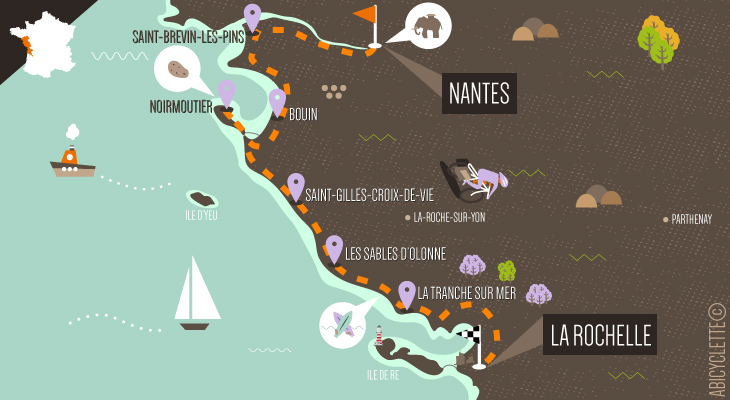 Fit
NANTES
Free arrival in Nantes.
Meeting with our guide in the evening.
Briefing Orientation
Before your first ride, we invite you to meet one of our guides, at your place of departure. A time of exchange, a privileged moment to give you our last practical tips, must-see places and experiences, to answer all your questions, take care of your bike fitting to begin your trip.
From NANTES to SAINT-BREVIN-LES-PINS
65km
194m
You leave Nantes by its island in the middle of the Loire. After crossing the second arm of the river, you reach the old neighborhood of Trentemoult. We recommend a first halt to explore the maze of alleys that allow you to enjoy beautiful colorful houses which is uncommon in the north west of France. You then cycle along the Loire river and reach Paimbœuf through the Canal de la Martinière. Flat roads make it easy to cycle to the ocean. You reach Saint- Brevin -les-Pins and the South Loire beaches. Breathe in the sea breeze!
From SAINT-BREVIN-LES-PINS to BOUIN
61km
161m
Your route finally takes you on the Atlantic coast and offers you beautiful views on the ocean. You cross the charming port of Pornic and continue south cycling between swamps and sea landscapes. In the heart of Breton swamp, you stop at and sleep in a 18th Century building in Bouin.
For a few more km

70km

200m

You can opt for a ride to the Pointe Saint-Gildas, an alternative to the official Vélodyssée route we recommend.
From BOUIN to NOIRMOUTIER EN L'ILE
34km
12m
Between the marshes and the sea your route passes by the oyster beds and crosses some charming ports. It's the opportunity to discover the oyster crafts and taste the fruit of their work! In the afternoon, you discover the shores of the island of Noirmoutier. A beautiful bike path makes the center of the island easy to reach by bike.
VIGILANCE: works on the cycle track of the Noirmoutier bridge. 3 solutions to make the crossing:
– ride on the shared lane limited to 50km/h ;
– push your bike on the pavement;
– go through the Gois passage if the tide allows it.
If the sea is low, take advantage of it to go through the flood plain called passage du Gois.
For a few more km

51km

46m

If the sea is high, you will continue your cycling trip on the bridge that connects the island to the mainland since 1971.
From NOIRMOUTIER EN L'ILE to SAINT-GILLES-CROIX-DE-VIE
64km
137m
There are a number of seaside resorts, all of which offer the possibility of swimming! By bike it is often easier to find secluded bays for swimming away from the crowds. You will reach the charming town of Saint-Gilles-Croix-de-Vie. The harbor offers a relaxing and lively stopover.
VIGILANCE : Work on the bike lane of the Pont de Noirmoutier. 2 solutions to allow the crossing:
The speed is limited to 50km/h;
Accelerate your vehicle on the sidewalk
From SAINT-GILLES-CROIX-DE-VIE to LES SABLES D'OLONNE
38km
104m
Along the Vendée beaches you will ride to the Sables d'Olonne on beautiful green paths in the middle of the pines.
From LES SABLES D'OLONNE to LA TRANCHE SUR MER
45km
90m
Closer to the sea, between beaches and rocky coves, you ride on a pleasant bike path to the Guittière port where you can enjoy fresh oysters. You reach La-Tranche-sur-Mer through the Longeville forest.
From LA TRANCHE SUR MER to LA ROCHELLE
74km
53m
In the Marin Poitevin, you cycle around l'Anse de l'Aiguillon, a beautiful natural reserve, made infamous by the storm Xynthia which passed through in 2009. At the Brault bridge you start on the Canal Maritime of the Sevre Niortaise river that takes you up to Marans. La Rochelle is only a few kilometers away. there you have an easy ride along the "Marans La Rochelle" canal which presents no difficulty. The city of la Rochelle deserves a large tour.
La Rochelle, Ile de Ré Loop
54km
102m
A day on the island of Ré. More than 120km of bikepaths make this island a paradise for cycling. Beautiful beaches await you, but also some of the most beautiful villages in France.
For a few more km

66km

156m

Cross the Loix salt marshes and see the oyster beds at low tide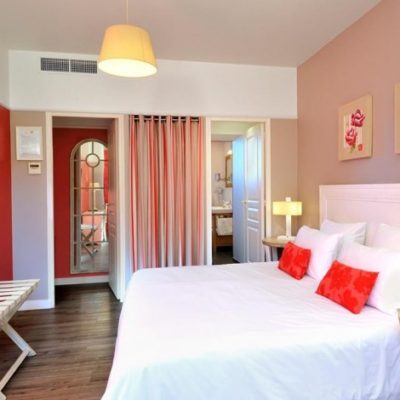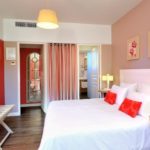 Comfort Range
Our quality standard at Abicyclette. This type of accommodation includes 2 and 3 stars hotels. Depending on the itinerary, you might spend some nights in approved guesthouses. You enjoy a double bedroom with private bathroom and toilet and adapted welcome for you and your bikes.
---
Starting from 1120€/participant in Self Guided option | See detailed prices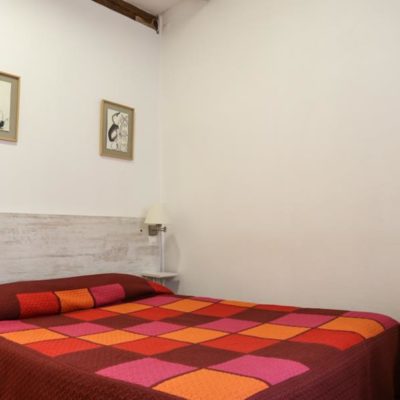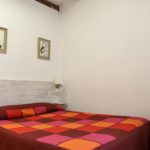 Essential Range
You want to enjoy your itinerary without anything fancy. Our "essential" range offers a simple accommodation for a good night's rest in a simple hotel, guesthouse, rest house or hostel.
---
Quote on request | Contact us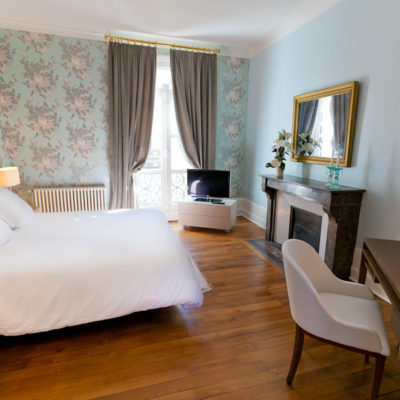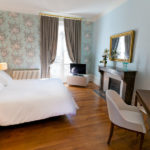 Privilege Range
Opt for total comfort in charming 3 and 4 star hotels which offer all the services you need and a special welcome for you and your bikes.
---
Quote on request | Contact us
Price includes
Accommodation: 8 nights in a Double room
8 breakfasts
Luggage transfer
Phone assistance 24/7
Access to our exclusive travel application to follow your route, inform you about places of interest, restaurants, facilitate your assistance in case of emergency, find all your travel documents and our practical advice.
Application fee
A personalized greeting with our team at the beginning of the trip to receive your travel documents
Taxes
The itinerary trackable on the following supports:

Loan of a Bicycle GPS uploaded with full itinerary of the trip
Topoguide of La Vélodyssée
Cycling practical guide including restaurant recommendations for lunch & dinner
Specific services
Jour 1 : Meeting with our guide in Brittany
Price does not include
bike rental (see option)
Breakfast on day 1
Lunches
Dinners not included in "Price includes"
Drinks, visits & other personal expenses
---
Homemade and fully tested itineraries
Routes selected for their cycling and touristic interest entirely tested and away from traffic
Accomodations selected for their hospitality, atmosphere, services and quality meals
A flexible organisation to suit you needs and wishes: You choose the date you want to you leave on! We check the availability of each accomodation to make sure it is possible.
---
Close assistance
One of our guides greets you on your first day. He will hand out all the needed documents for the trip (hotel vouchers, maps of the area,GPS, practical guide), get you settled on your bikes (for rental bikes).
Phone assistance, you can reach the Abicyclette team 7 days a week
A Luggage transfer service from 09:00 and with a delivery before 18:00 (one luggage and one bagback per person maximum)
---
Follow your itinerary anyway you like – modern, practical, traditional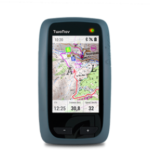 We loan you a GPS so that you can easily follow your itinerary without having to look for your way around (bike support included)
A practical cycling guide with all the useful information (addresses, highlights for the day, topo maps, and touristic information)
---
You can also
---
On our guided tours (for groups on demand), we accompany you every step of the way
One of our state qualified instructor and professional cycling guide accompanies you every step of the way
Full board (all meals covered unless asked otherwise)
A picnic buffet set up for lunch with a wide choice of fresh and local produce
We offer a high-end bike rental service. Our bikes are suited for road and gravel road long-distance cycling. Fully equipped and highly reliable, they are faithful travel companions.
---
Trekking bike

A layed out and dynamic position

Mixed aluminum frame, telescopic fork. Straight handlebars. Disc brakes. Transmission Shimano 24 to 30 speeds.

Supplied equipment per bike

1 helmet
1 back bag 20L (waterproof)
1 front bag 4L with plastic map holder (waterproof)
1 lock
1 repair kit (patches, tube, tire lever)
1 multi tools box
1 pump
1 bike computer
1 bottle

Touring bike

An upright and easy going position

Mixed aluminum frame, telescopic fork. Straight handlebars. Disc brakes. Transmission Shimano 24 to 30 speeds.

Supplied equipment per bike

1 helmet
1 back bag 20L (waterproof)
1 front bag 4L with plastic map holder (waterproof)
1 lock
1 repair kit (patches, tube, tire lever)
1 multi tools box
1 pump
1 bike computer
1 bottle

Ebike

With an autonomy of almost 120km, cycling has never been so easy!

Supplied equipment per bike

1 helmet
1 back bag 20L (waterproof)
1 front bag 4L with plastic map holder (waterproof)
1 lock
1 repair kit (patches, tube, tire lever)
1 multi tools box
1 pump
1 bike computer
1 bottle

Children Bike

20″ or 24″ bike

Bike trailer
Getting here
Departure city : NANTES
Coming by car
at 3h45 from PARIS
at 3h30 from BORDEAUX
at 6h from LYON
Parking
Parking gare de Nantes Sud 1 – EFFIA – NANTES
Coming by train
Nantes train station - 2h15 from Paris
Coming by plane
Arrival city : LA ROCHELLE
Coming by car
at 4h45 from PARIS
at 2h from BORDEAUX
at 6h from LYON
Coming by train
La Rochelle train station - 3h15 from Paris
Coming by plane
* Abicyclette Voyages accompanies you on demand, including transportation solutions.
How to get back to the starting point
By train from La Rochelle to Nantes in 2h30 (hotline)
Return by car in 1h45 to your starting point ?
Private shuttle: see detailed fares or contact us
Recommended equipment
Bike
Trekking or hybrid bike
21 to 30 speeds
26 or 28 inch (700) wheels
Clothing and equipment
Helmet (included with the rental)
Clothing suitable for cycling
Warm jacket (eg fleece)
Rain proof jacket
1 pair of sunglasses
1 pair of cycling shoes
1 small backpack or panniers
1 or 2 water flasks (included with the rental)
1 lock (included with the rental)
Our reccomendation for optimal comfort:

1 pair of gloves
1 special pair of pants (shammy leather)
1 night see fluorescent vest
Bike maintenance
Emergency repair kit: 2 or 3 tubes, patches, pump, tire levers, multi-tools
Daily use kit: cloth, brake pads, oil
Other
Suitcase for transporting personal effects in luggage transfers (limited to one per person when possible)
Change of clothes for the evening
Warm jacket for the evenings
Set of toiletries
Mobile phone and charger