Moderate: you regularly ride and/or practice a sport. You are accustomed to traveling by bike or wish to try it out. Your physical condition allows you to cover a minimum of 40 to 55 km per day with a little bit of steep routes.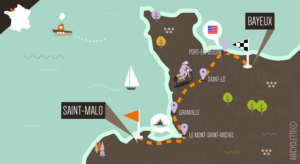 Day 1 -

SAINT-MALO - 35km

Welcome to Brittany. Arrival in Saint Malo. You can go on a first ride (optional loop) to one of the most beautiful village of France, Saint-Suliac.
You meet with our guide at 2PM at your accommodation, for and orientation meeting.
---
Day 2 -

FROM SAINT-MALO TO THE MONT SAINT-MICHEL - 60km

You ride along the Emerald Coast Côte and the Mont Saint-Michel Bay. Between land and sea, your path leads you to local producers: Oyster farmers, mussel growers, breeders ... many of the local delicacies you can taste throughout your stay. At the site's entrance, attach your bike and take a free shuttle to the Mont Saint-Michel. Climb to the top on foot to the Abbey at the summit. It is a part of UNESCO's World Heritage and well worth a visit
---
Day 3 -

FROM THE MONT SAINT-MICHEL TO GRANVILLE - 66km

Far out in the Bay, a small road runs along the sea. The spot place is ideal for a picnic! Before that, it will take an effort to climb Avranches, a typical city of Normandy with its dark stones and small shops. Delicatessen specialties are very appreciated and allow you to easily compose your lunch.
---
Day 4 -

FROM GRANVILLE TO SAINT-LO - 60km

From Granville, a seaside resort town which has preserved its prestige thanks to its architecture, you ride North to Coutances. Visit a beautiful church in the city center. The Normandy grove opens up in front of you. The road to Saint-Lo is a bit more hilly..
---
Day 5 -

FROM SAINT-LO TO PORT-EN-BESSIN - 60km

You ride up to the ocean through the Regional Natural Parc des Marais du Cotentin et du Bessin. From Grandcamp-Maisy to Port-en-Bessin, it is a journey into the history of the landing of the Second World War. The Hoc Point, Omaha Beach, and the Colleville-sur-Mer American Cemetery are some of the highlights of the day. You will appreciate the arrival on Port-en-Bessin. A typical and authentic fishing port and very enjoyable city to stop for the night.
---
Day 6 -

FROM PORT-EN-BESSIN TO BAYEUX - 63km

You ride along the sea up to Juno Beach. Discover Winston Harbor where dozens of pontoons still laying on the sea constituted an artificial port for the Landing of June 1944. With a little regret you leave the Normandy coast for Bayeux. Fortunately, the road is beautiful. The Seulles valley you ride through shelters has many and very pretty mills.
---
Day 7 -

BAYEUX

On this last day let your bikes to rest and visit the tapestry museum in Bayeaux. It displays a major and amazingly preserved work of art of the 11th century, a 70 meters (230 feet) long tapestry relating the conquest of England by William the Conqueror!
---