Very easy: You occasionally ride your bike to relax and enjoy yourself, on your own or with family and friends. The open air and the gentle transportation the bike offers are a good way to recharge your batteries. Ideal for families with children. You cycle 20 to 35 km a day on flat routes.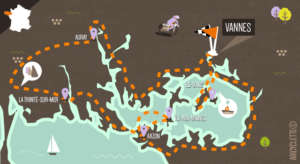 Day 1 -

VANNES

Arrival in Vannes, you meet with our guide at your hotel at 6 PM for an orientation meeting.
---
Day 2 -

DE VANNES A L'ILE D'ARZ - 20km

You'll take a boat from the beautiful city of Vannes to l'Isle d'Arz ( island of Arz). You can cycle around the small island. You spend the night at the port.
---
Day 3 -

DE L'ILE D'ARZ A ARZON - 35km

A first boat will take you to the Presqu'ile de Séné (Séné Peninsula). You'll cycle for a few kilometers along the Gulf with birds singing along. A sea shuttle then connects you to the Presqu'ile de Ruys (Ruyz Peninsula). You ride along the southern shores of the inlet to reach Arzon.
---
Day 4 -

ARZON, JOURNEE A L'ÎLE AUX MOINES - 15km

The boat takes you to l'Ile aux Moines (Monks' island) for a day on the island. Enjoy its small carefree roads! It might be difficult to leave this paradise when its time for the boat to take you back to Arzon. No worries the rest of the trip is conforting/enchanting.
---
Day 5 -

D'ARZON A LA TRINITE-SUR-MER - 25km

You will take another boat across the Gulf onto the northen shore to discover some of Morbihan's treasures: lines of Menhirs (standing stones) and relics from ancient times in Carnac.
---
Day 6 -

DE LA TRINITE-SUR-MER A AURAY - 25km

You leave the Golfe du Morbihan (Morbihan Gulf) to reach the Ria d'Etel (Etel river) and cycle on to l'ile de Saint Cado (Saint Cado island), a quiet oasis with no cars, connected by a small damn. You then arrive in Auray. The city offers a charming historical center. On the river banks of the same name you'll find a most interesting spot the port of Saint Goustan (Saint Goustan port) where you'll spend the night.
---
Day 7 -

D'AURAY A VANNES - 20km

You'll again reach the Gulf and it's beautiful inland sea. Enjoy a last picnic on this incredible site before arriving at the medieval fortified walls of the city of Vannes.
---
Day 8 -

VANNES

End of stay after breakfast.
---