Moderate: you regularly ride and/or practice a sport. You are accustomed to traveling by bike or wish to try it out. Your physical condition allows you to cover a minimum of 40 to 55 km per day with a little bit of steep routes.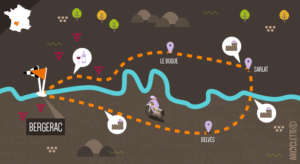 Day 1 -

BERGERAC, LOOP TO MONBAZILLAC - 27km

Arrival in Bergerac. You meet with our guide at your hotel starting from 1 PM for an orientation meeting. As an option, if you arrive early in the afternoon you can explore the vineyards of Bergerac and Montbazillac. After climbing the hills you arrive at the castle of Montbazillac, which produces a sweet white wine famous all over the world. From there, you will overlook Bergerac and its valley. If you arrive later in the afternoon you can explore this part on the last day.
---
Day 2 -

FROM BERGERAC TO BUGUE - 53km

Rivers' day. You leave Bergerac in the morning onto small roads wandering in the middle of forests and meadows. In these cool landscapes, you cycle to authentic Périgord villages huddled around their fortified steeple. After a few laps, you arrive onto the "cingles", the name we give to the meandering Dordogne. The ride becomes more athletic but you are rewarded with magnificent views and a swim at the confluence of the Vézère and Dordogne rivers in Limeuil, one of the "most beautiful villages in France".
---
Day 3 -

FROM BUGUE TO SARLAT - 55km

A day through mounts and valleys. After a few kilometers, you arrive in Eyzies-de-Tayac, the world's prehistoric capital, city of Cro-Magnon caveman. You will surely see him near his cave! After greeting him, you ride in cool valleys along wild rivers, where trout likes to rest. A visit to the Commarque castle will leave you under the impression of being in the Middle Ages. Cycling through pretty villages with slate roofs, you reach to Sarlat, a medieval jewel.
---
Day 4 -

SARLAT - DOMME LOOP - 40km

A loop to discover the Montfort cingle (curve), its castle and the Domme bastide, a medieval town perched at an altitude of 300m above the river. You can walk around Sarlat and get lost in its narrow streets and enchanting squares.
---
Day 5 -

FROM SARLAT TO SIORAC / BELVES - 39km

Castles' day! Be sure to leave early because there is so much to see! After leaving Sarlat you reach the Dordogne valley in La Roque-Gageac, one of the most beautiful villages in France. Once explored, you'll enter the Valley of castles with Beynac, Castelnau, Marqueyssac, Fayrac, Milandes ... Have your pick on which ones to visit! You end the day in Belvès, a perched town, another of the most beautiful villages in France.
---
Day 6 -

FROM BELVES TO BERGERAC - 60km

You ride through large stretches of wild land scattered with pretty villages, a church or market hall over here, a beautiful house over there. You reach Beaumont du Périgord, a 13th century English fortified town, dominated by its huge fortified church. You ride through the beautiful valley of Couze, a river with many mills and pure waters. You won't head to Bergerac without first having admired the castle of Bannes, a wonder of medieval architecture, perched on a rocky spur and the castle of Lanquais, the unfinished Louvre of Périgord. As you arrive in Bergerac, the busy streets of this beautiful city welcome you.
---
Day 7 -

BERGERAC

End of stay after breakfast in Bergerac or a final loop to Montbazillac (see Day 1)
---