Getaway between Provence and Camargue
A bicycle-touring trip to encounter the landscapes of the South of France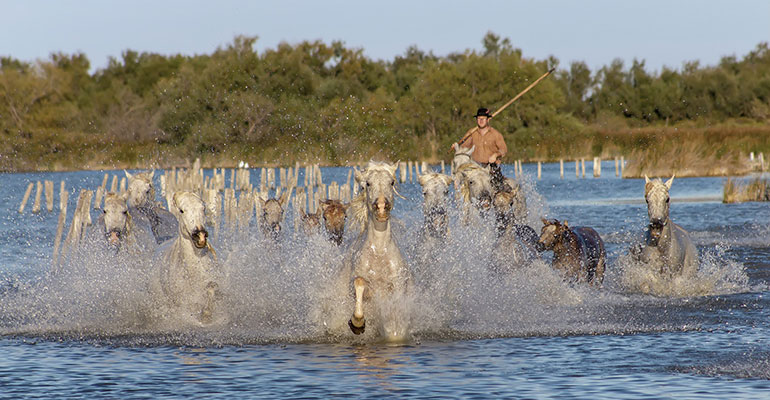 Highlights
Nîmes and Arles, Ancient and Roman heritage
Uzès and its famous Provencal market
The Pont du Gard, masterpiece of the Roman Empire
The Alpilles Regional Nature Park and its limestone landscapes
Les Baux de Provence, one of the most beautiful villages in France
The wild landscapes and fauna of the Camargue
The gastronomy and easy living of Provence
The story behind the trip
Our travel advisor, David, who has lived near Nîmes for more than 10 years, was keen to share his best addresses for accommodation and restaurants and to introduce you to the most beautiful sites and routes in his region. It is now a done deal this stay of multiple atmospheres, colors and scents.
The easy living and diversity of the South of France by bike
From Nîmes, cycle through the Gard, Provence and the Camargue. A stay that combines exceptional natural sites and Ancient History.
This bike getaway around Nîmes allows you to discover the richness and variety of the landscapes and atmospheres of the South of France. By bicycle, you pedal gently between Gard, Provence and the Camargue. Along the way, you discover cities with a millennial history and you explore landscapes of a rare diversity. With a few pedal strokes, you are transported from the hilly and limestone landscapes of the Alpilles to the ponds, plains and green meadows of Camargue where water dominates the scene. On a route accessible to all, a bike trip rich in contrast, color and fragrance awaits you.
Throughout your cycling trip, you will pass through cities whose long history dates back to Antiquity. The cities of Art and History of Nîmes and Arles have a rich Ancient and Roman heritage. Along the way, you will also discover the charm of Provençal villages. Les Baux de Provence, classified as The Most Beautiful Villages in France, is the most picturesque. The winding alleys of the hilltop city of Uzès, the religious atmosphere of Saintes-Maries de la Mer, and the fortified city of Aigues Mortes famous for its saltworks with a thousand shades of pink, are also sure to dazzle you. And how could we not mention the Pont du Gard? A real architectural feat, the Roman aqueduct will reveal all its secrets during the second bike stage between Uzès and Tarascon.
To start your journey, the Gorges du Gardon and the Alpilles Nature Park welcome you. Sculpted in limestone, the landscape of the Alpilles alternates between rocky cliffs and hills carpeted with thyme, rosemary, pinewood and cedar. In summer, the song of the cicadas set the tempo to your bike getaway within these arid expanses. A place where all your senses are called upon!
The second part of this easygoing getaway crosses La Camargue, whose landscapes of meadows and marshes formed by the Rhône delta offer a unique setting. Untamed, this wetland is home to many animal and plant species. While pedaling on small roads and paths, you observe flamingos, white horses and bulls, the symbols of the Camargue. With its rice fields, vineyards, saltworks and long beaches, La Camargue reveals to you, by bike, a large mosaic of landscapes with water as the common element.
Gard, Provence and the Camargue are also the local products that carry the scent of the sun and breathe the mildness of the Mediterranean climate. In the typical Provencal markets, such as that of Uzès, one of the most famous in the region, you bargain-hunt among the lively, colorful and fragrant stalls of Provencal scents. Fruits and vegetables, olive oil, tapenade, fougasse, wines, goat cheeses, sausages, honeys and of course Provence herbs, there is something for everyone. To overcome the cravings during the stage, fill your panniers with these tasty provisions.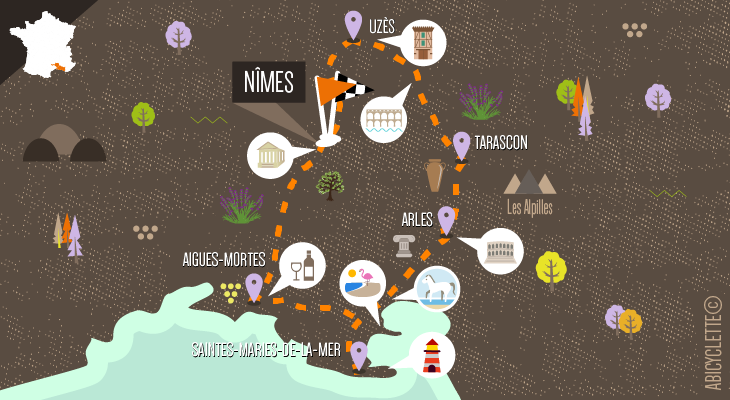 Leisure or
Fit
NIMES
Welcome to Provence in the city of Nîmes, prefecture of Gard.
Take advantage of the end of the day to discover the city and its many wonders dating from the Roman Empire. Do not miss the must-sees of the city namely the arenas of Nîmes, the Maison Carrée and the Jardins de la Fontaine gardens.
Briefing Orientation
Before your first ride, we invite you to meet one of our guides, at your place of departure. A time of exchange, a privileged moment to give you our last practical tips, must-see places and experiences, to answer all your questions, take care of your bike fitting to begin your trip.
From NIMES to UZES
45km
485m
You ride through the garrigues scrubland, characteristic Mediterranean vegetation. The sounds, the scents, the atmosphere of the south permeate you.
During this stage you will find a cool breeze on the banks of the Gardon and its gorges. We also recommend taking a swim or a canoe trip on the Gardon to enjoy these landscapes. A tributary of the Rhône, the Gardon has its source a little further north, in the mountains of the Cévennes.
On your way, don't miss the Haribo Museum if you have a sweet tooth.
Uzès, end of this stage, welcomes you for the evening. Built on a promontory surrounded by vineyards, scrubland and olive trees, the main town of Uzège offers a very pleasant charming stopover.
For a few more km

75km

651m

This elongated variant of the route invites you from the start of Nîmes to cross the Vaunage plain by bike. A beautiful greenway has been created there. Then you quickly encounter the Gorges du Gardon.
From UZES to TARASCON
45km
97m
Before leaving Uzès do not miss its Provençal market (Wednesday and Saturday), renowned throughout the region.Before mid-way, you encounter the Gardon and discover the Pont du Gard which overlooks it. Listed as a UNESCO Heritage site since 1985, the Pont du Gard is built on 3 levels. At a height of 48 meters, it is the highest known aqueduct bridge in the Roman world.
Up to Beaucaire, for about twenty kilometers, the rest of the route follows a peaceful greenway through the Gard countryside. Just before reaching the Rhône , you can go up to the troglodyte abbey of Saint-Roman. From the port of Beaucaire, you then go to Tarascon on the left bank of the Rhône.
For a few more km

60km

234m
From TARASCON to ARLES, par Via Rhona
23km
34m
You leave Tarascon via the Beaucaire bridge and its small river port. You ride peacefully to Arles on small marked roads, between plains and vineyards. A few canals intersperse the route to remind you that the Rhône is never very far. The Roman city of Arles then offers itself to you after passing the tunnel under the motorway bridge. A relatively short itinerary today to give you time to discover the city of art and history of Arles, renowned for its extraordinary heritage.
For a few more km

53km

400m

Variant towards the Alpilles mountain range, outside the ViaRhôna route. Discovery of Saint-Rémy de Provence, the "capital" of the Alpilles and Baux de Provence. Do not miss this site classified among the Most Beautiful Villages of France. The song of the cicadas and the scents of cedar and thyme confirm that you are riding in the authentic Provence. In Fontvieille, you will discover the Saint-Pierre mill, symbol of the work of "Letters from My Windmill" by the writer Alphonse Daudet. Founded in 948, the Benedictine Abbey of Montmajour is not to be missed at the end of the stage.
From ARLES to SAINTES-MARIES-DE-LA-MER
41km
16m
For a few more km

65km

23m

Once in Saintes-Maries de la Mer, a path between the sea and the marsh allows you to reach the Gacholle lighthouse. The site houses an exceptional ornithological station. You return to Saintes-Maries de la Mer by the same path by the sea. You can adapt the mileage as you wish.
From SAINTES-MARIES-DE-LA-MER to AIGUES-MORTES
57km
17m
At the beginning of the stage, at the exit of Saintes-Maries de la Mer, you cross the Petit-Rhône on the Bac du Sauvage. Then you progress in the middle of a landscape made up of rice fields, ponds and meadows where the bulls and Carmargue horses bask in the sun. The Scamandre nature reserve is an opportunity for a stroll before continuing your cycling tour.
As you approach Aigues Mortes, the green meadows give way to vineyards. It is an invitation to taste "sand wine", the wine specialty of the Camargue made from grapes grown in sandy soil.
At the end of the stage, the Canal du Rhône à Sète takes you to the fortified city of Aigues Mortes, dominating the salt flats, offering a sublime palette of colors.
For a few more km

85km

45m

Departing from Aigues-Mortes, continue to the huge Espiguette beach, well known to locals, via the Rhône canal at Sète and the seaside resort of Grau du Roi to enjoy a swim. You return calmly by the same path to Aigues Mortes.
From AIGUES-MORTES to NIMES
52km
245m
At the exit of Aigues Mortes, take the time to contemplate or climb to the top of the Tour Carbonnière set in the middle of the ponds. Built at the end of the 13th century, this watchtower was intended to protect the medieval city of Aigues Mortes. Between Congénies and Caveirac, you pedal on a pretty green way across the plain of Vaunage. You can still see some white horses and bulls there. The vineyard and the fields of olive trees complete this pretty scene. Then Nîmes welcomes you. Take the opportunity to discover or rediscover the ancient sites of the city.
For a few more km

65km

292m
NIMES
End of stay after breakfast.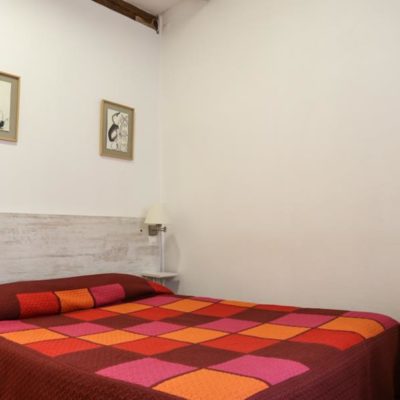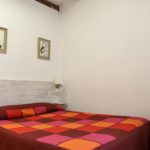 Essential Range
You want to enjoy your itinerary without anything fancy. Our "essential" range offers a simple accommodation for a good night's rest in a simple hotel, guesthouse, rest house or hostel.
---
Starting from 932€/participant in Self Guided option | See detailed prices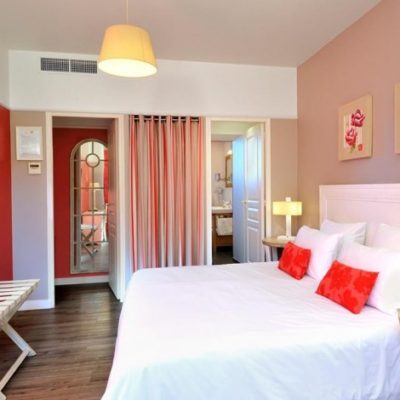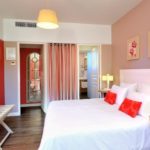 Comfort Range
Our quality standard at Abicyclette. This type of accommodation includes 2 and 3 stars hotels. Depending on the itinerary, you might spend some nights in approved guesthouses. You enjoy a double bedroom with private bathroom and toilet and adapted welcome for you and your bikes.
---
Starting from 989€/participant in Self Guided option | See detailed prices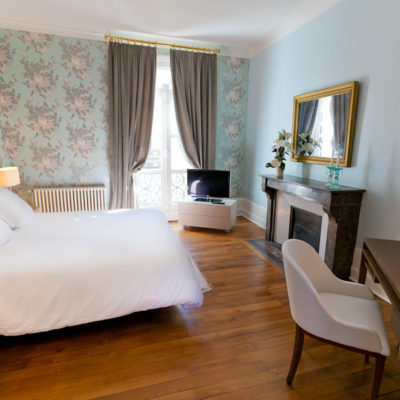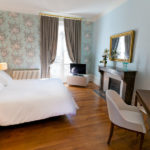 Privilege Range
Opt for total comfort in charming 3 and 4 star hotels which offer all the services you need and a special welcome for you and your bikes.
---
Starting from 2237€/participant in Self Guided option | See detailed prices
Price includes
Accommodation: 7 nights in a double room
7 breakfasts
Luggage transfer
Phone assistance
Application fee
Day 1 : Meeting with our guide in Provence
A personalized greeting with our team at the beginning of the trip to receive your travel documents
Taxes
The itinerary trackable on the following supports:

Loan of a Bicycle GPS uploaded with full itinerary of the trip
Cycling practical guide including restaurant recommendations for lunch & dinner with topo maps
Price does not include
bike rental (see option)
Breakfast on day 1
Lunches
Dinners not included in "Price includes"
Drinks, visits & other personal expenses
---
Homemade and fully tested itineraries
Routes selected for their cycling and touristic interest entirely tested and away from traffic
Accomodations selected for their hospitality, atmosphere, services and quality meals
A flexible organisation to suit you needs and wishes: You choose the date you want to you leave on! We check the availability of each accomodation to make sure it is possible.
---
Close assistance
One of our guides greets you on your first day. He will hand out all the needed documents for the trip (hotel vouchers, maps of the area,GPS, practical guide), get you settled on your bikes (for rental bikes).
Phone assistance, you can reach the Abicyclette team whenever you need
A Luggage transfer service which respects your hours of rest (we pick them up after 10:00 and deliver them before 16:00)
---
Follow your itinerary anyway you like – modern, practical, traditional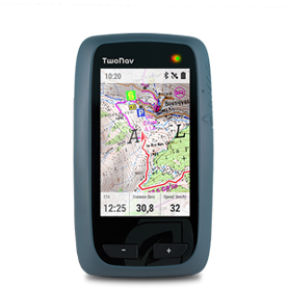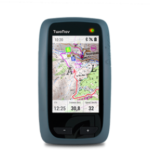 We loan you a GPS so that you can easily follow your itinerary without having to look for your way around (bike support included)
A practical cycling guide with all the useful information (addresses, highlights for the day, topo maps, and touristic information)
---
You can also
---
On our guided tours (for groups on demand), we accompany you every step of the way
One of our state qualified instructor and professional cycling guide accompanies you every step of the way
Full board (all meals covered unless asked otherwise)
A picnic buffet set up for lunch with a wide choice of fresh and local produce
We offer a high-end bike rental service. Our bikes are suited for road and gravel road long-distance cycling. Fully equipped and highly reliable, they are faithful travel companions.
---
Hiking Bike

SCOTT SUB SPORT 20

Reassuring and comfortable geometry.

Shimano 27-speed

Disc brakes

Supplied equipment per bike

1 helmet
A handlebar bag
A 20L rear bag
1 lock
1 multi-tool
1 repair kit including:

Lot of patches
An inner tube
A set of tire levers

1 pump
1 odometer counter
1 gourd

Ebike

EBIKE SCOTT SUB TOUR ERIDE

All the pleasure of cycling without too much effort and accessible to all.

Shimano Disc Br-MT200 brakes

Bosch ActivePlus 500w motor

Weight 25.60 kg

Supplied equipment per bike

1 helmet
A handlebar bag
A 20L rear bag
1 lock
1 multi-tool
1 repair kit including:

Lot of patches
An inner tube
A set of tire levers

1 pump
1 odometer counter
1 gourd

Child bike

CHILDREN'S BIKE: 8 to 10 years old; 135-145cm

Agile and handy bike and 100% safe for nice family rides

Supplied equipment per bike

1 helmet
A 20L rear bag
1 lock
1 multi-tool
1 repair kit including:

Lot of patches
An inner tube
A set of tire levers

1 pump
1 odometer counter
Getting here
Departure city : NIMES
Coming by car
at 6h from PARIS
at 5h15 from BORDEAUX
at 2h30 from LYON
Coming by train
Nîmes train station - 3h from Paris
Coming by plane
Nîmes airport
Marseille Provence airport
Montpellier airport
Lyon Saint Exupéry airport
Arrival city : NIMES
Coming by car
at 6h from PARIS
at 5h15 from BORDEAUX
at 2h30 from LYON
Coming by train
Nîmes train station - 3h from Paris
Coming by plane
Nîmes airport
Marseille Provence airport
Montpellier airport
Lyon Saint Exupéry airport
* Abicyclette Voyages accompanies you on demand, including transportation solutions.
Recommended equipment
Bike
Trekking or hybrid bike
21 to 30 speeds
26 or 28 inch (700) wheels
Clothing and equipment
Helmet (included with the rental)
Clothing suitable for cycling
Warm jacket (eg fleece)
Rain proof jacket
1 pair of sunglasses
1 pair of cycling shoes
1 small backpack or panniers
1 or 2 water flasks (included with the rental)
1 lock (included with the rental)
Our reccomendation for optimal comfort:

1 pair of gloves
1 special pair of pants (shammy leather)
1 night see fluorescent vest
Bike maintenance
Emergency repair kit: 2 or 3 tubes, patches, pump, tire levers, multi-tools
Daily use kit: cloth, brake pads, oil
Other
Suitcase for transporting personal effects in luggage transfers (limited to one per person when possible)
Change of clothes for the evening
Warm jacket for the evenings
Set of toiletries
Mobile phone and charger