Brittany port to port #5 - from Quimper to Vannes
Southern Brittany, an ocean of stories to discover by bike!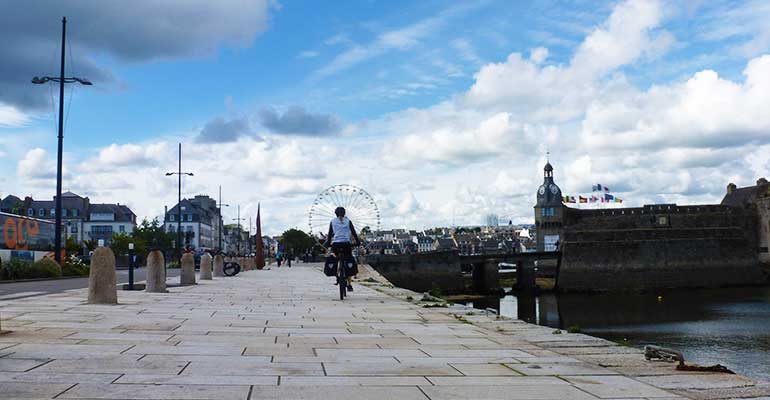 Highlights
Carnac and its megalithic alignments
The typical harbors of Concarneau, La Trinité sur mer and Auray
The Estel ria, one of the most beautiful sites in the region
Quimper, Lorient and Vannes, towns steeped in history
Sweet Brittany!
An adventure along the southern Brittany coast between Quimper and Vannes, discovering the coastal landscapes and historical riches of southern Brittany.
From port to port, you tour by bike in the southern part of Brittany. In six stages, you connect the prefecture of Finistère Quimper to that of Morbihan Vannes. Two fascinating cities of Art and History that set the tone for this route with many historical sights. The famous alignments of megaliths of Carnac are certainly the most precious treasure. You will have the chance to discover them during your stay. Placed mid-way, the city of Lorient also constitutes an interesting stop from a historical point of view because of its rich past.
Throughout your escape, you cross small villages made of typical Breton granite houses and many very picturesque harbors. These are lively living areas, where each day a little more history is written on these localities intimately related to the ocean. No doubt you will succumb to the charm of the fishing ports of Concarneau, Trinité sur mer or Auray, among the most beautiful in Britain. Lovers of fresh fish and seafood, delicious feastings are announced between the stages by bike. A tip: prepare your taste buds!
True to its reputation, Brittany offers sumptuous postcards, authentic and typical landscapes that make the charm of the region. From the white sandy beaches to the picturesque port of Saint-Goustan, to the photogenic Etel ria (estuary), and the jagged coastline of the Quiberon peninsula, a beautiful mosaic of landscapes awaits you.
Between the bicycle sections, several sea crossings allow you to cross the rias and rivers that join the ocean. These short cruises are also a moment to savor the surrounding scenery and to better appreciate the strong link that the inhabitants have with the sea.
You also travel around a bucolic and hilly countryside with unsuspected charm. Associated with the beauty of the landscapes, the mild climate of the southern coast of Brittany is also a significant asset. All the ingredients are there to make this new port to port chapter a good time and a great adventure.
Brittany from port to port, a journey in chapters that continues …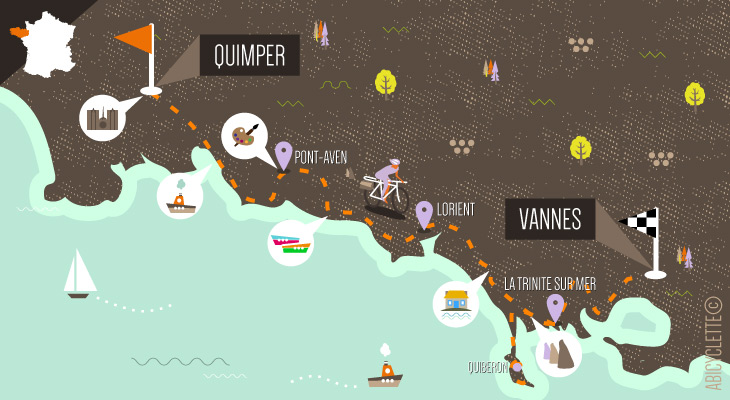 Leisure or
Fit
QUIMPER
Your adventure begins in Quimper. We meet there to prepare your departure. Free evening. Take the opportunity to explore the narrow streets of its historic heart with elegant half-timbered houses. Let yourself be tempted by a Breton cake, accompanied by a bowl of cider, ideal to get in the mood for your trip in Brittany.
Briefing Orientation
Before your first ride, we invite you to meet one of our guides, at your place of departure. A time of exchange, a privileged moment to give you our last practical tips, must-see places and experiences, to answer all your questions, take care of your bike fitting to begin your trip.
From QUIMPER to PONT-AVEN
44km
261m
From Quimper, head south towards the ocean. From Fouesnant, you can see the wide bay where the town of Concarneau is nestled, famous for its fishing port ranked among the top ten in France! There, you can smell the fresh fish.
Finally, to reach Pont Aven, the end point of this first stage, you travel through the gently rolling countryside to your pied-à-terre.
For a few more km

64km

379m

The rest of the stage is more coastal. You will ride along the coast to the tip of Trévignon before returning to your home base via the winding roads of Aven
From PONT-AVEN to LORIENT
55km
274m
This day offers a varied setting and landscapes. While the morning is hilly, the afternoon offers a fairly flat course. And if the morning is pastoral and bucolic, the afternoon reveals a much more maritime and coastal side. Moreover, along the way, do not miss the charming port of Doelan. By boat, crossing the Laïta offers a short and pleasant cruise. The opportunity also to recharge the batteries before the last leg of the day that takes you to Lorient, a port city rich in history.
For a few more km

63km

501m

If the boat from Le Pouldu to Guidel, does not run, we invite you to follow this way via the Saint-Maurice bridge.
From LORIENT to CARNAC
54km
225m
CARNAC, QUIBERON LOOP
62km
158m
This loop of about sixty kilometers allows to discover the Quiberon locality and the different aspects of its famous peninsula. If the coast is relatively urbanized, the west coast, battered by the winds has an extremely wild and unmanaged environment.
From CARNAC to VANNES
57km
205m
You ride closer to the Gulf and its beautiful inland sea. You arrive in Auray which has a charming historic center. Head for the most interesting place: the port of Saint-Goustan. You will reach Vannes at the end of the day.
VANNES
End of the stay at the end of the morning.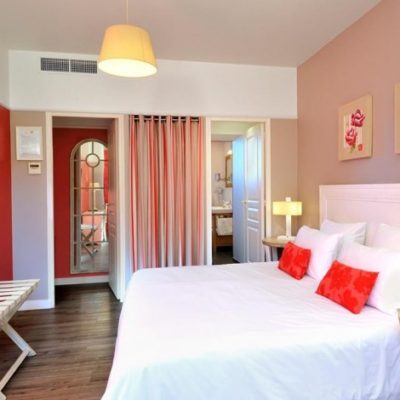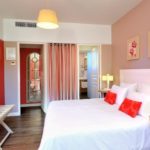 Comfort Range
Our quality standard at Abicyclette. This type of accommodation includes 2 and 3 stars hotels. Depending on the itinerary, you might spend some nights in approved guesthouses. You enjoy a double bedroom with private bathroom and toilet and adapted welcome for you and your bikes.
---
Starting from 820€/participant in Self Guided option | See detailed prices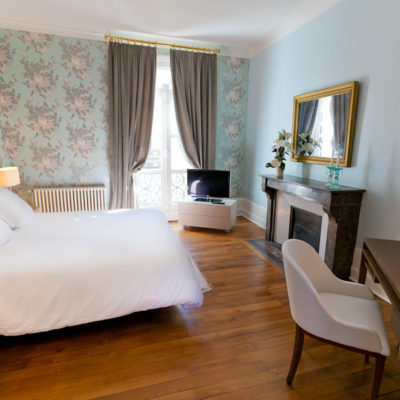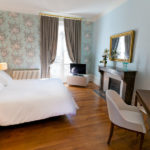 Privilege Range
Opt for total comfort in charming 3 and 4 star hotels which offer all the services you need and a special welcome for you and your bikes.
---
Starting from 1250€/participant in Self Guided option | See detailed prices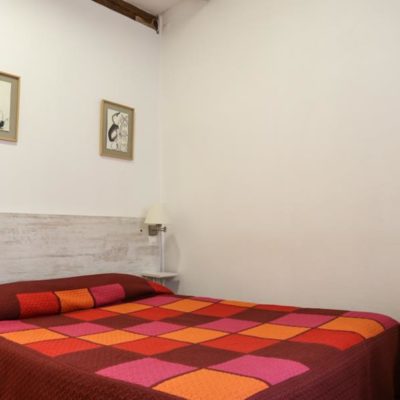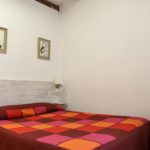 Essential Range
You want to enjoy your itinerary without anything fancy. Our "essential" range offers a simple accommodation for a good night's rest in a simple hotel, guesthouse, rest house or hostel.
---
Quote on request | Contact us
Price includes
Accommodation: 6 nights in a Double room
6 breakfasts
Luggage transfer
Phone assistance 24/7
Application fee
A personalized greeting with our team at the beginning of the trip to receive your travel documents
Taxes
The trip itineraries available on the following supports:

Loan of a Bicycle GPS uploaded with full itinerary of the trip
Topo maps
Cycling practical guide including restaurant recommendations for lunch & dinner
Specific services
Jour 1 : Meeting with our guide in Brittany
Price does not include
bike rental (see option)
Breakfast on day 1
Lunches
Dinners not included in "Price includes"
Drinks, visits & other personal expenses
---
Homemade and fully tested itineraries
Routes selected for their cycling and touristic interest entirely tested and away from traffic
Accomodations selected for their hospitality, atmosphere, services and quality meals
A flexible organisation to suit you needs and wishes: You choose the date you want to you leave on! We check the availability of each accomodation to make sure it is possible.
---
Close assistance
One of our guides greets you on your first day. He will hand out all the needed documents for the trip (hotel vouchers, maps of the area,GPS, practical guide), get you settled on your bikes (for rental bikes).
Phone assistance, you can reach the Abicyclette team whenever you need
A Luggage transfer service which respects your hours of rest (we pick them up after 10:00 and deliver them before 16:00)
---
Follow your itinerary anyway you like – modern, practical, traditional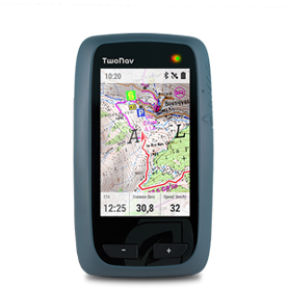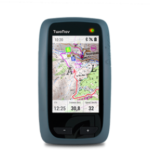 We loan you a GPS so that you can easily follow your itinerary without having to look for your way around (bike support included)
A practical cycling guide with all the useful information (addresses, highlights for the day, topo maps, and touristic information)
---
You can also
---
On our guided tours (for groups on demand), we accompany you every step of the way
One of our state qualified instructor and professional cycling guide accompanies you every step of the way
Full board (all meals covered unless asked otherwise)
A picnic buffet set up for lunch with a wide choice of fresh and local produce
We offer a high-end bike rental service. Our bikes are suited for road and gravel road long-distance cycling. Fully equipped and highly reliable, they are faithful travel companions.
---
Trekking bike

A layed out and dynamic position

Mixed aluminum frame, telescopic fork. Straight handlebars. Disc brakes. Transmission Shimano 24 to 30 speeds.

Supplied equipment per bike

1 helmet
1 back bag 20L (waterproof)
1 front bag 4L with plastic map holder (waterproof)
1 lock
1 repair kit (patches, tube, tire lever)
1 multi tools box
1 pump
1 bike computer
1 bottle

Touring bike

An upright and easy going position

Mixed aluminum frame, telescopic fork. Straight handlebars. Disc brakes. Transmission Shimano 24 to 30 speeds.

Supplied equipment per bike

1 helmet
1 back bag 20L (waterproof)
1 front bag 4L with plastic map holder (waterproof)
1 lock
1 repair kit (patches, tube, tire lever)
1 multi tools box
1 pump
1 bike computer
1 bottle
Getting here
Departure city : QUIMPER
Coming by car
at 5h30 from PARIS
at 5h30 from BORDEAUX
at 8h from LYON
Parking
Parking privé – Hôtel de la Gare
Parking Maréchal de Lattre de Tassigny – QUIMPER
Coming by train
Quimper train station - 3h30 from Paris
Coming by plane
Quimper airport
Brest airport
Arrival city : VANNES
Coming by car
at 4h45 from PARIS
at 4h30 from BORDEAUX
at 7h from LYON
Coming by train
Vannes train station - 2h30 from Paris
Coming by plane
Lorient Airport
Nantes airport
* Abicyclette Voyages accompanies you on demand, including transportation solutions.
How to get back to the starting point
By train from Vannes to Quimper in 1h10 (hotline)
Return by car in 1h15 to your starting point ?
Private shuttle: see detailed fares or contact us
Recommended equipment
Bike
Trekking or hybrid bike
21 to 30 speeds
26 or 28 inch (700) wheels
Clothing and equipment
Helmet (included with the rental)
Clothing suitable for cycling
Warm jacket (eg fleece)
Rain proof jacket
1 pair of sunglasses
1 pair of cycling shoes
1 small backpack or panniers
1 or 2 water flasks (included with the rental)
1 lock (included with the rental)
Our reccomendation for optimal comfort:

1 pair of gloves
1 special pair of pants (shammy leather)
1 night see fluorescent vest
Bike maintenance
Emergency repair kit: 2 or 3 tubes, patches, pump, tire levers, multi-tools
Daily use kit: cloth, brake pads, oil
Other
Suitcase for transporting personal effects in luggage transfers (limited to one per person when possible)
Change of clothes for the evening
Warm jacket for the evenings
Set of toiletries
Mobile phone and charger